Man of La Mancha - SOLD OUT
Music by Mitch Leigh
Lyrics by Joe Darion
Book by Dale Wasserman
Winner of 5 Tony Awards including Best Musical Score and Best Musical
One of the most beloved musicals of all time tells the story of author, actor, tax collector Miguel de Cervantes, imprisoned by the Spanish Inquisition and awaiting a mock trial by a jury of his fellow prisoners. To save his life's work from seizure and sure destruction, Cervantes' defense will be to act out a play with his fellow prisoners. The play - his creation - Don Quixote de la Mancha recounts the tale of the mad knight who believes the wrongs of the world can be corrected as he jousts at windmills with his trusty sidekick, Sancho Panza and his beloved Dulcinea in the quest for "The Impossible Dream."
Main Stage Theater
Show Runs March 26 - April 14
Talk Backs
Friday, April 5 after 7:30 p.m. show
Wednesday, April 10 after 1:00 p.m. show
Times & Pricing:
Fri & Sat, 7:30 p.m. and Sat & Sun, 2:00 p.m.; Tickets starting at $59
Tues, Wed, Thu, 7:30 p.m. and Wed, 1:00 p.m.; Tickets starting at $53
Dynamic Ticket Pricing
Ticket prices may be increased due to the popularity of any given production. Tickets initially purchased at the introductory price will incur the difference in price when exchanged after dynamic pricing is implemented. We will, however, maintain our introductory pricing for value seating throughout the run of the production. Exchange fees may apply.
---
---
2013 Accessible Shows
ASL Interpreted - Friday, April 12, 2013 at 7:30 p.m.
---
Press
• 3 ½ stars ... " a thing of touching beauty " ~ Lisa Kennedy, DenverPost.com
• " Man of La Mancha is a triumph " ~ David Marlowe
• " dynamic & unprecedented " ~ Aurora Sentinel.com
• " a true masterpiece " ~ BroadwayWorld.com
• " big, sumptuous show, filled with rich and exciting voices " ~ Westword.com
• " While the Arvada Center is taking a new look at the classic, people who love standards like "To Dream the Impossible Dream" will not be disappointed. " ~ OurArvadaNews.com
Photo Slideshows and Videos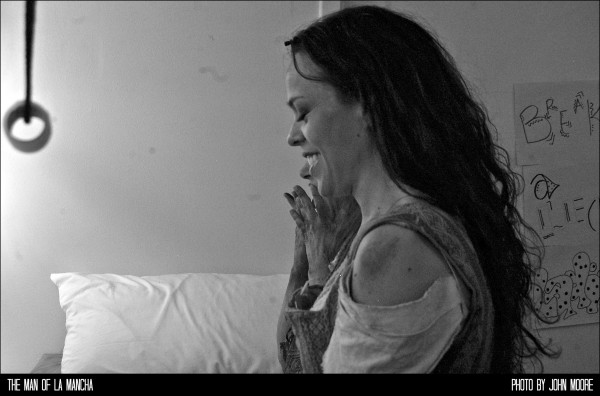 ---
Cast
| | |
| --- | --- |
| William Michals | Don Quixote |
| Ben Dicke | Sancho |
| Jennifer DeDominici | Aldonza |
| Mark Rubald | Governor |
| Craig Lundquist | the Innkeeper |
| Markus Warren | Dr. Carrasco |
| Danielle Porcellini | Antonia |
| Rob Costigan | the Barber |
| Robert Michael Sanders | Pedro |
| Mercedes Perez | Maria |
| Jessica Hindsley | Fermina |
| Daniel Langhoff | Captain of the Inquisition |
| Jeremy Sortore | the Padre |
| Kitty Hilsabeck | Moorish Dancer |
| Sue Leiser | Housekeeper |
| Chris LeBeau | Jose |
| Tim Howard | Tenorio |
| Lucas Coleman | Paco |
| Sidney Erik Wright | Juan |
| Burke Walton | Anselmo |
| Andrew Diessner | Ensemble |
| Scott Severtson | Ensemble |
| Brett Ambler | Ensemble |
| Joanie Brosseau | Ensemble |
| Angela Mendez | Ensemble |