1. An abbreviated Black Box Repertory Season
Our 2020 Black Box Repertory season started with a trainwreck (theatrically, in the script) as Agatha Christie's Murder on the Orient Express continued selling out performances and impressing audiences with its intricate and innovative use of our brand new theatre-in-the-round configuration. Shakespeare's A Midsummer Night's Dream was in full swing, and Bess Wohl's Small Mouth Sounds was set to open the Friday that we realized we would have to temporarily shut our doors.
Cast of Agatha Christie's Murder on the Orient Express - photo by Matt Gale
2. Living Room Talkbacks
With the Black Box Repertory season suddenly halted, we wanted to give audiences who were excited for these plays a taste of the magic behind them and created our "Living Room Talkback" series. Similar to our usual post-show Theatre Talkbacks, this was the Arvada Center's first foray into a virtual series and saw actors, designers and directors of our three scheduled plays discussing the making of the productions. With audiences asking for more, we have continued these Talkbacks to include some of our radio plays.
3. Bright Star cast reunion video
Alongside other arts organizations, we dusted off some archival footage from past productions. However, we also took this opportunity to reunite one specific group of artists. The Bright Star cast reunion video saw former members of our fall 2019 Bright Star production singing "Sun Is Gonna Shine" from their individual living rooms. Denver-native Carmen Cusack who originated the role of Alice Murphy on Broadway lends her charm in a sweet intro, and hearing this cast sing together again definitely tugged the heartstrings. See if you can watch it without crying!
4. The eternal pivot of the education division
As the pandemic forced us to close our doors and cancel theatrical programming, our Education division was hard at work figuring out how they could continue providing classes. They were able to help their teachers figure out how to present classes virtually, as well as turn our popular Arts Day workshops into a virtual experience that schools and learning pods could participate in. We are so impressed and appreciative of these efforts to keep children and adults alike engaged during a really anxious time.
5. Ceramics studio remodel
In order to have the space to accommodate ceramics students under our new Jefferson County safety guidelines, we expanded our ceramics studio into an adjoining classroom so that students were able to keep at least six feet apart. While we still remained mainly closed to the public, there was a nice sense of semi-normalcy in seeing the dedicated ceramics students back at their wheels.
Ceramics studio summer 2020 - photo by Leslie Simon
6. FRYS concert gone virtual
Our Front Range Youth Symphony members had worked so hard preparing for this concert, and with no option to have it in-person, we created an online concert with each student individually recorded then edited together. These hard-working students were up to the challenge and parents and kids both were delighted to be able to perform and show off what they had worked so hard on.
7. Dance Academy livestreams
As part of the CARES Act funding we received from the City of Arvada, we were able to purchase three high-quality 4K video cameras so that we could begin delivering programming virtually. Our dance classes were some of the first to be allowed back in the Center, but with smaller class sizes and moved from the studio to our larger Main Stage Theatre. Parents were happy for this alternative, and some that may have not been able to attend the in-person performance were excited to have this new online choice.
8. Cleo Parker Robinson Dance "Out of the Box"
For the first time in a quarter-century, Cleo Parker Robinson Dance returned to the Arvada Center stage with "Out of the Box: A Virtual Celebration of Dance," which revisits seminal works from the longtime Denver dance company. We were grateful to have a large space that our cultural favorites could use, and the event was recorded in the Main Stage Theatre.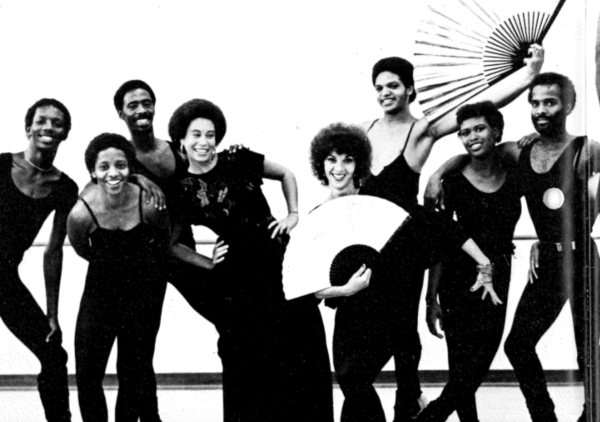 Cleo Parker Robinson Dance company photo, 1983
9. Reignite the Arts video series
Alongside arts organizations around the world, the Arvada Center felt the financial fallout from cancelled performances and events as a result of the COVID-19 pandemic. To help offset these losses, we launched a campaign to "Reignite the Arts" that included a new series called "Humans of the Arvada Center." Featuring staff from around our organization, we were proud to give our patrons a glimpse behind the curtain at the people who bring our programs to life.
Videos shot and edited by Jacinta Lobato
10. Pink Progression: Collaborations
This commemoration and critique of the 100th anniversary of women being granted the right to vote was the first exhibition that we held in the galleries with our new reservation system. In Pink Progression: Collaborations, creatives fused their narratives into multidimensional works, ranging from site-specific installations, video, performance, and traditional fine arts. One favorite display was a wall of suffrage buttons created by Arvada Center patrons throughout the past year.
Pink Progression: Collaborations - photo by Wes Magyar
11. Teen Intensive Summer Camp production of Sweeney Todd
Every year, the crown jewel of our summer camps program is the popular Teen Intensive camp. With this year's performance of Sweeney Todd: The Demon Barber of Fleet Street being highly anticipated, we knew that we had to find a way to let these students interact in-person. While the Teen Intensive usually takes place in our 526-seat Main Stage Theatre, we moved them out to our 1,600-seat Outdoor Amphitheatre. Director Gavin Mayer came up with unique blocking to keep actors 6 feet apart, and we were all impressed when we saw these talented teens belt out Stephen Sondheim lyrics with masks on.
Summer Teen Intensive - photo by Matt Gale
12. Front Porch Series
With our summer concert series filled with national touring acts canceled, we knew that we still had an opportunity to provide music to our patrons by utilizing our large front plaza. With seventeen tables spread out, groups safely enjoyed the sounds of The Pierce Murphy Trio, That Damn Sasquatch, John Statz, Dylan Miles, and the Cody Sisters. As health and safety guidelines kept people from being able to attend indoor shows, we partnered with local jazz favorite Dazzle Presents for concerts with Ben Hammond and the Anthony Russo Band. Jessica Austgen's Denver Improv Allstars also brought a night of theatrical fun to the series. Patrons thanked us so much for creating this safe opportunity to appreciate some music under the stars, with more than one telling us that "I needed that." We needed it too!
The Pierce Murphy Trio - photo by Leslie Simon
13. Amplify
As the murder of George Floyd reverberated through the country and raised major questions on racial justice, we knew that we needed to use our platform to speak up for equality. Local producer, director, and actor Betty Hart hand-selected local Denver Black creatives to speak their truth and share how they felt right then through creative expressions of their choice. This moving series was featured on 9News Next with Kyle Clark and won a True West award.
14. Squiggles renovation
For five weeks working twelve hour days, original artist Bill Gian and son painstakingly repainted each and every scale on Squiggles, the 343-foot seasaurus that is the star of our accessible playground. With children's theatre and in-person Arts Day workshops on hold, it only made sense to take advantage of this quiet moment to bring Squiggles back to its Technicolor glory for its 21st birthday.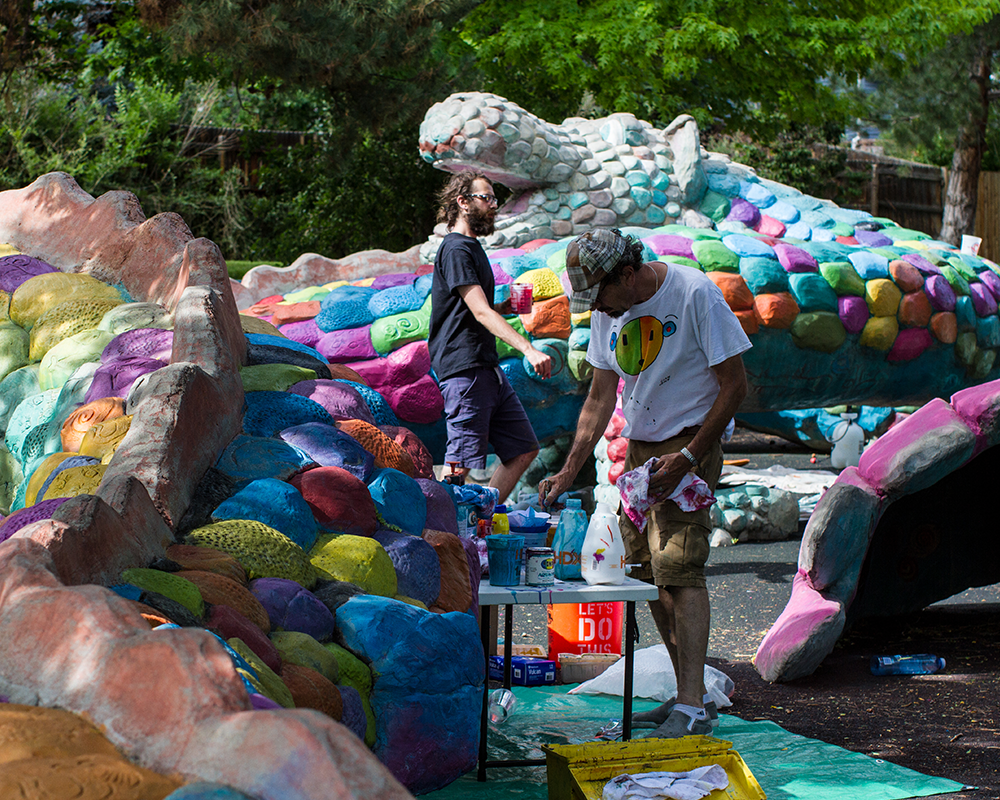 Squiggles gets a makeover - photo by Leslie Simon
15. Radio Play Series
When looking at different delivery methods to bring theatre to people while they were home, the most obvious method was a throwback to the old radio plays. We opened our Radio Play Series with Trifles by Susan Glaspell, then shifted to a one-man adaptation of Bram Stoker's Dracula by Zachary Andrews just in time for Halloween. To end the year, we went with a holiday classic producing Emily Van Fleet's rendition of Dylan Thomas' A Child's Christmas in Wales.
Art for our radio play series designed by Pierce Murphy
16. Our best Colorado Gives Day ever
If there is one thing we have been humbled and honored by throughout 2020, it's the support and loyalty of our dear patrons. You stepped up when we needed help and because of this we had our best Colorado Gives Day ever this year. At a time when arts organizations around the world are being shuttered, this support gives us the positivity and hope we need to power through until we can again gather together in-person.
17. A special guest stint from arts journalist John Moore
You may have noticed a familiar byline in Arvada Center blog posts this year. In a challenging year, we saw a silver lining and brought arts journalist John Moore onto our team to keep the arts industry in Colorado up to date with who is doing what, who has in-person events, and who had to close their doors. While the future of journalism is uncertain, there is always a need for the truth and a critical eye, and no one does that better than John Moore.
18. The Family Tree: A Virtual Holiday Comedy by Jessica Austgen
Knowing that holding our annual holiday musical was completely out of the question, we knew we needed something clever and original. We commissioned 2020 Black Box Repertory Company actor Jessica Austgen to write us a new holiday play that was performed and watched using the online Zoom platform. This innovative approach brought some much-needed connection between our actors and audiences as the show was performed live each night. With actors performing alongside people they are quarantined with, it only made sense for Jessica to include her dog Titus in the cast – who then proceeded to steal the show.
Jessica Austgen, Geoffrey Kent & Titus Kent - photo by Leslie Simon
19. First-ever Online Art Market
Through money provided to the City of Arvada through the CARES Act, the Galleries division created an online version of our annual Art Market that saw record-breaking sales on its first day. Special thanks goes to our Galleries Exhibition Manager Emily Grace King for putting it all together.
20. Black in Denver
This powerful, vibrant photographic exhibition is the first solo exhibition of Narkita Gold, and knowing this is only the beginning for her, we couldn't be happier to offer her this platform to inform, impress, and grow. Gold's body of portrait work takes a critical look at identity, and she is already receiving a lot of media praise for her powerful efforts.
Photo by Wes Magyar