COLORADO SPRINGS REACHES THE MOUNTAINTOP AT 2020 HENRY AWARDS
Fine Arts Center at Colorado College sweeps with 10 awards while crosstown TheatreWorks takes four, leaving Denver largely in the dust

By John Moore, Senior Arts Journalist
The Colorado Theatre Guild's 15th annual Henry Awards were without a physical home for the first time in its history Sunday. But most of the trophies will soon be taking up residence in Colorado Springs – by way of a steamroller.
In a near sweep that was at once both astonishing in scope and yet oddly familiar for a statewide awards program that tends to always go in big bunches, the Colorado Springs Fine Arts Center took home 10 awards in 24 competitive categories, including both Outstanding Musical ("The Bridges of Madison County") and Outstanding Play ("The Curious Incident of the Dog in the Night-Time," winner of three awards).
"Bridges" took home six awards, making it by far the most honored musical of the year, while the crosstown Colorado Springs TheatreWorks produced the most-honored play of the year by winning four Henrys for the Martin Luther King drama "The Mountaintop," including Outstanding Direction for the intentionally lower-cased donnie l. betts. The most-nominated play of the year, with 10, was Creede Repertory Theatre's world-premiere staging of Beth Kander's "Hazardous Materials." It won for Outstanding New Play or Musical.
'Colorado Springs has it going on.' – Scott RC Levy, Colorado Springs Fine Arts Center
"We're beaming," said 10-year FAC Producing Artistic Director Scott RC Levy, whose company joined the Colorado Theatre Guild in 2016 and now has won 22 Henry Awards in the past four years. Combined with the success of TheatreWorks, he said, "Colorado Springs has it going on."
The underdog StageDoor Theatre of Conifer, which had never won a Henry Award before, picked up the first two in its history. Denver's Buntport Theater also won two. Seven companies won one, including the first-ever awards for Thingamajig Theatre Company of Pagosa Springs and Mountain Repertory Theatre Company in Cripple Creek. And that left a lot of the Denver metro area's top theatre companies on the sideline.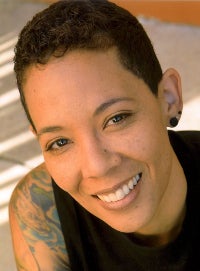 Marisa D. Hébert, a long-underrated stalwart of the Colorado Springs acting community, pulled off a remarkable (and believed to be unprecedented) feat by winning both Outstanding Actress in a Play (TheatreWorks' "The Mountaintop") and Outstanding Supporting Actress in a Play (the Fine Arts Center's "Tiny Beautiful Things").
To get a sense of how remarkable it is that the FAC won 10 Henry Awards on Sunday, consider that up until now, only nine Colorado theatre companies had won 10 awards – total – in the program's entire 15-year history.
"I am amazed and thrilled that all three of our nominated productions received awards in performance and creative categories," Levy said.
While the Guild chose not to present an "Outstanding Season" award this year in the wake of the COVID shutdown, there is little doubt it would have gone to the FAC for the second straight year. Levy's team mounted seven productions during the abbreviated year, including "The Sound of Music" (the best-selling show in company history), "Busytown: The Musical," a concert version of "Carrie the Musical" and the COVID-interrupted "The Miraculous Journey of Edward Tulane."
"The Bridges of Madison County" is Jason Robert Brown and Marsha Norman's musical stage adaptation of the famous romance novel about an Italian housewife who finds extramarital love on an Iowa farm. It also won awards for Outstanding Director (Nathan Halvorson), Musical Director (Stephanie McGuffin), Actress (Jennifer DeDominici), Supporting Actor (Jeff Roark) and Sound Design (Jacob Keough-Mishler). "Curious Incident," written by Simon Stephens and adapted from Mark Haddon's best-selling 2003 novel, follows a brilliant British teenager on the autism spectrum who sets out to solve the murder of his neighbor's dog. "The Mountaintop" imagines the last night of Martin Luther King's life as a provocative conversation with a feisty maid who compels the civil-rights leader to confront both his own humanity and monumental legacy.
'The Bridges of Madison County' won six Henry Awards, including Outstanding Musical. Photo by Jeff Kearney.

" 'The Mountaintop' is a window into where we've been, a vision of where we could be – and a call to action for humanity," Hébert said. "It is a play that shows us there is still work to be done before we reach The Promised Land."
Some of the evening's fun subplots included Sean Jeffries (pictured right), a lighting, scenic and sound designer for Thunder River Theatre Company of Carbondale who has 13 individual nominations in the past four years. He won his fourth Henry Award, for his Lighting Design of "A View From the Bridge." That made him the evening's only repeat winner.
And Logan Riley Bruner, a recurring guest star (Lance) in "The Marvelous Mrs. Maisel," celebrated his 23rd birthday today by winning the Outstanding Actor in a Play award for the Fine Arts Center's "The Curious Incident of the Dog in the Night-Time."
The awards were presented as a free and free-wheeling live stream hosted by local actors Betty Hart and Robert Michael Sanders from the stage of the Aurora Fox. There were about 500 watching the unprecedented experiment play out at any given time throughout the evening, and the added live chat feature gave the event an added feeling of community and camaraderie. The entire, technically complicated event lasted just 70 minutes and came off without a hitch.
The live stream itself was a hybrid mix of live and taped segments that was broadcast on the Colorado Theatre Guild's YouTube Channel. The hosts invited all of the winners to now make selfie video acceptance speeches, which eventually will be added into Sunday's's presentation and later re-released for bonus viewing.
But the Henry Awards have been a topsy-turvy, roller-coaster affair throughout their controversial 15-year existence. This year, a vast disproportion of the awards (19 out of 27, or 70 percent) went to companies outside the Denver metro area, even though those companies make up only 18 percent of the Guild's overall membership.
The Henry Awards' historically wild swings are most often evident in the fortunes of the Denver Center for the Performing Arts, the largest performing-arts organization between Chicago and Los Angeles. The DCPA Theatre Company, which received just one Henry Award in 2018 and eight last year, reverted back to one Sunday, despite 16 nominations. Among the metro companies that were completely shut out this year were the Arvada Center, Miners Alley Playhouse, BDT Stage, the Aurora Fox, Su Teatro, Phamaly, Theatre Aspen, Colorado Shakespeare Festival, Boulder Ensemble Theatre Company; The Catamounts, OpenStage and Bas Bleu. Among those companies that have long withdrawn from Henry Awards consideration are the Curious Theatre Company and the Lake Dillon Theatre Company.
The Henry Awards are determined through a judging process conducted by more than 100 statewide peer professionals, academics, educators and everyday theatre lovers. A show had to be seen by nine judges to be eligible, with a mathematical consideration going to those that were seen by fewer judges.
The awards season, which was brought to a screeching halt in March by the COVID19 pandemic, includes shows by Guild member companies that opened between June 1, 2019, and March 13, 2020. Because of the shortened season, judges saw only 157 shows for 2019-20, down from 206 the year before. About 40 member shows were canceled or postponed by the shutdown.
Among several other changes to the awards this year:
Nominations were returned to five per category after several years with seven (plus ties).
The Guild is continuing to split nominees in the four design categories into two tiers based on member companies' annual overall operating budgets. In previous years, the $1 million dividing line has left only seven companies in Tier 1, and all the rest in Tier 2. In an attempt to create more balance between the tiers, the cutoff for this year was halved to $500,000, putting 17 companies in Tier I.
The Henry Awards, which historically have served as the Colorado Theatre Guild's annual fundraising event, are named for late longtime local theatre producer Henry Lowenstein. Those watching the taped ceremony online are asked to donate here.
John Moore was named one of the 12 most influential theater critics in the U.S. by American Theatre Magazine during his time at The Denver Post. He also is the founder of The Denver Actors Fund, and is now contributing reports for the local theatre community for ArvadaCenter.Org. Reach him at culturewestjohn@gmail.com.
NOMINATIONS BY COMPANY (WINS IN PARENTHESES)

Fine Arts Center at Colorado College 21 (10)
DCPA Theatre Company 16 (1)
Creede Repertory Theatre 12 (2)
Thunder River Theatre Company 10 (1)
Arvada Center 9
Colorado Springs TheatreWorks 8 (4)
Vintage Theatre 6 (1)
Buntport Theater 5 (2)
Mountain Repertory Theatre 5 (1)
Town Hall Arts Center 5 (1)
Sasquatch Productions/Pace Center 4
StageDoor Theatre 3 (2)
Thingamajig Theatre Company 3 (1)
Benchmark Theatre 2
Local Theater Company 2
Miners Alley Playhouse 2
Phamaly Theatre Company 2
Candlelight Dinner Playhouse 1
Cherry Creek Theatre 1 (1)
Divabee Productions 1
Firehouse Theatre Company 1
Rocky Mountain Repertory Theatre 1
2019-20 HENRY AWARD WINNERS
Photo by Jeff Kearney.

Outstanding Production of a Play
"The Curious Incident of the Dog in The Night-Time," Fine Arts Center Theatre Company at Colorado College, Directed by Scott RC Levy
Also nominated:
"Hazardous Materials," Creede Repertory Theatre, Directed by Kyle Haden
"Indecent," DCPA Theatre Company, Directed by Nancy Keystone
"Fairfield," Miners Alley Playhouse, Directed by Jada Suzanne Dixon
"The Mountaintop," Colorado Springs TheatreWorks, Directed by donnie l. betts (lower-case intentional)
Outstanding Production of a Musical
"The Bridges of Madison County," Fine Arts Center Theatre Company at Colorado College, Directed by Nathan Halvorson, Musical Direction by Stephanie McGuffin
Also nominated:
"Bright Star," Arvada Center, Directed by Rod A. Lansberry, Musical Direction by Eric Alsford
"Jekyll & Hyde," Thingamajig Theatre Company, Directed by Melissa Firlit, Musical Direction by Boni McIntyre
"Cabaret," Town Hall Arts Center, Directed by Nick Sugar, Musical Direction by Donna Kolpan Debreceni
"The Scottsboro Boys," Vintage Theatre, Directed by Betty Hart, Musical Direction by Lee Ann Scherlong
Outstanding Direction of a Play
donnie l. betts (lower-case intentional), "The Mountaintop," Colorado Springs TheatreWorks
Also nominated:
Chris Coleman, "A Doll's House," DCPA Theatre Company
Kyle Haden, "Hazardous Materials," Creede Repertory Theatre
Nancy Keystone, "Indecent," DCPA Theatre Company
Scott RC Levy, "The Curious Incident of the Dog in the Night-Time," Fine Arts Center Theatre Company at Colorado College
Outstanding Direction of a Musical
Nathan Halvorson, "The Bridges of Madison County," Fine Arts Center Theatre Company at Colorado College
Also nominated:
Melissa Firlit, "Jekyll & Hyde," Thingamajig Theatre Company
Rod A. Lansberry, "Bright Star," Arvada Center
August Stoten, "Roald Dahl's Matilda, The Musical," Sasquatch Productions and Parker Arts
Nick Sugar, "Cabaret," Town Hall Arts Center
Outstanding Musical Direction
Stephanie McGuffin, "The Bridges of Madison County," Fine Arts Center Theatre Company at Colorado College
Also nominated:
Eric Alsford, "Bright Star," Arvada Center
Donna Kolpan Debrecini, "Cabaret," Town Hall Arts Center
David Nehls, "Once," Miners Alley Playhouse
Lee Ann Scherlong, "The Scottsboro Boys," Vintage Theatre
Outstanding Actor in a Play
Logan Riley Bruner, "The Curious Incident of the Dog in the Night-Time," Fine Arts Center Theatre Company at Colorado College (pictured right)
Also nominated:
Denis Berkfeldt, "Frost/Nixon," Vintage Theatre
Bob Moore, "A Walk in the Woods," Thunder River Theatre Company
John Plumpis, "Indecent," DCPA Theatre Company
Calvin M. Thompson, "The Mountaintop," Colorado Springs TheatreWorks
Outstanding Actress in a Play
Marisa D. Hébert, "The Mountaintop," Colorado Springs TheatreWorks
Also nominated:
Kate Berry, "Hazardous Materials," Creede Repertory Theatre
Jeri Marshall, "Hazardous Materials," Creede Repertory Theatre
Marianna McClellan, "A Doll's House," DCPA Theatre Company
Deborah Persoff, "Looped," Vintage Theatre
Outstanding Actor in a Musical
Perry Davis Harper, "Jekyll & Hyde," Thingamajig Theatre Company
Also nominated:
Dieter Bierbrauer, "The Bridges of Madison County," Fine Arts Center Theatre Company at Colorado College
Scott Hurst Jr., "Jekyll & Hyde," Candlelight Dinner Playhouse
Cooper Kaminsky, "Roald Dahl's Matilda The Musical," Sasquatch Productions and Parker Arts
Ben Newman, "Peter and the Starcatcher," Creede Repertory Theatre
Outstanding Actress in a Musical
Jennifer DeDominici, "The Bridges of Madison County," Fine Arts Center Theatre Company at Colorado College
Also nominated:
Merideth Kaye Clark, "Bright Star," Arvada Center
Meredith Jones, "Always…Patsy Cline," Rocky Mountain Repertory Theatre
Sonya Meyer, "The Doyle and Debbie Show," Thunder River Theatre Company
Erin Schneider, "Chicago," Phamaly Theatre Company
Outstanding Supporting Actor in a Play
Chris Kendall, "Tuesdays with Morrie," Cherry Creek Theatre (pictured right)
Also nominated:
Brian Colonna, "Universe 92," Buntport Theater
Steve Emily, "Tiny Beautiful Things," Fine Arts Center Theatre Company at Colorado College
Cameron Folmar, "Twelfth Night," DCPA Theatre Company
Ben Newman, "Pride and Prejudice," Creede Repertory Theatre
Outstanding Supporting Actress in a Play
Marisa D. Hébert, "Tiny Beautiful Things," Fine Arts Center Theatre Company at Colorado College
Also nominated:
Kate Berry, "Pride and Prejudice," Creede Repertory Theatre
Anastasia Davidson, "A Doll's House," DCPA Theatre Company
Elise Santora, "The Curious Incident of the Dog in the Night-Time," Fine Arts Center Theatre Company at Colorado College
Valerie Spencer, "Indecent," DCPA Theatre Company
Outstanding Supporting Actor in a Musical
Jeffrey Roark, "The Bridges of Madison County," Fine Arts Center Theatre Company at Colorado College (pictured right)
Also nominated:
Dieter Bierbrauer, "Bright Star," Arvada Center
Dwayne Carrington, "The Scottsboro Boys," Vintage Theatre
Ben Hilzer, "Roald Dahl's Matilda The Musical," Sasquatch Productions and Parker Arts
Robert Michael Sanders, "Chicago," Phamaly Theatre Company
Outstanding Supporting Actress in a Musical
Annie Dwyer, "Cabaret," Town Hall Arts Center (pictured right)
Also nominated:
Susan Dawn Carson, "The Bridges of Madison County," Fine Arts Center Theatre Company at Colorado College
Melanie Hollenstein, "The Great American Trailer Park Musical," Mountain Repertory Theatre Company at the Butte Theater
Sarah Smith, "The Great American Trailer Park Musical," Mountain Repertory Theatre Company at the Butte Theater
Emma Thoeni, "The Great American Trailer Park Musical," Mountain Repertory Theatre Company at the Butte Theater
Outstanding Ensemble Performance
"The Mountaintop," Colorado Springs TheatreWorks
Also nominated:
"Hazardous Materials," Creede Repertory Theatre
"Indecent," DCPA Theatre Company
"The Curious Incident of the Dog in the Night-Time," Fine Arts Center Theatre Company at Colorado College
"A Walk in the Woods," Thunder River Theatre Company
Outstanding Choreography
Christopher Page-Sanders, "The Scottsboro Boys," Vintage Theatre
Also nominated:
Mary Ripper Baker, "The Curious Incident of the Dog in the Night-Time," Fine Arts Center Theatre Company at Colorado College
Nathan Halvorson, "The Great American Trailer Park Musical," Mountain Repertory Theatre Company at the Butte Theater
Kitty Skillman Hilsabeck, "A Christmas Carol – The Musical," Arvada Center
Nick Sugar, "Cabaret," Town Hall Arts Center
Outstanding New Play or Musical
"Hazardous Materials," by Beth Kander, Directed by Kyle Haden, Produced by Creede Repertory Theatre
Also nominated:
"Universe 92," Written and Directed by Buntport Theater, Produced by Buntport Theater
"twenty50," by Tony Meneses, Directed by Henry Godinez, Produced by DCPA Theatre Company
"You Lost Me," by Bonnie Metzgar, Directed by Margot Bordelon, Produced by DCPA Theatre Company
"Take to the Highway," by Kenny Moten and John Seaberry, Directed by Kenny Moten, Produced by Divabee Productions
TIERED DESIGN CATEGORIES
TIER 1 COMPANIES 2019-20:
Arvada Center
Aurora Fox
BDT Stage
Boulder Ensemble Theatre Company
Candlelight Dinner Playhouse
Colorado Shakespeare Festival
Creede Repertory Theatre
Colorado Springs Fine Arts Center at Colorado College
DCPA Theatre Company
Miners Alley Playhouse
Phamaly Theatre Company
Rocky Mountain Repertory Theatre
Theatre Aspen
Colorado Springs TheatreWorks
Thingamajig Theatre
Town Hall Arts Center
Vintage Theatre
Outstanding Costume Design, Tier 1
Meghan Anderson Doyle, "A Doll's House," DCPA Theatre Company
Also nominated:
Jeff Cone, "Indecent," DCPA Theatre Company
Kevin Copenhaver, "Twelfth Night," DCPA Theatre Company
Alethia Moore-Del Monico, "Hazardous Materials," Creede Repertory Theatre
Nicole Watts, "A Christmas Carol – The Musical," Arvada Center
Outstanding Costume Design Tier 2 (three-way tie)

Buntport Theater, "Universe 92," Buntport Theater
Suzanne Couch, "Noises Off," StageDoor Theatre
Nancy Hankin, "The Great American Trailer Park Musical," Mountain Repertory Theatre Company at the Butte Theater
Also nominated:
Rachel Herring Finley, "Calendar Girls," Firehouse Theater Company
Jennifer Schiller, "A Walk in the Woods," Thunder River Theatre Company
Outstanding Lighting Design, Tier 1
Holly Rawls, "The Curious Incident of the Dog in the Night-Time," Fine Arts Center Theatre Company at Colorado College
Also nominated:
Jiyoun Chang, "You Lost Me," DCPA Theatre Company
Jason Lynch, "A Doll's House," DCPA Theatre Company
Kathy Perkins, "The Mountaintop," Colorado Springs TheatreWorks
Jonathan Spencer, "The Bridges of Madison County," Fine Arts Center Theatre Company at Colorado College
Outstanding Lighting Design, Tier 2
Sean Jeffries, "A View from the Bridge," Thunder River Theatre Company
Also nominated:
Sean Jeffries, "The Doyle and Debbie Show," Thunder River Theatre Company
Tom Junker, "Noises Off," StageDoor Theatre
Kevin Newton, "Roald Dahl's Matilda The Musical," Sasquatch Productions and Parker Arts
Jacob Welch, "Flame Broiled. or the ugly play," Local Theater Company
Outstanding Scenic Design, Tier 1 (tie)

Lindsay Fuori, "Hazardous Materials," Creede Repertory Theatre
Charles Packard, "The Mountaintop," Colorado Springs TheatreWorks
Also nominated:
Lex Liang, "The Bridges of Madison County," Fine Arts Center Theatre Company at Colorado College
Brian Mallgrave, "Plaza Suite," Arvada Center (pictured right)
Christopher L. Sheley, "The Curious Incident of the Dog in the Night-Time ," Fine Arts Center Theatre Company at Colorado College
Outstanding Scenic Design, Tier 2
Dean Arniotes, "Noises Off," StageDoor Theatre
Also nominated:
Buntport Theater, "Universe 92," Buntport Theater
Michael R. Duran, "Parfumerie," Benchmark Theatre
Sean Jeffries, "A View from the Bridge," Thunder River Theatre Company
Colin Tugwell, "The Doyle and Debbie Show," Thunder River Theatre Company
Outstanding Sound Design, Tier 1
Jacob Keough-Mishler, "The Bridges of Madison County," Fine Arts Center Theatre Company at Colorado College
Also nominated:
El Armstrong, "The Mountaintop," Colorado Springs TheatreWorks
Jacob K. Harbour, "Hazardous Materials," Creede Repertory Theatre
Stephen Light, "The Curious Incident of the Dog in the Night-Time," Fine Arts Center Theatre Company at Colorado College
David Thomas, "Bright Star," Arvada Center
Outstanding Sound Design, Tier 2
Buntport Theater, "Universe 92," Buntport Theater
Also nominated:
Sean Jeffries, "A View from the Bridge," Thunder River Theatre Company
Sean Jeffries, "The Doyle and Debbie Show," Thunder River Theatre Company
Rachel Rogers, "Airness," Benchmark Theatre
CeCe Smith, "Flame Broiled. or the ugly play," Local Theater Company
2020 HENRY AWARDS MEMORIAM VIDEO

Above is the video that was played as part of the 2020 Henry Awards live stream in tribute to those from the theatre community who have passed away in the past year (listed below). Video by Senior Arts Journalist John Moore.

• Julie Ballard, Actor
• Ed Battle, Actor
• Jane Borg-Chilson, Director, Choreographer and Teacher
• Kevin Brainerd, Costume Design
• Matt Brown, Improv Comedy
• Joy Burns, Philanthropist
• Tyler Collins, Actor
• Tracy Cravens, Longmont Theatre Company Media Relations and Volunteer
• Ann Crumb, Actor, former Boulder resident
• Sally Gass, Vocalist
• Pete Happe, Lighting Design
• Jodi Hogle, Actor and Teacher
• John Horn, Actor
• Douglas Langworthy, DCPA Theatre Company Director of New Play Development
• Debbie Johnson Lee, Actor
• Christopher Lowell, Actor
• Daniel Lowenstein, Scenic Design
• Joy MacDowell Grothjan, Actor
• Al McFarland, Actor
• Bill, McHale, Producer, Country Dinner Playhouse
• Jeff Miller, Actor
• Peter Saide, Actor
• Mark Scheidies, Actor
• John Seifert, Actor and Germinal Stage-Denver Co-founder
• Renae Steinbacher, BDT Stage Group Sales Manager
• John Wesley, Actor
• Laird Williamson, DCPA Theatre Company Director
• Marvin Wolf, Philanthropist and namesake of the Wolf Theatre