By Sarah Kolb and Leslie Simon
Over the last year we were proud to open our doors and welcome patrons to gather together for theatre, education, music, and arts once again. While our 2021 ended more abruptly than expected, it only makes us prouder and more grateful of what we were able to accomplish this year, and the many arts experiences we shared. Here are 21 things the Arvada Center is proud of from 2021. Which was your favorite?
1. Wood.Works and Carley Warren: Three Pieces
The first gallery exhibitions of 2021 transformed the center of our Main Gallery into a forest floor - literally! "Forest Floor" by Patrick Marold was one of many pieces that stretched the boundaries of what Colorado artists could do in woodworking.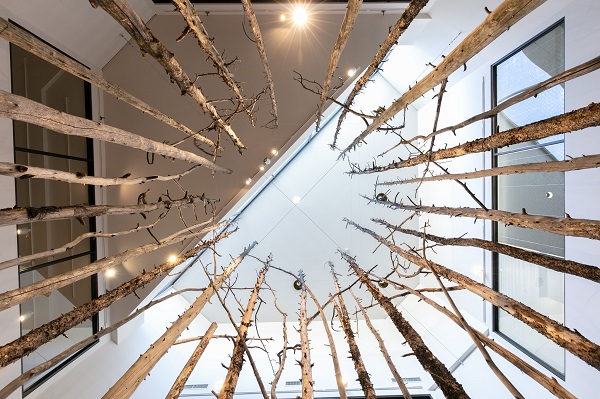 "Forest Floor" by Patrick Marold, photo by Wes Magyar
2. Bringing theatre to you
In the spring, we explored the possibilities of digital theatre in many formats, with four productions audiences enjoyed wherever they were. This included the hysterical saga of one man working in Barbra Streisand's basement shopping mall (Buyer and Cellar, performed by Jake Mendes) to a live virtual murder mystery with a twist (Christie Con written by Jessica Austgen), to an audio adaptation of the Great American Novel (The Great Gatsby, created and performed by Zachary Andrews).
We wrapped it up with the musical theatre retrospective "Our Favorite Things," a musical revue celebrating 45 years of musical theatre at the Center!
3. A quiet return to live theatre
Our return to live theatre brought us full circle with the story that we were hours away from opening when we closed our doors in March. Bess Wohl's play Small Mouth Sounds opened in April - and it felt right to come back around to this poignant story about loneliness and connection.
The cast of Small Mouth Sounds, photo by Leslie Simon
4. The return of in-person education performances
We missed live performance of all kinds in 2020 - especially the opportunity for students in our Front Range Youth Symphony and Dance Academy programs to present their hard work for families and friends. Early this spring, we were back in the theatre - and by the end of the year we were thrilled to present these concerts to full houses.
We continued to livestream these events, so that families near and far could tune in to marvel at these performances.
Dance Academy students rehearse for a fall performance, photo by Rosee Photography
5. Rocking out to Million Dollar Quartet
Johnny Cash, Carl Perkins, Jerry Lee Lewis and Elvis Presley walked into a recording studio… and the rest is history. We took this rock 'n' roll musical outside, where these incredible performers heated up the Outdoor Amphitheatre through July. "From the first "It's one for the money" I had tears in my eyes and goosebumps running up my arms," said BroadwayWorld's Jon Bee.
The cast of Million Dollar Quartet, photo by Leslie Simon
6. …and understanding how it's only one side of the story.
The musicians, producers, and recording studio in Million Dollar Quartet developed from a long history of blues, gospel and rhythm-and-blues music that became rock 'n' roll. We hosted a virtual talk on Race and the Myth of Rock 'n' Roll with Dr. Shana Redmond, Professor of Musicology and African American Studies at UCLA, to explore the pivotal role of race in rock music, and how that history is ignored.
7. Exploring the impact of the pandemic through art.
In the midst of Colorado's stay-at-home order in early March 2020, local artists did what they do best: they continued to create. This outpouring of creativity inspired the call for entry that would become Viral Influence: Art in the Time of the Coronavirus.
8. A stunning summer concert series under the stars
Summer was in full swing at the Center with live music and performances! Hundreds of people relaxed under the stars to see acts like Asleep at the Wheel and Face Vocal Band, as well as performances by our friends Cleo Parker Robinson Dance, the Colorado Jazz Repertory Orchestra, Colorado Ballet and more.
Colorado Symphony concertmaster Yumi Hwang-Williams performs at the Center, photo by Amanda Tipton Photography
9. FRYS students had the opportunity to work with CO Symphony musicians.
Rather than traveling out of town for their annual summer retreat, students in our Front Range Youth Symphony had the opportunity to work with musicians from the Colorado Symphony - including concertmaster Yumi Hwang-Williams. We're grateful for partnerships like these, providing incredible experiences for our students!
10. And the return of the Front Porch, with Dazzle Presents
Alongside performances in our Outdoor Amphitheatre, we hung out on the Arvada Center's Front Porch this summer with a series of intimate and unplugged concerts, presented with Dazzle Jazz. Concert-goers enjoyed the laid-back atmosphere and good weather on Wednesday events through the summer, with concerts that ranged from bluegrass to a Jerry Garcia tribute.
11. Chicago Teen Intensive
Students in our summer Teen Intensive painted the town… and all that jazz! Students in the Teen Intensive program presented the musical Chicago, working with our directors, choreographers and production staff to learn about the musical production process from beginning to end.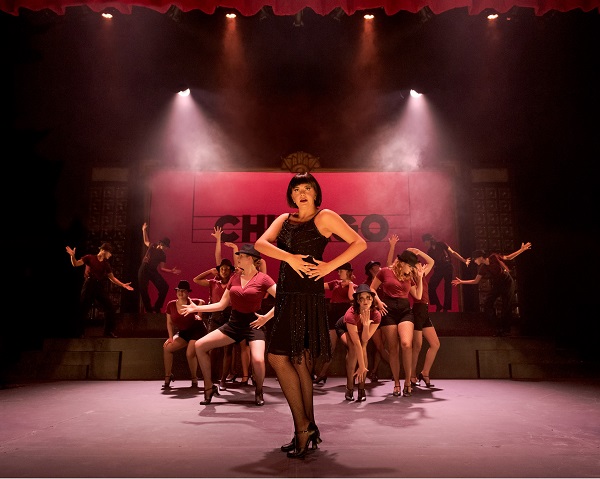 Photo by Matt Gale Photography
12. Amplify live!
Beginning as a series of digital performances curated by actor and director Betty Hart last year, AMPLIFY evolved into a live event series with the goal of amplifying voices that have not traditionally been heard - at the Center or beyond. In 2021, we were honored to host evenings of performance and conversation curated by Betty Hart, Colorado Poet Laureate Bobby LeFebre, the Denver American Indian Festival, Cleo Parker Robinson, and Idris Goodwin (with special guest Justice Miles).
Watch highlights from the evening of performance presented by the Denver American Indian Festival.
13. Shuttered Venue Operators Grant
Thanks to a collaborative effort that saw many Arvada Center staff members providing detailed information about their respective fields of expertise, we were awarded a Shuttered Venue Operators Grant of just over $2,400,000. This program saw the federal government awarding over $16 billion to performance venues affected by the spread of COVID-19. Thanks to this funding, we are able to cover the loss of revenue that is still presently occurring due to canceled performances.
14. Our incredible Box Office and Front of House staff
It's been a challenging year to be on the front lines of customer service. Our Box Office and Front of House staff have weathered canceled performances, angry phone calls, changing health and safety regulations, technical difficulties surrounding virtual theatre, and much more. We're immensely grateful for the hard work and perseverance of our Patron Services staff, House Management team, ushers and more - we literally couldn't do it without them.
15. Starting the theatre season with a wedding
Our 2021-2022 theatre season started off with a wedding. I Do! I Do! - a two-person musical starring two sets of real-life married couples - eased audiences back into our theatre season with sweetness and a little sass.
16. The Black Box Theatre went to the dogs
Sylvia, A.R. Gurney's classic comedy about marriage and dog-ownership was the first production in this theatre since we closed our doors in March 2020. "What a compelling, compassionate and hysterical tour-de-force performance..." wrote Beki Pineda (Boulder Magazine) about Jessica Robblee's turn as the title canine.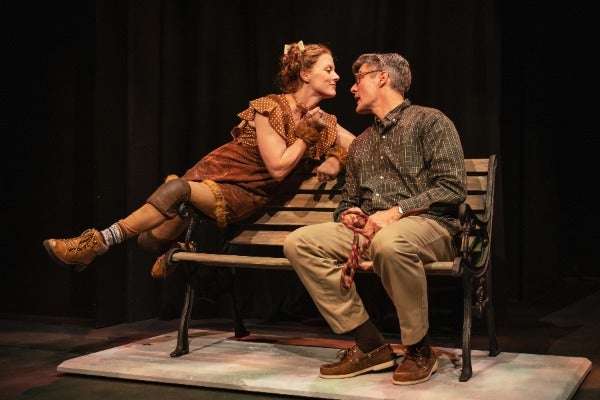 Jessica Robblee and Gareth Saxe in Sylvia, photo by Amanda Tipton Photography
17. Hosting new events in the ballrooms
A new partnership with Three Tomatoes Catering means new opportunities! From a refreshed catering menu for our summer concerts to elevated dining experiences before select theatre performances, we were excited to get this new partnership off the ground.
18. A record-breaking number of submissions for Art of the State
This fall, we held a Call for Entry for Art of the State 2022 - a triannual celebratory survey of the incredible diversity and quality of Colorado art. This open call open to all Colorado artists garnered a record-breaking 2,067 submissions by 734 artists! The jurors worked diligently to select a comprehensive overview of work that strives to capture a wide scope of art from across the state. From those entries, 149 artworks by 142 artists were selected.
The exhibition opens this upcoming January.
19. Supporting local artists at our Holiday Art Markets
A holiday tradition, our Holiday Art Markets physically returned to the galleries this winter. The 35th Annual Fine Art Market featured over 1,200 affordable items of original art from 70+ Colorado artists, and the 45th annual Pottery Sale featured work by students and instructors in the Center's ceramics program. A select number of items were also for sale online only.
20. Finding our inner Elf
After the great success of our 2018 production of Elf – The Musical, we decided to invite some of the cast back to have a real reunion for the holiday season. We were thrilled to end the year with a bigger and better production complete with new sets and updated costumes. While the run had to close a little early, we still loved ending the year with seeing so many familiar faces – both on the stage and in the audience.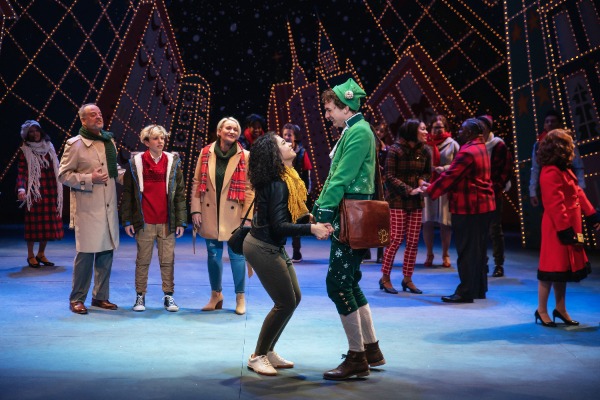 The cast of Elf - The Musical, photo by Amanda Tipton
21. Our audiences - all of you
Finally and most importantly - we're thankful for you. Everyone who has supported the Arvada Center during these challenging times has made an impact on supporting art and artists in Colorado. The magic of sharing art with our audiences is hard to describe. So thank you - for coming to a performance, taking a class, exploring our galleries, attending a concert, and valuing art in your lives and in our community!
We hope that you will join us in 2022 as we celebrate and elevate the human condition like we have for the past 45 years.