A MARRIED COUPLE'S CHRISTMAS IN 'WALES'
Dylan Thomas' classic remembrance of holidays past returns to its roots as an audio play
"One Christmas was so much like another in those years that I can never remember whether it snowed for six days and six nights when I was 12 – or whether it snowed for 12 days and 12 nights when I was 6."
By John Moore, Senior Arts Journalist
"A Child's Christmas in Wales" is a story written in prose, yet when Dylan Thomas read it aloud, he somehow turned his words into a song.

Thomas originally recorded his hazy holiday remembrances for BBC Radio in 1952, one year before his hazy death. In 2008, that seminal recording was cited by the United States National Recording Registry as having launched the audiobook industry in the United States. Thomas' popular piece has since been called a narrative poem, a memory play and a sentimental elegy. In its newest iteration, it is an original, two-actor audio play for the enjoyment of homebound Arvada Center audiences – which seems just right in a year when just about nothing seems at all right.
"A Child's Christmas in Wales" is once again, as it was in the beginning, a radio play. Just without the radio. It is the third installment in Arvada Center Artistic Director of Plays Lynne Collins' fall series of audio plays that she pivoted to as a way of bringing original programming to audiences left culturally starved by the ongoing pandemic.
"I think it is so important to find connection right now in any way that we can," said Emily Van Fleet, who not only adapted and directed the new audio play, she co-stars in it with her real-life husband, Nathan Jones. "There is something so beautiful about audio drama," she said. "You allow the audience to fill in the gaps with their imagination and their own memories so that they have a personal connection to a piece that we can then all share together."
"A Child's Christmas in Wales" is Dylan's anecdotal remembering of Christmases past from the view of a young child, unashamedly romanticizing a nostalgic and simpler time just after World War I. The Arvada Center's audio version will be available for audiences to listen to at their convenience anytime from November 30 through December 27.
"This is a going to make it easy for you to hunker down and spend some quality time with the people closest to you," said Jones. "And you'll actually be practicing what Dylan Thomas' play is doing, which is an exercise in reflection and sharing gratitude and thinking about how our past experiences inform our present. Even though we might not be with our larger families this year, past memories of being together still hold powerful opportunities for us to empathize and be grateful this holiday season."
ORDER 'A CHILD'S CHRISTMAS IN WALES'

Van Fleet started with a script that will be familiar to some local theatre audiences, because it comes from a version originally adapted for the stage by her father, Arvada Center President and CEO Philip Sneed, when he was Artistic Director of the Foothill Theatre Company in California. He then presented that version, which featured four adult and two child actors, in 2007 and 2008, when he was running the Colorado Shakespeare Festival in Boulder.
With all of the logistical challenges of presenting theatre of any kind during the pandemic, Van Fleet set out to turn the story into one that could be performed by just two people – her husband and herself – without leaving their own house. Earlier this year, the couple launched "a messy marriage podcast" titled "Twice as Less Not Perfect," and they managed to record all of the play's dialogue and music in the closet-sized basement studio they crafted for their podcast.
"We did all of it in a 3-foot-by-3-foot, standing-room-only closet, oftentimes while we were in there together at the same time," said Jones. The pair recorded the 40-minute play over four sessions, including songs that at times required them to sing in four-part harmony. "We doubled up the parts and layered the tracks," said Van Fleet, who has been one of the busiest members of the Colorado theatre community over recent years, starring in many productions from the Creede Repertory Theatre to the Denver Center to the Arvada Center. She and her husband have collaborated many times on the creation of meaningful children's theatre productions, and Van Fleet directed the Arvada Center's recent innovative take on Shakespeare's "A Midsummer Night's Dream," which was shut down by COVID.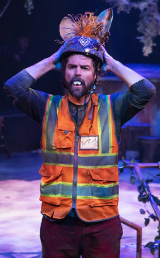 (Pictured at right: Geoff Kent in 'A Midsummer Night's Dream,' directed by Emily Van Fleet. Photo by Amanda Tipton.)
Jones, meanwhile, is a professional educator with an extensive background in improv comedy. But he hasn't played a scripted role on stage, he estimates, in 15 years. "A Child's Christmas in Wales" required him to play several characters, of many ages, and to sing. He admits the challenge was at times intense. So what's an actor (or a director or a castmate) to do when things get a little heated in a 3-by-3 closet?
"This experience has come with a lot of joy and laughter – but there were a few times when we had to step out and take a break," Jones said with a laugh. To which his wife of nine years interjected: "We have a cat who is a really good listener." She did say the experience might be a good subject for an upcoming podcast episode.
Bt the couple did have two essential creative partners. Rick Wasserman, the signature voice of the AMC television network, coached the pair on vocal work over the course of several months. And award-winning Sound Designer Jason Ducat, who not only mixed together the dialogue and music into one cohesive narrative, he added essential "foley" sound effects ranging from children laughing to adults sipping tea.
What they have done together, Van Fleet hopes, is justice to one of the infamously volatile Welsh poet's most joyful and revered pieces of writing.
"There are so many little vignettes that I think audiences will recognize from their own childhood experiences," she said. "The arts and live theatre are such a huge source of cultivating empathy among human beings. There is a real need for that right now. This play is a way for you to intimately connect with another person – from a safe distance."
'You can Zoom each other while you are listening and share the experience together.' – Emily Van Fleet
"A Child's Christmas in Wales" culminates a challenging but productive fall when the Arvada Center has been among the most prolific companies in the state at creating opportunities for audiences to engage in theatre, art, dance and live music. "Wales" drops just a few days before the Arvada Center launches a second holiday offering: The innovative and original virtual play "The Family Tree" will allow audiences to drop in on an Arvada family's comic and at times consequential holiday Zoom calls.
All that combined effort to remain active creators at the most challenging time in Arvada Center history, Van Fleet said, sends a powerful message to its audiences.
"It says we're not going anywhere," she said. "While COVID may keep us from being in the same room together right now, It says that we are still here, and we're still telling stories, and we're still reaching out and trying to find connection with our community by offering stories of empathy and joy."
And she hopes that family members who are separated this December find in "A Child's Christmas in Wales" the opportunity to engage in a new kind of holiday tradition.
Once you buy a ticket, Van Fleet said, "You can listen to the play as many times as you want through December 27. That means you can listen to it on your own, or in the car … or you can press 'play' at the same time with other friends and family members all across the country. You can Zoom each other while you are listening and share the experience together and then talk about it."
And if you are simply quarantining with your nuclear family in your own homes, she added, "It is the perfect thing to cozy up with a blanket and your hot cocoa and just settle in and enjoy in front of a fire."
John Moore was named one of the 12 most influential theater critics in the U.S. by American Theatre Magazine during his time at The Denver Post. He also is the founder of The Denver Actors Fund, and is now contributing reports on the arts community for the Arvada Center. Reach him at culturewestjohn@gmail.com.
Arvada Center Fall Radio Play Series: 'A Child's Christmas in Wales'
Written by Dylan Thomas. Adapted for the stage by Philip Sneed and the Foothill Theatre Company. Adapted for audio by Emily Van Fleet.
Performed by Emily Van Fleet and Nathan Jones
Directed by Emily Van Fleet
Sound design by Jason Ducat
Running time: 40 minutes
Available for listening November 30 through December 27
Tickets now for available for advance purchase at arvadacenter.org. To purchase, hit the "Buy Tickets" link and select the square with December 27 listed as the date (that's the final day the play is available for listening).
Ticket-purchasers will be allowed to name their own price, starting at $10. They will be sent a private link to the play, which then can be accessed on any device. The hosting service is Vimeo, a video platform, so that those with varying hearing needs can read the play via closed-captioning if that is their preference.
Age recommendation: Appropriate for all ages.
ORDER 'A CHILD'S CHRISTMAS IN WALES'
What is a radio play?
The Arvada Center's radio plays are audio-based theatre - like your favorite podcast, or an audiobook. Gather your family to listen together, or put n your headphones and enjoy on your own. These radio plays will play on the device of your choice - your phone, table or a computer.