ARVADA CENTER TO LAUNCH 'AMPLIFY' SERIES TO RAISE BLACK MALE VOICES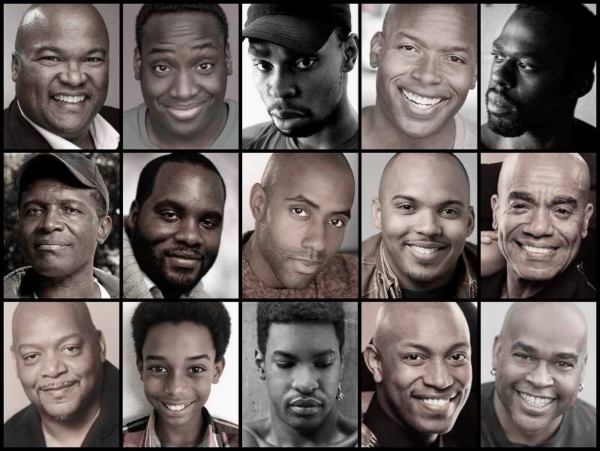 'Amplify' performers, top row from left: Abner Genece, AJ Voliton, Brandon Metoyer and Cajardo Lindsey and Christopher Page-Sanders. Second row: Dwayne Carrington, Joseph Graves, Kenny Moten, Lavour Addison and Leonard Barrett. Third row: Michael Peters, Owen Zitek,Preston Adams, Randy Chalmers and Trent Hines.
"This is a catalytic moment," says President and CEO Philip Sneed
By John Moore, Senior Arts Journalist
"Amplify" means to intensify, escalate and magnify a sound that needs to be cranked up.
On Friday, June 26, the Arvada Center will launch a new line of online programming called "Amplify," a summer-long video series giving voice to Black men through song, performance, dance and spoken word. Specifically: Black men whose voices have not yet been heard loudly enough, at the Arvada Center or beyond.
The program is a proactive response to the racial reckoning in America that has arisen from the murder of George Floyd. All across the nation, individuals and organizations that may have counted themselves among those allied with the principles of equality and social justice are now taking long looks in the mirror – including the Arvada Center.
And President and CEO Philip Sneed says the time for talk is over.
"The events of the past few weeks have made clear that we have reached a point where we must move forward proactively and can no longer wait to take concrete, authentic and specific actions to address the values of inclusion, diversity, equity and access," said Sneed. "We are all keenly aware that words alone will not suffice at such a time as this, so we are focused on action."
"Amplify" will begin as a three-part, biweekly series curated by True West Award-winning actor Betty Hart, who starred in the Arvada Center's 2016 production of "The Mountaintop," a drama that imagines the last night of Dr. Martin Luther King Jr.'s life.
" 'Amplify' is happening because the Arvada Center recognizes that they are one of the larger performing-arts organizations in the region, and they want to use their platform to amplify Black voices during this time," said Hart, who recently directed the critically lauded "The Scottsboro Boys" for the Vintage Theatre in Aurora. "The country is concerned about social justice right now, in large part because the murder of George Floyd has caused people to question the way things are and have been."
She purposefully programmed "Amplify" with only Black male performers, she said, "because I thought of all the voices that need to be heard at this time, Black men's voices are the most critical in light of the daily challenges they face simply to exist. I think 'Amplify' is a great opportunity to hear from Black male artists about whatever they want to say right now."
Sneed was among hundreds of national arts leaders who were recently sent a letter titled, "We See You, White American Theatre." The letter, which called out systemic white privilege, challenges arts leaders to take concrete action to make all American arts organizations truly diverse and inclusive by fundamentally changing the way they operate from the board room to human resources. It reads, in part: "We have watched you un-challenge your white privilege, inviting us to traffic in the very racism and patriarchy that festers in our bodies, while we protest against it on your stages. We see you."
Watch Amplify: Episode 1
And while the city of Arvada has a population of 123,000 that is 92 percent white and only 1.34 percent Black, Arvada is the seventh-largest city in the state and the Arvada Center is the second-largest performing-arts organization in the region, with more resources than most. Simply put, Sneed says: It is the Center's responsibility to be part of the solution, not the problem.
"The field is taking this very seriously, and will be responding with major changes to programming and hiring practices as a result," said Sneed, who has gathered a board committee to specifically focus on issues of diversity and inclusion at the Arvada Center.
"This is a catalytic moment," Sneed said in an additional interview with Westword. "We have not been able to achieve much diversity; that is something we need to do better at. We know we have to prove ourselves in the coming weeks, months and years. All I can do at the moment is offer you my words — and I say that knowing words don't matter much right now."
"Art must be life – it must belong to everybody." – Marina Abramovic
The specific idea for "Amplify" began with Director of Communications Marcus Turner, who said it is important that the Arvada Center acknowledge "that we have a long road ahead of us to be a truly inclusive place. We can only forge a path forward with clear eyes and open ears."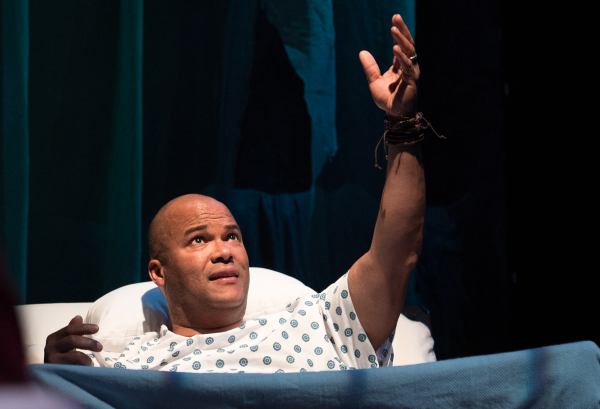 And a shut mouth. That's why his goal for "Amplify," he added, is simply "to act as a convener on this conversation" by turning the mic over to Hart, who, as curator, producer and director, will introduce each episode.
Hart has offered 15 performers, including some of the biggest names in the local theatre community, up to five minutes to express whatever they want, through whatever avenue they choose – including a monologue from a play, a song, dance or original text. Of the 15 invited artists, representing a cross-section of Colorado theatre from Denver to Creede, only three (Abner Genece, Cajardo Lindsey and Dwayne Carrington) have performed on an Arvada Center stage before.
"My hope is that the Arvada Center's audiences will see these men and say, 'Why is there all this talent in Denver and we have not seen them on Arvada Center stages?'" Hart said.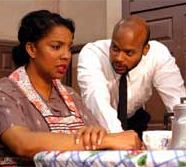 Genece has been part of the Arvada Center's Black Box Theatre Company for two years, with credits including "The Electric Baby" (pictured above and right) "All My Sons" and "The Diary of Anne Frank." In a 2017 interview, Lindsey said playing Walter Lee Younger in the Arvada Center's 2005 "A Raisin in the Sun" (pictured right) was the role that changed his life because of the look and embrace he received from his mentor, the late Shadow Theatre founder Jeffrey Nickelson, after a performance.
Various 'Amplify' segments, Hart added, will include "the words of MLK, piano playing by Trent Hines, the sultry voice of Leonard Barrett, and even 13-year-old Owen Zitek, who is going to do spoken word from Lauryn Hill's 'Black Rage' album." That's a song Hill dedicated to all those fighting for racial equality in Ferguson, Missouri, after riots followed the police shooting of Michael Brown in 2014.
The performances have been curated into three taped segments of about 25 minutes each. A new episode will drop every two weeks through July 7.
Each performer will be paid a small stipend. The Arvada Center will be closed for indoor theatre until next year and, organization-wide, Sneed anticipates taking a COVID-fueled shutdown loss of $1.25 million for the fiscal year ending next week – while also having to reduce next year's budget by $2.6 million, or 22 percent. "Despite these enormous financial challenges, we felt it was important to find money to offer these contributing artists a stipend, however modest," Sneed said.
Moten is using his time to sing a shortened version of "Lift Ev'ry Voice and Sing," often referred to as "The Black National Anthem." A local jazz singer sang an unplanned rendition of the song at then-Mayor John Hickenlooper's 2008 State of the City address, and the fallout for the singer included death threats, epithets, hate mail and lost work.
The lyrics are from a poem set to music in 1905 by James Weldon Johnson, who described the song as a way for African-Americans to demonstrate their patriotism and hope for the future as an ode to pressing on:
"Sing a song full of the faith that the dark past has taught us.
Sing a song full of the hope that the present has brought us.
Facing the rising sun of our new day begun.
Let us march on 'til victory is won."
To Moten, "the words really define the uplift we all need right now about what the future can hold for all of us," he said.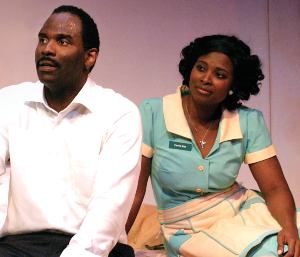 Hart recognizes the Arvada Center's 40-year place serving the highest-quality theatre productions to an overwhelmingly white audience, so she has no expectation of the sudden inclusion of prominent Black playwrights on the season anytime soon. But she does expect to see a greater commitment to casting more actors of color in traditionally white roles – and hiring more people of color on creative teams and into full-time staff positions.
'It's now on the Arvada Center to tell artists of color that they truly are welcome here.'
"I hope the Arvada Center joins the rest of the country in embracing color-conscious casting and realizing that plays that most people would consider to be chestnuts can be absolutely revitalized by bringing different people into the storytelling process," Hart said. "It's now on the Arvada Center to tell artists of color that they truly are welcome here."
Moten said he appreciates "that the Arvada Center is owning what they have done in the past and moving forward in a way that I hope more theatres follow. But the change is going to have to be more than just what they put onstage.
"The proof will be in how they keep this up."
John Moore was named one of the 12 most influential theater critics in the U.S. by American Theatre Magazine during his time at The Denver Post. He also is the founder of The Denver Actors Fund, and is now contributing reports for the local theatre community for ArvadaCenter.Org. Reach him at culturewestjohn@gmail.com.
Pictured above and right: Cedric Mays and Betty Hart in the Arvada Center's 2016 production of 'The Mountaintop.'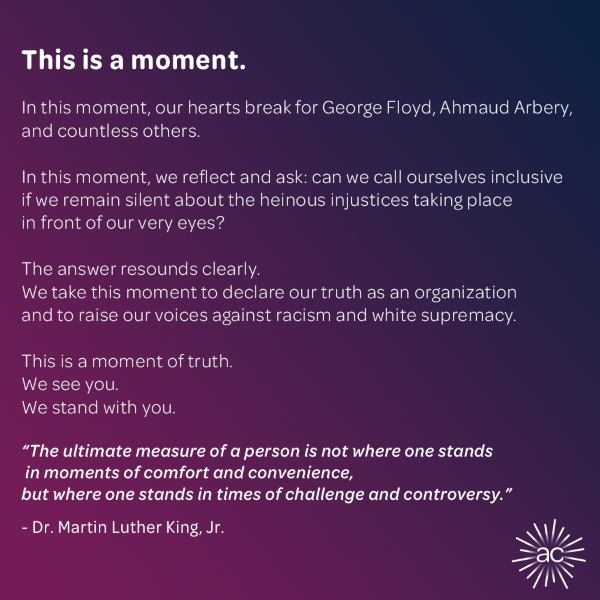 The Arvada Center issued the above statement after the police murder of George Floyd.