ARVADA CENTER PIVOTING TO RADIO PLAYS THIS FALL

The cast of 'Trifles,' from left: Abner Genece, Kevin Hart, Sheryl McCallum, Emma Messenger and Philip Sneed.
Tickets now available to hear 'Trifles,' Dracula'
By John Moore, Senior Arts Journalist
The Arvada Center is moving forward by throwing back.
Radio plays are at once something old, something new, something borrowed and something rarely blue. But, unlike weddings, this nostalgic storytelling form marries two very contemporary objectives for the Arvada Center in 2020: How to continue to deliver professionally produced stories for culturally starved audiences – without putting their lives at risk.
This fall, Arvada Center Artistic Director of Plays Lynne Collins will be rolling out a series of short, homemade audio plays that will be available to listeners on multiple listening platforms.
"What I love is that, in these pandemic days, these plays represent a new way to tell stories that doesn't involve looking at a screen – which I think will be pretty appealing to lot of people right now," said Collins. "They're portable, so people can listen while walking or driving or exercising."
Imagine that: Live theatre … without having your eyes glued to an electronic device. That's so B.C. (Before Coronavirus.)
"I think we owe it to our audiences who have been loyal and engaged with us for so long to bring a little of what we do to the people who are missing it most. It's our duty," said Collins. "Radio plays are well within the wheelhouse – and that's telling a story with really good actors."
Radio dramas reached widespread popularity a century ago and by the 1940s were one the leading forms of popular entertainment in the world. They began losing their audience with the advent of TV, but never fully went away. Many pop-culture experts consider them the precursor to the modern podcast.
The Arvada Center's new series launches September 21 with a 30-minute audio adaptation of Susan Glaspell's "Trifles." That's a 100-year-old pre-feminist mystery about a man who is found dead in his bed with a rope around his neck – and a wife who claims to have slept through the murder. Glaspell was an Iowa journalist who covered the real-life case in 1900. When she later based her play on the crime, she changed the murder weapon from an axe.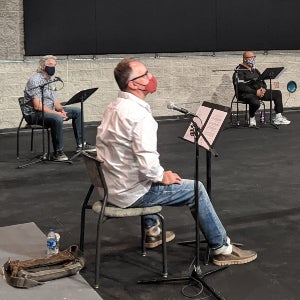 In the play, the County Attorney, Sheriff and a local farmer investigate the crime. (In other words – all the men.) But it is the wives they bring along who quietly put the puzzle pieces together. The all-star cast features Arvada Center favorites Abner Genece, Kevin Hart, Sheryl McCallum, Emma Messenger and Arvada Center CEO Philip Sneed – who was once a rather prolific actor himself.
"It's a really good script, with all the tension you would expect from an old-fashioned radio yarn," said Messenger. "But it's also got a current message about women. The play exposes the way men so easily dismiss women and overlook the small details. The women realize it's the trifles that hold the key."
'We owe it to our audiences to bring a little of what we do to the people who are missing it most.' – Lynne Collins
"Trifles," which was recorded by Arvada Center Production Manager Jacob Kenworthy and Sound Designer Jason Ducat under strict social distancing guidelines, will be available to listeners for three weeks, followed by something very different in tone and presentation: Actor and playwright Zachary Andrews performing the world premiere of his cutting-edge adaptation of Bram Stoker's "Dracula" … all by himself.
"I think this is probably the most faithful adaptation of 'Dracula' you'll find anywhere," said Andrews, a longtime member of the Arvada Center's Black Box Repertory Theatre acting company. "It faithfully delivers the original story, with 95 percent of it coming from the original text. The novel is a collection of journal entries, telegrams and letters, and I have condensed them down from a 17-hour novel into a unique, 60-minute piece of audio theatre. So it moves like lightning – and is supported by all this immersive music and sound that I have also composed and designed."
Collins describes Andrews' creation as "a less traditional radio play that is cinematic in scope with modern, original music and a big soundcscape."
Stoker's masterpiece of horror follows a young solicitor named Jonathan Harker, who travels to Transylvania to close a real-estate deal with the wealthy nobleman Count Dracula. Things quickly descend into a Gothic nightmare as a determined group of friends battle an ancient evil that threatens not only their lives, but the world.
"As theatre remains in lockdown, making 'Dracula' has been a chance for me to explore and develop new forms of expression, while immersing myself in creating a singularly immersive telling of this story," Andrews said.
Andrews said he's "both humbled and excited that the Arvada Center is trusting me with every aspect of this project. I hope it sends a chill down your spine for Halloween, and that listening to it lets loose your imagination in a world perhaps even stranger than our own."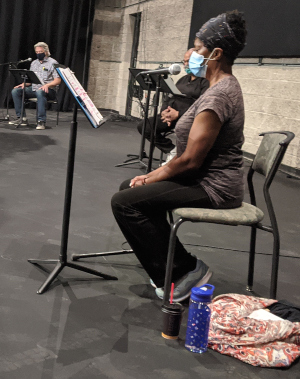 For Messenger, a multiple-award-winning actor who hadn't gone more than two months without being in a play since moving to Denver in 2010, the thrill of simply walking back into the Arvada Center's Black Box Theatre for the first time since the COVID shutdown was indescribable.
"The theatre is a sacred space," Messenger said. "Just to be in that room with those other wonderful actors, and to have an incredible director guiding you, it's like you forget how long it's been."
The Arvada Center hopes to bring live theatre back to audiences in February with the launch of a four-production season. In the meantime, Collins believes the fall radio series "will be an important way to tell our audiences we're still here, and that we are still reaching out to them."
It's also a chance to give her actors and creatives a chance to stretch their muscles – "and pay some people," she said. "I am very interested in putting some money into the pockets of the artists who have been so devastated by all of this.
"We are all just so hungry to make some art. This is what we do, and we are all missing it."
John Moore was named one of the 12 most influential theater critics in the U.S. by American Theatre Magazine during his time at The Denver Post. He also is the founder of The Denver Actors Fund, and is now contributing reports on the arts community for ArvadaCenter.Org. Reach him at culturewestjohn@gmail.com.
Arvada Center Fall Radio Play Series
Artwork by Pierce Murphy.
'Trifles'
Written by Susan Glaspell
Directed by Lynne Collins
Featuring Abner Genece, Kevin Hart, Sheryl McCallum, Emma Messenger and Philip Sneed
Available for listening September 21 through October 11
Running time: 30 minutes
Tickets now available for advance purchase at ArvadaCenter.Org
'Dracula'
Written and performed by Zachary Andrews
Running time: 60 minutes
Available for listening from October 12 through November 1
Tickets now available for advance purchase at ArvadaCenter.Org
Age recommendation: 12 and older for some descriptions of violence
NOTE: Ticket-purchasers will be allowed to name their own price, starting at $10. They will be sent a private link to the play, which then can be accessed on any device. The hosting service is Vimeo, a video platform, so that those with varying hearing needs can read the play via closed-captioning.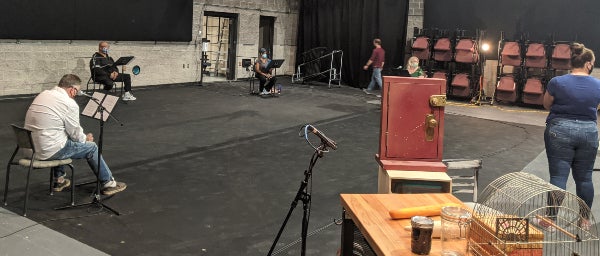 Actors record the radio play 'Trifles' at the Arvada Center. Photos by Sarah Kolb.