BETH MALONE BRINGING HER 'JOY BOMB' TO ARVADA CENTER ON SEPTEMBER 4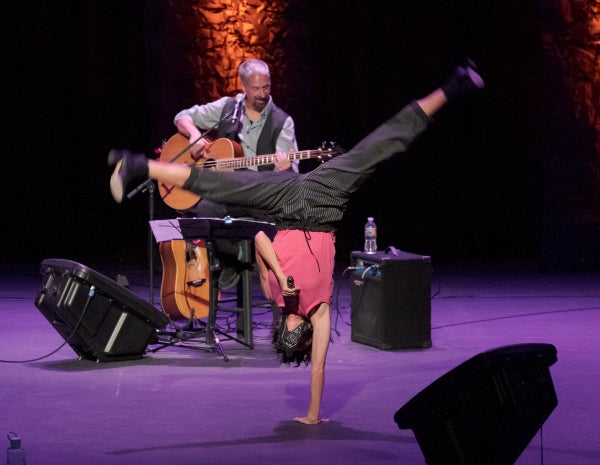 Beth Malone in concert at the Arvada Center. Photo by Matthew Gale.

'It's going to be a thoughtful, mindful, meaningful, fun, joyful show'
By John Moore, Senior Arts Journalist
The ongoing COVID shutdown has left audiences hungry for the return of live performances and, just in time, Broadway star Beth Malone is coming back to the Arvada Center with a heaping serving of soul food.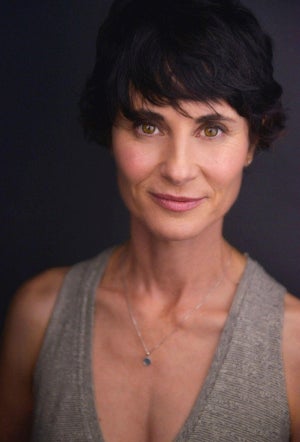 Malone, a Castle Rock native who was nominated for a 2015 Tony Award ("Fun Home") will perform her new concert at 7 p.m. on Friday, September 4, in the socially distanced expanse of the Arvada Center's amphitheater. Outdoor capacity is normally 600, but to accommodate physical distancing, the Arvada Center is limiting attendance to 130 at each 75-minute performance.
Malone will be performing what she calls "a very eclectic song list" ranging from an old-school Judy Garland arrangement ("Just in Time") to country to pop to showtunes.
"I am going to sing the kind of songs that I would want to hear right now," Malone said. "Music really does speak to universal things that are bigger than the moment. Music can level the playing field and make everyone feel seen and heard – and that's what our show does.
"I want people to leave with a lot of hope and to feel like everything's actually going to be OK. There is going to be a way out of this, and a way through it. That's what I want.
"And I think our set list is kind of awesome."
That set list includes the pure pop of Five for Fighting ("Above the Timberline"), the inspirational country of Luke Bryan ("Most People are Good") and plenty of showtunes (from "Tootsie," "Fun Home," "Sister Act," "Ring of Fire" and "The Unsinkable Molly Brown.")
Malone was starring in the New York debut of the Denver-born "Molly Brown" revival when theatre around the world was shut down by the coronavirus on March 12. Dick Scanlon's so-called "revisal" of the 1960 Broadway hit was warmly received by audiences and critics, culminating a long creative journey that began at the Denver Center's 2009 Colorado New Play Summit. Malone signed on to play Colorado's iconic Titanic survivor for its 2014 world premiere at the Denver Center.
She couldn't have known on March 12 that the long quest to bring Molly Brown all the way back to New York was over. (The show will not come back when live theatre returns to New York stages next year.) But Malone did get to see the show validated with an extended run, warm reviews "and a boatload of awards," she said, calling it "the perfect production in the perfect theatre," if not the perfect ending for Molly Brown's journey.
"It was a truncated journey, but we did get to create Leadville in the middle of New York City, which is what I really wanted," she said.
Malone also could not have known then that she would not perform again before a live audience for nearly five months, when she recently introduced a shortened version of her concert for her hometown audiences at Theatre Aspen. It's hard to keep Malone indoors for long, but she and her wife have been mostly sheltering at their condo in nearby Snowmass Village. Beyond developing her concert and binge-watching all of "Game of Thrones," Malone has made the most of her time, casually dropping a couple of rather significant upcoming creative projects into the conversation.
Malone will have a supporting role in the upcoming Broadway musical "Jeannette," written by pop star Ari Afsar and Lauren Gunderson, America's most produced playwright three years running and author of the DCPA Theatre Company's world premiere hit "The Book of Will." "Jeannette" is based on the story of America's first congresswoman, Montana's Jeannette Rankin, who was elected to congress in 1916 (three years before some women first won the right to vote). Malone will play Rankin's top aide, opposite Broadway star Karen Olivo.
But then there's this: "I am actually writing a musical adaptation of Cyrano de Bergerac," Malone said. "The music is being written by Emily Saliers of Indigo Girls."
Malone's three Aspen concerts quickly sold out but, she says, people are generally of two polar mindsets when it comes to performing, even outdoors, during the pandemic. "People are either really supportive or really suspicious of performing in front of people right now," she said. "It's either judgy or jealous – there is no middle of the road. But the people who came to our show in Aspen were so grateful. They were shocked and thrilled that we were doing it."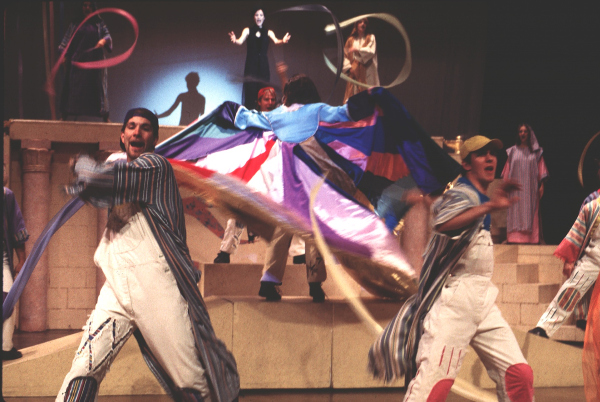 That's Beth Malone up top and in the back leading the Arvada Center's 'Joseph and the Amazing Technicolor Dreamcoat.'
Malone made her Broadway debut in 2006 originating the role of June Carter Cash in "Ring of Fire." Her Colorado performance roots also span the Country Dinner Playhouse (where she starred in "They're Playing Our Song," which will be staged by the Arvada Center next year) and Aspen's Crystal Palace. Now she's looking forward to returning to the Arvada Center, where she played Marta in "Company," an urchin in "Little Shop of Horrors" and five holiday seasons starring as The Narrator in "Joseph and the Amazing Technicolor Dreamcoat," all produced by Arvada Center Artistic Director of Musicals Rod Lansberry.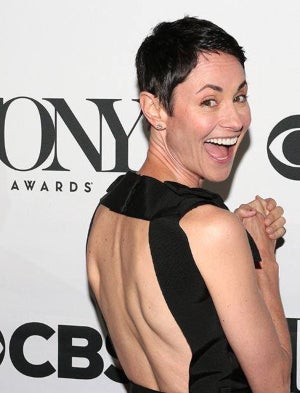 "It's going to be very, very fun," she said of her return. "Rod is an old friend, so I am excited to come home to the Arvada Center and have all of the memories flood back, because I spent a ton of time there. I'm sure as soon as I get back there, I am going to say, 'That's where the '90s went!' "
Five years of "Joseph" stagings meant about five dozen actors who played Jacob's sons. "Every single year there was an entirely different group of brothers," Malone said. "So sometimes I'll be walking across the street in Manhattan and suddenly I'm yelling, 'Hi, Simeon!' "
Malone will be joined on the Arvada Center outdoor stage by guitarist and vocalist Damian Smith of True Story Band, pianist (and longtime best friend) David Dyer, and vocalist Sonya Meyer, who was nominated for a 2020 Henry Award for her performance in "The Doyle & Debbie Show" for the Thunder River Theatre Company.
Malone describes her three-act musical narrative as "a tongue-in-cheek joy bomb" designed to oxygenate her audience's blood.
"People are just so desperate for entertainment and connection right now," she said. "This is what people need right now. This is going to be a thoughtful, mindful, meaningful, fun, joyful show."
John Moore was named one of the 12 most influential theater critics in the U.S. by American Theatre Magazine during his time at The Denver Post. He also is the founder of The Denver Actors Fund, and is now contributing reports on the arts community for ArvadaCenter.Org. Reach him at culturewestjohn@gmail.com.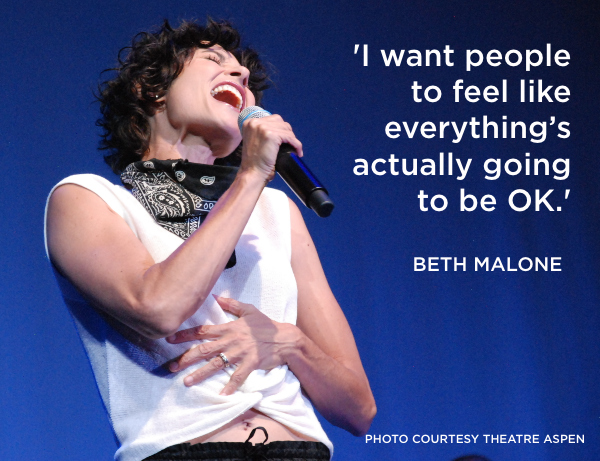 Photo by Kristen Goodwin for Theatre Aspen.
Beth Malone in Concert
7 p.m. Friday, September 4
Arvada Center Amphitheatre, 6901 Wadsworth Boulevard
Tickets: $65
Available only by phone at 720-898-7200
Set list:
And here's the set list:
"Above the Timberline," by Five for Fighting
"Just in Time," Judy Garland arrangement
"Jackson," from "Ring of Fire"
"What's Gonna Happen," from "Tootsie"
"The Life I've Never Lived," from "Sister Act"
"Telephone Wire," from "Fun Home"
"Ring of Keys," from "Fun Home"
"The Eye," Brandi Carlisle
"The ABCs of Love," from "The Doyle & Debby Show," sung by Sonya Meyer
"Wild Hearts Can't Be Broken," Pink
"Most of All," Brandi Carlile
"Most People are Good," Luke Bryan
"Flight," by Sutton Foster, duet with Sonya Meyer
"An Old-Fashioned Love Story" from "Wild Party"
"Moon River"
"Raise Up Your Glass," written and sung by Damian Smith
"The Life of the Party," by Idina Menzel, a duet with Sonya Meyer
"I Ain't Down Yet," from "The Unsinkable Molly Brown"