MISCAST GETS A TWIST: THIS YEAR, IT'S 'CAST 2020'

Video benefit concert featuring stars of canceled or postponed shows to be released week of October 5
By John Moore, Senior Arts Journalist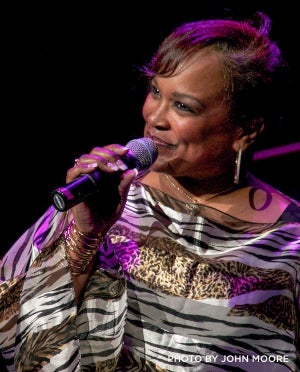 For years, "Miscast" has served as the major annual fundraiser for The Denver Actors Fund, which has made more than $625,000 available to Colorado theatre artists in medical need. The popular annual event has always featured actors performing in roles they feel they would never be cast to play for real.
This year is, in every way, different. A fundamental shift in the dialogue of the American theatre has focused on issues of casting, representation and basic fairness. Simply put, who is to say anyone is "miscast" for anything anymore?
In addition, more than 500 planned Colorado theatre productions have been postponed or canceled by the coronavirus. This is the year when you didn't even get to see local theatre luminaries perform in roles they really WERE cast to perform in.
So, being mindful of both considerations, "Miscast" producers Robert Michael Sanders and Kenny Moten have pivoted to "CAST 2020," a professionally produced video concert that will allow many of those performers, and their disappointed audiences, a taste of what might have been.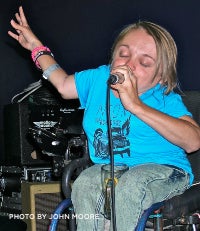 The lineup includes Mary Louise Lee, Denver's First Lady of Song, singing as the overbearing stage mother Mama Rose in "Gypsy," which was slated to open in June at the Vintage Theatre. Also Kalyn Heffernan, a homeless activist, MC for the Krip Hop band Wheelchair Sports Camp and a 2018 Denver Mayoral candidate. Heffernan, who was born with the genetic disorder osteogenesis imperfecta, has created original music for Phamaly Theatre Company's delayed production of "Alice in Wonderland." Heffernan is cast as the Cheshire Cat.
What better sign that times have changed than the fact that Lee, a powerhouse international African American entertainer for 30 years, had been cast to play a role based on a real-life white woman from North Dakota? As she said in the final episode of the Arvada Center's "Amplify" video series, "Black women are worthy to have seats at ANY table!" Read more here
The "CAST 2020" video, recorded at Focus Event Studios in north Denver, edited by Ray Bailey TV and Music Directed by Donna Debreceni, will be available for public viewing the week of October 5. Audiences may now purchase access to a private link for a donation to The Denver Actors Fund of at least $20 here.
Sanders, Moten, Debreceni, Focus Event Studios and Ray Bailey TV are all providing their services as in-kind donations to The Denver Actors Fund.
Also scheduled to appear on the lineup (subject to change):
Rebecca Myers Burdick, Colorado Springs Fine Arts Center's 'The 25th Annual Putnam County Spelling Bee'
Lisa Kay Carter and Seth Dhonau, Arvada Center's 'Something Rotten'
Scott Hurst, Candlelight Dinner Playhouse's 'Curtains'
McKayla Marso, BDT Stage's 'The Sound of Music'
Cal Meakins, Forge Light Theatreworks' 'Bare: The Musical'
Keith Hershman and Jessie Oblazny, Magic Moments' 'Take the High Road'
Mercedes Perez, Lake Dillon Theatre's 'Man of La Mancha'
Jenna Moll Reyes, Aurora Fox's 'Freaky Friday'
Camryn Torres, Miners Alley Playhouse's 'Once on This Island'
Audio plays are all the fall rage

The cast of the Arvada Center's audio play 'Trifles,' dropping on Monday, September 21
How to deliver professionally produced stories for culturally starved audiences – without putting their lives at risk? The Arvada Center is pivoting to radio plays this fall, with "Trifles" launching Monday (September 21) and Zachary Andrews' one-man "Dracula" following on October 12. "In these pandemic days, these plays represent a new way to tell stories that doesn't involve looking at a screen – which I think will be pretty appealing to lot of people right now," says Artistic Director of Plays Lynne Collins. The "Trifles" cast includes Emma Messenger, Kevin Hart, Sheryl McCallum, Abner Genece and Philip Sneed. Order here. Read our full story here.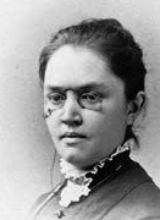 Meanwhile, the Colorado Springs Fine Arts Center has launched a 12-part audio anthology series called "Of Spacious Skies." Twelve short, original stories set in the Pikes Peak region will drop weekly every Thursday through December 3. The first episode, "Beautiful," written by Mêlisa Annis, looks at the lifelong relationship between poet Katharine Lee Bates ("America the Beautiful," pictured at right) and college professor Katharine Coman. It's free, but those who donate $25 or more will receive a CD compilation of the series. Listen here. Video versions of each episode, with historic photos, abstract images and more, are available at broadwayondemand.com. The first episode is free; the complete series is $25.
Also dropped this week: "Waiting for Obama," the audio version of a play that was an official selection at the 2016 New York International Fringe Festival, has been released as a (free) fundraiser for The Denver Actors Fund. In the story, a Colorado Springs family is convinced that Barack Obama is coming for their guns in the final weeks of his presidency. (And they're right.) The play features Laurence Curry, Drew Horwitz, Chris Kendall, Leslie O'Carroll, Jenna Moll Reyes, Jessica Robblee, Luke Sorge and Mare Trevathan, was recorded by the staff of Parker Arts at the PACE Center as an in-kind donation to The Denver Actors Fund. (Full disclosure: The author of the play is the author of this news report – John Moore.) Listen for free on all major podcasting platforms including Spotify, Apple Podcasts and Podbean.
Betty Hart new leader of Colorado Theatre Guild
The Colorado Theatre Guild has just named Betty Hart its new President, succeeding Reece Livingstone. She's been a Board member since 2017, and recently produced both the first live virtual Henry Awards and the Arvada Center's acclaimed "Amplify" video series. "These are difficult times for our theatre community, and we plan to increase our imprint on the Colorado theatre scene by providing more services to all Colorado theatres," Hart said in a statement. Her stated mission and goal is "to help create more opportunities for necessary conversations." Look for our expanded interview here next week.


This is Happening:
LIVE THEATRE
Adams Mystery Playhouse's "Murder at an Irish Wake." Presented indoors through September 26 at 2406 Federal Blvd., 303-455-1848 or adamsmysteryplayhouse.com
"and again," a new play written and performed by Steph Holmbo, is described as an immersive exploration of what it means to listen, and what it means to be heard, as told through the lesser-known myth of Echo. (She was a mountain nymph who drew the attraction of Zeus on Mount Kithairon.) Holmbo guides the audience of 10 through along a site-specific journey through tragedy, deprivation and redemption. 7 p.m. Fridays and Saturdays through October 3. Ticket information eventbrite.com
Aurora Fox's "Tomfoolery," a salute to cynical 1960s songwriter and social commentator Tom Lehrer, is presented indoors through October 11 at

9900 E. Colfax Ave. in Aurora. 303-739-1970 or

aurorafox.org

. Read more here.
Town Hall Arts Center's "Almost Heaven," the songs and stories of John Denver, is presented outdoors through October 11 at Hudson Gardens, 6115 S. Santa Fe Drive in Littleton.

303-794-2787 or

townhallartscenter.com

. Read more here.
Candlelight Dinner Playhouse's slimmed-down "Camelot" performs through October 25 and "Always … Patsy Cline" through October 20. Presented indoors at 4747 Marketplace Drive in Johnstown, 970-744-3747 or coloradocandlelight.com
ONLINE THEATRE
Springs Ensemble Theatre is entering the virtual theatre world with a streaming presentation of "White" by James Ijames. It's a modern-day "Frankenstein" story by about a white artist who hires an African American actress to perform as a brash political artist who will fit the museum's desire for "new voices" – until things inevitably spin out of control. "The story, which is both hilarious and gut-wrenching, couldn't be more timely," said SET company member Jenny Maloney, exploring issues of race, gender, sexuality, representation and art. Directed by Kala Roquemore and featuring Dana Kjeldsen, Desireé Myers, Bethany Hernandez and Christopher Dong. This production features Colorado Springs visual artists Ollie Gielas, Elise Neal, Ravyn Martinez, Christine Flores, Muji Rieger and Elly Siebert. Performances will be available to stream September 24 through October 11 at springsensembletheatre.org.
CONCERTS
Sunday, September 20: BDT Stage's "Unforgettable: The Songs of Nat King Cole," starring Leonard Barrett Jr. Includes dinner. Bring your own chair. Presented outdoors at 5501 Arapahoe Ave. 303-449-6000 or BDT Stage
Saturday, September 26: Miners Alley Playhouse's tribute to R&B legend Ruth Brown, featuring Sheryl McCallum and David Nehls. Brown was known for songs such as "So Long, Teardrops from My Eyes" and "(Mama) He Treats Your Daughter Mean." She also played Motor Mouth Mabel in the John Waters film "Hairspray." In-person audience limited to 15; the concert also will be available as a live stream starting at $5. 303-935-3044 or minersalley.com
Saturday, September 26: Parker Arts' "The Boy Band Project" brings to town the New York-based cover group that includes Denver native and Broadway veteran Jesse JP Johnson (pictured). Featuring the music of *NSYNC, the Backstreet Boys, Hanson, O-Town, One Direction, Boyz II Men, The Four Seasons and more. Presented indoors at the PACE Center, 20000 Pikes Peak Ave. Tickets must be purchased in advance. Also available online as a live stream. 303-805-6800 or parkerarts.org
OTHER

Sunday, September 27: Hang out in John Lithgow's living room (virtually), talk satire and hear the acclaimed actor read from his unreleased book of skewering poetry, "Trumpty Dumpty Wanted a Crown?" It's part of Local Theater Company's "Living Room Local," a season-long series of intimate, interactive conversations with acclaimed artists. 6 p.m. Tickets at localtheaterco.org
And finally …
Buntport Theater has created the Buntport Bored Post Society Society (B.B.P.S.S.) as a way to encourage people to support the U.S. Postal Service and not have to rely so much on their computer screens during the pandemic. Participants will receive a series of interactive, creative prompts through the mail over the course of the next few months. Some projects take longer than others. Some require you to mail things back to Buntport. "This is designed for people who have the time and desire to play," the Buntporters say. A $50 donation is requested for membership to help cover costs and labor. Get more info here
John Moore was named one of the 12 most influential theater critics in the U.S. by American Theatre Magazine during his time at The Denver Post. He also is the founder of The Denver Actors Fund, and is now contributing reports on the arts community for ArvadaCenter.Org. Reach him at culturewestjohn@gmail.com.
Video bonus: Highlights from 'Miscast 2019'