Above: The second installment of the Arvada Center's "Amplify," a biweekly video series raising the voices of 15 Black men in the Colorado arts community. Produced by Betty Hart, this episode features Dwayne Carrington, Joseph Graves, Trent Hines, Michael Peters and Randy Chalmers. Read more about Amplify here
$100,000: WHO THE DENVER ACTORS FUND'S DEAR FUND HAS HELPED
By John Moore, Senior Arts Journalist
The Denver Actors Fund's emergency DEAR Fund is nearing completion of its mission to provide more than $100,000 in emergency income replacement to Colorado theatre artists who lost the ability to earn a living in the immediate aftermath of the COVID19 shutdown.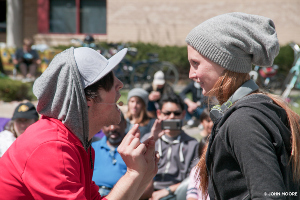 A review of the non-profit's records shows that, to date, the DEAR Fund has supported 289 individual theatre artists representing 60 Colorado theatre companies, arts presenters and education organizations. Leading the way, not surprisingly, are employees from the Denver Center for the Performing Arts, which has furloughed, terminated or reduced the hours and pay of nearly all its 300 full-time, part-time and seasonal employees until theatre returns there in spring 2021.
Through July 11, The DEAR Fund had supported 37 DCPA employees with $11,600 in payroll stipends of up to $500 each. That includes everything from actors to stage managers to box-office workers to teaching artists. (Pictured: DCPA "Shakespeare in the Parking Lot" Teaching Artists.)
Next on the list is the Candlelight Dinner Playhouse of Johnstown, which last week became the first Colorado theatre company to reopen indoors with three plays to be performed in repertory through the summer. A total of 35 Candlelight employees have received $9,750, followed by the Arvada Center ($8,000), BDT Stage ($5,500) and the Colorado Shakespeare Festival ($4,625).
"I am so incredibly grateful for this," said director Candice Owens, who received $500 in income replacement when OpenStage's Fort Collins production of Ken Ludwig's "Sherwood" was canceled. "It brings tears to my eyes that artists are being helped."
DEAR Fund: Awards distributed by company:
| | | |
| --- | --- | --- |
| Theatre organization | City | Amount |
| Denver Center for the Performing Arts | Denver | $11,600 |
| Candlelight Dinner Playhouse | Johnstown | $9,750 |
| Arvada Center | Arvada | $8,000 |
| BDT Stage | Boulder | $5,500 |
| Colorado Shakespeare Festival | Boulder | $4,625 |
| Glenwood Vaudeville Review | Glenwood Springs | $3,500 |
| Thingamajig Theatre Company | Pagosa Springs | $3,250 |
| Dairy Arts Center | Boulder | $3,000 |
| Fine Arts Center at Colorado College | Colorado Springs | $2,750 |
| Curious Theatre Company | Denver | $2,750 |
| Town Hall Arts Center | Littleton | $2,750 |
| Act II | Colorado Springs | $2,000 |
| Performance Now | Lakewood | $1,831 |
| Kaiser Permanente Arts Education | Denver | $1,750 |
| Aurora Fox Arts Center | Aurora | $1,500 |
| Firehouse Theater Company | Denver | $1,500 |
| Vintage Theatre Productions | Aurora | $1,375 |
| square product theatre company | Boulder | $1,300 |
| Miners Alley Playhouse | Golden | $1,250 |
| Other Educational Theatre | Various | $1,250 |
| Boulder Ensemble Theatre Company | Boulder | $1,125 |
| Parker Arts | Parker | $1,125 |
| Curtain Playhouse | Wheat Ridge | $1,000 |
| Iron Springs Chateau | Manitou Springs | $1,000 |
| Local Theater Company | Boulder | $1,000 |
| Shakespeare in the Wild | Centennial | $1,000 |
| Wolf Theatre Academy | Denver | $875 |
| Benchmark Theatre | Lakewood | $750 |
| Black Actors Guild | Denver | $750 |
| Cherry Creek Theatre | Denver | $750 |
| Crisis Actors | Denver | $750 |
| Front Range Theatre Company | Highlands Ranch | $750 |
| TheatreWorks | Colorado Springs | $750 |
| Vilar Performing Arts Center | Beaver Creek | $750 |
| Rocky Mountain Repertory Theatre | Grand Lake | $625 |
| All Hands Active | Boulder | $500 |
| Bas Bleu Theatre Company | Fort Collins | $500 |
| Bitsy Stage | Denver | $500 |
| Castle Courtyard Players | Redstone | $500 |
| Misfits Theater Company | Boulder | $500 |
| OpenStage Theatre Company | Fort Collins | $500 |
| Royal Players Guild | Boulder | $500 |
| Venue Theatre | Conifer | $500 |
| Lost & Found Productions | Denver | $450 |
| Buntport Theater | Denver | $250 |
| Central City Opera | Central City | $250 |
| Creede Repertory Theatre | Creede | $250 |
| Durango Arts Center | Durango | $250 |
| KidStage | Denver | $250 |
| Lamont Opera Company | Fort Collins | $250 |
| Madame Zervanos Traveling Mystery Show | Golden | $250 |
| Platte Valley Players | Brighton | $250 |
| Public Works Theatre | Lafayette | $250 |
| Southern Colorado Repertory Theatre | Trinidad | $250 |
| Stagedoor | Conifer | $250 |
| The Playmakers | Various | $250 |
| Su Teatro | Denver | $150 |
| Longmont Theatre Company | Longmont | $125 |
| Opera Fort Collins | Fort Collins | $125 |
(Note: Many qualifying artists have lost income from multiple sources. For the chart above, totals were credited to the primary employer, or split equally. Some companies paid artists for all or partial lost income.)
The DEAR Fund has distributed $92,000 to date and will continue to process applications until either August 15 or the presently remaining $9,000 is gone, whichever comes first.
The DEAR Fund was created in the immediate aftermath of the statewide theatre shutdown in March. It was started with $25,000 in seed money from The Denver Actors Fund, which has separately made $500,000 available to members of the Colorado theatre community in medical need since 2013. The DEAR Fund was conceived to be a temporary source of immediate income-replacement relief, and within a week, the initial $25,000 was allocated. But as quickly as the money went out, DEAR-specific donations flowed in, eventually quadrupling the total funds available. Leading donors have included DCPA President and CEO Janice Sinden ($10,000), local businessman Bret Bolin ($10,000) and The Denver Foundation ($7,500), along with 260 donors ranging from Phamaly Theatre Company to seamsters who made COVID19 masks in exchange for donations to The Denver Actors Fund.
DAF officials have put an August 15 end date on the DEAR Fund because original qualifying requirements applied only to verifiable employment on plays or musicals that were postponed or canceled by the shutdown. We are now approaching the start dates for plays and musicals that were not yet even cast. So The Denver Actors Fund is considering additional ways it can be of non-medical support to affected theatre community members in the coming months.
For more information, or to apply for remaiing DEAR Funds, click here.To donate, click here.
PAYROLL PROTECTION PROGRAM PAYOUTS
The Small Business Administration last week disclosed the largest recipients of Paycheck Protection Program loans, but only the top 15 percent – or those that totaled $1 million or more. And it only disclosed ranges, not exact amounts. Among local arts organizations:
Colorado Museum of Natural History: $5-10 million
Colorado Historical Society: $2-5 million
Denver Art Museum: $2-5 million
Denver Botanic Gardens: $2-5 million
Denver Center for the Performing Arts: $2-5 million
Denver Zoo: $2-5 million
Landmark Event Staffing Services of Fort Collins: $2-5 million
Arvada Center for the Arts and Humanities: $1-2 million
Cheyenne Mountain Zoo (Colorado Springs: $1-2 million
Colorado Symphony: $1-2 million
Thirteenth Floor Entertainment (Halloween events): $1-2 million
The other biggest payouts in Colorado went to ski resorts; golf courses and country clubs; fitness and recreational centers; bowling centers and other amusement industries; Air Force Academy Athletics and USA Volleyball.
The data shows the government issued $521 billion in loans, with an average loan size of $107,000. SBA officials say the program "helped support" about 51 million jobs, according to self-reported data provided by borrowers. However, side note: Among the 660,000 overall loan recipients, 48,922 reported "zero" as the number of jobs they would retain with the money, and 40,506 recipients left that question blank.
BLACK ACTORS GUILD MAKES WESTWORD COVER
Now in its 11th year, the Black Actors Guild enjoyed perhaps the best media recognition in its history last week when it was featured as Westword's cover story for its multimedia art installation "Are We Still Cool?" Artist Christina Pittaluga wanted to challenge stereotyped notions of Black masculinity by showing men of color draped in flowers, lace, necklaces and veils. The photos feature members of the Black Actors Guild.
Pittaluga grew up with two brothers. "Two beautiful black men who were there to show me love – and to rough me up when it was needed," she writes in her exhibit. "Despite all the odds, they have beauty and grace. How often do you tell a man of color he is beautiful? Gorgeous? Soft and pretty? Now think about how often you hear a man of color tell another man how godly he is. Does it make you uncomfortable? Do you assume they are lovers? Most black and brown men are raised with the idea that they cannot show emotion. Or that if they do, it's perceived as 'gay' and 'weak.' "
(Pictured above and right: "Easy Breezy Black and Steezy" with Tyriq Swingler.)
"Who made the rule that men of color have to be so hard all the time?" Pittaluga told the Aurora Sentinel. "When you look at what society tells them from the age of 5, it's no wonder that they fear showing emotion."
The Black Actors Guild is a theatre, comedy and music collective that was formed in 2009 by students from the Denver School of the Arts. See the whole project, and order prints, at: BlackActorsGuild.org.
LOCAL COMPANIES ANNOUNCE NEW PLANS

Aspen-bound, from left: Carolee Carmello, Beth Malone, Audra McDonald and Kelli O'Hara.
Local Theater Company will return September 27 with award-winning actor John Lithgow performing from his new book of satirical poetry, "Trumpty Dumpty Wanted a Crown." The core of Local's 10th season will be the launch of "Local Living Room," which will give patrons a chance to interact with guest artists in one-hour virtual discussions, starting with Lithgow. He starred in Local's very first offering, his one-man stage memoir "Stories by Heart," in 2011. Local also announced that its annual Local Lab new-play festival will expand from three featured pieces to 10 in 2021. But the deadline to submit is August 15.
The Catamounts were known for outdoor adventure theatre long before COVID19, so its newly announced return project, "The Rough," is a drive right down the fairway. Audience members will go on an immersive comic romp exploring wildness and tameness, privilege and access from the socially distanced safety of a golf cart. At each performance from August 8-30, eight golf carts carrying up to two spectators each will travel through various stories that will be performed along the front nine holes of Westminster's Legacy Ridge Golf Course. Written and directed by former Creede Repertory Theatre Artistic Director Jessica Jackson, in collaboration with the ensemble. Advance tickets here.

Theatre Aspen will return with a series of concerts featuring four big-time Broadway stars, starting July 27 with Colorado's own Tony Award nominee Beth Malone ("Fun Home"). Three-time Tony Award nominee Carolee Carmello ("Tuck, Everlasting") follows on August 3. Six-time Tony Award winner Audra McDonald ("Lady Day at Emerson's Bar & Grill") and Tony winner Kelli O'Hara ("The King & I") will alternate early evening and late-night concerts on August 10 and 11. On August 13-15, Theatre Aspen will present "Meet Me In St. Louis: A Live Radio Play" in the tented Hurst Theatre. The company's second annual "Solo Flights" one-person play festival will now run from September 1-7. Call 844-706-7387 or go to theatreaspen.org
SALE OF THE CENTURY:
Properties Director Beki Pineda, recipient of the Colorado Theatre Guild's 2019 Lifetime Achievement Award, is liquidating of the stock of All Propped Up, her 35-year collection of theatrical props. It's the ultimate garage sale. Available furniture includes antiques, vintage, Greek columns and midcentury pieces. Also: dinnerware, glassware, mugs, suitcases, soft goods, weapons and décor pieces. Not to mention a full-sized non-motorized motorcycle. The sale runs from noon to 5 p.m. Thursday through Saturday, July 16-18 at 5959 Pecos St.(The sign says Adams County Self Storage.) Questions? E-mail beki10@msn.com.
John Moore was named one of the 12 most influential theater critics in the U.S. by American Theatre Magazine during his time at The Denver Post. He also is the founder of The Denver Actors Fund, and is presently contributing reports for the local theatre community for ArvadaCenter.Org. Reach him at culturewestjohn@gmail.com.