MEET CHRISTINE MOORE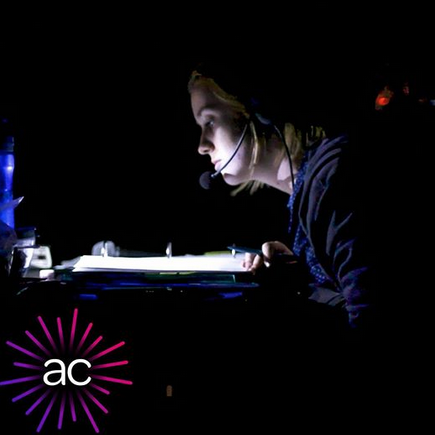 Photo by Zachary Andrews
NOTE: As we look to reopen our doors and reignite the arts, one thing becomes clear: The key to our creativity is our people. Songs are not sung, sets are not built, choreography is not taught, and canvases are not painted on their own. In our new "Humans of the Arvada Center" series, we are highlighting the heartbeat of the Center: The people who make up the Arvada Center family.

By John Moore and Leslie Simon
Christine Moore has been the Stage Manager for the Arvada Center's Black Box Theatre Company since 2018, but has been living a life in the theatre, she says, "from the time I could walk."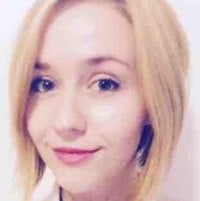 And, unlike most probably any other kid who has preceded her to this point, she knew she wanted to be a Stage Manager for life at age … 12!
"Who chooses a career at age 12 that most adults haven't even heard of?" she asks – beating everyone else to the question.
Her parents' careers are in law and science, but they have always been huge supporters of the arts – and they had Christine in dance and acting classes when she was barely a toddler.
Growing up in Las Vegas, she says, "I spent eight years in a city-sponsored youth theatre program that exposed me to the basics of production elements." That means lights, set, costume, props, sound ... and, yes, stage management.
While the responsibilities of the job vary from play to musical and this theatre to that theatre, Stage Managers provide practical and organizational support to the director, actors, designers, stage crew and technicians throughout the production process. When the director bows out after the opening performance, the Stage Manager becomes the de-facto boss throughout the rest of the performance period, making sure that the production runs smoothly while handling whatever unexpected problems come up.
"Christine knows how to read humans." – Lynne Collins

"Christine is one of the most magnificent and unparalleled humans in the profession," said Arvada Center actor Jake Mendes, whose recent Black Box credits include "Murder on the Orient Express" and "A Midsummer Night's Dream."
Christine first came to the Arvada Center in 2016 as an assistant to Stage Manager Maegan Burnell (now Allsup) for "Bus Stop," and took over the job full-time with "The Electric Baby." She has stage managed every play presented by the Arvada Center ever since.
She is, Arvada Center Director of Plays Lynne Collins says simply, "The best. She is highly organized and all those other things that good Stage Managers have to be. But she also knows how to read humans. She knows how to work with a complex variety of people. She's really very special. She'll have to quit me someday – because I will never quit her."
Actor and Director Geoffrey Kent puts it this way: "Christine can make a room full of monkeys on typewriters make theatre. She knows when to let us play, and she knows when to bring us back to work – and I think that's a really incredible skill for a stage manager. She knows when we need to play to blow off some steam, and she knows when we need to focus up."
But it hasn't always been easy. When Christine was an undergrad studying Stage Management at the University of Utah, she spent four months in and out of hospitals struggling with a difficult-to-diagnose illness. "The theatre community surrounded me with love and support, even sending videos of themselves singing and performing monologues," she said. "That really helped me get through those tough times. The arts experience truly goes beyond what is shared onstage."
Christine's other local credits include the Colorado Shakespeare Festival. According to her Facebook profile, she likes "guacamole, not driving, camping, key changes in power ballads, coupons and dogs."
To learn more about the Arvada Center's Black Box Theatre Company, go to arvadacenter.org
To follow the Arvada Center's #HumansOfArvadaCenter campaign, go to instagram.com
Video bonus:
READ MORE HUMANS OF THE ARVADA CENTER:
DIRECTOR OF GALLERIES COLLIN PARSON
DIRECTOR OF DANCE CHRISTINA NOEL ADCOCK
WARDROBE SUPERVISOR JESSIE PAGE
CHILDREN'S THEATRE HOUSE MANAGER CAL MEAKINS
PRODUCTION MANAGER ADAM STOLTE
EDUCATION DIRECTOR LISA LEAFGREEN
PATRON SERVICES REP ABYGAIL ROSALES