Video above: Episode 1 of the Arvada Center's new series, Amplify.
JUNE IN COLORADO THEATRE: 'THE RECKONING' HAS BEGUN
Callouts bring support and shakeups in wake of George Floyd murder
By John Moore, Senior Arts Journalist
The COVID shutdown sent every local theatre company into a period of overdue self-reflection. And that reflection turned into a full-blown reckoning after the police murder of George Floyd. Suddenly, theatre companies are being held accountable like never before, not only for their programming choices and hiring practices, but also for their own unacknowledged complicity in creating power imbalances throughout the field.
First, there was "the Google spreadsheet that shook the theatre world," according to a Los Angeles Times headline. (See it here.) The doc unapologetically cajoled theatre companies across the country into issuing public statements against injustices toward Black people. The doc notes exactly when each company released its statement in support of #BlackLivesMatter, when it was posted to social channels and when it went out in an email. Contact information at each company was included to encourage the laggards. Hey, whoever said shaming is not a powerful motivator? "It did not appear to be a coincidence, The Times reported, "that the following day, theatres began posting messages of solidarity with Black Lives Matter en masse."
'Despite good intentions, Boards and EDI Directors have not gotten people far enough.'
Locally, a group is being formed called IDEA Stages: Community (the acronym stands for Inclusion, Diversity, Equity and Access) as a kind of collaborative committee with the shared goal of keeping all Colorado theatre companies on a path toward racial, gender, sexuality and disability equity. While the way forward is still being formulated, nearly 2,000 Colorado theatremakers already have signed on in just the first three weeks. Among those contributing to its formation are Lisa Young, GerRee Hinshaw, Emily Tuckman and Mare Trevathan.
"Despite good intentions, Boards and EDI Directors have not gotten people far enough with spaces that are inclusive and equitable," said Trevathan. "With 'IDEA Stages,' a theatre would be saying, 'Yes, we welcome accountability on our own plan to make these crucial ideals realities in our space." (More on that initiative as it develops.)
Elsewhere, companies like the Arvada Center have immediately responded to the challenge with "Amplify," a summer video series that will highlight 15 black male performers over the next several weeks. Check out the first video at the top of the page and read more about it here.
But most immediately, the racial reckoning, combined with the already devastating economic impact of the COVID shutdown, is already bringing changes to leadership structures at local performing-arts companies.
Just days after leaders of the venerable Bovine Metropolis improv-comedy theatre were called out in a scathing and highly public reckoning, owners Denise Maes and Eric Farone announced Saturday the company is vacating its 20-year home at 1527 Champa St. That's the legendary little downtown theatre that was previously the longtime home to Al Brooks' The Changing Scene.
"After 20 years of joy, collaboration and a ton of hard work and investment, we are ready to say goodbye," the statement read. But not to Denver. "We are going to be 100 percent online with teaching, performing and corporate entertainment."
With dozens of students and performers and only 70 seats, social distancing would have limited audiences to no more than 14 people. So in some ways, the writing already was on the economic wall. But the final straw was surely one of the more public takedowns in local theatre history. It began with an incendiary Facebook post from former student Jabari Keyes, who painted a picture of the Bovine as a place where racism, discrimination, homophobia and bigotry is pervasive and expressed in both overt and micro ways.
Sarah Kirwin, who began her improv career at Bovine in 2000 and went on to perform for several years at the Denver Center, also said she repeatedly experienced microaggressions and overt discrimination. "BIPOC were always coming to the Bovine, but most were quickly cycled out, not by lack of talent, but by Eric's personal whim," she wrote on her Facebook wall.
In response to those and other comments, Maes, Farone and Bovine graduate Justin Franzen, who now runs Gräfenberg Productions, promised to restructure the Bovine "to be anti-racist, inclusive and to be an equitable space to play for all." (Gräfenberg takes its name from the scientist who is the namesake of the woman's G-spot. His company soon will be re-named, Franzen announced on his web site.)
It's impossible to overstate Bovine's role in growing Denver's improv scene over the past 20 years, and while not absolving the company of any charges leveled against it, dozens took to Facebook this weekend to acknowledge its place in local theatre history.
"I am eternally grateful that you held that space for me and countless others," wrote Abbie Booth. "That stage brought me a lot of joy in watching and performing."
READY, SET ... GO INDOORS AT CANDLELIGHT!
Someone had to do it, and now we know who: The Candlelight Dinner Playhouse in Johnstown announced last week that it will be the first Colorado theatre company to offer audiences indoor theatre since the COVID shutdown began in March. And rather than go small, Candlelight is instead going big, with three separate casts performing in repertory: Agatha Christie's "The Mousetrap" (July 8-August 21); the children's musical "The Adventures of Flat Stanley" (July 9-August 22); and the marriage musical "I Do, I Do" (July 11-August 22).
The news came as a shock to most in the theatre community, especially given that Candlelight had postponed its summer musical, "Peter Pan," and had been working toward a September 3 reopening with "Singin' in the Rain." But after a series of successful parking-lot concerts, owner Dave Clark was eager to resume business as (close to) usual.
Candlelight is located 45 miles north of Denver in Larimer County, where businesses can apply for variances from the state's protocols for indoor re-openings. Candlelight is also a non-union theatre, so it is not bound by operational mandates from Actors Equity Association that will keep some Colorado union theatres closed until at least next March.
Except for the children's musical, Candlelight is also resuming full dinner service (but it will not be served by cast members) and instituting only a few modest safety protocols: Temperature checks will be done on employees upon arrival, but not on audience members. Seating will be limited to every other table, for a comparatively robust 50 percent capacity. The lobby bar will be closed, and cast members will not come out to the lobby to bid audiences farewell.
The Aurora Fox also announced this week it will resume performances in September, but it is not yet clear whether the company will be dropping its union membership in order to do so. The Fox hopes to have the union's approval to open by September. But for now, union reps have said it is not yet safe to perform indoor theatre anywhere in the country. And it has not given any company or individual its blessing to return to work.
STEVE WILSON LEAVING THE MIZEL
The first major local arts leadership change since the COVID shutdown began came last week when Steve Wilson announced that after 26 years, he will be leaving the Mizel Arts and Culture Center on September 4. He has been the Executive Artistic Director since 2004.
"With the Mizel Center closed and no re-opening date in sight due to COVID uncertainty, it feels like an opportune time to galvanize new beginnings," said Wilson. "I do so with great love for an organization that, in some measure, I have helped to shape over the last quarter-century. And I do so with a heavy heart for all the things left undone."
Wilson earned his master's degree at the Denver Center's former National Theatre Conservatory. He arrived at the Mizel in 1994 as director of its youth theatre academy. During much of his time there, he simultaneously served as Artistic Director of the award-winning Phamaly Theatre Company, which exists to create performance opportunities for actors with disabilities. As an actor, he won a 2016 True West Award for sharing a role with his wife, Leslie O'Carroll, in the Arvada Center's "Tartuffe."
The Mizel, and its parent company (The Staenberg-Loup Jewish Community Center) were riding out a brutal financial crisis long before COVID came along. A year ago, Wilson shuttered the Mizel's resident Denver Children's Theatre, which had performed for more than 150,000 young people over the previous 22 years. "It's sad because getting kids out to see live theatre has always been important to me, and for a large portion of those kids, we were their first live theatre experience," Wilson said.
The Mizel's programming also includes the Neustadt JAAMM Fest (the most comprehensive Jewish cultural arts festival of its kind), the Wolf Theatre Academy (started by Wilson) and education programs that serve more than 1,900.
"I am filled with pride for the accomplishments that have been facilitated under my watch," he said. "(But) I believe it is time for fresh voices to invigorate the next steps along the way."
THE BUG THEATRE SEVERS TIES WITH EQUINOX
Speaking of reckonings, a surprisingly public one came to a head earlier this month when The Bug Theatre announced it has severed ties with Equinox Theatre Company, its primary theatrical tenant, after 13 years. Officials cited allegations of sexual misconduct by Equinox's resident Music Director at a Denver bar in 2018. Following a performance of Fearless Theatre Company's "Hair," which the man attended as an audience member, he is said to have made several "generally creepy" comments to and about several women in the cast. The comments were witnessed by several others, and followed up by unwelcome text messages, according to company officials.
It was only recently that the allegation was made known to Bug Theatre President Mike Henderson, who ordered an internal investigation. "We are heartbroken and outraged at what we learned," the company announced in a fiery social-media post. Namely, that mention of the incident had been made at the time it occurred to Equinox Co-Executive Producers Deb Flomberg-Rollins and Colin Roybal, both of whom also work in official capacities for The Bug: Flomberg-Rollins as a staff member, and Roybal as a Board member. Both have since been removed, the Bug's social post said, "for failing to address the situation."
Equinox was equally public in taking full responsibility for how the situation was mishandled. "Our actions at the time looked more like inaction and contributed to the pain and made our community feel less safe for some," it said in its own social-media post. "And for that, we are deeply sorry."
Equinox is best known for attracting non-traditional theatre audiences with quirky, youth-oriented titles such as "Reefer Madness, the Musical," "Heathers, the Musical," "Disaster," "Evil Dead: The Musical" and, more, recently, "Bubble Boy."
Before it considers a possible path forward, the Equinox statement said, "We are taking time to listen to the people who were directly impacted by the actions of this production member and make sure they don't feel that their experiences fall on deaf ears again." If Equinox is ever to return to performing on The Bug stage again, "any future relationship will be contingent on a demonstrated track record of action and change," The Bug's statement said.
The accused, who will not be named here because no police complaint was filed against him, posted a message on his own Facebook page saying, "Often when heated opinions and reactionary politics come to a head, stories get twisted and people get thrown under the bus, and context and facts go straight out the window."
HERE'S SOME GOOD NEWS:
Curious Theatre, the Boulder Ensemble Theatre Company and Phamaly Theatre Company are among the National Endowment for the Arts' 1,444 "Art Works" grant winners from 13 arts disciplines totaling $84 million. With their $25,000 awards, a team from BETC will be creating an original documentary theatre project to be produced this fall and live-streamed for Colorado audiences. Phamaly, which exists to create performance opportunities for actors with disabilities, will use its money toward its upcoming production of "Alice in Wonderland," which has been postponed to summer 2021.
Curious will use its prize to support the development and production of "Refuge," a new play it has commissioned in collaboration with playwright Andrew Rosendorf (Local Theatre Company's "Paper Cut") and composer Satya Chavez with transcreation by Marialuisa Burgos. Curious will stage "Refuge" as part of its partnership with the National New Play Network, which designates new plays to receive three separate stagings by three different member companies around the country.
"Refuge" is a bilingual, multi-disciplinary play that chronicles the harrowing journey of a young Honduran girl as she crosses over the border into Texas.
"These awards demonstrate the continued creativity and excellence of arts projects across America and the nimbleness of our nation's arts organizations in the face of a national crisis that shuttered their doors for months," said NEA Chair Mary Anne Carter.
Also, The NextFifty Initiative has awarded BETC a $20,000 grant to support the first year of its new (inter)Generations playwriting program for high-school students and adults over 50. Because of the grant money, the program will be free to participants for the first year. Applications for the first cohort will go live in August.
GOOD FOR YOU
Local actor Emma Messenger, most recently seen in Curious Theatre's "The Secretary" (and not seen in Lake Dillon Theatre's COVID-canceled "The Roommate") has been making masks and quilts for members of the local theatre company in exchange for donations to The Denver Actors Fund. So far, her efforts have cost Messenger hundreds of dollars in materials but also have generated more than $725 in donations to the DAF, which has made $583,000 available to Colorado theatre artists in need. Local theatre artisans Jennifer Schmitz, Clare Henkel, Bevin Antea and Jimmy Miller also have stimulated donations to the DAF through their own mask-making efforts.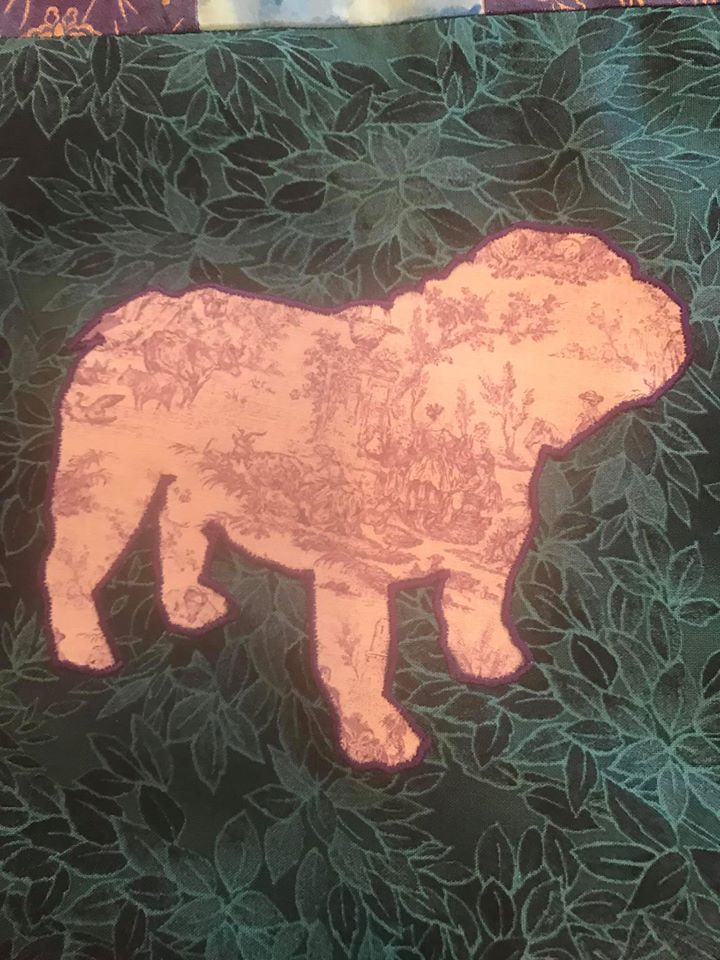 A quilt by Emma Messenger.