ACTOR LUCY ROUCIS' FINAL ACT IS A GUT PUNCH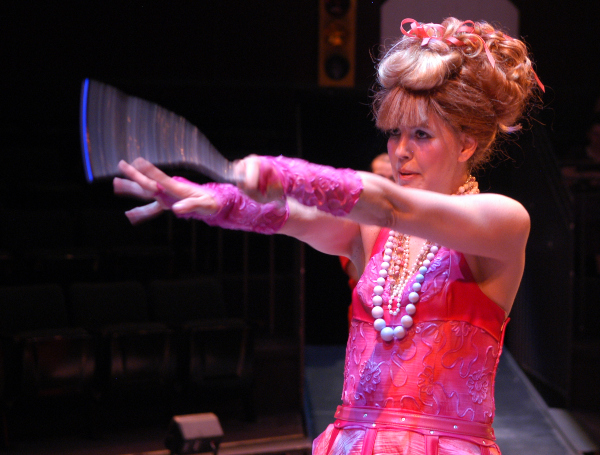 Lucy Roucis as Glinda in Phamaly Theatre Company's 'The Wiz.'
FOUNDATION OF DENVER'S PHAMALY THEATRE COMPANY DIES AT 61

By John Moore, Senior Arts Journalist
Make no mistake: Lucy Roucis hated Parkinson's disease. Every damn thing about it.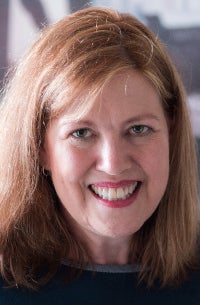 But despite living with the early onset of the cruel neurological disease for more than 30 years, the singular Denver actor could find something funny in just about anything. Maybe because of it. In fact, she developed an entire comedy routine on the pros and cons of Parkinson's that landed her a cameo in the 2010 Ed Zwick film "Love & Other Drugs," starring Jake Gyllenhaal and Anne Hathaway.
One of her pros: "Never being asked to babysit."
Con: "Being asked to hold a kid, and he ends up in a tree."
Roucis was a spitfire and a proudly ferocious diva who fought like hell against Parkinson's and every impediment it threw at her along the way. As a theatremaker, she could be opinionated and demanding. She was gloriously vainglorious and as quick with a shockingly dirty joke as her mouth would allow her to be at any given time. She was not just a handful, frequent co-star Mark Dissette joked. "She was two handfuls and a foot."
And she showed more moxie just getting out of bed every morning than many people do all day.
"Lucy was just real," said Regan Linton, Artistic Director of Denver's Phamaly Theatre Company, which has existed for 31 years to create performance opportunities for those with disabilities. Roucis has appeared in 43 Phamaly productions since 1993, most of any actor. She twice won Westword Best of Denver awards and earned a Denver Post Ovation Award nomination as the 2010 Colorado Theatre Person of the Year.
"She cut through the B.S.," Linton added. "Whenever she thought something could be better artistically, she said so. She made Phamaly good."
Roucis was found in her Sheridan apartment on Monday, dead at the age of 61. According to the Michael J. Fox Foundation, that's around the age when patients usually first begin to develop Parkinson's symptoms. For Roucis, it started at age 25. At the time, she was told the average lifespan was just seven to 15 years after diagnosis. Over the next 36 years, Roucis became an outspoken advocate for Parkinson's research and awareness, rubbing elbows with everyone from Michael J. Fox to Janet Reno to Muhammad Ali to comedian Josh Blue.
Parkinson's is a slow and inexorably progressive disease of the brain and nervous system that that leads to shaking, stiffness and difficulty with walking, balance and coordination. But while it may have slowed Roucis' line delivery as an actor, it never stopped her from delivering a slew of both comic and powerfully dramatic performances on stage and screen. The longer it took her to speak, it seemed, the more audiences hung on her every word.
But Roucis would be the first to tell you: Parkinson's did nothing to rob her of her smoking good looks and Rockette-worthy gams. Literally. A young Roucis performed in Radio City Music Hall's Los Angeles company of The Rockettes.
"Lucy was 61 and still had the most kick-ass legs from here to the end of the world," said Linton.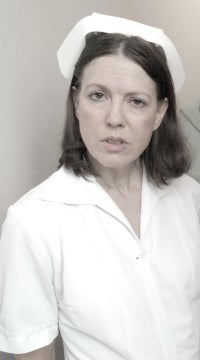 Roucis will be remembered as much for her whimsical performances as Adelaide in "Guys & Dolls" and Glinda in "The Wiz" as for her harrowing turns as Nurse Ratched in "One Flew Over the Cuckoo's Nest," Fraulein Schneider in "Cabaret" and Mrs. Kendal in "The Elephant Man."
Roucis also contributed as a mentor, teacher, writer and example. She was, simply, the backbone of Phamaly Theatre Company.
"Phamaly is Lucy, and Lucy is Phamaly," Linton said. "And when you lose somebody like that, a piece of Phamaly's heart has been lost."
The last good day
Roucis was born August 22, 1959 – and born to be an actor, writer and producer, said Marilyn Manning, one of Roucis' five siblings. "Lucy created her own plays, and we all had to be in them," she said. "She would go up and down the neighborhood gathering kids, and she charged admission for them to watch the plays on our back patio.
"Lucy just had a presence that would draw anyone in, and that was not because of her singing or her dancing or her acting or even her Parkinson's. It was because of her energy."
Roucis graduated from St. Mary's High School and Loretto Heights College (with highest honors) before immediately moving to California to pursue her dream of becoming a model and film actor.
Roucis lived in the Los Angeles fast lane during the decade of 1980s excess. She was a wild child and a bit of a pot-smoker, a fact she talked openly about because while Parkinson's is generally believed to be hereditary, researchers now believe there are environmental triggers found in insecticides and other chemicals. Roucis believed her Parkinson's may have been triggered by a combination of having smoked some poisoned marijuana in California, as well as being exposed to DDT as a kid in Lakewood.
What Roucis remembered most about her last normal day in 1985 was the simple freedom of movement. Scratching her nose. Brushing her teeth. Clutching a cup. "It is so precious when it is taken away from you," she said in a previous interview. "When I can't move, it's so hard to do anything. Your body is frozen. Your reactions are slower. You are imprisoned."
Lucy Roucis in 'It's a Wonderful Life.'
Roucis was finding steady employment in Hollywood, appearing in a succession of three awful films, including John Cusack's "Better Off Dead" (as the hooker in the mink bikini) and "The Party Animal" (as a flatulent Italian sophisticate). That was a 1983 "Porky's" knockoff that producers billed as "the raunchiest film of the decade." She also landed parts on "General Hospital," "Santa Barbara," the CBS pilot "Domestic Life" with Martin Mull, as well as several TV commercials and print ads.
It wasn't Shakespeare, but it paid the rent.
"It was great," she said. "Get this: I was living in a guest house on an estate. My girlfriend was having an affair with this Japanese mogul, and he liked me so much he gave me a house to live in. Now I know how that sounds, but I never ever slept with someone for any of this. I was just the friend of the girl who did."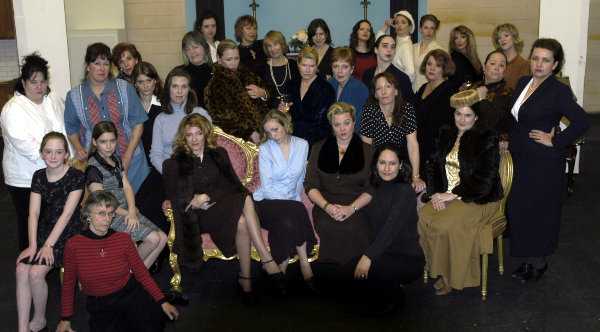 Lucy Roucis was among 40 iconic actors who appeared in the Arvada Center's 2004 'The Women.'
Roucis seemed to have all the time in the world in front of her when she first noticed stomach pains that would last a year. She lost 15 pounds from vomiting and diarrhea. One day, she grabbed a cup of hot water out of the microwave and her hand shook. At a party, she couldn't tie a balloon knot.
At her job for a Los Angeles law firm, her typing fell from 100 words per minute to 30 in less than a year. Trying to apply her foot on the brake of her car took longer.
"Then someone said, 'You know, your arm isn't swinging,' " Roucis said. "That's when I knew it was really bad. That's part of Parkinson's: Your arms stop swinging and you start losing your balance."
The first doctor Roucis saw in 1987 mentioned Parkinson's, but it seemed implausible, given her age. It would be six more years before it was determined to be the correct diagnosis.
"I went on the hunt to try to find out what was wrong with me," Roucis said of a trail that took her to a healer, a past-life regressor, inspirational meetings and back to church.
By 1990, Roucis was displaying more Parkinson's symptoms. But her father, Lakewood dentist Jim Roucis, had another thought. "He told me, 'You don't have Parkinson's. You have something wrong with your thyroid, and that can make you tremor and lose weight and shake. So once you get this out, you are going to be fine.' "
Jim Roucis probably saved his daughter's life, because she did have thyroid cancer. But after the gland was removed and Lucy started hormone-replacement therapy, she didn't get better.
At 31, Roucis moved home, a cancer survivor in search of a disease. In 1993, eight years after her first symptoms, the Parkinson's diagnosis was finally confirmed by Dr. J. William Langston, founder of the Parkinson's Institute in Sunnyvale, Calif.
"I asked him: 'How bad is this going to get?' " Roucis said. "And he just said: 'Bad.' "
26 pills a day
Back in 2002, the first thing you noticed on a visit to Roucis' walkup Denver apartment was a seemingly incongruous lockbox hanging from the front doorknob. Her attendant at the time, Tracy Robinson, said that allowed friends, family and caretakers entry in the event Roucis was unable to get to the door.
The inside looked like a firehouse with poles in every room. "But it's not because I'm a stripper," Roucis joked. The poles, along with various gripping bars, were installed throughout to help her maintain her balance and pull herself up. When she would have a bad medication reaction, she would sometimes spin around the poles like a whirling dervish.
Roucis experienced up to five such brain episodes a day at that time, each lasting about 20-30 minutes. The onset of her seizures could be shocking, but friends and family grew used to them over time.
Candy dishes were strewn throughout every room of the apartment, filled with medicines such as Comtan, Sinemet and Permax. "I am a drug addict," joked Roucis, who took 26 pills a day (six in crushed liquid form). The tab would have run her $1,632 a month if not for Medicaid.
When people saw Roucis jerk, kick and seize, they assumed it was because of the disease. But it was actually the medications, which can be deadly if taken in the wrong combinations.
"The treatment," Langston said, "is often worse than the disease itself."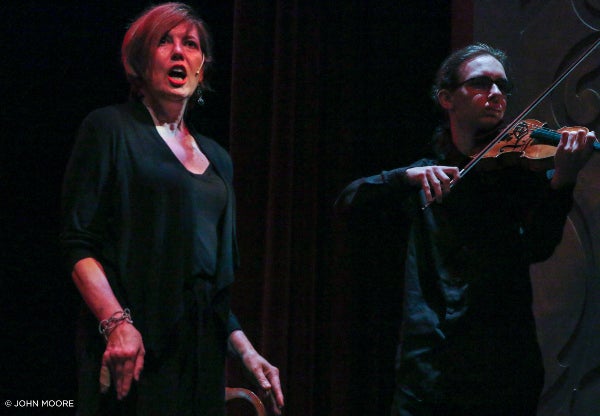 Lucy Roucis at Phamaly's 2019 annual gala.
The stage is her world
Roucis' disability took her career into activism, public relations, public speaking and lobbying through the Michael J. Fox Foundation. She made national news in 2008 when she underwent pioneering Deep Brain Stimulation (DBS) surgery that left her with two dime-sized holes drilled into her head, two electrodes attached to her brain and two pacemaker-like battery packs in her chest. "I'm going to have square breasts instead of round," she said with a laugh. She playfully called her new implants her "chesticles."
She would have replacement surgery three more times, most recently in 2019. She was in Cleveland having surgery on a Monday, and less than 24 hours later, she was back at rehearsal for a 30th anniversary Phamaly concert that she co-wote. No one knew better than Roucis that there is no time for rest – or pity – on a show week.
Being an actor was always the core part of Roucis' identity, and since 1993, Phamaly gave her the opportunity to keep that part of her identity thriving.
'
Phamaly truly saved my life, because they decided to build a company that would allow people with disabilities to work in a professional setting, to get paid to act, and have their disability be OK.'
"Oh my God, I have to tell you that Phamaly truly saved my life," Roucis said, "because they decided to build a company that would allow people with disabilities to work in a professional setting, to get paid to act, and have their disability be OK. It doesn't have anything to do with anything. It's just what it is."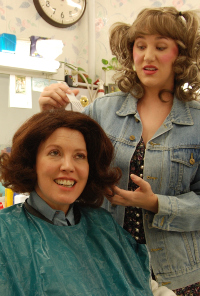 Steve Wilson, who directed Roucis in more productions than anyone else, said he doesn't know of another actor who could play an audience the way Roucis could.
"Audiences obviously know Lucy for her comic brilliance, but she was a superstar in a lot of ways, and I think I will remember her more for her pathos," he said.
But because of the unpredictable nature of the disease, Wilson had to be prepared for anything. No one could know how Roucis' body would react during any given performance – including Roucis. So Wilson blocked two versions of every scene – one for if she had good movement, and another for if she did not. For "Once Upon a Mattress" in 2002, Wilson created a character for actor Mark Dissette called Boggsbottom, primarily so he could help Roucis move if necessary. And because Dissette was now sharing the stage with Roucis, Wilson turned one of her solos into a duet. And that pill was more bitter for Roucis than Sinemet.
"Boy, did I fight them on that," Roucis said. "I called Steve and I said, 'I think you are babying me too much. I just don't think I need that much help. You know that I always come through for you in performances.' But that's the thing about my disability: I have no idea, truly, what is going to happen next.
"Of course, that night after I complained, I went to rehearsal and I had the worst movement I have ever had with my Parkinson's, anywhere, in my entire life. Not only could I not stand up, but once they stood me up, I could not stay stood up. I was absolutely incapacitated. I started to cry, and Steve came over and held me. I said, 'I'm sorry.' It was the hardest thing for me to say, but I really did need the help."
Roucis called that her moment of "defeated relief."
"Needing help is the worst feeling in the world," she said. "It's, 'Darn it, I can't carry this show like I want to.' "
'I believe in feeling how you feel, and if you are depressed and feeling icky about yourself, then feel it. Don't deny it. Then get the (bleep) over it.'
Roucis called such episodes her "boo-hoo" fits, but they helped make her tolerant of those with much less to cry about.
"I have a lot of patience for others who feel sorry for themselves, because I believe in crying," she said. "I believe in feeling how you feel, and if you are depressed and feeling icky about yourself, then feel it. Don't deny it. Then get the (bleep) over it."
Her final appearances for Phamaly included starring in her own short one-woman play called "Show and Tell at the House of Lucy," an irreverent look into her experiences with Parkinson's. She also played the judge in 2019's "Chicago" and was cast to appear both in Phamaly's upcoming caustic comedy "CoronaVox" and to play the Dodo in this summer's planned riff on "Alice in Wonderland."
And if she was the Phamaly diva at times, Linton added: "She had the right to be the Phamaly diva – because she was just damn good."
'I personally have grown as an actor every year while my disability has worsened. When I'm on the stage, I'm up there celebrating that I can still do this – and giving a darned good performance while I'm at it.'
Cry, courage
In 2010, Roucis auditioned by video for Ed Zwick's "Love & Other Drugs," along with 40 actors with Parkinson's. In the movie, Anne Hathaway is diagnosed with early onset Parkinson's, and gets a morale boost when she attends an unconventional support group where Roucis delivers jokes about the disease.
Zwick was so impressed with Lucy's audition – and original material – that he asked her to use her own dialogue instead of what he had written for the scene. He wasn't the first to be charmed by her "pros and cons" comedy routine.
"I'm having a wonderful ride on the one-trick pony that I'm on," she said at the time.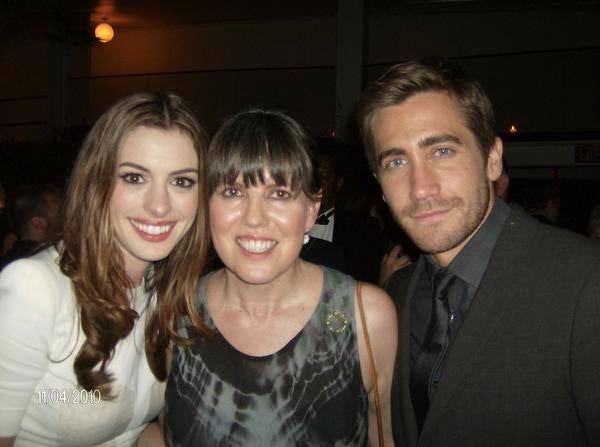 Lucy Roucis with "Love & Other Drugs" stars Anne Hathaway and Jake Gyllenhaal.
Roucis grew used to meeting caring people who learned of her condition and said, "Oh, how sad." Laughing at Parkinson's instead, Roucis said, "just takes the 'boo-hoo' right out of it."
Roucis was a real person with real hopes and fears, just like everyone else. Her hopes and fears just happened to be more consequential than most. But when people used the word "courageous" to describe Roucis, she got angry.
"I'm just living my life," she said quietly. "I don't think it takes any courage to have this disease. Courage is running into a building that's on fire to get the baby on the third floor. I just don't correlate myself with having courage, because I have to get up in the morning. I have to get ready for the day. I have to feed myself. I have to go to the bathroom. I have to take my meds. But anyone with an ounce of self-love knows to do what it takes to survive."
It may be semantics, but others who do take getting out of bed for granted are more liberal with the compliment.
"Lucy is courageous," said Langston, who is also the chief scientific adviser to the Michael J. Fox Foundation. "I think her drive and spunk and unwillingness to let this defeat her are extremely impressive and inspirational, both for patients and their caregivers."
And though he couldn't know this for certain, Langston believed that Roucis' acting "definitely slowed the progression of her disease over the years," he said. "As a physician, it seems to me that a patient who does those kinds of things wards off the ill-effects of the disease longer."
Still, Roucis always knew what awaited her the longer she outlasted her disease. "I understand that it's total incapacitation," she said. But until then, she was more than willing to become a human face of her disease.
"I know what I am, I know what I have, and I know what I look like," Roucis said. "I know that I am not scary to look at. So I want to use this face to get in front of people and tell them that life is OK. I hate the term, but this is my journey."
Roucis' death has been attributed to natural causes. "She laid down and died. Perfect way to go," said her sister, Marilyn. There was no sign of a fall or other trauma.
Roucis was preceded in death by her father, Jim Roucis; and sister, Judy. She is survived by her mother, Mary Ann Roucis; and siblings John Roucis of Hercules, Calif,; James Roucis of Albuquerque; Janet Roucis of Lakewood; Marilyn Manning of Highlands Ranch; and four nieces and nephews.
According to Roucis' wishes, her body was donated to science. In lieu of flowers, donations are encouraged to either Phamaly Theatre Company or the Michael J. Fox Foundation.
The family is making plans for a full Catholic funeral mass and life celebration. "This is Lucy we are talking about," said Marilyn Manning, "so of course we have to do something big."
In the meantime, an Easter Sunday Mass will be held in Roucis' intention. at 4 p.m. on April 4th at Church of the Holy Ghost, located at 1900 California St. It is also the designated Mass of the Resurrection.
John Moore was named one of the 12 most influential theater critics in the U.S. by American Theatre Magazine during his time at The Denver Post. He also is the founder of The Denver Actors Fund, and occasionally reports on the local theatre community for ArvadaCenter.Org and the Denver Gazette. Reach him at culturewestjohn@gmail.com.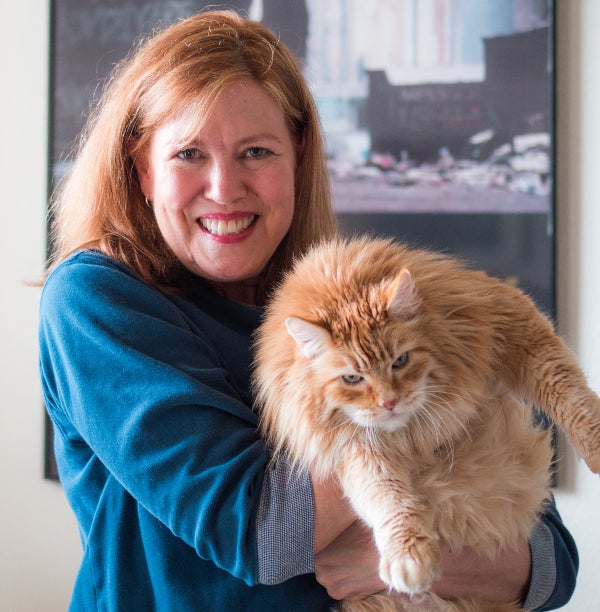 Photo courtesy Brent Johnson.