Video above: Learn more about the Arvada Center's newly announced 2021 season.

NEW ARVADA CENTER, AURORA FOX SEASONS REFLECT REOPENING COMPLEXITIES
Companies strategizing how to survive COVID-19 shutdown have another important programming consideration in wake of Floyd murder

By John Moore, Senior Arts Journalist
Many Colorado theatre companies already had announced their season titles for 2020-21 when the COVID19 shutdown began on March 13. As the economic severity of the situation soon made itself known, every one of those theatres tore up those plans and began preparing alternative, scaled-down seasons that needed to serve three essential purposes:
They had to be small-cast shows to accommodate safety protocols for artists and audiences.
They had to be comparatively simple to stage, to keep production costs down.
And they had to be popular titles that would sell, because every theatre company will be coming out of this mess catastrophically cash-poor.
Then came the George Floyd murder.
The overdue reckoning that is now compelling companies in every industry to wholly re-examine their entire institutional cultures is necessarily challenging local arts organizations to be part of the change in demonstrable ways ranging from hiring practices to audience outreach to programmatic choices.
Which means that all Colorado theatre companies in a state that is 68 percent white are now additionally wrestling with how to eventually emerge from the shutdown with an immediate survival strategy – while not seeming tone-deaf to events of the past three months.
The Arvada Center this week became the second major Colorado theatre company to announce its re-opening plan:
February 26-May 2, 2021: "Small Mouth Sounds," by Bess Wohl, Black Box Studio Theatre
March 19-April 30, 2021: Noël Coward's "Private Lives," Black Box Studio Theatre
May 28-June 27, 2021: "They're Playing Our Song," by Neil Simon, Marvin Hamlisch and Carole Bayer Sager, Mainstage Theatre
April 2-May 2, 2021: "Million Dollar Quartet," by Colin Escott and Floyd Mutrux, Mainstage Theatre
And, to put this as transparently as possible, the Arvada Center leadership team knows exactly how that looks. "Small Mouth Sounds," which was hours from opening on the night the shutdown began, takes place at a silent yoga retreat in upstate New York. "Private Lives" is Coward's quintessential comedy about a divorced couple honeymooning at the same hotel. "They're Playing Our Song," looks at the volatile 1970s romance between songwriters Hamlisch and Sager. "Million Dollar Quartet" tells the true story of a legendary 1956 jam session involving Elvis Presley, Johnny Cash, Jerry Lee Lewis and Carl Perkins.
"We acknowledge that the 2021 titles were all created by white playwrights," said Arvada Center President and CEO Philip Sneed. "We also recognize that meaningful change does not happen overnight, and over time, the Arvada Center intends to diversify all levels and across all departments of our organization."
'The Arvada Center intends to diversify all levels and across all departments of our organization.' – Philip Sneed
While the 2021 season is produced, Sneed added, "additional work is being dedicated to our long-term commitment of increasing the Arvada Center's diversity in casting and hiring." That includes the launch of "Amplify," a three-part video series highlighting the work of 15 Black men in the Colorado theatre community. The Arvada Center also has formed an internal IDEA task force (Inclusion, Diversity, Equity and Access). "And we will work with external stakeholders as well as board members and staff to create lasting change within the organization, and work toward an inclusive and diverse atmosphere," Sneed said.
It also means that even though the Arvada Center's chosen titles are made up of white-conceived characters (at least seven of them based on real people), you could see a renewed commitment to "color-conscious casting," which would allow for actors of all ethnicities to be considered for all roles.
In the meantime, Producing Artistic Director of Musical Theatre Rod A. Lansberry reiterated the Arvada Center's commitment to producing theatre of the highest quality. "We want to keep up the same level that we are known for," he said. "These particular shows allow us to maintain that level."
For now, the Arvada Center is hopeful that the 2021 season can be performed for audiences at full capacity in its two theatres, but it will be prepared to adjust for whatever distancing requirements might still be necessary at the time.
"We want audiences to feel like they are coming home," said Artistic Director of Plays Lynne Collins. "We are certainly excited to return to work with actors, stage managers and designers, but we also want to make sure that everyone is kept as safe as possible."
Subscription packages are available at 720-898-7200 or arvadacenter.org
AURORA FOX TITLES SPAN 'BLACK NATIVITY' TO ROCK 'N ROLL 'ALICE'

The Aurora Fox has announced the five titles that will make up its ambitiously modified 2020-21 season, one reflecting a longstanding commitment to diverse voices:
September 18-October 11 : "Tomfoolery," a musical by Cameron Mackintosh, Robin Ray and Tom Lehrer. A comic revue looking back at satirical songwriter and math nerd Tom Lehrer, who was known for his cynical but good-humored attacks on the A-bomb, racism, pollution, pornography, the military, the Boy Scouts and math.
November 27-December 20: "Black Nativity," by Langston Hughes. The Harlem Renaissance poet's song-play is a retelling of the Christmas story from an Afro-centric perspective.
January 29-Feb 21, 2021: "The Pavilion," by Craig Wright. After two decades of failed relationships, a man returns to his high-school reunion hoping to rekindle his romance with the girl he abandoned after an unexpected pregnancy.
March 12-April 4, 2021: "Queens Girl In The World," by Caleen Sinnette Jennings. Bright-eyed, brown-skinned Jacqueline Marie Butler is suddenly uprooted from her protective, middle-class lifestyle in 1950s Queens and dropped into a progressive, predominantly Jewish private school in Greenwich Village. The play features a soundtrack of Motown songs.
April 23-May 16, 2021: "Wonderland: Alice's Rock And Roll Adventure," by Rachel Rockwell and Michael Mahler. Six actor-musicians play live music to underscore Alice's legendary leap through the looking glass with an eclectic soundtrack ranging from classic rock and punk to ska and even a little bit of Bollywood.
The Fox is planning to stage all of those offerings in its mainstage theatre, while limiting capacity to 25 percent. The more intimate studio theatre will continue to be used for its ongoing cabaret series, which for the next year will be recorded for online viewing. Ancillary programming will include "The Voices Project" (a video podcast hosted by actor GerRee Hinshaw and Aurora Fox Executive Producer Helen R. Murray featuring artists from diverse backgrounds), and the 2021 return of the Little Foxes summer children's theatre program.
"Our entire industry has suffered greatly, in Colorado and beyond," said Murray. "In a year when so many other outstanding theatre companies have had to make the heartbreaking decision to keep their doors closed, we feel incredibly fortunate to have found a way to bring live entertainment back to Colorado audiences."
Because the Aurora Fox is a member of Actors' Equity Association, the question that still remains is who will be performing in those titles. The answer, at least for the first two offerings, is looking more and more like non-union actors. Actors' Equity is the national union that governs 51,000 performers and stage managers, and none of them can accept work without the union's blessing, which is looking increasingly unlikely before January. Still, the Fox is encouraging all actors to audition anyway.
"We're not giving up on the idea of working with the union in the fall yet," a Fox official posted on the company's Facebook wall. "We'd love to get as many of Colorado's talented artists – union and nonunion – back to work in as safe a way as is possible."
Call 303-739-1970 or go to aurorafoxartscenter.org
'THE RECKONING' CONTINUES AT VOODOO
Last week, we reported that the venerable Bovine Metropolis improv-comedy theatre is vacating its 20-year home at 1527 Champa St. after several former students and employees took to social media and painted a picture of the Bovine as a place where racism, discrimination, homophobia and bigotry were pervasive. Next, an Instagram campaign exposed a similar rift over race at Kindness Yoga. Less than a week later, the 19-year-old fitness institution was permanently shut down.
This week, "The Reckoning" continued with a public pledge from the owners of Denver's Voodoo Comedy Playhouse to rename the downtown improv club "Rise Comedy." The change came within days of newly resurrected complaints that the name both appropriates Louisiana culture and denigrates revered spiritual practices in Africa and Haiti – and those who practice them.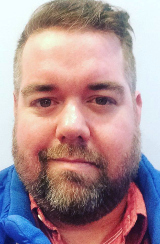 "There is a lot going on in the world these days. Our world and country are fighting against systemic racism, a pandemic and economic hardships," said co-owner Nick Armstrong (pictured right), who assumed management of Voodoo last year with Josh Nicols. "These fights are highlighting important changes that need to be made."
Ironically, Armstrong and Nicols already had a plan in motion to change the name when Armstrong made an appearance last week on a national podcast that refueled complaints about the moniker among members of the national improv community. That, combined with lingering residue from a boycott over harassment charges involving previous management in 2017, prompted Armstrong to publicly announce the name change on Wednesday.
So why Rise Comedy? It stems largely from the popular saying that "a rising tide lifts all boats" – the sentiment being that what's good for one is good for all.
"We want to elevate the voices of our community," Armstrong said. "We have a duty to bring levity to our patrons and help them rise from their struggles. We want to lift up our student's opportunities and abilities.
"And, on a personal note, we both want to rise to the occasion to help make our space an even more inclusive and safe space. We want to help create the best space we can for BIPOC, LGBTQA+, Neurodiverse, older performers and disabled members our community. We believe in the power of the work we do, and we want as many people as possible to benefit from it so in turn our community and our art can benefit from their inclusion."
LOSS OF A LITERARY GIANT
Rudolfo Anaya, who helped launch the 1970s Chicano Literature Movement with his novel "Bless Me, Ultima," which was later adapted into a seminal play staged several times locally at Su Teatro, died June 28 at his home in New Mexico. He was 82.
"When I was a kid about 16 years old, I was turned on to 'Bless Me, Ultima,' said Su Teatro Artistic Director Tony Garcia. "The experience changed everything about my world. I had always wanted to be a writer, but now I saw what my writing could be like. Rudy created a world that I understood growing up."
It didn't hurt that the main character, he added, was named Antonio.
Anaya's coming-of-age story, set in 1940s rural New Mexico, has been both banned and celebrated for daring to show a young Mexican-American protagonist who not only struggles with his Chicano identity, but with his deeply ingrained Catholicism.
In 2009, before Su Teatro moved into its current home on Santa Fe Drive, Garcia staged a workshop presentation of "Bless Me, Ultima" that sold out for seven straight weeks, generating more than $25,000 in ticket sales in the middle of a global economic crisis and giving a critical boost to the capital campaign that eventually moved the company into the former Denver Civic Theatre. Su Teatro has brought back "Ultima" several times since.
"Don't be surprised," Garcia said at the time, "if all we ever do from now on is 'Bless Me, Ultima.' " READ TONY GARCIA'S TRIBUTE HERE
AND FINALLY

A reminder that live, indoor theatre returns to a Colorado theatre for the first time since the shutdown began on Thursday with the Candlelight Dinner Playhouse's successive openings of Agatha Christie's "The Mousetrap" (Wednesday), the children's musical "The Adventures of Flat Stanley" (Thursday) and the marriage musical "I Do, I Do" (Saturday) running in rep throughout the summer. Candlelight is in Johnstown, 45 miles north of Denver. Call 970-744-3747 or go to coloradocandlelight.com
John Moore was named one of the 12 most influential theater critics in the U.S. by American Theatre Magazine during his time at The Denver Post. He also is the founder of The Denver Actors Fund, and is now contributing reports for the local theatre community for ArvadaCenter.Org. Reach him at culturewestjohn@gmail.com.