'PINK PROGRESSION: COLLABORATIONS'
Part 2: 'JB-MK Notations (Friendship)" By Jina Brenneman and Margaret Kasahara
'We wanted to create a work that melded separate and disparate ideas into a cohesive whole'
By John Moore, Senior Arts Journalist
The Arvada Center has opened its first major in-person event since the COVID19 shutdown began in mid-March, the long-planned "Pink Progression: Collaborations," running through November 8.
The exhibit, which has taken over all three of the Arvada Center's indoor galleries and spans 10,000 square feet, features more than 120 mostly Colorado-based artists of all gender identities working in groups of up to four in celebration of the upcoming 100th anniversary of the passage of the 19th Amendment.
Ratified on August 18, 1920, the 19th Amendment guarantees and protects women's right to vote. But this timely exhibit also explores the complex and ongoing struggle for universal suffrage in today's cultural context.
Over the next few days, we are spotlighting four collaborating artist teams, and their contributions to "Pink Progression."
TODAY'S FEATURED COLLABORATION:
"JB-MK NOTATIONS (FRIENDSHIP)"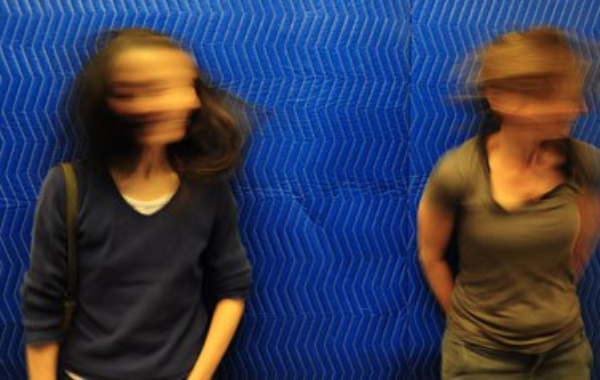 Jina Brenneman and Margaret Kasahara
Englewood and Colorado Springs
'Suffrage is so often taken for granted in the United States.'
Tell us about your piece: It is a wall-mounted artwork made up of 25 mixed-media pieces on rag paper. Each piece measures 6 inches by 6 inches, installed in a 5 foot by 5 foot grid formation.
What materials did you use? Mixed media, including porcelain slip, spray paint, pencil, pastel, colored pencil, thread, and 22-karat gold leaf.
What are your themes? Friendship, collaboration and working together to reach common goals and unity. In relation to art history: Ephemeral works.
What did you learn about collaboration? Collaboration requires an open and flexible mind to fully reap the benefits of shared goals. Stepping out of comfort zones, trust, a willingness to let go of preconceptions. Acknowledging and incorporating differences, and accepting different ways of "doing." So much is gained by embracing new approaches.
What does achieving "suffrage" mean to you in today's context? Suffrage means the right to vote. And it is so often taken for granted in the United States, even though it was not always a right given to people of color It came to African American men in 1870 with the 15th Amendment. Asian Americans were not granted the right to become citizens and to vote until the McCarren-Walter Act in 1952. The 19th Amendment gave women the right to vote in 1920, but not to all Native American and Asian American women). Not until the Voting Rights Act of 1965 did Congress remove all discriminatory barriers to voting. So to us, suffrage is a cherished right, and some people and communities still face intentional political roadblocks and challenges such as voter discrimination and suppression, to prevent them from fulfilling their right to vote.
What, to you, is the cumulative impact of "Pink Progression"? New bonds and bridges can be created through working together. You can achieve unique and creative and impactful solutions through adapting and adopting different processes and practices. "Pink Progression" calls attention to women's rights by using a positive process.
Last words? "We wanted to create a work that was a true collaboration – a melding of separate and disparate ideas into a cohesive whole where lines blur and each individual contribution becomes an integral and necessary part of the work. Not just a presentation of different approaches, but an actual incorporation of differences.
"Pink Progression" rose out of the 2017 Womxn's March (pictured at right) to inspire social change and explore ideas of feminism, equality, inclusivity, gender identity, unity, and community through creative expression. Participating artists fused their narratives into multidimensional works ranging from site-specific installations, video, performance and traditional fine arts.
" 'Progression' refers to the hope for progress in the issues that we explore, as well as progressing away from prejudice and erroneous stereotypes," said curator and artist Anna Kaye. In an interview with 5280 Magazine, she added: "The theme of collaboration was really important because it inspires social change. Nobody can create social change unless they have support."
John Moore was named one of the 12 most influential theater critics in the U.S. by American Theatre Magazine during his time at The Denver Post. He also is the founder of The Denver Actors Fund, and is now contributing reports on the arts community for ArvadaCenter.Org. Reach him at culturewestjohn@gmail.com.
READ THE FULL SERIES:
'PINK PROGRESSION' PARTICIPATING ARTISTS:
Deidre Adams + Brooke Atherton
Judy Anderson + Ginny Hoyle + Christopher Hecker
Theresa Anderson + Alicia Ordal + Kim Shively
Tya Alisa Anthony + Kim Putnam
Fawn Atencio + Bonnie Stolzmann + Sarah Wallace Scott
Mindy Bray + Tonia Bonnell
Trine Bumiller + Kathryn Winograd
Katie Caron + Lisa DiMichele
Irene Delka McCray + Tree Bernstein
Sally Elliott + Katie Elliott/3rd Law Dance + L. Ashwyn Corris
Corrina Espinosa + Elisa Groglio + Joanna Bugajska
Bonnie Ferrill Roman + Judy Gardner
Ashley Frazier + Becky Wareing Steele
Steven Frost + Frankie Toan
Sarah Fukami + Brooky Blunt + Nico Wilkinson
Melissa Furness + Rian Kerrane
Jennifer Ghormley + Victoria Eubanks
Ania Gola Kumor + Leah Swenson
Susan Goldstein + Gayla Lemke
Moe Gram + Grow Love
Jane Guthridge + Voices of Light Chamber Choir
Kim Harrell + Lynda Ladwig
Ana Maria Hernando + Amie Knox
Veronica Hererra + Lola Montejo
Deborah Howard + Laurel McMechan
Micaela Ironshell-Dominguez + Renee Chacon-Millard
Rochelle Johnson + Sylvia Montero
Samara Johnson + Alanna Lacey + Samantha Bares
Tsehai Johnson + Leslie D. Boyd
Margaret Kasahara + Jina Brenneman
Anna Kaye + Sarah Wallace Scott
Sammy Lee + Megan Gafford
Jessica Loving + Rachel Doniger
Marsha Mack + John Roemer
Virginia Maitland + Melanie Walker + George Peters
Julie Maren + Jessica Drenk
Laleh Mehran + Jayne Butler
Susanne Mitchell + Janelle W. Anderson
Sophie Lynn Morris + Hannah Untiedt
Jennifer Pettus + Rebecca Vaughan
Sandra Phillips + Virginia Folkestad
Julie Puma + Patricia Mclnroy
Sangeeta Reddy + Jodie Roth Cooper
Susan Rubin + Peter Illig
Martha Russo + Tina Suszynski + Anna Suszynski + Emma Hardy
Julia Rymer + Drew Austin
Dylan Scholinski + Daphne Scholinski
Sue Simon + Mark Brasuell
The Great Shout
Autumn T. Thomas + Tricia Waddell
Susan Vaho + Elaine Stires
Sherry Wiggins + Luís Filipe Branco
Kate Woodliff O'Donnell + Stacey Stormes
Belgin Yucelen + Anne Waldman + Akin Koksal