SCULPTURE IN THE FIELD: TAKE A STROLL OUTSIDE THE ARVADA CENTER
Outdoor exhibit features 25 large-scale pieces by 18 significant Colorado artists
By John Moore, Senior Arts Journalist
During these constricted COVID times, many Coloradans are looking for ways to move their bodies and vary up their routines. A refreshing stroll is waiting to be … strolled … outside the Arvada Center. The current exhibit, titled "Sculpture in the Field: a Rotating Exhibition of Contemporary Sculpture," features 25 large-scale pieces by 18 significant Colorado artists. It's free and open to the public during daylight hours.
"Sculpture in the Field" began by re-imagining how to create a compelling and engaging sculpture exhibition in the existing outdoor space. The pieces were chosen in partnership with the Museum of Outdoor Arts, which specializes in the placement of site-specific sculpture in Colorado. In all, 25 modern and contemporary pieces of various sizes and media were selected by a panel of 15 acclaimed Colorado artists to create a visually dramatic exhibition that is spread over a quarter-mile.
The intent of Sculpture Field, located just south and east of the Arvada Center's main parking lot at 6901 Wadsworth Boulevard, is to seasonally change the landscape outside the arts center while bringing the programming of its galleries outside. Visitors who make an advance reservation also can visit the ongoing indoor exhibit "Pink Progression: Collaborations" through November 8. The free exhibit, which has taken over all three of the Arvada Center's indoor galleries and spans 10,000 square feet, features more than 120 mostly Colorado-based artists of all gender identities working in groups of up to four in celebration of the recent 100th anniversary of the passage of the 19th Amendment.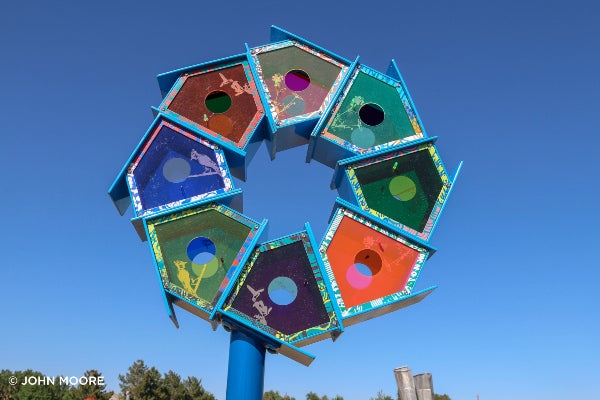 'Sculpture in the Field': Participating artists
• Pat Aaron
• Scottie Burgess
• Michael Clapper
• Jodie Roth Cooper
• Emmett Culligan
• Mitchell Dillman
• Norman Epp
• Erick Johnson
• Robert Mangold
• Dave Mazza
• Eric McCue
• Joe Norman
• Charles Parson
• Carl Reed
• Roger Reutimann
• Joe Riche
• Reven Swanson
• Bill Vieleher
"Sculpture in the Field" is part of the "Unbound" series sponsored by Exempla Lutheran Medical Center. In-kind sponsors include Colorado Hardscapes; Sunbelt Rentals; Lowe's; Demiurge Sculptural & Architectural Fabrication; Warren Tech; Art Management and Planning Inc.; and Arvada Rent-Alls.
John Moore was named one of the 12 most influential theater critics in the U.S. by American Theatre Magazine during his time at The Denver Post. He also is the founder of The Denver Actors Fund, and is now contributing reports for the local theatre community for the Arvada Center at ArvadaCenter.Org. Reach him at culturewestjohn@gmail.com.