'LADIES AND GENTLEMEN ... HERE ARE THE BARNSTORMERS!'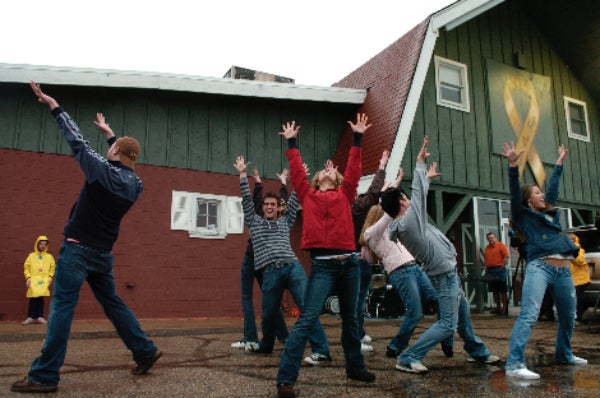 The final Barnstormers show was performed outside and in the rain on May 23, 2007, by an ensemble that included future stage and screen star Melissa Benoist.

50th anniversary of Country Dinner Playhouse brings Colorado theatre mainstay back to life for reunion concert

By John Moore, Senior Arts Journalist
May 23, 2007, was just the most surreal of days. Performers and patrons arriving at the venerable Country Dinner Playhouse for that evening's performance of "Evita" were greeted by a padlocked front door and a jarring note that said, in short, that ownership had run out of money.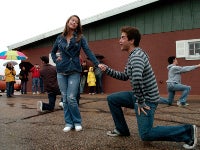 So, the shocked cast and crew did what performers always do: They went on with the show. Only on this final night, they had to do it outside on the asphalt of a rainy parking lot in descending darkness.
The Barnstormers, a 37-year institution at what was then Colorado's second-largest theatre by attendance, did what they always do, too: They performed pre-show highlights from a planned production of "Seven Brides for Seven Brothers" that now would never be staged. Still, they sang and splashed their way through their 10-minute routine before making way for a full performance of "Evita" that went on deep into the night through drops of rain and tears. It was a performance powered by portable generators, illuminated by car headlights and fueled by a remarkable spirit.
One of the Barnstormers that night was Melissa Benoist, now known to the world as TV's "Supergirl.'' May 23, 2007, also happened to be her graduation day from Arapahoe High School. But she never thought twice about choosing this remarkable coda over graduation parties. "I wanted to spend this time with the people I love the most," she said through tears at the time. She also played Peron's mistress in "Evita."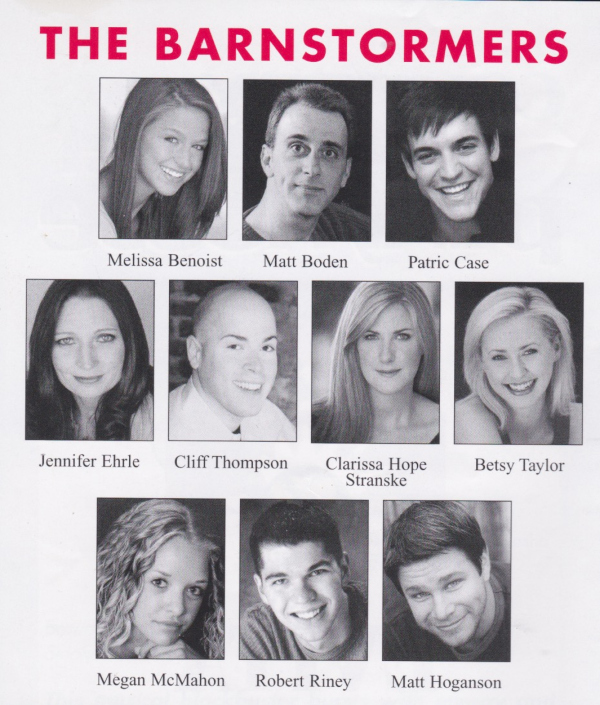 The final group of Barmstormers in 2007.
2020 would have been the 50th year in business for the Country Dinner Playhouse, a 470-seat theatre-in-the-round located off I-25 and Arapahoe Road. In its 37 years, it welcomed more than 4.6 million theatregoers for 220 plays and musicals. When things were really cooking, the Playhouse served up professional fare and a country-style buffet to 150,000 loyal patrons every year.
"What do you think of when you talk about the Country Dinner Playhouse?" said longtime performer and later producer Paul Dwyer. "You think of fried chicken, pan fish, turtle sundaes and the Barnstormers. They were the first ones to greet you at your table, and they were there in a line thanking you on your way out. They were your first memory and your last memory. People loved them."
The Barnstormers were a popular conceit invented by legendary producer Bill McHale, who died last March at age 86. The Barnstormers were an octet of ever-rotating young singers who provided cheerful pre-show entertainment while serving audiences coffee and dessert.
Over the years, more than 200 rising performers from around the country would be hired into the Barnstormers ensemble, some working for the two-month run of just one show, while others worked comfortably in that job for years. At first, the Barnstormers also were required to play guitar, because music was essential at the Playhouse, and on nights when it was presenting a play, the Barnstormers were the only music audiences would get. Eventually, McHale realized the Barnstormers were the perfect advertisement, so they pivoted to offering up sneak peeks at whatever show was coming next. In the early years, audiences gasped as the performers opened the evening by descending from the top of the $20,000 hydraulic "magic stage" as the announcer proclaimed: "Ladies and gentlemen … Here are the Barnstormers!"
The tradition will briefly return to life from November 20-27, when former Barnstormer Stephen Charles Turner presents a nostalgic, virtual on-demand reunion concert featuring nearly two dozen alums as a benefit for The Denver Actors Fund.
Barnstormer beginnings
McHale based the Barnstormers concept off his experience with, ironically enough, the Barn Dinner Theaters, a national dinner-theatre circuit with a warm-up cast that was called the Haymakers. He named the Barnstormers (a word that literally means stunt pilots) in part as an homage to original CDP co-owner Sam Newton, who had been a B-17 Army Air Corps pilot in World War II. But the name also fit on a far more obvious level: The Country Dinner Playhouse was now part of the Barn Dinner Theater circuit – and it was built in the shape of a barn.
"When the Playhouse opened in 1970, the logo was a farmer with a piece of hay coming out his mouth, and the Barnstormers were a continuation of that theme," said Dwyer. "Everything had a down-homey feel. There were wagon-wheel lights. The tablecloths were made of red-and-white checkered plastic. And because the Barnstormers were your hosts for the evening, they had to have a country look, too."
The Barnstormers' costumer did all her shopping at Sheplers, the Western Wear empire now known as the Boot Barn. The girls wore frill tops and denim skirts, and the guys wore black jeans or khaki pants that complemented them.
"Every successful business has branding," Dwyer added, "and the Barnstormers were the CDP's brand."
McHale thought of the Barnstormers as an apprenticeship program. These were talented hopefuls, and he gave them solid contracts. They then paid their dues working eight shows a week in the hope that they eventually would be cast in a mainstage show. "They served drinks and could learn their craft while making a good living," McHale said in a 2000 interview.
For many, being a Barnstormer was, in fact, a direct pipeline to what for decades were considered among the most consistent and highly sought jobs in Colorado theatre. Several, including Benoist ("Beautiful"), Andy Kelso ("Kinky Boots"), George Lee Andrews (a 23-year member of Broadway's "The Phantom of the Opera" ensemble), and Patty Goble ("Bye, Bye Birdie") have enjoyed big-time success on Broadway. Six-time Academy Award nominee Amy Adams was a Barnstormer back in 1994. Lee Horsley, perhaps best known as TV's "Matt Houston" and narrator of the audiobook version of "Lonesome Dove," was an early Barnstormer alongside Morgan Fairchild ("Falcon Crest"), who was known then as Patsy Ann Calmes, and Ted Shackelford ("Knots Landing").
"Being a Barnstormer totally prepared me for an actor's life in New York City," Kelso said. "It was a super high-paced and stressful waiting job combined with rushing to sing 32 bars to a bunch of people sitting behind a table. Kind of like auditioning! It really was a great little gig that allowed me to save money for my move the city, and it will always hold a special place in my heart, and on my resume."
Brian Smith, who worked as a Barnstormer for three years, said he made more money in that job than he ever did performing elsewhere as a union actor. His persistence paid off when McHale cast him opposite future Tony Award nominee Beth Malone in "Baby."
"After more than seven years as a union actor, directing more than 10 shows and working in six other theatres in the Colorado area, I am still remembered more for being a Barnstormer than anything else I've done since," Smith said.
Malone, for her part, grew up in nearby Castle Rock desperately wanting to be a Barnstormer, but, alas, she wasn't old enough to serve alcohol. So she worked as a part-time hostess instead. "When I was 16 years old, I got my driver's license and immediately started driving to the Country Dinner Playhouse so I could watch the shows as many times as I wanted," she said. "I used to watch rehearsals while filling the sugar bowls on the tables."
Malone eventually starred in many CDP shows, including "Baby," "Steel Magnolias" and "Oklahoma" (as Ado Annie) before moving on to Broadway and earning a Tony Award nomination for "Fun Home."
The ongoing Barnstormer impact today
Many of the biggest names in the local theatre community today started out as Barnstormers, including Kenny Moten, Shannan Steele, Bob Hoppe, Scott Severtson, Markus Warren, Maggie Lamb, Mary McGroary and Brian Mallgrave (now a multiple award-winning Scenic Designer for the Arvada Center). The long roster of names even includes Glen Campbell and Roger Clemens (just not the celebrities you might be thinking of).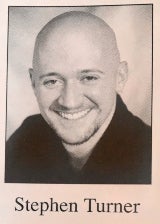 Turner, a Barnstormer from 2004-7 and a performer in Candlelight Dinner Playhouse's just completed run of "Camelot," had three reasons for choosing now to remember and resurrect the Barnstormers with a reunion concert.
"This is 50th year The Barn would have been existence," he said. "This is also the year that Bill McHale died. And the COVID shutdown is a reminder to everyone that other theatres across Colorado are in serious danger of closing. My purpose is to plead with people to keep supporting live theater if they can and when they can.
"Now just seems like a great time for a reunion concert."
Turner has worked for several months to compile a streamable (and completely socially distanced) concert featuring nearly two dozen former Barnstormers. The 90-minute event, which drops at 7 p.m. MST this Friday, will include a variety of solos, duets, group numbers and interview remembrances – all compiled without anyone ever actually gathering in the same room with anyone else.
If longtime Country Dinner Playhouse patrons naturally expect to see a rendition of McHale's famous Barnstormers birthday song, Turner said, they will not be disappointed. And Dwyer will be on hand to pay a special tribute to McHale.

With so much uncertain and so many artists unsure when they ever will get to perform in front of a real audience again, Turner said it made sense to direct 100 percent of all proceeds to The Denver Actors Fund, which has made $670,000 available to Colorado theatre artists in need.
"The Denver Actors Fund is a great organization that has helped many of our friends in the local theatre community," Turner said. "We want to help them any way we can, without putting ourselves or our friends in any danger."
John Moore was named one of the 12 most influential theater critics in the U.S. by American Theatre Magazine during his time at The Denver Post. He also is the founder of The Denver Actors Fund. Reach him at culturewestjohn@gmail.com.

A Evening with the Barnstormers: Ticket information

Special concert event available on demand November 20-27
Tickets: Minimum $10 donation to The Denver Actors Fund
Order here. Your link will be mailed to you within 24 hours of ordering
Bonus: Here Come The Barnstories: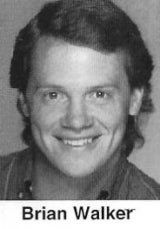 Brian Walker (Smith): "When I auditioned to be a Barnstormer, I had never played guitar. So I borrowed one from a friend and learned three chords for my audition. Bill McHale told me to work on my guitar and come back in a week. I worked on it till my fingers literally had sores on the tips. I came back and got the job as an extra. As an extra, you only worked when one of the regulars was off. After six months, they went to a rotation. My first rehearsal with Bill as a regular, he taught us some choreography. Not hard (even for a guy who had to do it while playing the guitar – poorly). Anyway.... he taught us a section, and then he changed it. As we were running it, I did it the first way. Bill stopped us and yelled at me. I was mad at myself for screwing up and said something to myself about being a (bleeping) idiot. But Bill thought I was saying it to him. He pulled me out into the hall and pushed me up against the wall and asked what I said. He didn't believe me and threatened to fire me on the spot. Obviously, he didn't. A year later, I was doing the musical direction for the Barnstormers and working my way into shows. I got to go on as Danny Zuko in 'Grease, and finally he looked at me differently."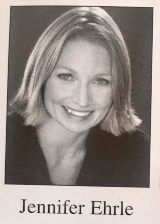 Jenna (Laurise) Ehrle: "I loved being a Barnstormer. It meant being part of a big, beautiful family that crossed many generations and all types of people. It also meant sometimes serving 20 coffees and turtle sundaes in less than 10 minutes wearing an orange jumpsuit and then changing back into full costume to go back on stage. But it gave me a lifetime of wonderful memories, both on and off stage."
Bob Hoppe: "We truly were a family. We played games between shows. We watched movies all cuddled together on the little couch in the Barnstormer room. One big sign that you are in a truly wonderful work environment is when you hang out with those people outside of work. We did eight performances a week, which meant we worked together every day of the week but Mondays … and we would always plan adventures together on Mondays, too. And we spent every holiday together. We were a troupe, and we were colleagues. But above all, we were a family."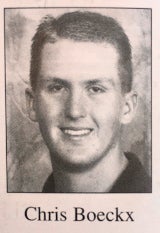 Christopher Boeckx: "I came to work one night without a belt. So I tied my apron through my pant loops and figured I would throw a loaner belt on right before places were called. But when the warning bell sounded, I discovered that the only belt left in the dressing room was far too small for me. Why I didn't just go without a belt, I don't remember. But I decided I would use my pocket knife to punch a new hole into the belt right then. I applied a bit too much pressure, closed the blade on my thumb, and cut right to the bone. This was about 30 seconds before the stage was coming down for the pre-show. Here, again, I have no idea why I didn't say anything to anyone and ask them to hold the show. I was all of about 19 years old. I think I felt like I had to prove my professionalism by getting to places with no hiccups. So, naturally, I grabbed a random sock, wrapped it around my thumb a few times, and got onto the platform just as it was headed down. I'm sure I looked so great doing all of those classic 'jazz-hand' moves with my hand in a bloody sock. My favorite part was when (Emcee Paul Dwyer) came around to introduce me. He would usually let you introduce yourself and then banter with you for a second. But on that night, Paul took one look at that thumb and just walked right on by."
Becky Gibel: "I worked as a Barnstormer for a short stretch during 'Clue, The Musical.' I made some great friends, I did the 'Evita' arms as group choreography during a pre-show medley, and I dumped a full tray of daiquiris over a lady on her 68th birthday. (She was SO kind. I cried. She left me a $100 tip.)"
Steven Cogswell: "Every year, if I got good grades in elementary school, I got to pick a reward – and I always picked going to the Country Dinner Playhouse. I always dreamed of being a Barnstormer someday. (Should I have dreamed bigger?) The most exciting part of the afternoon was seeing who our Barnstormer was going to be. I will always remember the first time I rode the magic stage down, with the music vamping and (stage manager) Rob Westan's voice ringing out: 'Ladies and Gentlemen … The Barnstormers!' "
Brian Smith (bonus): "I also remember having someone in the audience point to his drink to order another one – while I was doing the announcements from the stage during the Barnstormers show."
Video bonus: More on the reunion concert
Some of the Country Dinner Playhouse ownership history:
Sam and Hilda Newton bought the desolate 5.82 acres that would one day be home to the Country Dinner Playhouse along with Mary Boren for just 70 cents a foot back in 1970. David Lovinggood joined the ownership group a few months later. In 1995, John Rutter became the majority owner of a group that included Lovinggood, as well as Bob and Joan Buffington. Rutter's death in 2002 set in motion a protracted, million-dollar ownership struggle between Rutter's wife, Eileen, and then-CEO David Pritchard. Two years later, Lovinggood emerged as the 65 percent majority owner, with the Buffingtons owning 35 percent. In September 2005, Newton, who still owned the land the Playhouse stood upon, sold it to Uhlmann Offices Inc., of Sherman Oaks, Calif. for $3 million. Uhlmann and Lovinggood never settled on a lease arrangement, and so, in 2007, the Buffingtons closed the theatre, saying the lack of a lease was hindering season-ticket sales. It was also discovered that the Playhouse had allowed its liquor license to lapse. Uhlmann Offices demolished the Country Dinner Playhouse, and a Restaurant Depot was built in its place.