VIRTUAL THEATRE SPROUTS A NEW BRANCH WITH THE ARVADA CENTER'S 'THE FAMILY TREE'
Leslie O'Carroll offers a sneak peek at 'The Family Tree.' Photo by Steve Wilson.
'We're going big or going home on this one,' Collins says of innovative holiday play
By John Moore, Senior Arts Journalist
At a time when temperatures are dropping and COVID cases are again spiking, the prospect of producing any live theatre at all right now means producing it online. And with its upcoming holiday offering, the Arvada Center is pushing forward the boundaries of what virtual theatre can be.
In December, the Arvada Center will launch the world premiere of Jessica Austgen's innovative, made-for-online play, "The Family Tree: A Virtual Holiday Comedy" – and it will involve several participatory twists. The story will be broadcast live and in real time, with online audiences having several opportunities to "branch out" (hence the play's title) and follow the story from different characters' points of view.
"For theatregoers, what we miss most in this virtual world is that sense of liveness, of engagement, of involvement in live theatre," said Arvada Center Artistic Director of Plays Lynne Collins. "This is not recorded. This is high-wire theatre. The actors are going to make mistakes, like they do in live theatre. We're going big or going home on this one."
"The Family Tree" is a 50-minute adventure that will be performed 15 times between December 2 and 20. The online audience joins in like flies on the wall of an Arvada family's Zoom call as they are adapting to a holiday season where they can't be together. Twice, audiences are given the choice to stay on the main call or follow actors who embark on their own storylines. "You get different pieces of information depending on which characters you follow," said Austgen, "but then we come back together and everyone experiences the same ending."
Austgen describes "The Family Tree" as the story of how one family comes together and works through the normal moments of their lives in extraordinary circumstances. As the story progresses, she says, "secrets come to light, traditions are questioned, and the quirks of virtual interactions eventually bring everyone closer together."
The cast of nine (plus a cutie-pie dog named Titus) will be made up of both solo performers and real-life family pods, which in the time of COVID is both more practical – and safe. "The people you are seeing together in the play are quarantining together in real life," Collins said. "We are not doing anything to endanger anybody in this process."
One story branch involves Austgen and her husband, "The Family Tree" actor (and Titus' human) Geoffrey Kent. Audiences also have the option to follow one of Colorado's foremost theatre families: Leslie O'Carroll; her husband, Steve Wilson; and their 18-year-old daughter, Olivia Wilson, who is a senior at Denver School of the Arts.
O'Carroll is best-known for her seasonal performances as the jovial Mrs. Fezziwig in the Denver Center's "A Christmas Carol." Wilson is the former Artistic Director of Phamaly Theatre Company and, before COVID eliminated his job, also ran the Mizel Center for Arts and Culture.
The couple won a combined True West Award when scheduling conflicts made it necessary for O'Carroll to miss the final two weeks of the Arvada Center's 2016 production of "Tartuffe." So her husband came to the rescue, finishing the run playing the battle-axe Madame Pernelle. "The Family Tree" will be the first time Wilson and O'Carroll have ever performed together (at the same time), and having their daughter along for the ride is a meaningful bonus, Wilson said.
"This has been a pivotal year for all three of us," said Wilson (Translation: "Sucky.") "Olivia is a high-school theatre major at a time when there is no theatre – and getting ready to go to college. I am out of the job I had for 26 years and am in transition. And Leslie, who had worked without stop for two full years prior to COVID, had four shows booked back-to-back. COVID stopped all of that momentum in its tracks.
"The Arvada Center has done a lot for this family over the years, and we are grateful that it has worked its magic again and made it possible for us to work together for the first time. This play not only gives us something fun to focus on during this difficult time, but it also will be something positive for audiences to enjoy this holiday season."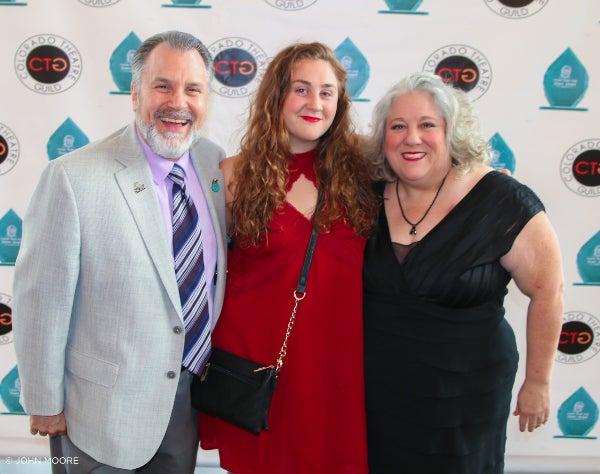 Steve Wilson, Olivia Wilson and Leslie O'Carroll at the 2019 Henry Awards. Photo by John Moore
Audiences also will have the option to follow Tresha Farris and Sean Michael Cummings, a young couple who recently performed together in The Catamounts' "The Rough," a story staged on the front nine holes of a Westminster golf course. They also can go off on solo adventures with noted local actors Jada Suzanne Dixon or Kate Gleason. Austgen said audiences will get a complete story no matter what path they choose to follow.
Austgen began percolating the idea for "The Family Tree" last summer, hoping against hope that virtual theatre would not still be necessary by the holiday season. "But here we are," she said. So she set out to create something less passive than a typical Zoom call without turning it into full-blown audience-participation theatre – which not all theatergoers enjoy.
"So instead of looking at the constraints of online theatre in a negative way, we asked ourselves, 'Well, how can those constraints be seen in a positive way?' " Austgen said. "One of the positives is that you will have real humans who suddenly appear on your screen from their other world. You will see pets. You will see kids. You are watching people live their lives behind a screen. But there is a whole lot more going on there."
Part of the story of the production, Collins added, "is our continuing commitment to employ artists at this difficult time." In fact, "The Family Tree" is believed to be the first full-play production in the Western Region of the United States to have received the approval of the Actor's Equity union to be performed since the COVID outbreak began. "That means these actors not only will earn salaries but pension and health-insurance benefits," Collins said. "A huge goal for us is to keep finding ways to help the artists who make what we do possible. They have paid a hard price in so many ways."
"The Family Tree" will be priced as "pay what you want," with audiences choosing their own contribution between $20 and $50. Collins hopes families will be encouraged to gather relatives from around the country and experience the story together. And because that story will be different depending on who you choose to follow, that will encourage repeat viewing.
With the Colorado Department of Public Health discouraging large gatherings, Collins hopes families find respite in "The Family Tree."
"Its just getting scarier out there," Collins said. "So it's all the more important for organizations like the Arvada Center to be presenting something for our audiences right now. The choice is either to sit this out, or to be creative and innovative and do something new – and that's what we're doing here."
Kent believes "The Family Tree" "makes the Arvada Center an arts leader in our state as the largest theatre company that is going to produce holiday entertainment." But, he added, "One of the things we don't want to lose in this story is the importance for an audience to have live theatre."
Added Collins: "I'm in favor of bringing people together at this time of year in whatever way we can. One of the things I am proudest about the Arvada Center is that we keep trying. We're putting product out there as best we can, as safely as we can, as thoughtfully as we can – and 'The Family Tree' is a continuation of that."
John Moore was named one of the 12 most influential theater critics in the U.S. by American Theatre Magazine during his time at The Denver Post. He also is the founder of The Denver Actors Fund, and is now contributing reports for the local theatre community for ArvadaCenter.Org. Reach him at culturewestjohn@gmail.com.
"The Family Tree: A Virtual Holiday Comedy"
Playwright: Jessica Austgen
Director: Lynne Collins
Dates: December 2-20
Performances: 7 p.m. Wednesdays through Sundays
Run time: 50 minutes, with an optional talkback after each performance.
Platform: Zoom - webinar style (audience members will not be seen by cast)
Pricing: Pay what you want: Available prices $20, $25, $30, $35, $40, $45, $50
Order by phone: 720-898-7200
Cast list:
Jessica Austgen
Sean Michael Cummings
Jada Suzanne Dixon
Kate Gleason
Tresha Farris
Geoffrey Kent
Leslie O'Carroll
Titus
Olivia Wilson
Steve Wilson
Stage Manager: Christine Moore