WHAT DO DO NOW: YOUR THEATRE HAPPENINGS FOR OCTOBER 23
A sneak peek at 'Carne y Arena,' a groundbreaking and immersive virtual reality experience opening tonight at the Stanley Marketplace.
While the COVID spike is bringing cancellations, theatregoers still have a surprising number of options

By John Moore, Senior Arts Journalist
The local theatre landscape continues to shift on a daily basis, with the recent spike in COVID positivity forcing theatre companies to reconsider all upcoming live gatherings. Most notably, Vintage Theatre has suspended live performances of "Murderers" (though a recorded performance is available for online viewing; ComedySportz of Denver has postponed its event at The Peoples Building in Aurora from Saturday to November, and the Arvada Center has canceled its upcoming "Trick Art Treat" event it had planned for Halloween Day.
Here's the most current information we have on all local theatre events that we know of that are happening now, or coming up before November 4. Please send any updates to culturewestjohn@gmail.com.
IN-PERSON ONLY
Friday, October 23-January 30, 2021: The DCPA is partnering with five-time Academy Award-winner Alejandro G. Iñárritu ("Birdman") to present the groundbreaking and immersive virtual-reality installation "Carne y Arena (Virtually present, Physically invisible)" at the Stanley Marketplace. The 20-minute experience explores the human condition of immigrants and refugees in a short journey centered around a virtual-reality sequence. The spaces are designed for one visitor at a time to circulate while limiting interactions and to respect distances safely and comfortably. 2501 Dallas St. in Aurora. Order here (Pictured at right: a motion-capture. Credit: © Chachi Ramirez, Legendary)
Sunday, October 25: The Dairy Arts Center presents "Magic Show with Braden Carlisle and Alec Mueller" at 4:30 p.m. in its lobby. Mueller is a young mentalist and magician from Longmont who has made many live TV appearances. Most recently, he put on an online magic show that raised more than $2,000 for his school's free lunch program during the pandemic. He was also the focus of an award-winning documentary titled "The Mead High Mentalist." Order here
Through October 25: Candlelight Dinner Playhouse presents a scaled-down version of "Camelot," the Lerner and Loewe classic that follows the legendary love triangle of King Arthur, Guinevere and Sir Lancelot. 4747 Marketplace Drive, Johnstown, 970-744-3747 or coloradocandlelight.com
Through October 30: Katy Williams Design's "The Shadows of Sleepy Hollow" is an innovative walking tour of downtown Englewood that tells the tale of Ichabod Crane through wide-ranging forms of shadow puppetry. Audiences wander sidewalks, alleys and other assorted crannies to re-create the famous tale of the fictional schoolmaster whose awful ways lead him to a fateful encounter with the legendary Headless Horseman. Starts at 3454 S. Broadway. Order here
Through November 1: The Rainbow Militia is hosting an immersive show called "Death's Unraveling" located "somewhere on Tennyson Street." Rainbow Militia shows blend circus with live music, shadow puppets, Tarot readings, aerial dance and more. Information here
Through November 15: Adams Mystery Playhouse presents "Paranormal Murder" for Halloween. Set in 1938 at a county estate in England, guests have assembled for a séance to contact the recently deceased Colonel Alan Faulkner, who died under mysterious circumstances 2406 Federal Blvd. 303-455-1848 or adamsmysteryplayhouse.com
ONLINE AND IN-PERSON
From left: Concert hosts Annaleigh Ashford, Denise Gentilini, Beth Malone and Neyla Pekarek.
Friday, October 23: Julia Tobey and Eugene Ebner present an uplifting, nearly all-Colorado video concert to launch her new Sublimelight Studios. The concert will be pre-recorded and dropped at 7 p.m. on October 23 on Sublimelight's YouTube channel. The concert hosts are Grammy Award nominee Neyla Pekarek (formerly of The Lumineers), Tony Award winner Annaleigh Ashford ("You Can't Take it With You"), three-time Emmy Award-winning composer Denise Gentilini, and Tony Award nominee Beth Malone ("Fun Home.") Performers slated to perform or speak include Elizabeth Welch ("The Phantom of the Opera"), Gregory Treco ("Hamilton"), Jason Veasey ("The Lion King"), Josh Franklin ("The Prom"), Piper Lindsay Arpan ("Spamalot"), Shannan Steele, David Nehls, Robert Michael Sanders, Megan Van De Hey, Kenny Moten, Lauren Shealy, Jalyn Courtenay Webb, Jessica Hindsley, Lynzee and Chris Jones, Adriane and Marco Robinson, Julie Payne, Natalie Oliver-Atherton, Jennifer Condreay, Paul Page, Dixie Krystals, Shirley Delta Blow, Sophia Dotson, Evan Gibley, Hannah Katz, Abby Linderman, Eden Lane and Sue Leiser. Ensembles performing include Black Iris Collective, Spinphony, The Beverly Belles and The Honey Taps. All in 90 minutes (!). The goal is to raise $75,000 by November 23 to support Sublimelight, a new arts and wellness community set to open in Denver in 2021. Ten percent of proceeds will go to The Denver Actors Fund. There will also be a socially distanced premiere party at Cap City Tavern (1247 Bannock St.) at 7 p.m. October 23. Viewers can watch from home anytime after that. Order here
Saturday, October 24: Lone Tree Arts Center presents Tony Award nominee Adam Pascal in an intimate, acoustic performance called "Adam Pascal: So Far." Pascal will take the audience through his Broadway career, beginning with "Rent" and "Aida" and up through "Pretty Woman." 8 p.m. Order here Livestream option here
ONLINE ONLY
Friday, October 23: Stories On Stage presents "Don't Look Away: Black Stories Matter," a virtual, live-streaming performance of Betty Hart, Cajardo Lindsey and Jada Suzanne Dixon performing stories written by Reggie Rivers, Khadijah Queen, Claudia Rankine and Jocelyn Nicole Johnson. 7 p.m. Order here
Fridays: Su Teatro presents "Short, Funny and Weird," its weekly virtual series made up of skits, songs and short stories. It's free, with a $10 suggested donation. 6:30 p.m. Order here
Through October 24: Curious Theatre is streaming its first-ever virtual play: The regional premiere of "Hillary & Clinton," by Lucas Hnath. In a parallel universe set during the 2008 primaries, we meet Hillary Clinton as she navigates through her troubled campaign for president. History, gender, relationships and a flip of a coin all come into play in her quest to become the first female president. Rent the video for 30 days here
Saturday, October 24: The Denver Center is one of 20 major nonprofit arts organizations offering access to a three-part virtual concert series called "Live from the West Side: Women of Broadway," featuring two-time Tony Award winner Patti LuPone on October 24, Tony Award winner Laura Benanti on November 14, and actor/recording star Vanessa Williams on December 5 (pictured above). Each concert will be presented in high-definition from The Shubert Virtual Studios on Manhattan's West Side. Each will feature a mix of Broadway showtunes, pop songs and personal stories from each headliner. At-home audience members will be invited to email questions, some of which will be answered in real time during the livestream. $30 each or $75 for all three shows. Order here
Saturday, October 24: Last month, the audio version of John Moore's play "Waiting for Obama" was dropped on all major streaming outlets. Now, Broadway on Demand has licensed the videotape of that recording and will host a live, pay-per-view world-premiere party at 6 p.m. on Saturday, October 24, going out to 14 countries. Ordering info here. After that, "Waiting for Obama" will remain available on-demand for a 48-hour rental over the next year, with net revenues raised going directly to The Denver Actors Fund. In the play, a Colorado Springs family is convinced that Barack Obama is coming for their guns in the final weeks of his presidency – and they're right. The cast features Laurence Curry, Drew Horwitz, Chris Kendall, Leslie O'Carroll, Jenna Moll Reyes, Jessica Robblee, Luke Sorge and Mare Trevathan. It was recorded by the staff of Parker Arts. The audio play remains available for free listening on all major podcasting platforms including Spotify, Apple Podcasts and Podbean.
October 24-25: The Breath Project's Virtual Fall Festival features selections of 8 minute, 46-second theatrical works created by BIPOC artists. The time frame reflects how long a Minnepolis police officer had his knee on the late George Floyd's neck. The artists who submitted pieces to this living time capsule have striven to capture something of this moment in history. Each performance of the ongoing festival features live commentary and a Q&A with the artists immediately following each performance. The festival is being presented in partnership with 16 companies around the nation including Denver's Curious Theatre Company. Tickets More information

Sunday, October 25: Hang out in Tony Award-nominee Forrest McClendon's living room (virtually) for a discussion hosted by Boulder's Local Theatre Company on "Choicework," the "Scottsboro Boys" actor's patented creative process. Part of "Living Room Local," an ongoing series of intimate, interactive conversations with acclaimed artists. 6 p.m. start. $20. Order here
Friday, October 30: The Lone Tree Arts Center hosts a virtual concert by The Choir of Man streaming live from a London pub. It's a one-time-only, professionally produced event with high-definition cameras specifically for the Lone Tree audience. The Choir of Man grew from the London theater scene and combines eight performers with high-energy dance, live music and foot stomping choreography. This all-new, more intimate show emphasizes the performers' personal journeys, and they each will share favorite memories from their U.S. tours, including special memories from their time in Colorado. Starts at 6:30. There will be no rebroadcast. Order here
Friday, October 30: Miners Alley Playhouse's "Virtual Variety Fundraiser" will feature live and recorded entertainment from recent productions including "Fun Home," "once" and "Cabaret," as well as improv comedy from ScriptProv. Performers include Jenna Moll Reyes, Aaron Vega, David Otto, John Hauser, Anna Maria High, Trent Hines, Abigail Kochevar and more. Curated meals will be available for pick-up from Bella Colibri and Mannie & Bo's. Hosted by Len Matheo and Lisa DeCaro. Reserve your spot here
Sunday, November 1: Boulder's Story Slam returns with its Grand Slam Championship. Ten storytellers offer a variety of 5-minute stories told from the heart ranging from dumpster diving to addiction to child-rearing. All of the winners from the previous year will come back to face off for the Grand Slam title. The lineup includes Nora Burns, Lilly Hansing, Alexis Miles, Kelita Samone, Judy Cody, Keith Bailey, Diana Sorus, Melissa Dinwiddie, Laura Ellsworth and Mary Roberts. 6 p.m. Order here
Through November 1: In the midst of this most strange of worlds, Arvada Center actor Zachary Andrews sought escape in an even stranger one: Bram Stoker's Gothic horror novel "Dracula," the archetypical vampire story about the notorious Transylvanian count who turned human necks into Halloween candy. Speaking of Halloween ... just in time: Andrews' original, one-man audio adaptation has launched as a radio play today. "I am trying to push the limits of your idea of storytelling with sound," he says. Read more Order here
Through November 1: Colorado Springs' TheatreWorks presents "House Arrest," a virtual production of Anna Deavere Smith's 2000 documentary-theatre piece subtitled "A Search for Character in and Around the White House, Past and Present." Based on historical source materials and interviews with figures ranging from Studs Terkel to Anita Hill, "House Arrest" asks how the American presidency has changed from 1776 to more recent years. Order here. Watch "Elections at Altitude," a free student compansion piece.
Through November 1: Boulder's The Upstart Crow presents "From the Crypt of the Crow," a rotating series of classic Halloween stories, play excerpts and short films. First up: "Chords," a short horror film starring Jeremy Barnes ("A Midsummer Night's Dream"). Written and Directed by Alexander Blanco. Watch here
Monday, November 2: The NextStage young-adult theatre company presents an online version of F. Scott Fitzgerald's "The Vegetable," adapted and directed by Tyler Phillips. It's a period farce written in 1929 about an inexperienced, narcissistic and delusional man who becomes president and nearly destroys the entire country by appointing unfit family members to office and making rash decisions to protect his power. Presented on Election Night-eve in a visual-radio-play format with original piano music interludes and a 1920s virtual costume contest. Order here
November 4-December 19: Buntport Theater re-teams with Lucidity Suitcase Intercontinental for the Western premiere of the remote, live and interactive theatrical experience "Zoo Motel," writte and performed by internationally acclaimed performance artists ( and Denver East High School grad) Thaddeus Phillips. This is a live (yet remote), intimate and playful experience broadcast from a village in South America. Phillips describes "Zoo Motel" as a surreal play that has the feel of live theater and a movie simultaneously. By purchasing a ticket for "Zoo Motel," participants reserve one of 21 "rooms" in the imagined motel. They will then receive an email that will include a printable room key, motel stationery, motel brochure and interactive set pieces. Watch for 360 tracking, quickly shifting perspectives, paintings of bizarre phone booths, a Japanese Maneki-Neko beckoning cat, a miniature Titanic and various other surprises. (Given the unique nature and logistics of this production, it is necessary to have a printer and print materials before the show.) Order here
Through November 8: The longer, smaller and all-digital 2020 Denver Film Festival is offering about 100 films through its new popular new Virtual Cinema platform. Spotlighted films that normally involve a red carpet will broadcast at specific, high-profile times, but most films will be available for patrons to watch at their convenience. Learn more and order here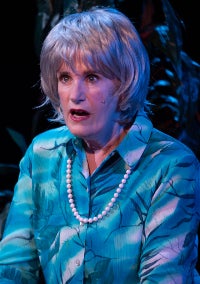 Through November 9: Vintage Theatre presents "Murderers," a trio of inter-connected comic whodunnit monologues by Jeffrey Hatcher, who paints a picture of the Riddle Key Luxury Retirement Community and its three unlikely criminals. Due to the recent spike in coronavirus cases, in-person performances have been canceled. You can wach a recorded performance online by ordering here. (Pictured: Mary Campbell)
Through December 12: The Fine Arts Center at Colorado College continues its original, 12-episode audio-play series "Of Spacious Skies," focusing on the history of Colorado Springs. A new episode drops every Thursday through December 12. The latest: "Leonidis" by Jonathan Andujar. It's the turn of the 20th century, and Leonidas Frank Chaney, one of Colorado Springs' most famous sons, is about to make the big choice that will lead him to become actor Lon Chaney, the man of a thousand faces. Read more Listen here
Ongoing: This year, "Miscast," the major annual fundraiser for The Denver Actors Fund, has pivoted to "CAST 2020," a professionally produced on-demand video concert featuring Colorado theatre artists performing in roles they WERE cast to play before the coronavirus shut down their shows. "CAST 2020" includes nearly a dozen songs performed by an all-star lineup of Colorado theatre performers, including Mary Louise Lee performing "Mamma's Turn," from what would have been Vintage Theatre's Gypsy. Reserve your link here
COMING UP: Learn how "Camp Christmas" is coming back as a true, online camp experience with several levels of available experiences, all starting in mid-November. Also: Holiday concerts and more.

John Moore was named one of the 12 most influential theater critics in the U.S. by American Theatre Magazine during his time at The Denver Post. He also is the founder of The Denver Actors Fund, and is now contributing reports on the arts community for the Arvada Center. He's also the playwright of 'Waiting for Obama,' mentioned above. Reach him at culturewestjohn@gmail.com.