By Leslie Simon
When the holiday season approached last year, we knew that we had to come up with a theatrical experience that could take the place of our typical holiday musical that was an annual tradition to many patrons. With more people (including us at the Center) now working from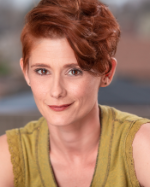 home, communication software like Zoom had become a new daily tool. While the term "Zoom fatigue" had already entered the cultural lexicon, it certainly did the job and allowed us to stay productive and in touch. Would Arvada Center audiences watch a holiday play on Zoom? Local actor/writer Jessica Austgen had already been toying with the idea of a virtual play before anyone had even heard of COVID-19, so when we asked her if she would like to try something new for us, she pounced on the opportunity and began work on The Family Tree.
The Family Tree was a multicultural family comedy where the at-home audience acted as voyeurs following a series of family phone calls. Local actors performed live from their individual homes, with actors who lived together being cast together for quarantine sake. This ambitious project was set up in a choose-your-own-adventure format where audiences had several storylines to choose from, with everyone coming back together at the end. This required detailed written instructions to patrons beforehand, as well as a meta-preshow with Austgen herself playing an Arvada Center art teacher who was helping patrons get set up. Stage Manager Christine Moore was set with the Herculean task of managing a play where all actors and crew were in separate locations.
"Since the skillful backstage team at the Arvada Center cannot safely be at the actors' homes to set props, pre-set costumes, load virtual backgrounds into their computers, hide their pets and roommates, and assist in ways they normally would (shout-outs to Anneke Ciup, Lucy Himsl, Paul Di Blasi and JC Williams), the actors take on a tremendous amount of duties above and beyond their artform," said Christine Moore.
Photo of Christine Moore in our Black Box in 2020; by Zachary Andrews
We were nervous. This was an ambitious new idea with many potential difficulties. While we were using Zoom daily at work, not everyone at home was using these online platforms and it would require a learning curve. It's not easy to send out the proverbial "Geek Squad" to help set up when at-risk patrons are quarantining at home.
With deep faith in Austgen and her cast, and even more faith in our patrons, we gave it a shot. The Family Tree was a success both technically and financially. Overall, people enjoyed watching theatre on Zoom and would do it again. We know it's not the same as being in a dark theatre together, but it makes you feel connected and it makes you laugh and that's enough to make us interested in a repeat performance.
This time around, Austgen is writing a comedy about an Agatha Christie convention with the at-home audience acting as conventioneers. A murder mystery within a murder mystery, Christie Con gives a knowing wink to one of the plays that was playing in our Black Box Theatre when COVID-19 caused us to temporarily close our doors, Agatha Christie's Murder on the Orient Express. With several of those cast members here in Christie Con, we get a behind-the-scenes look à la Noises Off at a murder that happens during an Agatha Christie convention. Unlike The Family Tree, there are no breakout rooms in this virtual play. There is also some audience participation that is just through the chat box and optional, so each performance is unique with great moments for improv.
"While countless moments of hilarity and frustration reveal themselves when repurposing corporate conferencing software for theatre, one of the sweetest moments involves our new-for-Christie-Con filters and backgrounds," said Moore. "We have countdowns projected on-screen for breaks so the cast knows when to turn their cameras back on. As the cast began incorporating various tech assets, they began to outdo each other with their eagerness by coming back from breaks with glitter eyes, unnatural mustaches, and other startling (but funny) virtual elements."
The cast of Christie Con
When Austgen pays homage, she does so with tongue implanted firmly in cheek. For what better way to show appreciation than by not taking someone too seriously? You really don't have to be an Agatha Christie fan to enjoy Christie Con – it pokes fun at her anyway. Fans of murder mystery novels and podcasts will have fun playing the at-home sleuth as they put the pieces together while watching the actors play both characters and well… actors. Make sure to tune in to the pre-show where a secret Easter egg will be shared with you that will give some added background later in the play.