AVAILABLE NOW: ZACHARY ANDREWS TAKES ONE-MAN BITE OUT OF 'DRACULA'
Photo courtesy Zachary Andrews.
'I am trying to push the limits of what I can do to your idea of storytelling with sound'
By John Moore, Senior Arts Journalist
In the midst of this most strange of worlds, Arvada Center actor Zachary Andrews sought escape in an even stranger one: Bram Stoker's Gothic horror novel "Dracula," the archetypical vampire story about the notorious Transylvanian count who turned human necks into Halloween candy.
When the world took to sheltered isolation following the COVID shutdown, Andrews took to the isolation of his basement, where he wrote, composed, performed and recorded his new, one-man audio adaptation of Stoker's 1897 novel that lives on as one of the most enduring pop-culture influences of all time. Everything from Bela Lugosi's genre-defining 1931 film portrayal to the popcorn "Twilight Saga" film anthology to the "Scooby-Doo!" cartoon gang has Stoker's novel in its DNA.
Andrews' one-hour radio play, "Dracula," launched today and will remain available on the Arvada Center's web site as an audio Halloween snack though November 1. Andrews thinks this is probably the most faithful adaptation of "Dracula" you'll find anywhere. But it is not, he promises, a mere audio-book version of the novel.
"The story of Dracula gets presented in many different ways, but the actual source novel rarely gets told because it is so hard to tell as written," said Andrews, who has been a member of the Arvada Center's Black Box Repertory Theatre acting company since 2017. The novel takes the form of an epistolary tale, which means it is primarily told in the form of letters and journal entries. "That does not play well for a piece of live ensemble theater," Andrews added. "But as a one-man radio play, it works perfectly."
Stoker's novel is a harrowing character study not only of the centuries-old undead vampire but also his chasers. Stoker's antihero is a mysterious and unnerving Eastern European aristocrat intent on expanding his territory across the continent. (And, of course, can change into a bat at will.) It also focuses on young attorney Jonathan Harker, who travels to Transylvania to close a real-estate deal – which opens the vault for Harker's wife, Mina, and the innocent Lucy to become easy prey for the bat man.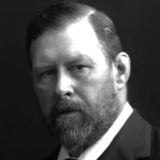 Andrews' play is broken into two distinct segments. Part 1 is Jonathan making is way to Dracula's castle and getting ensnared in the Count's web. In Part 2, when Dracula is loosed upon England, the story turns into a Gothic nightmare as as a determined group of friends that literary scholars often refer to as the "gang of light" battle the ancient evil that threatens the world. (And, did you know? To his dying day, Stoker, pictured at right, claimed all of this was all based on a true story.)
Andrews is a Denver native who graduated from Thomas Jefferson High School and the University of Colorado Boulder before earning his master's degree at the University of Missouri Kansas City. "Dracula" has occupied space in his cerebellum since he had the opportunity to perform a different one-man adaptation of the story in 2013. For his own radio-play adaptation, Andrews saw great opportunity in pushing the story "into a new and very theatrical medium," he said, which is where his original music and the sound come in.
Andrews, also an accomplished photographer and filmmaker, branched into orchestration earlier this year by contributing two songs for Director Emily Van Fleet's B.C. (Before COVID) production of "A Midsummer Night's Dream" – one of three Arvada Center plays stopped in their tracks by the coronavirus.
Andrews considers employment in the Arvada Center's seasonal acting company to be the best and most stable employment any Colorado actor can have. The company had 10 more weeks of guaranteed work coming up before the shutdown threw the world into a chaos that to this day still has no bottom. "I feel the concussive effects of having my one-year plan destroyed," he said. "And now I can feel my five-year plan suddenly starting to fall apart as well. What I don't think everyone understands is that actors schedule jobs nine months in advance, and they do so largely by trading on their name and the momentum of their career. Now everyone is back to zero. No one has any momentum."
Which is just one reason Artistic Director of Plays Lynne Collins pivoted to a fall season of radio plays. "Trifles, "Dracula" and a holiday offering yet to be announced are not only bringing original programming to culturally starved audiences. "They are a chance to give my actors a chance to stretch their muscles – and get paid," she said. "I am very interested in putting some money into the pockets of the artists who have been so devastated by all of this."
'We owe it to our audiences to bring a little of what we do to the people who are missing it most.' – Lynne Collins
While many in the creative community have struggled with where to direct their artistic energies as their industry remains largely shuttered, Andrews barricaded himself in his basement to learn how to compile, edit and orchestrate music.
"I have played piano since I was 5, but I just don't share that very often," Andrews said. "I saw this COVID time as an opportunity to learn something new and pivot into a new form of creation that I could do on my own."
"Dracula" listeners will notice a distinct evolution in Andrews' accompanying composition. That's part by creative design. And part acknowledgement that he was learning as he went along.

"Act I is mostly a string quartet – and a lot of synth," he said. "Act 2 is a full orchestra with brass and a lot more piano." Each character, he added, has been assigned their own paired "spirit instrument." "That's a nod to my childhood, when my parents played me the 'Peter and the Wolf' album, and the Wolf was represented by the French horn, and birds were piccolos," he said.
The result, he added, is not a traditional radio play. "It's much more cinematic," Andrews said. "The music and text is all blended together in a way that is meant to activate your imagination. I am trying to push the limits of what I can do to your ears, and to your idea of storytelling with sound."
Andrews says "Dracula" listeners might be most surprised to learn what a charismatic monster Stoker's original Dracula really is, as opposed to the more prevalent sullen, corpse-like creature we more often see.
"'Dracula' is a really difficult novel to read, and I am really pleased with how it has been essentialized here so that it really moves so swiftly and seamlessly," he said. Hopefully there are some genuine scares in it. All in all, I am really proud of it."
But "it behooves you to wear headphones," he added. "That or put it on the best stereo system you have. Because more than any audio play I know, this is meant be a movie experience."
John Moore was named one of the 12 most influential theater critics in the U.S. by American Theatre Magazine during his time at The Denver Post. He also is the founder of The Denver Actors Fund, and is now contributing reports on the arts community for ArvadaCenter.Org. Reach him at culturewestjohn@gmail.com.
Arvada Center Fall Radio Play Series: 'Dracula'
Written and performed by Zachary Andrews
Running time: 60 minutes in two parts
Available for listening through November 1
Tickets now available for advance purchase at ArvadaCenter.Org
Ticket-purchasers will be allowed to name their own price, starting at $10. They will be sent a private link to the play, which then can be accessed on any device. The hosting service is Vimeo, a video platform, so that those with varying hearing needs can read the play via closed-captioning.
Age recommendation: 12 and older for some descriptions of violence
What is a radio play?
Our radio plays are audio-based theatre - like your favorite podcast, or an audiobook. Gather your family to listen together, or put in your headphones and enjoy on your own. These radio plays will play on the device of your choice - your phone, table or a computer.
Meet Zachary Andrews
Zachary Andrews has appeared in many productions for the Arvada Center's Black Box Repertory Theatre acting company since 2017, his favorite being "Sense & Sensibility." He also has appeared in several DCPA Theatre Company productions including "A Doll's House," "Romeo & Juliet," "A Christmas Carol" and "The Three Musketeers." Regional credits include playing Spike in "Vanya & Sonya & Masha & Spike" for Kansas City Rep and Centerstage Baltimore. Local credits include the award-winning "Paper Cut" for Boulder's Local Theater Company and Pride & Prejudice for Boulder Ensemble Theatre Company. He is also a returning member of the Arvada Center's Black Box Ensemble and maintains a parallel career as a professional photographer and filmmaker.
An example of Zachary Andrews' photography, for the Colorado Shakespeare Festival. See more here