PIVOTING WITH ... HELEN R. MURRAY AND THE AURORA FOX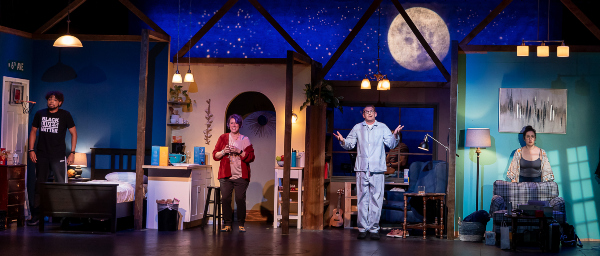 From left: Mosés Brown, Corey Exline, Tim Howard and Valerie Igoe. Photos by Gail Marie Bransteitter.
Aurora Fox first major company to re-open for indoor theatre with 'Tomfoolery.'
Tonight (September 18), the Aurora Fox becomes the first major metro company to reopen to live indoor theatre wiith Cameron Mackintosh's musical revue "Tomfoolery," a salute to songwriter Tom Lehrer. He was a wicked musical satirist and math professor who made fans in the 1950s and '60s with his clever criticism of war, racism, pollution and, yes, even math. Aurora Fox Producing Artistic Director Helen R. Murray talks about it.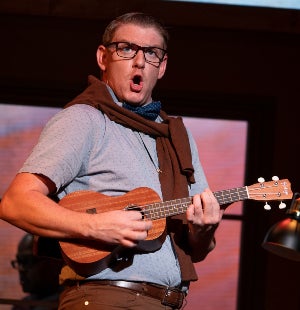 What are you doing to pivot? Many folks already have become used to our new safety protocols by going to other businesses like grocery stores and restaurants. Contact-free transactions, low-capacity, socially distant seating and of course masks are all part of our new normal here at the Aurora Fox. These are just part of the many safety measures we have undertaken in our phased reopening. Our mainstage capacity is normally 242, but we will keep it to between 50 and 90 throughout the 2020-21 season. We encourage patrons to visit https://www.aurorafoxartscenter.org to read our full reopening plan and to watch a video (posted below) about what to expect when you come back to the Aurora Fox. For our friends who don't feel ready to return just yet, we've reimagined our Black Box theater as a Virtual Stage. So in addition to our live and in-person mainstage season, people can expect original cabarets, vlogs and even a couple of our mainstage shows, all streamable and available to watch from the comfort of their own homes.
(Pictured above: Tim Howard sings 'The Folk Song Army Song' from 'Tomfoolery.' Photo by Gail Marie Bransteitter.)
Why are you doing it? Human beings gather and seek out community for many reasons. As this difficult time continues to challenge us, all, it becomes more and more apparent that institutions like ours can help our communities stay connected, while using best practices for personal interactions. Our intention is to provide a space for art, laughter, shared experiences and above all, hope. Like many other people, I am dismayed when I see stories in the news about groups that gather without safety precautions in place, and the inevitable repercussions of viral spread. So I am immensely thankful to the specialists we have worked with – the medical professionals, the Tri-County Health officials and the experts developing Colorado's public-health orders that are all helping us to reopen in as safely and responsibly as possible. They too understand that a person's total wellness must include attention paid to their mental health and human need for connection. I'm grateful that the Aurora Fox has had this opportunity to partner with these health experts to explore ways to move forward, and to help serve our citizens on multiple levels.
Words of encouragement for others who are now pivoting their way through 2020? Don't stop creating. It is easy to be discouraged by isolation, and it is easy to be overwhelmed by the safety measures. What we do is so important. When quarantine started, we all immediately turned to art to get us through those hard days. When the virtual world felt like it was not enough, we slowly watched artists figure out ways to show up in person. And now we are cautiously figuring out ways to care for our patrons and artists so that we can continue to do what we do – connect through live, in-person artistic performances. We are in a unique position, because we have the backing of the City of Aurora. We don't take for granted that being a part of the city gives us access to resources and opportunities a traditional not-for-profit theatre will not have. But if anyone is wondering what the process for our reopening has entailed, you only need ask. I wish my colleagues and their audiences all the good health and success in the world. I cannot wait to come and see your shows.
'Our intention is to provide a space for art, laughter, shared experiences and above all, hope.'
'Tomfoolery'
• Presented by the Aurora Fox in its mainstage theatre
• When: 7:30 p.m. Thursdays through Saturdays, 2 p.m. Sundays, through October 11
• Where: 9900 E. Colfax Ave., Aurora
• Tickets: $20-$40

• Call 303-739-1970 or go to aurorafox.org
Cast and creatives
• Music and lyrics by Tom Lehrer; Adapted by Cameron Mackintosh and Robin Ray; Musical arrangements by Chris Walker and Robert Fisher
• Director: Kenny Moten
• Featuring: Mosés Brown, Tim Howard, Valerie Igoe and Corey Exline. Voiceover by Beau Bisson.

• Music Director: Trent Hines (pictured right)
• Choreographer: Jessica Hindsley

• Production Manager: Jen Orf
• Production Stage Manager: Lauren Hergenreter

• Scenic Design and Technical Director: Brandon Philip Case
• Lighting Designer: Brett Maughan

• Sound Designer: Curt Behm

• Costume Designer: Emily Valley

Properties Designer: Elicia James

Compiled by Senior Arts Journalist John Moore
Video bonus: Safety protocols at the Aurora Fox
"Pivoting With ..." is a new, ongoing series talking with members of the Colorado theatre community about how they are adapting to changes in their creative and personal lives as the COVID pandemic continues. Are you pivoting? Email John at culturewestjohn@gmail.com.