PIVOTING WITH ... THE BLACK ACTORS GUILD
From left: Actors Baris Loberg, Bianca Mikahn and Mykail Cooley during rehearsal for 'Hype Man.' Photo courtesy Black Actors Guild.
A conversation with 'Hype Man' Director Kevin Quinn Marchman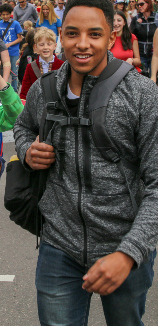 What are you doing to pivot? 'Hype Man' is a play that tells the story of a white rapper, a mixed-race beat-maker and a Black hype man whose burgeoning musical success is threatened by their differing responses to the police shooting of a young Black man. The play features Mykail Cooley, Bianca Mikahn and Baris Loberg. You can watch the play in person at The People's Building in Aurora, or you can watch a live online feed from your own home. Every performance is followed by a talkback. The play is written by Idris Goodwin, Director of the Colorado Springs Fine Arts Center at Colorado College. He has become a mentor of mine, and he was very helpful in securing production rights for the play. "
'Changing your relationship to the hustle can help prioritize what is truly important.'
Why are you doing it? "We decided to take the calculated risk of producing live theatre out of both economic and emotional necessity. Our December company fundraiser, 'Guildmas,' netted a healthy sum to support our plans for live theatre production in 2020. While I'm sure our backers would have understood if we were unable to mount a performance during the pandemic, we felt an obligation to make good on our original intentions. We chose 'Hype Man' because it is a story about protest, allyship and the celebration of hip-hop. It speaks to the times in a way I personally have found difficult to articulate on social media. Being able to explore the concepts, philosophy and challenges with the cast and production crew was a truly important meditation. Sharing that work with audiences and hosting nightly talkbacks has been proof that theatre is bigger than the stage it is presented on."
How can people find you? "'Hype Man' runs for one more weekend. (Remaining performances 7:30 p.m. Friday and Saturday, September 11-12, and 3:30 p.m. Sunday, September 13, at The People's Building at 9995 E. Colfax Ave., or watch live online at blackactorsguild.org. Tickets are $40 live or $20 live online.) Aaron Vega, who runs the People's Building through the City of Aurora, has been very encouraging and helpful in how to navigate the new social-distancing guidelines.They also have provided state-of-the-art streaming equipment, so we are able to provide a unique and dynamic viewing experience for virtual audiences."
One more thing: "Our 'Are We Still Cool?' photo series explores People of Color (POC) masculinity and Black/Brown male bodies in traditionally 'soft' presentations. It is currently on exhibit at Understudy, in the Colorado Convention Center at 14th and Stout streets; and at Coffee at the Point, 710 E. 26th Ave. (at the former Crossroads Theatre)."
Words of encouragement for others who are now pivoting their way through 2020: "Rest is not a luxury. It is a necessity, and making enough time to 'not do' may allow more space and mental bandwidth for all the things you want to do. Changing your relationship to the hustle can help prioritize what is truly important or alter your focus on new curiosities."
Compiled by Senior Arts Journalist John Moore
"Pivoting With ..." is a new, ongoing series talking with members of the Colorado theatre community about how they are adapting to changes in their creative and personal lives as the COVID pandemic continues. Are you pivoting? Email John at culturewestjohn@gmail.com.