ACTORS' UNION ISSUES SAFETY GUIDELINES FOR RE-OPENING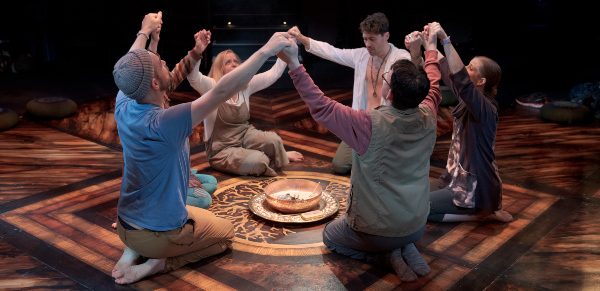 The cast of the Arvada Center's 'Small Mouth Sounds,' which was shuttered just hours before its Opening Night. Would the actors be allowed to touch hands today? Photo by Matt Gale.
By John Moore, Senior Arts Journalist
Re-opening for business while a pandemic rages on presents a challenge for theatre companies unlike any other business. Without a vaccine, audiences will be reluctant to gather indoors for several hours at a time. Employees will have no choice but to work in close and often cramped proximity. Most American workers are not expected to sing out, talk loudly, or kiss or punch a co-worker as part of their daily routines. But actors do all of those things – and all of those things would accelerate the spread of any present coronavirus.
All of which makes the prospect of theatres re-opening anytime soon that much more daunting – and dangerous. Most companies don't know where to even start.
Actors' Equity Association, the national union that governs 51,000 performers and stage managers, today announced four very general conditions its member companies must meet before they can even think about re-opening for business:
The epidemic must be under control in the region. That means extensive testing must be taking place, few if any new cases are being reported and contact tracing must be widely employed.
Individuals who may be infectious must be easily identified and isolated. That means there must be frequent, accurate testing of all employees, with a quick turnaround of results.
The way theatres audition, rehearse and perform may need to change. That means social distancing must be practiced, sanitary practices must be used, additional understudies and assistant stage managers must be employed, and any necessary physical modifications to venues must be accommodated.
Efforts to control COVID-19 exposure must be collaborative. That means there must be a collective buy-in from all members, and that union guidelines will be subject to ongoing evaluations and improvements.
The union partnered with public-health expert Dr. David Michaels in developing the four principles. He was assistant Secretary of Labor for the Occupational Safety and Health Administration (OSHA) under President Obama from 2009-17.
"No one precaution we are taking is going to be perfect," Michaels said. "So think of it as slices of Swiss cheese: You want to have enough slices of cheese, with the holes in different places, so there's no place where the virus can get through."
And while producers and actors alike are eager to get back on the boards, Actors' Equity Executive Director Mary McColl said slow is the only prudent way to go.
"We want to re-open soon as possible, but when we do, we believe we only have one chance to get this right," McColl said.
'At this time, it is not safe to host live theatre anywhere in the United States.' – Kate Shindle
At this time, "it is not safe to host live theatre anywhere in the United States, and Equity is letting the science determine how and when that will change," Actors' Equity President Kate Shindle added.
Asked if there is a region of the country that might most safely re-open first, Michaels simply said no. Because there is no part of the country where widespread testing and contact tracing is already the norm.
"Right now, it is clear that these four considerations have not been met in any part of the country," McColl added. "As things change, we'll approach the return to work on a place-by-place basis. Some parts of the country may be at a lower risk level for (our members) to go back to work before others."
What was not entirely clear after Tuesday's press conference is whether union officials will be developing specific protocol that will govern every member theatre's future productions – or if member theatres will be expected to take the initiative and demonstrate their own plans for compliance in order to get the union's blessing.
"Ultimately, while the (member companies) are solely responsible for ensuring the health and safety of all actors and stage managers, Equity is committed to being an industry leader to help develop model health and safety standards that will eventually allow us to re-open and maintain a safe and healthy workplace," McColl said.
But one thing is definitively known now, Michaels said: "The first box to be checked is there has to be reliable testing available."
While "social distancing" made up only two words in Tuesday's announcement, they surely struck terror among theatremakers across the country who fear that restricting interplay between actors onstage would be self-defeating. DCPA Theatre Company Artistic Director Chris Coleman was quoted in Monday's The New York Times as saying that doing theatre while complying with social distancing "makes zero economic sense." On Friday, the Denver Center took the sweeping step of canceling the Theatre Company's entire 2020-21 season.
"The concept of social distancing in the theatrical word is not something we are used to," Shindle admitted. But she said it is way too early to know what that might look like onstage by the time theatres are ready to re-open.
Before Tuesday's press conference, Actors' Equity sent the four conditions to its membership. One Colorado member of the union, speaking on the condition of anonymity, said she appreciates the union's concern for its members' health and safety, "but I think these guidelines are just going to make lot harder for us to get any work. I wish they would leave some of these decisions up to the individual. We understand the risk. We should be able to decide for ourselves whether we want to do the job."
Conversely, actor Kate MacCluggage, who starrred in the DCPA Theatre Company's "Anne Karenina," believes that without union protections, "we're looking at very different nails and coffins," she said. "This is such a hard situation, but the real enemy is the virus. While I have my frustrations with our union, I'm so grateful for it right now. Restaurants are re-opening not because it's safe to work in a kitchen, but because they aren't organized."
Complicating matters futher is that while union membership is the norm in major American theatre centers such as Broadway, is not the norm throughout the country. Colorado has nearly 120 theatre companies that have presented at least one title in the past year – but only 12 with contracts governed by the union: The Arvada Center, Denver Center for the Performing Arts, Theatre Aspen, Curious Theatre Company, The Fine Arts Center at Colorado College, The Aurora Fox, Boulder Ensemble Theatre Company, Colorado Springs TheatreWorks, Colorado Shakespeare Festival, Lake Dillon Theatre Company, Miners Alley Playhouse and Cherry Creek Theatre. (Another 10 offer occasional guest contracts.)
And while that group represents much of the best theatre that Colorado has to offer, the vast majority of theatre presented in Colorado is non-union and therefore will not be beholden to Equity compliance. So we are likely to see smaller, non-union companies return to performing long before the area's biggest theatres get the green light from the union.
And when that green light goes on remains anybody's guess.
"We don't set the schedule," Michaels said. "The virus does."
Reach John Moore at culturewestjohn@gmail.com