STRAIGHT TALK WITH PHILIP C. SNEED
Arvada Center President and CEO on rising COVID numbers and more

Philip C. Sneed, left, at the Front Porch concert series featuring the Pierce Murphy Trio. Photo by Leslie Simon.

Seven months into the pandemic, the only thing certain is uncertainty
Welcome back to "Straight Talk," our ongoing series with leaders from the local theatre community about the unique challenges they face during the pandemic.

By John Moore, Senior Arts Journalist
More than most, the Arvada Center has found ways to stay connected with its audiences since the COVID shutdown in March. But as the temperatures drop and the positive cases rise, the immediate future is as uncertain today as it was when cultural life as we know it ended seven months ago.
With so much unknown, it's as good a time as any to check in again with Arvada Center President and CEO Philip Sneed.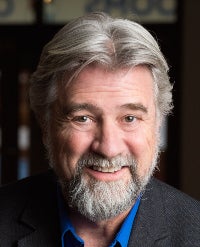 John Moore: What is the present situation as far as COVID in Jefferson County?
Philip Sneed: In Jefferson County, like in most places in Colorado, the numbers are getting worse. But we're still at Level 2 ("Concern"), and we hope we don't go down to Level 3 ("High Risk"), because that will certainly restrict public activities further. Also, on Tuesday, the state's seven-day positivity rate reached 6 percent, and it's supposed to be below 5 percent. So we have to consider the possibility that things will get more restrictive before they get less restrictive.
John Moore: If the state moves Jefferson County to Level 3, how would that affect what you have planned for the next couple of months?
Philip Sneed: We received word from the City of Arvada today that because of rising COVID case numbers, they are recommending that we cancel our "Trick Art Treat" event on Halloween day. Because summer has ended and we have nothing planned in the amphitheatre, there is nothing else that we should have to cancel there. But there are several other things we are thinking about doing that we might not be able to do if we go to Level 3.
John Moore: What are some of those plans?
Philip Sneed: Plans for the holiday season. Plans for a potential indoor music series in partnership with Dazzle Presents. There's no question that going to Level 3 would further limit our options for what we can do.
John Moore: You're now coming to a place on the calendar where your planned return to normal indoor theatre in late February is not as far away as it once seemed. Is that still realistic with this new spike in positive COVID cases?
Philip Sneed: Right now, we are making no changes to those plans. But we are, of course, doing the prudent thing and coming up with alternate programming scenarios if we can't go forward.
John Moore: When will you know more definitively?
Philip Sneed: We are going to have to make a decision probably no later than December. But we just don't have enough information to make that decision right now, so we are going to put that off for as long as we possibly can.
'If a bunch of us open back up and then start to have positive cases, I think that just sets us all back even further'
John Moore: Smaller, non-union theatre companies are starting to re-open for indoor theatre, and we are already getting reports of positive backstage COVID tests at several of those places. How does that inform your own enthusiasm to get people back into the theatre?
Philip Sneed: Well, it validates our decision not to reopen until next year. And of course it makes the decision about whether to move forward ourselves with a February opening that much more difficult. If, in December, it looks like we have to change our plans, that kind of information, as well as the data, will factor into that decision. Because if a bunch of us open back up and then start to have positive cases, I think that just sets us all back even further.
John Moore: What else are you hearing from around the industry?
Philip Sneed: The Broadway League has said that Broadway will not be coming back until at least June. Our friends at the Denver Center have been told that they are not coming back until at least October of next year. Some of those folks are looking at 18-month furloughs, and I can't help but think that some of them will find other jobs and not return. One of the things we fear is that if we don't keep our creative folks at least somewhat employed during this theatre season, we will lose them. We value our team and, frankly, I don't want them to find other jobs.
John Moore: And then there is the union.
Philip Sneed: None of us have any idea what the union is going to do.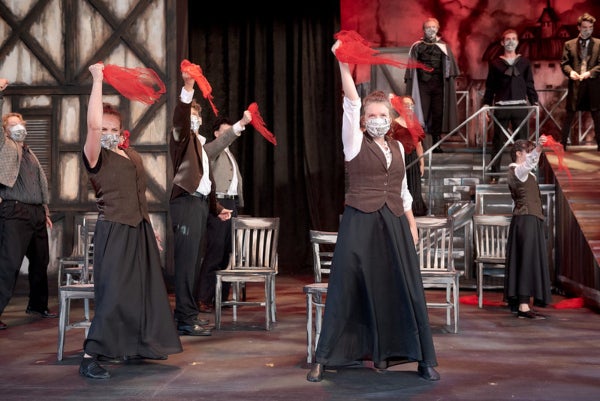 The 'Sweeney Todd' student musical in the outdoor amphitheatre. Matt Gale Photography
John Moore: Now that we are seven months into this, what is the financial health of the Arvada Center?
Philip Sneed: Well, we had a big loss of just under $1.2 million for the last fiscal year. But because of our Paycheck Protection Program (PPP) loan of just over $1 million, we are in a good position in terms of cash flow. We expect that all or most of that loan will be forgiven, which would help us maintain a healthy position this year. Unfortunately, we are not going to know for certain about that loan forgiveness until March or later. So we are going to have to make some decisions going forward without the certainty of knowing.
John Moore: How would a second federal stimulus package impact your recovery?
Philip Sneed: Well, I can't see that it would hurt. There is talk of another round of PPP loans, but there is so much unknown about that. We are not counting on another stimulus bill, but we certainly hope for another one that would provide relief not only for us but for all of the individual artists and craftspeople and production folks that we depend on whose careers are hanging on the line right now. We certainly hope they come up with some kind of package that considers all of the people whose livelihoods depend upon live events of all kinds, from operas to monster truck pulls.
''We certainly hope they come up with some kind of package that considers all of the people whose livelihoods depend upon live events of all kinds, from operas to monster truck pulls.'
John Moore: What has been the City of Arvada's role in your survival strategy?
Philip Sneed: They have done so much. To begin with, they have not reduced their annual appropriation to us, and they don't anticipate having to do so, which is great. They also sent $200,000 of their CARES Act money over to us. Those funds could only be spent on projects that we're doing specifically because of the pandemic. And that opened up a lot of possibilities for us, including buying more portable air-filtration systems for classrooms and producing our upcoming virtual holiday radio play. The high-quality digital cameras that we debuted this week with our live stream of the FRYS concerts were made possible through this funding.
John Moore: What's FRYS?
Philip Sneed: Front Range Youth Symphony is our tuition-based youth symphony. We also have a tuition-based student dance company, and in normal times, they both perform here on our mainstage several times a year to packed houses. Instead, we had 50 to 75 safely socially distanced audience members watching the concert here, and we live-streamed it for everyone else watching from home.
John Moore: COVID or no, what's coming up that Arvada Center audiences can actually play to attend or experience over the next two months?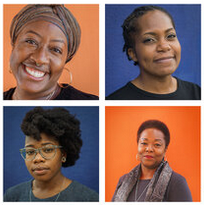 Philip Sneed: There will be a new photographic exhibition called "Black in Denver," and it's just one of the ways in which we are responding to the national movement for social and racial justice. We found this exciting artist named Narkita Gold, whose body of portrait work takes a critical look at identity. It is not only high-quality from an artistic perspective, but I think it also helps people understand more about Black lives in general. If we say "Black Lives Matter," and we believe that, then I think we need to take a closer look at what a Black life is really like. So "Black in Denver," both through photos and the essays that accompany them, really opens that up in an artistic and engaging way.
John Moore: And, like "Pink Progression: Collaborations," which closes November 8, that is something you can attend in person?
Philip Sneed: Yes, "Black in Denver" will take over our Upper and Theatre galleries from November 18 through December 27. The nice thing about the gallery experience is that unless we have a total shutdown, we should be able to keep our galleries open, because we can simply reduce the numbers if the county goes to another safety level. Theatre is not a better experience with fewer audience members, but the gallery experience can be quite nice with fewer people.
John Moore: And you mentioned there will be an as-yet unannounced third play in the current fall radio-play series, correct?
Philip Sneed: Yes. People really like this series, and they want more of it. The number of downloads for "Trifles" and "Dracula" (still available through November 1) have exceeded our projections, so it absolutely makes sense for us to do a holiday play next. We just can't announce the title until the rights are fully secured.
John Moore: Since the shutdown, every arts organization has had to choose whether to essentially shut down, or to do everything possible to maintain a programming connection to its audience. How would you describe the Arvada Center's response to that challenge?
Philip Sneed: I absolutely think we have delivered on our promise. If I have any regrets at all about the past seven months, it's that we didn't do more. Like everybody else, we were scared at first, and I only wish we had been less so. We didn't know when people would be willing to come out again. We way underpriced our summer Front Porch concert series. Our own audiences told us that we didn't charge them enough. But above all else, everyone's safety was, and is, paramount. We had certain things planned that we didn't do because our staff let us know, "This doesn't feel safe." So we said, "Then we're not going to do it." But, yes, I am proud of how much programming we have been able to put out there, across the board. I'm proud that we hit the ground running with virtual content very early into the pandemic. I'm proud that we found ways for 50 student musicians to perform a concert together while they were all quarantined in their homes. We had to put off the "Pink Progression: Collaborations" gallery opening for a month, but we got it up, and we got people there. Our team put together a magnificent Front Porch concert series. We pulled off the outdoor youth production of "Sweeney Todd." We hosted the Beth Malone concert and Cleo Parker Robinson's virtual 50th anniversary retrospective. Our students performed the world's first Zoom musical. I am so proud of our "Amplify" series, and I look forward to where we take that idea next. So, yes, I am very proud of what we have done. I am glad that we have stayed engaged with our patrons. We are looking for ways to do more. And we will continue to adapt as the circumstances evolve.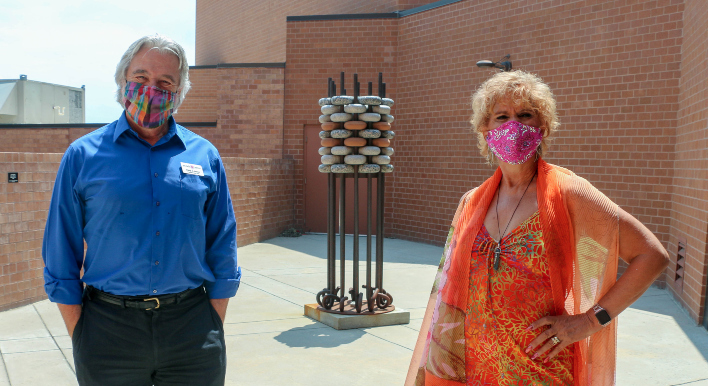 Philip Sneed and Cleo Parker Robinson.
John Moore: And yet we are entering a scary time of the year when the COVID numbers are going up and there is not as much opportunity to engage. What is your message to your audiences as we enter these cold and dark months?
Philip Sneed: I just hope everyone will join in the spirit of community and togetherness and embrace the idea that we are all in this together. And follow all prudent safety measures. That means mask-wearing, distancing and washing hands. The more people do that consistently, the sooner we can all get back to business; the sooner we can all return to live performances; the sooner we can fill our houses with people again. But when there are people who resist those measures, it just slows it down for everybody.
John Moore: During all of this, you launched your Reignite the Arts campaign. How has that come out?
Philip Sneed: Well, we're not done yet. We've got another 10 days or so to go. We set an aspirational goal of $1 million, and we're going to keep pushing to get as close to that as we can.
John Moore: Where are you at right now?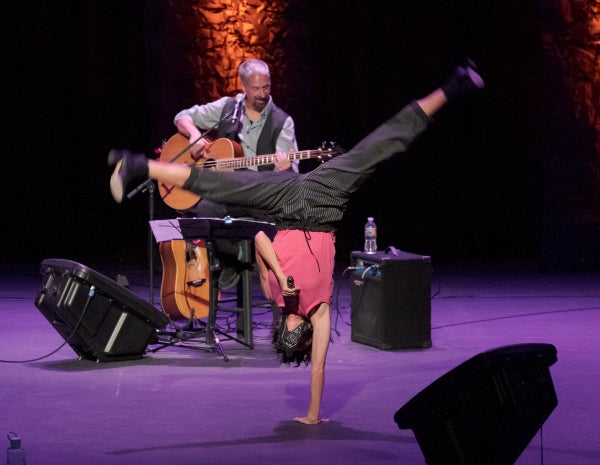 Beth Malone in concert. Matthew Gale Photography
Philip Sneed: The last number I heard was about $762,000. The degree to which people have supported this, and the fact that some people have made multiple gifts, lets us know that we are valued. Even though many people are hurting, there are still people out there who are able to give, and even give more than in the past, to ensure that we survive. That's a huge vote of confidence that the staff and the board and the volunteers here all greatly appreciate. Because of that support, we'll make it through. People value us, and we don't take that lightly. We don't want to let them down. So we are going to do everything we can to continue to have something for them to engage with: Radio plays, small concerts, classes, virtual offerings, whatever we can do. We are just going to put as much out there as we possibly can.
John Moore: Final words?
Philip Sneed: Just that we are so grateful to the people who have continued to support us, whether it's those who have donated to the Reignite the Arts campaign, those who are buying tickets for next season, or those who have called to say, "Hey, when can we come back to the Arvada Center? We miss you." And we miss getting together with them to enjoy art, to learn from art and to celebrate community.
John Moore was named one of the 12 most influential theater critics in the U.S. by American Theatre Magazine during his time at The Denver Post. He also is the founder of The Denver Actors Fund, and is now contributing reports on the arts community for ArvadaCenter.Org. Reach him at culturewestjohn@gmail.com.