STRAIGHT TALK WITH CURIOUS THEATRE COMPANY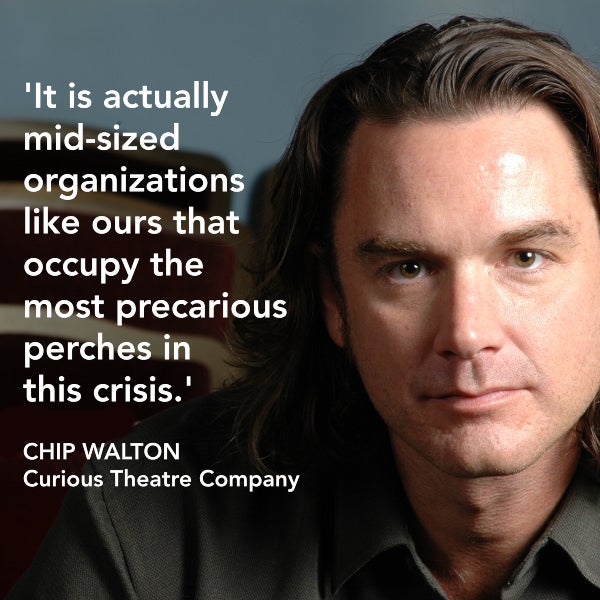 Welcome back to "Straight Talk," our ongoing series with artistic leaders from the local theatre community about the unique challenges they face during this unprecedented time.
By John Moore, Senior Arts Journalist
When the recent history of Colorado theatre is written, a major chapter will be devoted to the spectacular rise of Curious Theatre from a grassroots start-up born out of a fiery production of "Angels in America" into the nationally regarded Off-Broadway-scale company it is today.
And the coronavirus has put all of it at risk.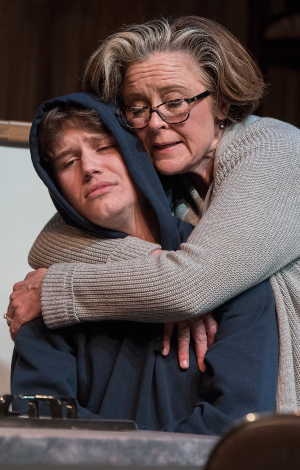 "The past few months have been a nightmare of a roller coaster," said co-founder and Producing Artistic Director Chip Walton, who created Curious as a home for fearless political and progressive new works. Cases in point: The first two shows wiped out by the shutdown: Joshua Harmon's "Admissions," a no-holds-barred look at privilege, power and the perils of whiteness; and Lisa Loomer's "Roe," a revealing look at the two women behind the Roe v. Wade case that legalized abortion in 1973.
"It is actually mid-sized organizations like ours that occupy the most precarious perches in this crisis," said Walton, whose major expenses include salaries as well as the mortgage and maintenance of his home theatre at the Acoma Center.
"All of us have full-time staff who rely on our organizations for both salary and health insurance," Walton said. "These are people who already are doing the collective work of much larger organizations at notably lower compensation.
"Many of us also own our own buildings, which requires us to keep paying mortgages and maintain our facilities without the benefit of city support. A lot of us have made strong union commitments, but we have neither the power of any collective-bargaining agreements, nor the support of those unions right now in creating a shared path toward opening. We have incredibly generous patrons, but not multi-million dollar endowments."
(Pictured above and right: Colin Covert and Tamara Meneghini in 'Admissions,' which was to open the night the COVID-19 shutdown began. Photo by Michael Ensminger.)
'On the worst days, I'm literally crushed with the weight of all the uncertainty in every direction.' – Chip Walton
What Walton does have has is backup from a newly reconstituted board of directors headed by President Jim Steinberg of Steamboat Springs and Vice President Jeremy Shamos (pictured at right). Steinberg is perhaps the nation's most prominent ambassador for the development of new plays. He administers the Harold and Miriam Steinberg Charitable Trust, which was founded by his late father in 1986 for the sole purpose of supporting new works for the American theatre. Shamos is a Denver entertainment attorney who was the CEO of Goodson Todman Productions and is the father of the actor also named Jeremy Shamos who has been appearing on Broadway since 2004.
"On the best days, I'm so incredibly grateful for their support because I truly don't know how we would have survived this without their collective wisdom and experience," Walton said. "I am also grateful for the fact that we've been able to keep paying all staff at full levels for the past 10 weeks, primarily through the Paycheck Protection Program.
"And on the worst days, I'm literally crushed with the weight of all the uncertainty in every direction. And on the worst of the worst days, I realize that we are barely over the very first hurdles, and that there are innumerable ones yet to come: Dealing with the unions, getting prepared to welcome patrons back into our facility safely, absorbing permanent funding and income challenges – and most importantly, figuring out how to make art with our artists safely and creatively.
"And that's to name just a few."
Curious is struggling with the same binary choice every other theatre across the country faces: Close down for an extended period of time and wait out the virus, or try to get comfortable with longer-term uncertainty as circumstances continue to change and evolve.
"As that uncertainty continues to mount, it is indeed tempting to choose the former," Walton said. "But Curious is trying to create a path that is going to give us the agility to pivot and create programming as quickly and safely as possible, while also allowing us to monitor changing circumstances and external realities.
'Financially, we won't be able to 'wait and see' forever.' – Chip Walton
"We have elected to not yet close definitively for a set period of time, but rather to watch closely as circumstances continue to unfold on a daily – if not hourly – basis. Some days this feels naive, but it also feels like the most responsible way to get shows back up on the boards and artists employed again as quickly and as safely possible."
The evident weary burden that is presently pressing down on Walton has been exacerbated by events stemming from the police murder of George Floyd. But they also have imbued him.
"As this country continues to spiral away from justice and unity, and toward division, hatred and ignorance," Walton said, "the artistic space that Curious has carved out seems more important than ever. Which is why it is so painful to not be able to lay claim to our mantle as citizen-artists, even as our cities continue to burn."
Looking at an uncertain future
Walton has canceled Curious' major annual fundraiser for 2020, "Denver Stories," a fun summer evening where a local celebrity is honored with an original play told about their lives. But he will move forward in July with Education Director Dee Covington's signature program for young playwrights, "Curious New Voices" – although specific details have not yet been worked out.
"We are committed to this program this summer, as long as we can do it creatively and safely — which we believe is indeed possible, if not probable," Walton said.
Walton feels "incredibly fortunate" that the vast majority of his sponsors, patrons and subscribers have been patient and generous through this crisis – "and I believe that is absolutely indicative of the spirit of the Curious community," he said. "But financially, we won't be able to 'wait and see' forever, and still maintain the cash reserves necessary to allow us to re-open when that time arrives. Indeed, it seems highly likely that we will be on some form of reduced organizational operations in the near future."
Walton believes that almost every organization that survives this pandemic is going to come out of it looking remarkably different than it did going in: Smaller budgets and less resources, and thus presenting very different bodies of work than first planned.
"But I also believe that the Curious team has the creativity, resilience and agility to navigate this crisis," he said. "But not without the support of the community.
"Their support will go directly to hiring artists and retaining staff. Even the smallest donations will help us weather this storm, and to be at-the-ready to provoke and entertain our audiences once again."
Tomorrow: Straight Talk with artistic leaders from more Colorado theatre companies
Contact John Moore at culturewestjohn@gmail.com
MORE STRAIGHT TALK
• Straight Talk with The Catamounts, Bas Bleu Theatre and Thingamajig Theatre Company. READ IT HERE
• Straight Talk with Lake Dillon Theatre Company, Boulder Ensemble Theatre Company and Northglenn Arts. READ IT HERE
• Straight Talk with the Fine Arts Center, Miners Alley Playhouse, Dangerous Theatre and Lone Tree Arts Center READ IT HERE
• Straight Talk with square product, Forge Light, Springs Ensemble Theatre and Coal Creek Theatre of Louisville READ IT HERE
• Straight Talk with the Denver Center, Jesters Dinner Theatre, Glenwood Vaudeville Revue and Germinal Stage-Denver READ IT HERE
• Straight Talk with Local Theater Company, Theatre 29, The Source and Equinox READ IT HERE
• Straight Talk with Su Teatro, Vintage, Breckenridge Backstage and Counterweight Theatre Lab READ IT HERE
• Straight Talk with Aurora Fox, BDT Stage, Cherry Creek Theatre and Misfits Theater READ IT HERE
• Straight Talk with Creede Rep, Town Hall, Candlelight and Theatre Company of Lafayette READ IT HERE
• Straight Talk with Phamaly, Buntport, the Colorado Shakespeare Festival and Rocky Mountain Repertory Theatre. READ IT HERE
• Straight Talk with Rod Lansberry, Arvada Center Artistic Director of Plays. READ IT HERE
• Straight Talk with Lynne Collins, Arvada Center Artistic Director of Plays. READ IT HERE
• Straight Talk with Philip C. Sneed, Arvada Center President and CEO. READ IT HERE
• Survey: Most theatregoers aren't coming back anytime soon. READ IT HERE
• COVID-19's toll on Colorado theatre: 224 productions and counting. READ IT HERE