STRAIGHT TALK WITH LYNNE COLLINS
Arvada Center Artistic Director of Plays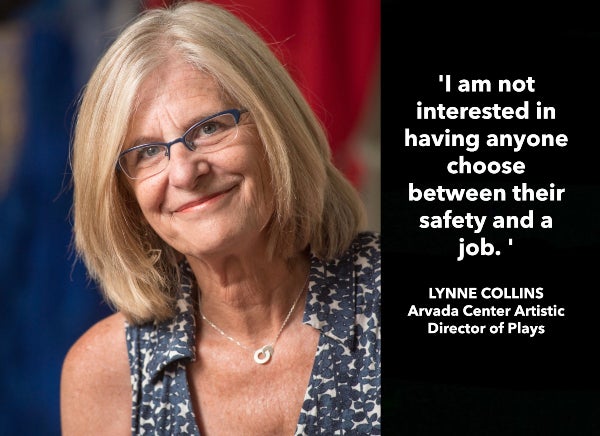 Lynne Collins photo by Matthew Gale.
Welcome back to "Straight Talk," our ongoing series with Arvada Center artistic leaders and others from the local theatre community touching base directly with their audiences about the unique challenges they face during this unprecedented time. Next up: Arvada Center Artistic Director of Plays Lynne Collins tells Senior Arts Journalist John Moore: "All we've got right now is shared uncertainty ... so let's share it."
John Moore: What is the state of the play division at the Arvada Center right now?
Lynne Collins: We are moving forward with planning for next season in all its possible permutations. But we are also in full "What if?" mode right now. What if we can't open in the fall? What if we can open in the fall, but with reduced audience for social distancing? We are playing out every scenario. Beyond that, like everybody else, we are waiting to know more.
John Moore: Every theatre company's announced schedule for 2020-21 is up in smoke. What can we know now about any possible changes to your upcoming season?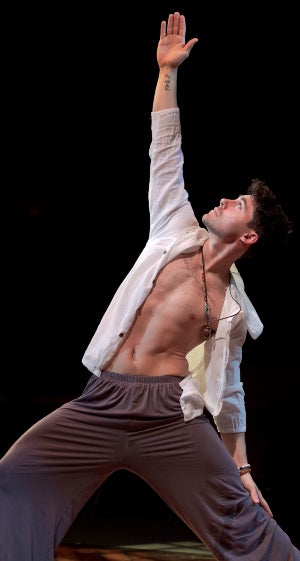 Lynne Collins: We're looking at a lot of different options, and we hope to announce our final decisions by the end of the month. Or as final as they can be right now. One of the tricky things about all this is that we want to communicate with people about what is going on – but we don't want to have to keep re-communicating with people when the situation changes. And this situation is changing every day. So we don't want to make any definitive announcements until we are relatively certain of what next year really looks like.
Pictured at right: Jake Mendes in 'Small Mouth Sounds,' which was hours from opening when the COVID19 shutdown took effect. Photo by Matthew Gale.
John Moore: It would make sense if you are considering possible title changes to favor of shows with small casts, both for economic and safety reasons.
Lynne Collins: We're lucky to already have been planning to present "The Woman in Black," which is essentially a two-hander [a play with two actors]. I can imagine a safe way to do a play that small. It doesn't seem impossible to me. And that could turn out to be a good kind of "canary in a coal mine" production for us because if we are able to do it, we will learn a ton about how to keep the workplace safe with a small number of people. And then hopefully we can build upon that knowledge for shows with slightly larger casts.
John Moore: It seems to me we are about to see a whole lot of smaller-cast shows around town.
Lynne Collins: It's safer for everyone involved right now if you are producing a two-person play as opposed to 10-person play. Smaller-cast shows means fewer folks in the room. That means safer dressing rooms. For the spring, I am looking very carefully at staying below 10 actors per show, which seems to be the magic number that governments like to use for gatherings of people.
John Moore: On the flip side, that means fewer jobs for actors to compete for after they've already had most of this year wiped out.
Lynne Collins: That's why I'm not interested in doing a full season of two-handers. That means keeping a lot of actors out of work – and that doesn't appeal to me at all.
John Moore: And then there are the audiences.
Lynne: Yes. The big question to me is: "What will it take for audiences to feel safe coming back?" Every theatre is wrestling with that right now.
John Moore: So let's skip ahead to the day when you can have rehearsals again. What does that new world look like to you?
Lynne Collins: I am not interested in having anyone choose between their safety and a job. So it's incumbent upon us to put people in a safe environment. I can see us implementing safety measure like perhaps conducting the first few rehearsals digitally to encourage physical distancing. I can imagine a world where the actors would be tested and have their temperatures taken.
John Moore: What do you know now about what the Governor and also the Actors' Equity union will be asking of you in terms of keeping both your audiences and performers safe?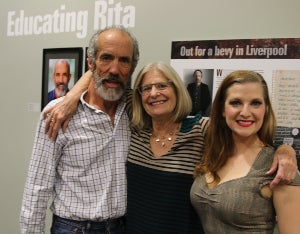 Lynne Collins: We're still waiting for real guidance on that. So far, all of the government's guidance about large group gatherings has been about audiences. I have not yet seen anybody talking seriously about the safety of performers or crew. The union is going to have to come forward with some very clear guidelines, and so far, they haven't. Right now they are putting it all back on the theatres by saying: "You can't put anybody in an unsafe work environment," without saying, "Well, what does that mean?" Does that mean: "Use common sense and take every possible precaution?" Or does that mean: "If you can't distance yourselves by at least 6 feet, you can't have people together on a stage." If that's what they decide, then we can't possibly do theatre. You can't do theatre without performers being together and interacting and touching. We can have rehearsal protocols. We can rehearse in masks and gloves. But we can't do that in performance. It's just not going to work. We're very anxious to know more.
Pictured at right: Lynne Collins with John Hutton and Emily Van Fleet at the 2018 opening of 'Educating Rita.' Photo by John Moore.
John Moore: Since nothing is normal right now, is it safe to say that the Black Box Theatre Company season is just not going to be the same this year as audiences have come to expect over the past few years?
Lynne Collins: There will be some differences. The total company size will be smaller. But we hope it will be a repertory company, with actors performing in multiple plays. The plays will be presented "in the round" again, so the space will be familiar.
"I am very proud of the humane way the Arvada Center has moved through this every step of the way." – Lynne Collins

John Moore: There has been much speculative chatter around the country about how you can safely demonstrate actor intimacy on stage going forward. But I also want to ask you about audience comfort with watching actor intimacy on stage right now. There has been talk, for example, of directors developing a new kind of theatrical language to communicate to an audience that, say, a kiss has just happened, without there being an actual kiss.
Lynne Collins: The problem with that is there is so much more in any play that might be just as risky as a kiss. You share props. You have a fight. If we're looking at a world where all of that is off-limits, then I really would have to re-think all my titles. There is nothing on my season right now that is without any physical contact at all. If you take away physical interaction between actors on stage, then you are talking about a season of staged readings and chamber musicals – and I am not ready to concede that's where we are yet. I am certainly hoping that by next spring, that's not where we are at. But I think a lot is going to change in the next couple of months. If they come up with antivirals and various medications that make people feel safer, that changes our world completely.
John Moore: Everybody is looking for some hope right now. Where are you finding it?
Lynne Collins: I find hope in the energy of the people I work with. I have always loved my job, but I am very proud of the humane way the Arvada Center has moved through this every step of the way. I feel we are really positioned to survive this because of the people we have, and the energy we have, and the support we have. That feels good.
(Story continues below the video)
Guthrie Theatre Artistic Director Joseph Haj video address.
John Moore: Last words?
Lynne Collins: I would encourage everyone to watch the new video by Joseph Haj, the Artistic Director of the Guthrie Theatre in Minneapolis, in which he beautifully says that he is not worried about the future of live theatre because nothing can replace this centuries-old tradition of humans gathering together to tell stories. In those thousands of years, there have been plagues and wars and horrible social chaos. And yet, theatre continues to survive because it has proven itself to be one of life's necessities. I believe in the art form, and I believe we are essential to the human spirit. Yes, we are going to struggle. Yes, it's going to be a hard and scary time. But I don't think COVID-19 kills live theatre. Better diseases have tried and failed.
Next: Straight Talk from Rod Lansberry, Producing Artistic Director of Musical Theatre
Contact John Moore at culturewestjohn@gmail.com
"I don't think COVID-19 kills live theatre. Better diseases have tried and failed." – Lynne Collins
MORE STRAIGHT TALK
• Philip C. Sneed, Arvada Center President and CEO. READ IT HERE
• Survey: Most theatregoers aren't coming back anytime soon. READ IT HERE
• COVID-19's toll on Colorado theatre: 224 productions and counting. READ IT HERE