STRAIGHT TALK WITH PLATTE VALLEY PLAYERS AND THEATREWORKS
Welcome back to "Straight Talk," our ongoing series with artistic leaders from the local theatre community about the unique challenges they face during this unprecedented time.
By John Moore, Senior Arts Journalist
After 13 years of producing quality productions in Brighton to sometimes dishearteningly small audiences, the Platte Valley Players had a breakthrough 2019, both in number of shows and attendance. Artistic Director Kelly Van Oosbree calls her company, which performs out of the Armory Performing Arts Center, "small, but mighty."
The Platte Valley Players were just days from opening children's productions of "The Music Man Kids" and "Chitty Chitty Bang Bang Jr." when the COVID19 shutdown came down on March 13. The entire planned 2020 mainstage season, including "Songs for a New World," "Pride and Prejudice" and "Urinetown," has since been shelved.
Now two months later, "nothing has gotten better, and nothing seems clear," Van Oosbree said.
The Armory is a city-owned facility, "so no matter what, we will be following their lead," said Van Oosbree, who is preparing to not produce any theatre for the rest of the year. In that event, the 2020 lineup of shows will simply shift to 2021.
Van Oosbree believes her company can remain financially viable during its dormancy. "Our overhead is low with minimal operational costs outside of production," she said. Platte Valley Players reside among the smallest "Tier III" organizations within the seven-county Scientific and Cultural Facilities District, which raises $60 million a year in cultural funding through a one cent sales tax for every $10 spent. "Luckily for us, as a Tier III, we will not be required to return our grant money that we were awarded this year," Van Oosbree said.
She does not foresee joining other companies in finding non-traditional ways of producing events, at least not at this time. "It's something we would explore, but we would certainly require a producing partner within the city of Brighton," said Van Oosbree, who is facing another growing speed bump.
A baby bump.
"My personal bandwidth is limited and my regard for my health is paramount, because my husband and I are expecting our first child in late August," she said. "I worry daily about the state of Colorado theatre and its people, but that pales to the excitement and anxiety I face on the cusp of parenthood."
''Our momentum has been completely halted. Can we recover? How long will that take?' – Kelly Van Oosbree

Right now, Van Oosbree says her company's biggest questions are, in her words:
"What will the effects of COVID19 do to our venue and its staff? Without the Armory, we have no theatre. When the Armory re-opens, it will be next to impossible for us to produce theatre without their staff and technicians."
"We hire independent designers, builders and photographers to work on our productions. And if we are not producing shows, we don't have work for them, either. The financial livelihoods of our contractors is a deep worry for us."
"Our planned production of "Songs for a New World" was underwritten with a generous grant from the Brighton Lodging Tax. But if we are unable to produce the show in 2020, we don't know what that means for that grant money. Without that grant, it would be very difficult for us to produce that musical in 2021."
"How will COVID19 impact our patron base? We are a young company with a small patron base in a growing community that has been hard to reach and difficult to get into theatre seats. We were on a roll coming out of last year, and we were excited to see where that momentum might take us for 2020. But now that momentum has been completely halted. Can we recover? How long will that take?"
But Van Oosbree is an optimist, she swears. "We have the support of the city of Brighton, the Brighton Cultural Arts Commission, the SCFD and Adams County," she said. "The Platte Valley Players have become essential to the cultural fabric of downtown Brighton. We are prepared to wait as long as necessary to ensure that there is a community to come back to and perform for."

Platte Valley Players' 2018 production of 'You Can't Take it With You.'
---
'One of the best things about us as humans is our ability to share stories.' – Caitlin Lowans

Theatreworks is a highly regarded professional theatre company that has operated through the University of Colorado Colorado Springs since the late Murray Ross and his wife, Betty, started it from nothing in 1975 and built it into a fertile incubator of young hearts and minds over four decades. It's now headed by Caitlin Lowans (pictured at right), who has master's degrees from Harvard and Northwestern. Theatreworks operates out of the new $70 million Ent Center for the Arts, offering a mix of classic plays and more challenging contemporary fare, along with student productions.
TheatreWorks falls under the larger operating umbrella of CU Presents, which announced this week that all live programs presented by the Artist Series, Theatreworks and the Galleries of Contemporary Art are canceled through December.
"We have spent much of the past few months running through all the scenarios and protocols that would allow us to invite audiences and artists back in a safe manner," the uncredited announcement read. "Unfortunately, social distancing guidelines and the restrictions on gathering sizes make it very difficult, if not impossible, for artists to rehearse and perform, and for audiences to convene."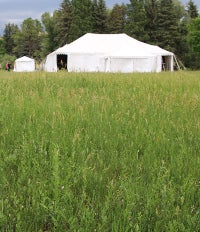 That means no annual summer tented Shakespeare performance at the historic Rock Ledge Ranch ("Twelfth Night") and no stagings of "Passion Play," "Turn of the Screw," "Little Women" or an already once-rescheduled "An Iliad" – which was to be presented environmentally in the university's National Cybersecurity Center.
"An Iliad," starring Denver's Erik Sandvold, had just had its final dress rehearsal when the COVID19 shutdown hit. "That play was a stirring example of the power of live performance: One actor, one cellist and an epic story," Lowans said. "It reminded me of the best of what it is to be human. And one of the best things about us is our ability to share stories."
Student performances, CU Presents said in its statement, will go on in the fall – somehow: "We fully support the efforts of our colleagues across campus to offer in-person instruction this fall for music, theater and dance students. … These performances will move forward with limited invited audiences and guided by safety protocols. We hope to open these to the public when it is safe to do so."
Meanwhile, Theatreworks has just offered up its first Facebook Live performance, "Zoomedy of Errors." (Watch it here.) "We're exploring how to do virtual costume tutorials, sneak-peek videos and other snippets into our arts world," Lowans said.
Also, a collection of Ross' essays and witticisms have been gathered into a new book called "A View from the Crow's Nest," covering his thoughts on Shakespeare, contemporary theatre and more. It is now available exclusively through the UCCS Bookstore for $29.95.
"Theatreworks will be back," Lowans said. "The doors will re-open, the curtains – if we had them – would rise. This community will go on."
Tomorrow: Straight Talk with artistic leaders from more Colorado theatre companies
Contact John Moore at culturewestjohn@gmail.com
MORE STRAIGHT TALK
• Straight Talk with OpenStage, Firehouse and Adams Mystery Playhouse. READ IT HERE
• Straight Talk with Curious Theatre Company. READ IT HERE
• Straight Talk with The Catamounts, Bas Bleu Theatre and Thingamajig Theatre Company. READ IT HERE
• Straight Talk with Lake Dillon Theatre Company, Boulder Ensemble Theatre Company and Northglenn Arts. READ IT HERE
• Straight Talk with the Fine Arts Center, Miners Alley Playhouse, Dangerous Theatre and Lone Tree Arts Center READ IT HERE
• Straight Talk with square product, Forge Light, Springs Ensemble Theatre and Coal Creek Theatre of Louisville READ IT HERE
• Straight Talk with the Denver Center, Jesters Dinner Theatre, Glenwood Vaudeville Revue and Germinal Stage-Denver READ IT HERE
• Straight Talk with Local Theater Company, Theatre 29, The Source and Equinox READ IT HERE
• Straight Talk with Su Teatro, Vintage, Breckenridge Backstage and Counterweight Theatre Lab READ IT HERE
• Straight Talk with Aurora Fox, BDT Stage, Cherry Creek Theatre and Misfits Theater READ IT HERE
• Straight Talk with Creede Rep, Town Hall, Candlelight and Theatre Company of Lafayette READ IT HERE
• Straight Talk with Phamaly, Buntport, the Colorado Shakespeare Festival and Rocky Mountain Repertory Theatre. READ IT HERE
• Straight Talk with Rod Lansberry, Arvada Center Artistic Director of Plays. READ IT HERE
• Straight Talk with Lynne Collins, Arvada Center Artistic Director of Plays. READ IT HERE
• Straight Talk with Philip C. Sneed, Arvada Center President and CEO. READ IT HERE
• Survey: Most theatregoers aren't coming back anytime soon. READ IT HERE
• COVID-19's toll on Colorado theatre: 224 productions and counting. READ IT HERE