STRAIGHT TALK WITH ROD LANSBERRY
Arvada Center Artistic Director of Musicals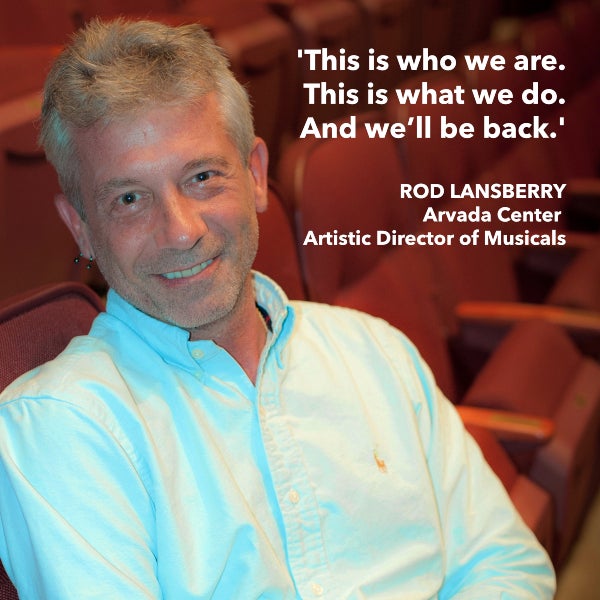 Rod Lansberry photo by R. Atchison.
Welcome back to "Straight Talk," our ongoing series with Arvada Center artistic leaders and others from the local theatre community touching base directly with their audiences about the unique challenges they face during this unprecedented time. Next up: Artistic Director of Musicals Rod Lansberry, who has been with the Arvada Center since 1992, tells Senior Arts Journalist John Moore: "Every theatre in the country is struggling with how to figure all of this out right now."
John Moore: What is the state of the Arvada Center's musicals division right now?
Rod Lansberry: It's very complicated. Before this all started, we had a very strong season planned, and we knew it was going to be a challenge for us to pull it off. That challenge is obviously magnified now. We have to step back and look again at everything we had planned, look at it realistically and ask not only, "Can we do this?" but, "Can we do this right?" [President and CEO] Philip Sneed, [Artistic Director of Plays] Lynne Collins and I all agree that if we are going to do it at all, we are going to do it right. Our audiences have come to expect the quality that we have been able to deliver over the years. But this is the biggest challenge the Arvada Center has ever faced in its 40-plus years.
John Moore: You and your audiences have been looking forward to "Kinky Boots" in the fall, but there are so many current complicating factors that could compromise the quality that you just talked about. What are the pros and cons of going ahead and doing the show as scheduled in the fall – or perhaps waiting until sometime next year, when things might be closer to normal?
Rod Lansberry: Right now, there are so many gray areas as far as when our venues will be able to open, and what restrictions will be placed on those venues when they do. All of our revenue projections are based on a certain number of audiences attending. And the fact is, we might not be able to bring those audiences back to the theatre right away.
"This is the biggest challenge the Arvada Center has ever faced in its 40-plus years." – Rod Lansberry
John Moore: What do the numbers look like?
Rod Lansberry: We have both the luxury and yet the conflict of having three different performance spaces. We have our outdoor space that holds 1,600, the Main Stage Theatre that holds 526, and the Black Box Theatre that holds 200. And we still don't know how many of those spaces we can use, or how many people we can put in them. With social distancing, we're estimating we will be losing about 50 percent of our seats. That's really going to make a difference in what we can produce, how we can produce it and when we can produce it. And again, quality is primary in all of our minds, and that is going to require some juggling with how we approach things.
John Moore: And of course the all-important matter of keeping the actors and creative team safe.
Rod Lansberry: That is rapidly becoming the next big question. We're a union theatre, so Actors' Equity Association will have a lot to say about this. But at this time, they don't know what to say. It's really a conundrum. They're in control, and they are going to decide what we can and cannot do. But they have not made any final determinations yet, and that leaves us very little room to work with. It's a little nerve-wracking. In the meantime, we are following all of the CDC [Centers for Disease Control] guidelines, state guidelines and city guidelines. Our priority is the safety of our workplace and the safety and comfort of our audience. But that's going to take a lot of extra effort.
John Moore: What are some of the other factors you're considering?
Rod Lansberry: We've also been paying very close attention to all the news updates and audience surveys regarding when they will be willing to come back. We just found out New York theatre won't even start up with rehearsals and production work again until Labor Day at the earliest.
John Moore: Frankly, doesn't September seem overly optimistic for Broadway given that New York is the epicenter of the virus in this country?
Rod Lansberry: In my opinion, yes. I don't see it happening until the spring of 2021. It's not a matter of just getting a production back up and opening. It's a matter of going back into rehearsal, possibly re-casting, having to re-finance – all of those elements that go into a Broadway production that we actually deal with here at the Arvada Center in a similar way, just not on the same scale.
John Moore: It sounds like the message you want to pass on to Arvada Center audiences right now might be patience. Because you are going to deliver what you have promised, but it may take a while to deliver on that promise.
Rod Lansberry: We are going to deliver on our promise of putting up the best possible productions that we can. We know our audience wants to come back, and we greatly appreciate that. But right now, studies are consistently showing that only about 25 percent of theatre audiences will feel comfortable coming back in a month. Less than 60 percent are saying they will come back in three months. So I think we might be looking at years before the audience as a whole will feel comfortable going into an enclosed space again. It's the same concern for sports teams and concert venues.
John Moore: So Rod, you have been producing three to four musicals at the Arvada Center every year for nearly 25 years now. And it's now been almost a year since "Bright Star." What is it like for you to simply have to wait this out?
Rod Lansberry: It's definitely torture. We are required to work from home right now, so not being in the atmosphere of the theatre is so foreign to me. This has been way too much time away. I miss the interaction with the other artists on our team. It doesn't matter how many times we Skype or Zoom, you still miss that personal connection. Not having the actors around feels wrong, too. It's all just so weird.
John Moore: What do you want to tell people who maybe don't understand how hard this has been on the actors who have lost pretty much every opportunity they have to earn any income at this time, including secondary sources from
teaching or working in restaurants?
Rod Lansberry: It hurts because Denver has a very tight theatre community, and no matter what show I'm doing, I always want to hire as many local actors as possible. We have a lot of talent right here, and our audiences have come to recognize our hometown actors. They have favorites they want to see again and again. It's important to me to bring that local community together – and that has been taken away until we all come up with a whole lot of solutions to the situation we are in.
(Pictured at right: Rebecca Spence of Louisville was one of 16 local actors who performed in 'Bright Star.' Matt Gale Photography)
John Moore: Have you given any thought to what accommodations you might have to make in terms of intimacy and maintaining distance between your actors on the stage?
Rod Lansberry: That's definitely something I keep trying to figure out, and I'll be honest: I've come up with a blank. Social distancing goes way beyond just how to place actors on the stage. It covers every part of the production process – costume fittings, for example. I am very hands-on when it comes to working with my designers, and yet if we were doing a show right now, I would not be allowed in the room. Every theatre in the country is struggling with how to figure all of this out right now.
John Moore: What do you know about the actors' union's place in all of this?
Rod Lansberry: Actors' Equity is something our audience isn't really familiar with, and as soon as you mention the word "union," they think Teamsters, but it's not a labor union in the normal sense. They are there for the protection of the actors, and to lay out guidelines for theatres so that its members are treated with fairness and consistency. On April 21, Equity told its members it will not issue contracts until employers have specific safety protocols in place. But they have not said what those protocols will be yet. The union has hired David Michaels, who was the assistant Secretary of Labor for the Occupational Safety and Health Administration [OSHA] under President Obama, to establish COVID-19 safety standards for how we will need to work. So it's been taken out of our hands. And now, we wait.
John Moore: Have they given you a timeline for when you will have those guidelines?
Rod Lansberry: Nothing has even been said about a time frame. They may not even have them by September. And if that's the case, they may have to extend the re-opening of Broadway even more.
(Story continues below the video)
Part of the cast of 'Bright Star' reunited to make the video above.
John Moore: You provided a little ray of optimism when you virtually reunited part of your "Bright Star" cast to record the song "Sun's Gonna Shine" as a message of hope during this shutdown.
Rod Lansberry: It sounds trite, but because of that video, I have a new motto that I try to approach things with every day. Watching that the video for the first time, I thought: "This is who we are. This is what we do. And we'll be back."
Next: Straight Talk from other artistic leaders from the Colorado theatre community.

Contact John Moore at culturewestjohn@gmail.com
MORE STRAIGHT TALK
• Lynne Collins, Arvada Center Artistic Director of Plays. READ IT HERE
• Philip C. Sneed, Arvada Center President and CEO. READ IT HERE
• Survey: Most theatregoers aren't coming back anytime soon. READ IT HERE
• COVID-19's toll on Colorado theatre: 224 productions and counting. READ IT HERE