STRAIGHT TALK WITH SU TEATRO, VINTAGE, BRECKENRIDGE BACKSTAGE AND COUNTERWEIGHT THEATRE LAB
Felicia Gallegos Pettis starred in Su Teatro's "War of the Flowers" – for two performances.
Welcome back to "Straight Talk," our ongoing series with artistic leaders from the local theatre community about the unique challenges they face during this unprecedented time.
By John Moore, Senior Arts Journalist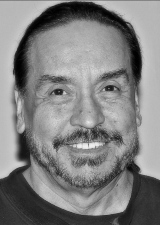 Su Teatro, which has been telling socially relevant Latino stories for nearly 50 years, was just two performances into its original staging of "War of the Flowers: The Kitayama Carnation Strike" at the time of the shutdown. That's Artistic Director Anthony Garcia's true story of five Chicana women who chained themselves to the front gates of the Kitayama Carnation plant in Weld County, launching a 10-month labor strike in 1969. The shutdown also cost the company its upcoming production of "El Corrido del Barrio."
Su Teatro (in English: "Your Theatre") had won a $100,000 grant from the New England Fund for the Arts to tour its hit comedy "Interview with a Mexican" to 13 cities across the United States this spring. That tour might still happen one day, "but in the meantime, we will probably offer it to our community in a virtual version," Garcia said.
Su Teatro has been offering virtual programing every weekend since the first of April, including its ongoing annual WordFest and Artists of Color Summit (through June 28), videos of past productions, Latino films and staged readings of plays, as well as organization-building workshops and 'Brown Table' conversations with various arts leaders of color throughout the country.
"We are fortunate in that so much of our programming has been company-created, so we have ownership and are free to distribute it in whatever form we choose," Garcia said.
Next week, the company will resume office hours on a limited basis, with no public access for at least a month. "We are exploring options for face-to-face interactions, but that is on a wait-and-see basis," Garcia said. "So much of our work is about immersion with our community, which means that whatever we do, we will do with everyone's health as a priority."
Su Teatro has not had to cut back on staff, and it has raised more than $20,000 through its self-started PESO Fund (Performers Emergency Support Opportunity) to support company actors who have lost income opportunities.
Plans for a full season of programming starting in the fall remain on the burner, "but our plan is to just move it backward until a time we can present it," Garcia said.
If there has been one positive side effect of all this, Su Teatro's virtual programming has allowed it to involve actors from across the country, "and it is possible that we will be able to use some of our more well-known actors in our upcoming productions," Garcia said. "It should be fun, interesting and a bit scary.
"This is the ride: It's too late to get off it now.'
---
Vintage Theatre, which produces more theatre than any Colorado company outside of the Denver Center, already has had five productions impacted by the shutdown, including early closings of "The Scottsboro Boys" and Marvin's Room"; and postponements of "Shakespeare in Love," "Fireflies" and what promises to be a historic production of "Gypsy" starring Mary Louise Lee, an African American woman and the First Lady of Denver.
" 'Shakespeare in Love' is in rehearsals on Zoom right now, and we will be ready to open once it is deemed safe to do so," Artistic Director Bernie Cardell said. "The set is built, the costumes are getting their finishing touches, and this will be a beautiful production."
In the meantime, Cardell is putting together a series of cabarets that will be live-streamed for free from the Vintage Theatre lobby as a kind of virtual summer-music series. "And we're putting together a series with the working title 'Driveway Theatre,' where we will send a production to you. These will be small one- or two-person shows, probably about an hour in length, that patrons will be able to purchase online."
The announced fall theatre season of "Quilters," "Angels in America, Parts 1 and 2," "The Last Night of Ballyhoo" and "Matilda the Musical" "definitely will change," Cardell said. "Gypsy" and "Angels in America" already have been postponed to the 2021-22 season. Meanwhile, expect solo shows and two-handers to cut down on the number of people on stage and backstage.
Thanks to a modest loan from the Paycheck Protection Program, Executive Director Craig Bond has been able to pay all employees on a short-term basis. "Financially, we've had to slow operations, but we have no plans to completely shut down for any period of time," Cardell said. "But like everyone else, we could certainly use financial support."
And like everyone else, Bond and Cardell are now awaiting re-opening guidelines from the state. "In the meantime, we're preparing for our new realities of cleaning schedules, safe social-distancing procedures, and most of all, being able to welcome the Vintage family back to their artistic home," Cardell said.
"It does feel like our reality is changing on a daily basis, but my theory is you make a plan, work the plan, and then adapt. It's what theatre people are best at."
'My theory is you make a plan, work the plan, and then adapt. It's what theatre people are best at.' – Bernie Cardell

---
Breckenridge Backstage Theatre, the oldest year-round theatre on Colorado's Western Slope, had a big spring and summer planned at its home 80 miles west of Denver, including an outdoor presentation of "Matilda The Musical" at the Riverwalk Center, and intimate stagings of "A Midsummer Night's Dream" and "Peter and the Starcatcher." But like all other companies, "We have put our live productions on hold until further developments," said Associate Director Cara Janes, though the company is holding on to a very slim hope that "Matilda" might yet open in late August.
"We are now moving in the direction of having virtual readings, at least for 'A Midsummer Night's Dream.' We hope to bring our original cast together from across the nation for that reading."
"Moving forward, we are considering a variety of options, including virtual performances of monologues or small-cast shows," Janes said. "The show will go on. We look forward to the next time we can gather together in appreciation and love for the arts. In the meantime, we are graciously accepting any and all donations."
---
Colorado Springs' Counterweight Theatre Lab has offered thoughtful and intimate theatre (with a penchant for Shakespeare) since 2015. Its plans for a spring production of "King Lear" were wiped out by the shutdown. "We're mostly dormant," said Artistic Director Ethan Everhart, whose company had a policy of offering reduced-price tickets to teachers and health-care workers even before COVID19.
"Next month, we'll have two audio plays online, but crucially, these are intended only to be listened to and are not a recording of something live," he said. "We won't be staging anything live again until we can responsibly have people gather in the same room with us and share intimate human connection, which is our entire reason for being.
"As a venue-wandering company that isn't paying rent on a space, we have no regular expenses besides maintaining our website – so we can effectively go dormant the rest of the year, if need be.
"If people are so inclined, they can donate on PayPal using the address counterweighttheatrelab@gmail.com."
Tomorrow: Straight Talk with artistic leaders from four more Colorado theatre companies
Contact John Moore at culturewestjohn@gmail.com
MORE STRAIGHT TALK
• Straight Talk with the Denver Center, Jesters Dinner Theatre, Glenwood Vaudeville Revue and Germinal Stage-Denver READ IT HERE
• Straight Talk with Local Theater Company, Theatre 29, The Source and Equinox READ IT HERE
• Straight Talk with Su Teatro, Vintage, Breckenridge Backstage and Counterweight Theatre Lab READ IT HERE
• Straight Talk with Aurora Fox, BDT Stage, Cherry Creek Theatre and Misfits Theater READ IT HERE
• Straight Talk with Creede Rep, Town Hall, Candlelight and Theatre Company of Lafayette READ IT HERE
• Straight Talk with Phamaly, Buntport, the Colorado Shakespeare Festival and Rocky Mountain Repertory Theatre. READ IT HERE
• Straight Talk with Rod Lansberry, Arvada Center Artistic Director of Plays. READ IT HERE
• Straight Talk with Lynne Collins, Arvada Center Artistic Director of Plays. READ IT HERE
• Straight Talk with Philip C. Sneed, Arvada Center President and CEO. READ IT HERE
• Survey: Most theatregoers aren't coming back anytime soon. READ IT HERE
• COVID-19's toll on Colorado theatre: 224 productions and counting. READ IT HERE