When I was volunteering at the Arvada Center's Denver PrideFest table this year, I saw the wonderful nonprofit Free Mom Hugs giving out hugs and thought "we need them at the opening of The Laramie Project!" When we reached out to see if the Colorado Chapter of Free Mom Hugs would be interested in being a part of our opening night, we were thrilled to find out that our contact, Louise Baskin, was a longtime Arvada Center theatre season subscriber.
Patrons at our opening night performance of The Laramie Project were so grateful for the opportunity for a warm hug after such an emotional show, so the Colorado Chapter of Free Mom Hugs has graciously agreed to expand their services and join us at more shows. We are thrilled that they will now be at both of our special student matinee performances for high schoolers, as well as all of the matinee performances during this run.
Free Mom Hugs was started by Sara Cunningham, a Christian mother from conservative Oklahoma who spent years rejecting her son Parker's sexuality, after he came out to her. But as the conflicted Sara researched and became more involved with the LGBTQ+ community, she came to truly understand the shame and injustice they experience.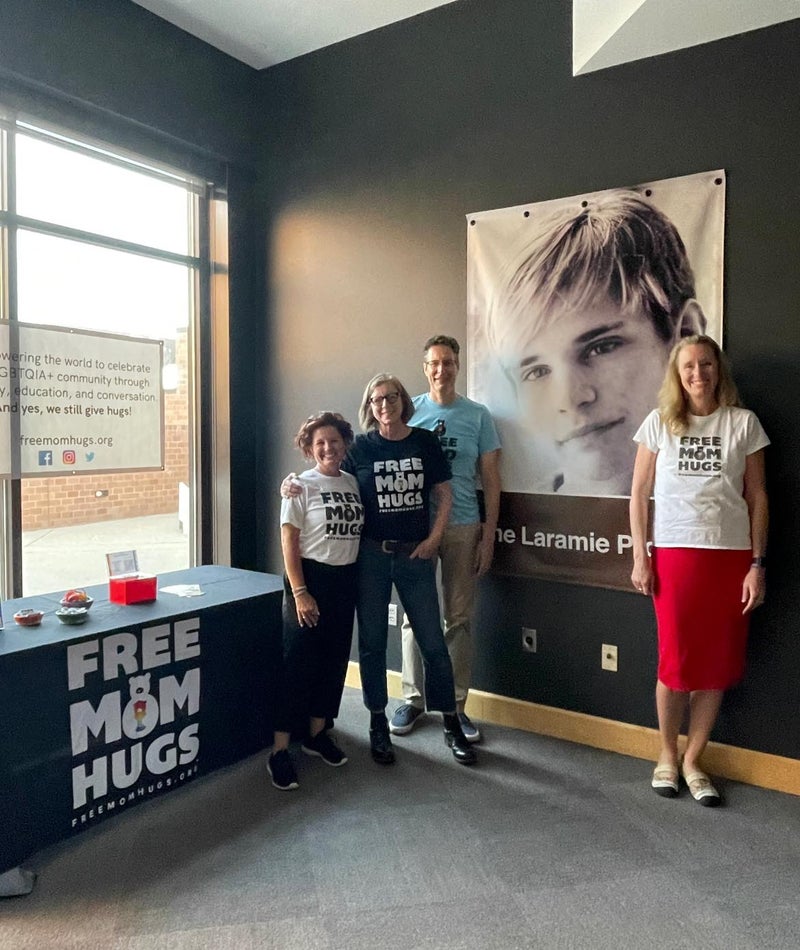 On June 20, 2015, Sara wore a button that said "Free Mom Hugs" to the Oklahoma Pride Parade, and offered hugs to anyone who wanted one. The person who she gave the first hug to told Sara that she hadn't hugged her mother in four years because she was a lesbian, and a movement was born.
Today Free Mom Hugs is an established nonprofit, has over 14,000 members in 50 states, and they are always looking for more huggers! You don't need to be a mom to join - everyone is welcome.
Interested in learning more? Check out their website here: Free Mom Hugs
Interested in being a hugger? Join the Colorado Chapter Facebook group to follow our events and get more information: Facebook Link To Join
Interested in a hug? Come see The Laramie Project during a matinee and have a chance to hug and learn more about this wonderful group: The Laramie Project Event Page