WHY GOVERNOR'S MASK MANDATE DOES NOT INCLUDE CANDLELIGHT ACTORS
Clockwise from top left: Scott Hurst and Cole Emarine in Candlelight Dinner Playhouse's 'The Mousetrap'; Phil Forman and Sarah Grover in 'I Do! I Do!' RDG Photography.
'We're doing everything we can to keep everyone safe,' says Pat Payne
By John Moore, Senior Arts Journalist
The shows are going on at the Candlelight Dinner Playhouse in Johnstown – and not in violation of Colorado Governor Jared Polis' newly issued mandatory statewide mask order in public indoor spaces. That, despite some seemingly contradictory language in the governor's orders.
While the state's definition of "public indoor spaces" specifically includes theaters along with restaurants, museums, stores, government buildings and more, Thursday's Executive Order 138 also lists "giving a speech to an audience" as an exception to the new mask rule. That exempts Candlelight actors from having to wear masks while performing on stage, according to Production Manager Pat Payne.
Candlelight has attracted both appreciation and concern for its decision to re-open for indoor live theater many months ahead of most every other company in the state. The Denver Center for the Performing Arts, by comparison, has essentially shut down until next May. But Payne insists "none of this is taken lightly. We're doing everything we can to keep everyone safe."
Candlelight is a 350-seat dinner theater located 45 miles north of Denver in Larimer County, which last month received a variance from Polis' "Safer at Home" orders because of lower overall incidence of COVID in the county. Larimer County, which stretches from just north of Boulder County to the Wyoming border, has reported 1,055 positive cases and 31 deaths through July 18. Weld County, its immediate neighbor to the east, has reported 3,189 cases and 139 deaths.
The Larimer County variance allowed Candlelight to become the first theater company in Colorado to re-open for indoor live theater performances. With the green light to re-open, Candlelight quickly rolled out three stories it is now presenting in repertory through August.
In the first 10 days since re-opening, Payne said, Candlelight has been drawing up to 100 "small but mighty" audience members for rotating performances of Agatha Christie's "The Mousetrap," the two-person musical "I Do! I Do!" and the children's story "The Adventures of Flat Stanley."
"My assessment of the experiment so far is if that people are ready to come back, we would love to have them," Payne said. "And if they are not ready to come back yet, we understand, and we will be here for them when they are."
A look at how Candlelight Dinner Playhouse is spacing its tables.
Safety measures
Candlelight, which spans 45,000 square feet, seats parties at tables of two, four or six, but it is now making only every other table available for public seating. So while members of a single party are seated together, each group is nearly 10 feet away from the next one over, Payne said. And the closest any actor on stage ever gets to an audience member is 28 feet, 6 inches. (Yes, he used a tape measure.)
Audiences lining up to enter outside the theater or in the lobby are kept at least 6 feet apart. Parties are only allowed to enter the building one group at a time. And while audience members are not being temperature-checked upon entering, all employees are. Customers are required to wear masks from the front door to the dining table. No more than five (masked) patrons are ever allowed in the theater's rather large bathrooms at the same time.
Because not every table will be filled by a single party, Payne said true "social capacity" is now only about 125, or 36 percent of normal.
Payne said the response from audiences has been both enthusiastic and thankful. He said every available table for "The Mousetrap" has been sold through this weekend.
"We were there last night, and I was so impressed with how safe their re-opening felt," patron Megan Stoddard wrote on Candlelight's Facebook page.
The three shows are employing about 40 Colorado theater artists combined, including 17 actors. Payne said the shows were chosen with onstage social-distancing in mind, and pointed out that the two-person love story "I Do, I Do," stars a real-life married couple, Sarah Grover and Phil Forman.
Payne understands that as long as Candlelight is the only one of Colorado's 100-plus theater companies performing live indoor theater right now, all eyes will be fixed on it. And he welcomes the scrutiny.
"The truth is we benefit from the fact that we happen to be in a big, huge building in a different county than Denver," Payne said. "But re-opening at Candlelight is a lot different from someone re-opening a theater in Denver with only single seats right next to each other. We are following all of the regulations we have been told to follow for our county, and we are continuing to monitor the situation every second of every day."
Owner Dave Clark told the Loveland Reporter-Herald: "We're down to skeleton crew with staff, but now that we're open again it feels really good. Some people are still a little leery and cautious about attending public events, and that's OK. But we've been getting some good crowds in here."
Through August 21: Agatha Christie's "The Mousetrap"
Through August 22: "The Adventures of Flat Stanley"
Through August 22: "I Do! I Do!"
Candlelight Dinner Playhouse is located at 4747 Marketplace Drive in Johnstown. Call 970-744-3747 or go to coloradocandlelight.com
MEANWHILE, IN BOULDER…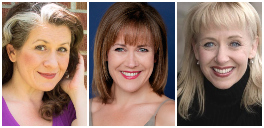 BDT Stage Producing Artistic Director Michael J. Duran wishes nothing but the best for his neighboring dinner theater in Johnstown. In fact, he'd like nothing more than to follow in Candlelight's footsteps, and soon. In the meantime, BDT Stage is dipping its toes into re-opening with a series of weekend concerts over the next few weeks, including Stephen Ross and Cody Qualls from the vocal band FACE (July 19) and The Barton Brothers (July 24 and 25). Duran is only selling those shows to 20 percent of normal capacity. But many BDT audience members have told Duran they would prefer outdoor programming at this time, so Duran has just announced that BDT favorites Alicia King Meyers, Tracy Warren and Joanie Brosseau-Rubald (pictured) will perform in concert with accompanist Neal Dunfee in the BDT Stage parking lot from July 30-August 1.
BDT also has secured the rights to stream its milestone production of "Ragtime," which had only one performance before the COVID shutdown in March. Unlike on-demand programming, "Ragtime" only will be shown "live on tape" at 7 p.m. Thursdays through Saturdays from August 6-29. $20 plus fees. Call 303-449-6000 or go to showtix4u.com

Levitt Pavilion. Photo by Joel Rekiel.
LEVITT PAVILION IS AN UNEXPECTED OPTION FOR LIVE THEATER
Andy Thomas, Associate Director of the Levitt Pavilion (and super-cool drummer for the venerable local indie band The Knew), has an unexpected offer for local theater companies looking for a live outdoor performing space this summer.
Most know the Levitt as a nonprofit amphitheater in southwest Denver that has hosted 50 free concerts a year since 2017. But like most other presenting agencies, all concerts there are off until it is deemed safe to safely produce large outdoor events. But beyond the pavilion's bowl that can accommodate 7,500 per concert, the venue also has loading areas and other crannies that Thomas says could serve as ideal spaces for small, live theater performances.
While some production costs will still exist, Levitt holds several unused permits that can be given to local theater organizations free of charge, Thomas said. "Levitt is willing to offer these free permits, in addition to staff time, to partner with like-minded organizations to produce and conceptualize events of all kinds," he said.
Buntport and Phamaly Theatre Company did walk-throughs of the Levitt facilities this week to consider the possibilities. Anyone interested in learning more should call Thomas at 303-909-3487 or email andy@levittdenver.org.
DENVER FRINGE FESTIVAL LAUNCHES
After years of talk and all manner of splintering organizing efforts, not even the COVID shutdown could stop Founding Producer Ann Sabbah from fulfilling her mission to launch the Denver Fringe Festival, which took place online from June 25-28. The lineup included theater performances, solo performances, stand-up comedy, improv, circus arts, magic, choose-your-own adventures and more. More than 500 tickets were sold to viewers in 30 states, said Sabbah, sister of late Denver playwright Jeff Carey. About 50 percent of the artists were local to Colorado.
The artists received 90 percent of revenue from ticket sales, and The Denver Fringe is donating all remaining proceeds to both the Denver Actors Fund and the Equal Justice Initiative (about $255 to each). "Our goals this year were simply to support the participating artists and get our feet firmly planted on the ground," said Sabbah, who anticipates a hybrid 2021 festival next June 24-27, 2021, with both live performances in the Five Points area and virtual performance delivered online. More info here.
FOR YOUR PODCASTING PLEASURE: 'UPSIDE DOWN TULIPS'
Local director Christy Montour-Larson has teamed with comedian, playwright and actor Edith Weiss on a new gardening podcast called "Upside Down Tulips." Born of the COVID shutdown, these old friends (and non-gardening experts) have audio fun talking about the mistakes they have made while getting down in the dirt. "I think failure gets a bad rap," said Montour-Larson, who finds life lessons to be gleaned alongside her Bachelor Buttons. "Gardening is about learning, experimenting and rolling with the punches."
In Episode 1, the pair share their top 10 favorite gardening mistakes, offer up some fun commercials and read "delicately rough" letters from the mailbag. Listen on Podbean here:
Elsewhere in the podsphere: The Source Theatre Company's "Regional Distinction" podcast adapts past live productions into an audio format to help preserve Denver's Black theater tradition. The first season is made up of seven episodes of Hugo Jon Sayles' "In the Presence of God," the Source's inaugural staging, and features Colette Brown, Shadi Kafi and Arnold King. Listen here.
REMEMBERING CHRISTOPHER LOWELL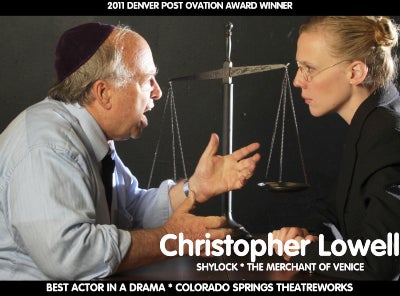 On a personal note: Watching Christopher Lowell play Shylock in TheatreWorks' 2011 production of "The Merchant of Venice" under the tent at Rock Ledge Ranch was transformative for me. I had never really understood Shylock before. Indeed, I had never understood Shakespeare as clearly before. When Shakespeare's words came out of Christopher's mouth, it was like they were being translated into a language I could instantly comprehend. I was happy to award Christopher my final Denver Post Ovation Award for Outstanding Actor in a Drama. Christopher was a titan in the Colorado Springs theatre community. Lowell passed away this week at age 77, and we are all the poorer for it. While he played bad guys like Shylock like he was wearing a second skin, as Murray Ross once put it: "In another life, he might even have been as lovable as Ben Franklin" (another favorite role). Read The Gazette's tribute here.
John Moore was named one of the 12 most influential theater critics in the U.S. by American Theatre Magazine during his time at The Denver Post. He also is the founder of The Denver Actors Fund, and is presently contributing reports for the local theater community for ArvadaCenter.Org. Reach him at culturewestjohn@gmail.com.