MEET BRENNA CLENDANIEL AND SOPHIA KOOP
Best friends find they're just better together

NOTE: As we look to reopen our doors and reignite the arts, one thing becomes clear: The key to our creativity is our people. Songs are not sung, sets are not built, choreography is not taught, and canvases are not painted on their own. In our ongoing "Humans of the Arvada Center" series, we are highlighting the heartbeat of the Center: The people who make up the Arvada Center family.
By Leslie Simon and John Moore
Brenna Clendaniel and Sophia Koop came to work in the Arvada Center box office at around the same time three years ago. What could have turned into a rivalry instead was the beginning of a best friendship as they have both risen through the ranks of the Arvada Center's development department: Brenna as Corporate Relations Manager and Sophia as Advancement Assistant.
"I gotta tell you, friends really help get you through some of these crazy times," Sophia said.
They come from very different backgrounds. Brenna describes her childhood in suburban Tucson as "pretty regular." She has been drawn to the arts since she won the role of Pepper (the bully!) in her middle-school production of "Annie Jr." Sophia, on the other hand, jokes that "I am the first person in my family to graduate from college that wasn't a clown college." Only here's the thing: She's not joking!
'My dad was a clown and my mom was an elephant-riding, aerial-performing showgirl.'
"My parents met and fell in love when they were both performers with the Ringling Bros. Barnum & Bailey Circus," she says. "My dad was a clown and my mom was an elephant-riding, aerial-performing showgirl."
Sophia grew up in Golden performing with the world-famous Westernaires, a company of 1,000 young people ages 9 to 19 who teach self-respect, responsibility and leadership through horsemanship. She performed on the precision-mounted drill team on horseback. Her theatre career was cut short by a leg injury in high school.
Meanwhile, Brenna graduated from Colorado State University with a Masters of Arts Leadership and Administration. "I love building relationships with others in the community who enjoy theatre and art experiences," she said. "I have extensive experience in customer service and relationship management, and love a challenge when working on new projects."
Sophia grew up around the legendary Heritage Square Music Hall, where her father, Scott Koop, was an actor and longtime Stage Manager. He once put his circus skills to work by playing Fezziwig as a clown in Heritage Square's "Ebenezer," a variation on "A Christmas Carol." He's pictured to the right performing with the legendary Annie Dwyer and TJ Mullin in 2009's "Desperado."
Sophia graduated from Lakewood High School and Western State University in Gunnison. She has had many creative opportunities with the Denver Center Theatre Company, including Assistant Directing mainstage productions of "Smart People" and "The Constant Wife."
One of Sophia's myriad responsibilities during the COVID shutdown has been processing donations that came in during the Arvada Center's "Reignite the Arts" capital campaign, which brought in more than $775,000 to help keep the Arvada Center engine running. "It truly gives me hope we will be able to move forward and continue to thrive just knowing there are people out there who support us," she said.
Get to know these unsung off-stage heroes of the Arvada Center further through these three questions posed by Content Writer Leslie Simon:
BRENNA CLENDANIEL
What was unique about your childhood? "I was raised about 20 miles southeast of Tucson in Vail, Arizona. I signed up for a lot of different sports. I tried basketball, softball, bowling, gymnastics and cheerleading. Nothing truly stuck – until I auditioned for "Annie Jr." That's when I discovered the arts, and I was drawn to them from then on."
And how did that happen? My best friend in middle school wanted to audition for "Annie Jr." I wasn't as interested, but I desperately wanted to hang out with her. She didn't show up for auditions, but I did, and I actually really enjoyed the experience. I loved the process, and I especially loved performing. I can still remember the first performance in my mind. I had the biggest grin on my face. (Pictured at right: Brenna Clendaniel was REALLY looking forward to "Kinky Boots" at the Arvada Center.)

"Theatre helps you process grief in a powerful way."
What obstacles have you had to overcome? My dad passed away of cancer when I was in college. It was devastating for me and my whole family. Although he was never an artistic guy, he always supported me and my love for the arts. He attended my performances and paid for my acting classes. Theatre helps you process grief in a powerful way – not just performing, but watching as well. I could process emotions and witness struggle in a way that the real world never really talks about. There is this really traumatic thing that happens at the end of Arthur Miller's "All My Sons," and when I was watching that play here at the Arvada Center, I could really relate to those characters because it was similar to what I went though. The grief is never gone, but understanding the pain definitely helps move through it. Being part of a community of people who are both empathetic and open to hearing about your struggles is really powerful. The arts just create that community for you – whether you are looking for it or not.

Sophia Koop, second from left, with cast members Carol Schultz and Rodney Lizcano, and director Shelley Butler of the DCPA Theatre Company's 'The Constant Wife.' Photo by John Moore

SOPHIA KOOP
What was unique about your childhood? While my parents' lives in the circus were long behind them when my sister and I came along, there was rarely a dull moment in our household growing up. Working in the arts was ingrained in me.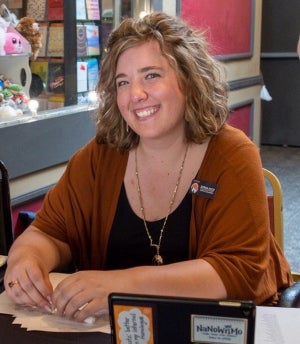 How did you find the arts? As might be expected, I was bitten by the bug from the very beginning – although my sister somehow avoided it pretty well. I was enrolled in dance classes from a young age and I would spend nights drinking Shirley Temples with my dad from the light booth at Heritage Square Music Hall. I am forever grateful that I was given the encouragement to explore the arts as a kid and be surrounded by the amazing communities that art can create.
What obstacles have you overcome? In high school, I suffered a leg injury that kept me in a walking boot, crutches and a wheelchair for more than a year. (It's not a very exciting story – I tripped off a curb.) But I had to give up all acting and dancing during that time and it actually opened the door to explore more opportunities within the theatre. I think it is important for kids to realize that there are so many other ways to be involved with the arts, especially out of the limelight. I believe that my injury was the beginning of my journey to the administrative side of the arts, which I am so grateful to be a part of now.
Now, check out the video:
Video above by Jacinta Lobato, Teresa YoKell and Marcus Turner.
To follow the Arvada Center's #HumansOfArvadaCenter campaign, go to instagram.com