'THE FAMILY TREE' OFFERS ACTORS RARE CHANCE TO WORK DURING PANDEMIC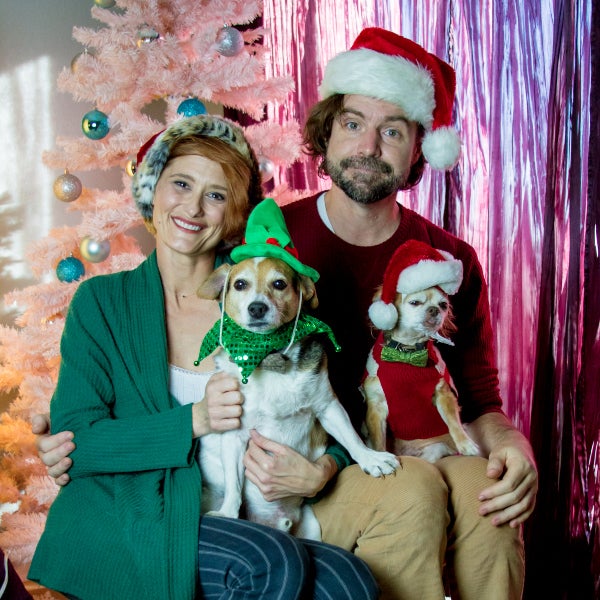 Three of the four members of the Jessica Austgen and Geoffrey Kent household appear in 'The Family Tree.' (That's Titus on Kent's lap.) Photo by Leslie Simon.
The Arvada Center's live, all-virtual holiday offering is a union first for Colorado

By John Moore, Senior Arts Journalist
At a time when the labor union that represents more than 51,000 professional actors and stage managers is essentially forbidding its members to work right now, the Arvada Center is celebrating something of a COVID milestone this week.
The company's innovative holiday comedy "The Family Tree," opening Tuesday (December 2), is the only full run of a live indoor production that Actors Equity Association has allowed to take place in Colorado since the COVID shutdown closed theatres across the country in March.
That's a big deal for many reasons. One being that for the first time in nine months, the cast's Equity members will receive union-scale wages and essential work credit toward their continuing health insurance. Just like in the old days B.C. (Before COVID.)
But the reason it was approved is because "The Family Tree" is an entirely virtual play. Actors will be performing the family story in real time into cameras set up in their own homes, taking full advantage of the technology that has come to define the year: Zoom. Because there are no in-person audiences, no one performing or watching the play will be put at any more risk than they would be sitting at home watching their own televisions.
"The Family Tree" is the brainchild of playwright Jessica Austgen, a prolific actor, improviser, director, podcaster and theatre educator who was named Colorado's Theatre Person of the Year in 2018.
Frankly, she never thought the idea would get approved, and for good reason: The Actors Equity Association website right now issues an unmistakable warning for its membership: DO NOT WORK.
This warning is posted for union actors on the Actors Equity Association website
It reads: "As an Equity member, you may not perform or stage manage without an Equity contract. That's rule number one on the back of your Equity card: Under no circumstances may you rehearse or perform without a properly executed and signed Equity contract. You may face union discipline and risk losing your membership for any violation of this membership rule – which applies even if your membership is inactive."
All of which makes Austgen doubly grateful for "The Family Tree," which will employ five union actors, one union stage manager, four non-union actors – and a dog.
"For me, this contract keeps my health insurance going into next year, so it was a really, really big deal," she said. "If that avenue were closed, I have absolutely no idea what I was going to do."
Fully celebrating the gift of this work is hard, added Geoffrey Kent, Austgen's husband and scene partner, "because there are so many others who have not had this kind of an opportunity in a very long time." But the couple has lost more than $85,000 in planned household income since the shutdown, which only underscores how important "The Family Tree" is to their bottom line – and how joyful they are to create some art again.
"Getting back to work is part of what makes you feel like an artist," Kent said. "So to watch this house suddenly have a playwright pounding out a play and talking together about how to tell the story does bring back that creative energy to our home, and we hope that comes across in the piece."
The union's hard-line stance on working in live theatre right now can be explained in one of two ways: Its mission is essentially to advance the careers of its members by negotiating wages, improving working conditions and providing a wide range of benefits. There can be no greater mission than keeping its members safe during the worst pandemic in a century – even if those members desperately want the freedom to make their own decisions whether to work on any given show right now. And then there is also the pragmatic reality that the union simply cannot put itself in the legal position of allowing members to go back to work and risk the consequences should any of them then get sick or die.
"The Family Tree," happily for all involved, involves no such risk to anyone.
Austgen pitched to the Arvada Center her vision for a 75-minute adventure that allows the audience to sit in on an Arvada family's holiday Zoom calls over the course of a December when they can't be all together in person. Each pretend family unit is being played by a real-life family unit to eliminate any risk of increased exposure to the virus. For example, Austgen is paired with Kent. Another family pod consists of Steve Wilson – a past-life actor who has spend much of the past three decades as an administrator but is returning to his comic roots alongside his wife, the esteemed actor Leslie O'Carroll (she's played Mrs. Fezziwig 20 times for the DCPA Theatre Company) and their teenage daughter, Olivia.
At this point in the pandemic, most people are likely familiar with Zoom's ability to break a group call into smaller breakout rooms. So audiences will have two opportunities to follow the family unit of their choice without losing the overall thread of the story – which loosely concerns a missing family holiday trinket.
"The Family Tree" joins the audio play "A Child's Christmas in Wales" as original holiday offerings from the Arvada Center, which has been at the forefront of creating alternative programming for its audiences since the start of the pandemic. "I really think this makes the Arvada Center an arts leader in our state as the largest theatre company that is going to produce holiday entertainment," Kent said.
"And one of the things we don't want to lose in this story is the importance for an audience to have theatre. We hear from audience members all the time how they miss live theatre. And we miss it bringing it to them. So I think not only are we creating something that puts artists to work, we are also creating opportunities for family members to safely sate their thirst for live theatre."
John Moore was named one of the 12 most influential theater critics in the U.S. by American Theatre Magazine during his time at The Denver Post. He also is the founder of The Denver Actors Fund, and is now contributing reports for the local theatre community for ArvadaCenter.Org. Reach him at culturewestjohn@gmail.com.
"The Family Tree: A Virtual Holiday Comedy"
Playwright: Jessica Austgen
Director: Lynne Collins
Dates: December 2-20
Performances: 7 p.m. Wednesdays through Sundays
Run time: 75 minutes, with an optional talkback after each performance.
Platform: Zoom - webinar style (audience members will not be seen by cast)
Pricing: Pay what you want: Available prices $20, $25, $30, $35, $40, $45, $50
Order by phone: 720-898-7200
Cast list:
Jessica Austgen
Sean Michael Cummings
Jada Suzanne Dixon
Kate Gleason
Tresha Farris
Geoffrey Kent
Leslie O'Carroll
Titus
Olivia Wilson
Steve Wilson
Stage Manager: Christine Moore