THEATRE NEWS: LIVE STREAMING PANEL COMING MONDAY ON BIG 'IDEA'
By John Moore, Senior Arts Journalist
The racial and social unrest unleashed by the police killings of Black Americans Elijah McClain, Ahmaud Aubery, Breonna Taylor, George Floyd and many more has led to a racial reckoning in every corner of everyday American life. All over, industries that have either subtly or overtly benefited from decades of white male patriarchy, including the American theatre, are being called to task like never before. Make that called to "a task": The task of re-examining, reinventing and, once the coronavirus subsides, reopening in a way that marks a real new commitment to inclusion, diversity and access on all American stages. And on their payrolls.
In Colorado, actor and director Lisa Young has launched IDEA Stages as an urgent new initiative with a mission "to galvanize theatremakers to take demonstrable action toward inclusion, diversity, equity and accessibility." Her start-up team is made up of six other powerful Colorado theatre leaders:
How do the founders plan to affect change in the Colorado theatre community, and upon whose authority? We will be talking about that and many other events and issues that brought IDEA Stages to life in a free and free-wheeling livestream beginning at 7 p.m. Monday, August 24. The broadcast will be hosted on the John Moore Theatre Coverage Facebook page. To learn more about IDEA Stages, click here.
NOW NAME-DROPPING ... BRIAN LANDIS FOLKINS!
It's got to be wonderfully strange to see your name listed alongside Tom Hanks, Bill Murray and Denzel Washington. … AND Ben Affleck, Timothée Chalamet and Willem Dafoe. … AND Jessie Eisenberg, Michael Fassbender and Joseph Gordon-Levitt. … AND Gary Oldman, Dev Patel and Eddie Redmayne. But there it is: Denver actor Brian Landis Folkins is mentioned as one of the leading Best Actor contenders for the 2020 Oscars by "Awards Ace," self-described as Hollywood's leading source for Osca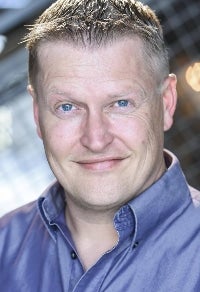 rs predictions.
Granted, there are 33 names on the list, but Folkins also has a red diamond next to his name, making him one of only eight personally recommended in the category by "Awards Ace" Editor Erick Weber.
"That moment that changes your life forever," Folkins wrote on his Instagram page.
(Side note: The list also includes Delroy Lindo, a founding member of the DCPA Theatre Company in 1980, for the Spike Lee film "Da Five Bloods.")
Folkins, who won a 2018 True West Award for his performance as Senator Charles Whitmore in the Fine Arts Center at Colorado College's "Church and State," stars in the new horror film "Rent-A-Pal," opening in theaters and on-demand on September 11. Folkins plays a creepy 40-year-old virgin who lives with his mother (longtime DCPA Theatre Company actor Kathleen M. Brady). Things get creepier when he discovers a strange VHS tape called "Rent-A-Pal" whose charming host Andy (TV and film star Wil Wheaton) offers him much-needed friendship – at a cost. The director is Jon Stevenson, a 2010 graduate of the University of Colorado Denver.
Folkins is a longtime DCPA Teaching Artist whose stage credits include Curious Theatre's "Gloria" and "The Intelligent Homosexuals Guide to Capitalism and Socialism with a Key to the Scripture." In "Church and State," he played a republican Senator from North Carolina who is up for re-election just weeks after a gun massacre at a nearby school. His film resume includes "Hoax," starring Adrienne Barbeau about a camping trip gone wrong. Read more about 'Rent-A-Pal.'
MARGO LONG RETIRES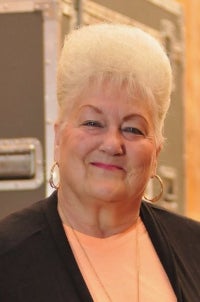 Many in the local theatre community are at a loss over news that Margo Long has retired after 15 years as Account Manager at IPG Rental & Sales, an Arvada-based company that rents lighting, audio, video, rigging and scenic equipment. To many, Long was the friendly face of the company. If you ever needed a weird gobo or a case of gaffe tape, you just called Long.
"Margo has had a huge impact on theatre and the performance industry in Colorado," said Arvada Center Lighting Director Jon Olson. "The friendship, tutelage and resource she has provided to this arts community, schools, churches, banquet halls – anyone who does any type of production – is unprecedented."
Long summed up her own career pretty well on her LinkedIn page, saying: "I set out every day to do the best job at any and everything that might be sent my way."
DENVER ACTORS FUND ANNOUNCES NOT 'MISCAST' BUT … 'CAST!'
That's a wrap! The Denver Actors Fund's temporary DEAR Fund for emergency artist relief has run its course, having provided critical, short-term income replacement for nearly 300 Colorado theatre artists who were denied the opportunity to work on a musical or play that was postponed or canceled by the COVID19 shutdown. In all, the emergency fund sent out $101,731 to Colorado theatre artists working for 60 different theatre organizations in 45 cities and in 23 different professions. The DEAR Fund also made space for "theatre-adjacent" workers including teaching artists, box-office workers and front-of-house staff. While the primary reason for The Denver Actors Fund's existence is to provide financial and neighborly assistance for theatre artists in immediate medical need, the unprecedented theatrical shutdown has the nonprofit continuing to explore new ways to support affected artists with everyday expenses as this crisis grinds on....
In other DAF news, producers Robert Michael Sanders and Kenny Moten have announced that the major fundraiser they present each year for the benefit of the DAF will not be 'Miscast' for 2020, but rather "CAST." In an acknowledgement of the national theatre shutdown and the performance dreams it has shut down with it, Sanders and Moten are putting together a virtual evening showcasing invited local actors performing showstopping numbers from roles they were cast to play this summer and fall but didn't because of the coronavirus. A lineup and video launch date (likely October 4) will be announced soon …
The charming coffee-table book "Quarantine Week by Weak" is available for pre-order. This labor of love by married couple Chloe and Susannah McLeod takes a clever photographic look at life and love in the time of the coronavirus. It's made up of 35 sets of humorous photos comparing the beginning of quarantine to later in the stay-at-home period, with all net proceeds going to the DAF. Click here to order
COVID NEWS
Performance Now Theatre Company is now planning to re-open next March with "The Drowsy Chaperone" at the Lakewood Cultural Center (March 19-April 4) and "Nunsense" (June 11-29). The previously announced shows "Nice Work if You Can Get It" and "West Side Story" are indefinitely postponed.
IN CASE YOU MISSED IT:
Denver dance legend Cleo Parker Robinson will revisit two seminal works she staged at the Arvada Center in the 1980s as part of a major streaming event that drops at 8 p.m. August 22 and will remain available for online viewing through August 28. Read more
The Colorado Theatre Guild will not be judging shows for Henry Awards consideration through the remainder of 2020 so that it can re-evaluate every aspect of the judging process while most of the theatre community is pressing pause. Read the full statement here
Broadway star and Colorado native Beth Malone, who returns to the Arvada Center to perform two concerts in the outdoor amphitheatre on September 4. Read our exclusive interview here
The Arvada Center's 'Amplify' performance series is now turning the mic over to local Black women. Read our interviews and watch the first new episode, featuring Colette Brown, Jasmine Jackson, Latifah Johnson, Marisa Hebert and Stephanie Hancock. Read and watch here
John Moore was named one of the 12 most influential theater critics in the U.S. by American Theatre Magazine during his time at The Denver Post. He also is the founder of The Denver Actors Fund, and is now contributing reports on the arts community for ArvadaCenter.Org. Reach him at culturewestjohn@gmail.com.