PIVOTING WITH ... TODD DEBRECENI AND HIS 3D HALLOWEEN MASKS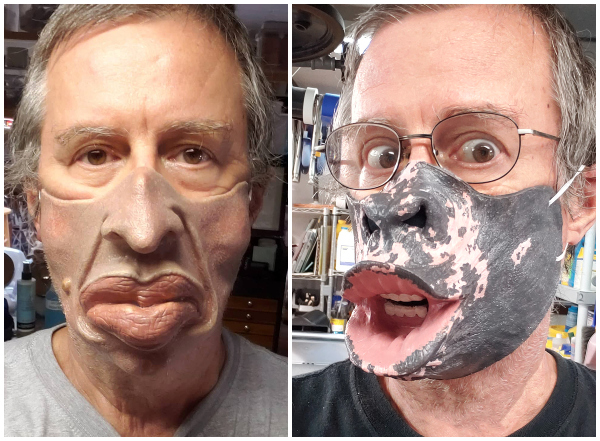 Prosthetics master says, hey, it's Halloween. Why not have a little fun?
"Pivoting With ..." is an ongoing series talking with members of the Colorado theatre community about how they are adapting to changes in their creative and personal lives as the COVID pandemic continues. Today: Henry Award and True West Award-winner Todd Debreceni, master of film and theatrical prosthetics, special makeup effects, props, costume props and more.
How would you describe your 'normal' creative life before COVID? "Normal" creative life? Hah! 2020 was shaping up to be a pretty good year work-wise before the you-know-what hit the fan. And then the bottom dropped out. I lost two feature films and two musical productions that were done deals, and who knows what else would have come down the pike? I've been quite fortunate when it comes to projects finding me. I hope some of it is due to my website and SEO, but I think a lot of it is because of my books, and that I've been doing this for a long time. I honestly can't remember the last time I solicited work before COVID.
What are you doing to pivot? I think what a lot of my peers in the industry are doing to pivot, as I am, is redirecting our skills into other somewhat related areas of artistic endeavor. A number of my makeup pals have picked up their easels and paintbrushes again, or are channeling their creativity into other pursuits such as photography, drawing, sewing, continuing education and things like that. I'm redesigning our backyard into something I hope will be a magnet for songbirds, butterflies and honeybees next spring. I've also taken it upon myself to have some fun with all the COVID (bleep). If we're all having to wear masks, why not have some fun with it and sculpt some interesting 3D physical features that could be worn as a COVID-compliant facial mask? Halloween's a-comin'. (Note: Masks start at $45, they can be outfitted with N95 filtration for an additional charge. Order here.)

Your Halloween mask choices include, from left: Chimp Vitiligo, Big Lips, Inquisitive, Eye of the Beholder and Snooty. Order here.
'They're silly, they're goofy, and we can all use a good chuckle, especially these days.'
Why are you doing it? Two reasons. 1. To keep myself occupied so I don't drive my wife, Donna, any more nuts than this year is already making her. And, 2. They're silly, they're goofy, and we can all use a good chuckle, especially these days. I get some great looks at the grocery store, I can tell you!
How can people find your Halloween masks? I started sculpting the masks back in July, and they are now for sale on my website. They're already selling! Each one is a custom, hand-made . My mask. You can expore the options and purchase your favorite at backporchfx.com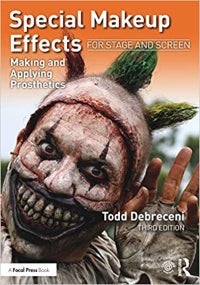 What are your words of encouragement for other local creatives who are now pivoting their way through 2020? Hang in there! It could be worse! Seriously, though: Now is the time to really be on the lookout for opportunity, and exploit it The Marine Corps has a saying: 'Improvise, Adapt and Overcome.' We will get through this and be stronger for it.
A note on COVID and these Halloween masks: Todd's novelty masks are not surgical masks or respirators. They are made of high-quality latex and neoprene rubber and are hand-washable. He makes no claim that they are CDC-compliant He can outfit them with N95 filtration, but that's not how they come. It's an add-on. Buyers may want to cut out the nostril holes and add their own filter media to improve breathing and add another measure of protection. Use skin tape to attach the filter media and seal around the edges.
Compiled by Senior Arts Journalist John Moore. Are you pivoting? Email John at culturewestjohn@gmail.com.
Pictured: The third edition of Todd Debreceni's industry book ,'Special Makeup Effect.' That's actor and Denver native John Carroll Lynch appearing on the cover as Twisty the Clown from 'American Horror Story.' Order here.