Our last show of the season is finally here, and it's going to be a great one! The Curtains' cast began rehearsals yesterday, and kicked it off with an Arvada Center tradition, the first rehearsal Meet and Greet. Employees from different divisions of the Arvada Center joined the Curtains' cast and crew for some delicious breakfast burritos provided by the Performing Arts Committee, and the opportunity to get to know one another.
For veteran members of the cast returning to the Arvada Center, it was a time to catch up with old friends, while the new actors and actresses to the Arvada Center were welcomed in with open arms. Chit-chat, laughter and lots of food were present in the room. It was a great way to begin the show that will close our 2012-2013 season.
Check out this neat tweet from cast member Johnny Stewart

Rehearsing the opening number! @arvadacenter pic.twitter.com/5Dt0RvFViP
— Johnny Stewart (@jstewart750) June 19, 2013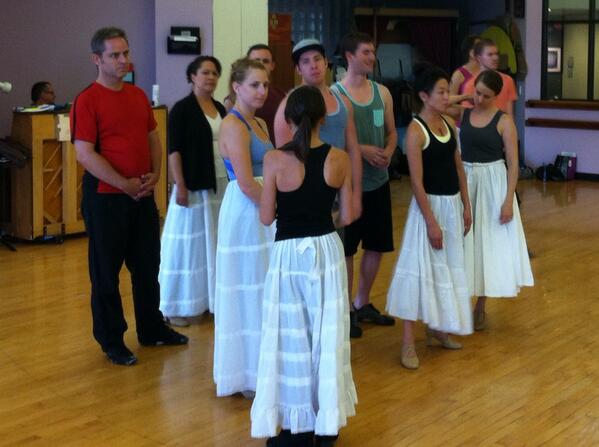 After meeting one another, everyone settled into their seats as Director Gavin Mayer said his welcome speech. The excitement from the cast was apparent as they introduced themselves to the entire room. The Curtains' cast is filled with enthusiastic, upbeat actors and actresses and an outstanding crew, which will make Curtains one amazing show.
The whodunit musical comedy Curtains features a dazzling musical score by the legendary team, Kander and Ebb ( Chicago, Cabaret ) and was nominated for eight Tony Awards, including Best Musical, Best Book, and Best Original Score. The chief sleuth, Lieutenant Frank Cioffi, with a secret affinity for musical theater, investigates the murder of a Broadway-bound theater company's tremendously untalented star on opening night. Could the culprit be the hard-edged lady producer, one of the recently divorced songwriting team, the egomaniacal British director, or the seemingly sweet ingénue? Curtains will have you on the edge of your seat – laughing!
Curtains will open July 9 and will run through July 28. Don't miss it!