COLORADO'S FEISTY, FEROCIOUS FAIRY GODMOTHER PASSES AWAY
Bev Newcomb-Madden celebrated her 90th birthday on July 2, 2018, during which she recited a poem from memory called 'Little Orphant Annie' by James Whitcomb Riley. Video by John Moore.
BEV NEWCOMB-MADDEN HAS DIRECTED MORE THEATRE THAN ANYONE IN COLORADO HISTORY

By John Moore, Senior Arts Journalist
With nearly 300 credits in her 92 years, Bev Newcomb-Madden was the most prolific director in the history of Colorado theater. She was, according to leading local actor Megan Van De Hey, the feisty, ferocious fairy godmother of the entire Colorado theater community.
The hundreds of actors Newcomb-Madden launched, nurtured and consistently employed would agree. It's a list that starts with her three acting children: Claudia Carson, Jamie Newcomb and Glenna Kelly.
"My mother has had an incredible impact on so many actors in this community," Carson said. "And it goes far beyond just being their director. Many people have told me, 'Bev gave me a chance. She made me a better actor. She changed me."'
Another was Billie McBride, one of Denver's most highly sought directors and actors. Not so much when she arrived here in 1997.
"I had auditioned all over town, and I was convinced that Denver simply did not want me here," said McBride, who won the Colorado Theatre Guild's Lifetime Achievement Award in 2014, a decade after Newcomb-Madden did the same. "My last audition was going to be for 'Moon Over Buffalo,' at the Arvada Center, and if I didn't get in, then I was getting out." Instead, she got in, and The Denver Post called the play "a four-star frolic."
"Bev was willing to give a newcomer a chance," McBride said. "And because of that, here I still am."
Madden directed a wide variety of plays and musicals, but her comfort zone was comforting an audience. A prototypical night of Newcomb-Madden was a perfectly nice night of theater. In fact, "No one does nice like Bev Newcomb Madden," The Denver Post once wrote. "No one else comes close."
Bev Newcomb-Madden with her family on her 90th birthday in 2018. Photo by John Moore.
And yet, even as she approached 300 productions, she was always convinced her current job would be her last.
"Even after all these years, when people call out of the blue and ask me to do a show, I think, 'You want me? Really? Haven't you figured it out yet? I don't know what I'm doing,"' the legendary Denver native once said with her still-girlish giggle.
That giggle was silenced on Tuesday when Madden died in Hawaii from ongoing medical complications. She typically wintered there with her second husband, Rick Madden, to get away from the harsh Colorado winters.
Her children were summoned to her side in August 2019 when her deteriorating breathing issues were diagnosed as terminal. But Newcomb-Madden, who had to be tough and resilient to build up her portfolio as a woman in a male-dominated field, surprised no one by not dying. She wanted to come home to Colorado to spend her final days with her family "and the very few friends I have left who can still take nourishment," she joked last year. But by the time she was cleared to travel in April, COVID made the flight too dangerous.
"We all knew this was coming, but it was Bev, so it was hard to imagine her ever giving up," said Madden's great-niece, award-winning Arvada Center actor Emily Van Fleet. "She was a fighter to the end."
The Newcombs rank among the first families of Colorado theater, having participated in more than 1,000 plays since Bev appeared in "The Bluebird" at the Divine Science Church at age 3. That was in 1931.
"We don't know how to do anything else," Madden said in a previous interview. That includes her granddaughter, Claire Carson, who had appeared in four professional plays directed by the woman she called "Gramjo" before she was 12. ("All paid!" Newcomb-Madden bragged.)
"You were kind of scary," Claire said at a gathering of the three generations of Newcomb women. "You're always so lovey-dovey at home, and then at the theater you're like, 'You: Go there! You: Over there!' I was like, 'Oh … so THIS is what you're like as a director!"'
As a director, Newcomb-Madden was, well … direct. "I have, at times, been known as being stern," Bev agreed with a laugh. "I don't pussyfoot around, because I don't know how."
Van De Hey made it through a four-star production of Newcomb-Madden's "The Skin of Our Teeth" by the skin of her own teeth. She was not the director's first choice to play the cheeky maid Sabina in Thornton Wilder's apocalyptic family classic.
"She put me through hell," Van De Hey said bluntly. "I was her chosen target, and anyone who ever worked with her will tell you there always was one." Just before the opening performance, Newcomb-Madden dropped by Van De Hey's dressing room and said to her sweetly: "I just want you to understand, Megan, that if the audience does not fall in love with Sabina from the start, then the whole show is doomed." Then turned and walked away. Soon she was Van De Hey's biggest fan.
"There was something so delightful and grandmotherly about Bev," Van De Hey said with a laugh. "But she could be ferocious." That came with the territory.
"I came up through Henry Lowenstein's school of theater," Newcomb-Madden said. "And as a woman, I was always expected to do it quicker, faster and with fewer problems. That was my training, and I learned fast what was expected of me if I was ever to be hired back."
Lowenstein was the legendary producer who ran the Bonfils Theatre on East Colfax Avenue (now the Tattered Cover Book Store) from 1953 until it closed in 1986, by which time the theater bore his name.
Park Hill beginnings
Beverley Jean Van Fleet Newcomb-Madden, affectionately known in theater circles as Bev Jo, was born in Denver on July 2, 1928. She was the middle of three sisters and grew up in the Park Hill neighborhood. She graduated from Denver East High and was accepted into the American Academy of Dramatic Arts in New York. But her father felt she wasn't quite ready to take Manhattan, so she studied theater at the University of Denver before doing what a lot of young women did in the late 1940s.
"I dropped out to get married and have a family – and I never looked back," she said.
Though she married first husband Jim Newcomb in 1948, Bev thought her life in the theater was over. Instead, the young mother began teaching informal theater classes for neighborhood kids in her basement and presenting shows such as "The King's Creampuffs." One pupil was the late Jeff Carey, who grew up to become a professional playwright ("Pan & Boone"). "Everybody in the family was involved in those shows," said her son, Jamie.
Before long, Newcomb-Madden was directing productions such as "The Reluctant Dragon" for the Junior League, then for a church group called "Saints & Sinners." Bob Banister, then the resident director at the Bonfils Theatre, recommended Newcomb-Madden to Lowenstein in 1968. The Newcombs introduced themselves to Lowenstein when mom, dad and two of their kids auditioned for Bonfils' production of "Gypsy."

Pictured: Megan Van De Hey in the Aurora Fox's 2009 'The Skin of Our Teeth.'

"It was like a breath of fresh air when they all showed up that day," said Lowenstein, who died in 2014. "And they have all had such a tremendous impact on theaters all over ever since."
Lowenstein named Newcomb-Madden a resident director at the Bonfils Theatre in 1969. She helmed 60 plays there, starting with what she called "a very forgettable" children's production of "Winnie the Pooh."
"I had no feeling for it at all," said Newcomb-Madden, who did have a feeling for "Pippi Longstocking," with whom she had felt a lifelong kinship. Her first of five productions starred a then 19-year-old Glenna, and later Claudia."It's about this very independent little girl who lives on the South Seas and is a nonconformist who sees things at a very odd angle," Newcomb-Madden said. "Lord knows that appealed to me. I understand that kind of character."
Lowenstein made it possible for Madden to have a life in the theater, but he didn't always make it easy on her. Still, "Were it not for Henry and the Bonfils Theatre, I would have remained a housewife," said Newcomb-Madden, whose career path later made an indelible impression on her great niece. (Pictured at right: Henry Lowenstein and Bev Newcomb-Madden. Photo by John Moore.)

"To me, as a young girl hopeful for a successful theater career, I looked at Bev as this superhero," Van Fleet said. "She seemed strong, fearless, brave and badass. And I wanted to be just like her."
Newcomb-Madden's first love was lighthearted, whimsical material. "I love comedy. I love farce. And I love musicals that don't have a whole lot of meaning," she said. Her all-time favorite was a four-star 1992 production of "The 1940s Radio Hour," which became the best-selling musical in Arvada Center history, and one she remounted in 2004 and 2011. She often revisited popular titles, including "Quilters," a musical about frontier women, and "Little Women."
In 2005, her staging of "Father of the Bride" for the Pinnacle Dinner Theatre featured a bit of stunt casting: The father was played by Eddie Mekka, the energetic Italian dancer who portrayed Carmine on TV's "Laverne & Shirley."
"Bev's greatest strength as a director was that she knew what an audience wanted," Van De Hey said. "She directed every show from the audience's viewpoint." And she believed her primary mission was to entertain.
"I don't do a lot of dramas because whenever I do anything serious, it usually turns out funny," she said with a laugh. "When I did 'The Glass Menagerie,' for example, it turned into a comic riot – and not intentionally."
And yet, looking back at her career, Newcomb-Madden was perhaps most proud of two dramas she directed: "Blood Brothers" in 1999 at the Arvada Center, and "Nixon's Nixon," in 2000 at the Aurora Fox, starring Greg Price and Duane Black.
"'Nixon's Nixon' will always have an indelible place in my heart because we put that show together right here in my living room," said Bev. "It was the story of Henry Kissinger and Richard Nixon on the night before Nixon resigned. Nobody saw it and nobody cared, but it didn't matter, because we cared."
"Blood Brothers," the story of young twins who end up being shot, was in production when the Columbine massacre took place in 1999. Newcomb-Madden was called in to pull the show together after the original director quit. "'Blood Brothers' is such a complex show," Carson said. "But mom made it simple so that you were overwhelmed by the sheer honesty of it."
Newcomb-Madden directed most regularly at the Bonfils Theatre, Arvada Center, Aurora Fox, Town Hall Arts Center and the Mizel Center, where she once directed Sue Leiser as the peasant matriarch in a 1984 production of "Fiddler on the Roof."
"Bev said to me, 'Susie, Golde does not walk like a model and wear nail polish,'" Leiser said. "And we have been best friends ever since."
Another classic, from Van De Hey: "Bev would start every rehearsal by saying, 'Don't be misled. My lips naturally turn down so it looks like I'm scowling – but I'm really not. Only here's the thing: She was."
Her final two directing efforts were back-to-back 2015 stagings of "The Spitfire Grill" for the Vintage Theatre in Aurora, and "Little Women" for the Aurora Fox.
But she also was known to take to the stage herself from time to time. At age 76, Newcomb-Madden played the giggling grandma who brought down the house in the Arvada Center's 2006 production of "Pippin." She sang the song "No Time at All," in which her Berthe supposes men only raise their flags in battle when they can't raise, well ... anything else. Her greatest regret? Never being asked to play Mame in "Auntie Mame" or Rose in "Gypsy." "I've never been a leading lady," she said wistfully. "Not once."

A pioneering legacy
Madden dealt with many health issues over her final decades, but she refused to be slowed by four knee replacements and a back surgery. She was cared for throughout her later years by Madden, her partner of 46 years and husband of 26. They met when he was an actor at the Bonfils Theatre – and she was often quick to brag that he was 22 years her junior. (Pictured at right: Bev Newcomb-Madden and Rick Madden. Photo by Becky Toma.)

The three generations of Newcombs represent more than 200 years of experience on and off Colorado stages, though the matriarch would bristle at any suggestion of nepotism. She worked professionally with both her daughters together only three times, including the Arvada Center's "The Man Who Came to Dinner" in January 2003.
"My mom's greatest asset is that she knows how to create an ensemble," Carson said. "When my mom does a play, it's one of those rare occasions where people get along, and that makes a difference in what you see on the stage."
Today, Carson is the Education Program Manager for the Denver Center for the Performing Arts, where she oversees the Bobby G Awards, recognizing achievement in high school theater; and an annual statewide student playwriting competition. She was the Production Stage Manager for the Denver Center's "I Love You, You're Perfect, Now Change," still the longest running production in Colorado theater history.
Jamie Newcomb was a member of the Denver Center Theatre Company's first resident acting company for eight years before spending 14 years with the Oregon Shakespeare Festival. He recently returned to Denver Center for productions of "Benediction" and "All the Way." Kelly retired at the end of 2020 as the Senior Manager of Educational Theatre and Youth Programs for Kaiser Permanente.
Kelly thinks her mother's legacy begins with her impressive longevity. (And maybe her affinity for fireball whiskey.)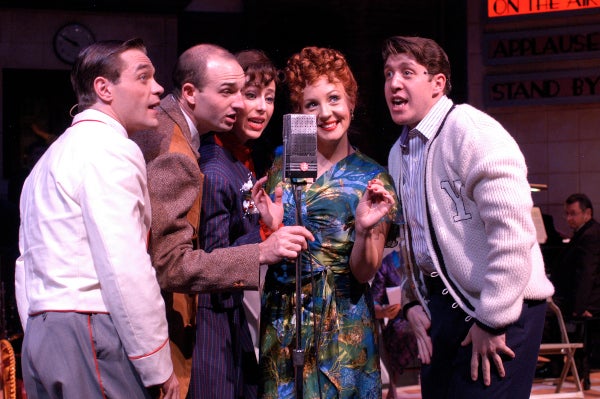 The Arvada Center's third staging of 'The 1940s Radio Hour,' from left: Matt LaFontaine, Ben Dicke, Lauren Shealy, Shannan Steele and Matthew Dailey. Photo by P. Switzer

"Bev bridged that transition from when Denver was a very small-town theater community of basically non-paying companies performing in church basements," she said. "She has managed to make her way and become successful as that whole environment has evolved into something much more competitive and on a much bigger scale."
'
Bev bridged that transition from when Denver was a very small-town theater community and has evolved into something on a much bigger scale.' – Daughter Glenna Kelly

It was only as Van Fleet grew into an adult theater-maker herself that she fully realized the seeds Newcomb-Madden laid for women like her. "She went through so much to get where she was, and it wasn't always easy," Van Fleet said. "It's only in her death that I have realized we can be both at the same time: Shaky and strong, scared and brave, uncertain and also bold. Success comes with tenacity and determination. That's what made Bev such a pioneer and such an example to the women in this community."
Kelly's fondest stage memory remains starring in her mother's third staging of "Quilters" at the Aurora Fox in 2004.
"There is particular meaning in that show for me," said Kelly. " 'Quilters' is about a woman who is at the end of the line. She's making her last quilt. And my mother used to quilt for us. We each have one that she made. For so many reasons, I never appreciated so much that opportunity to work with her."
"Because we don't know," Bev added at the time, "how many more chances we are going to get."
Newcomb-Madden is also survived by two sisters, Shirley Johnson (95) and Carol Van Fleet-Swift (89); and two grandchildren, Claire Carson and Daniel Newcomb. One of her many nieces is local actor and director Nanci Van Fleet (Emily's mother).
John Moore was named one of the 12 most influential theater critics in the U.S. by American Theatre Magazine during his time at The Denver Post. He also is the founder of The Denver Actors Fund, and occasionally reports on the local theatre community for ArvadaCenter.Org and the Denver Gazette. Reach him at culturewestjohn@gmail.com.