Costume Designer Madison Booth is making her debut at the Arvada Center with her work on Rodgers and Hammerstein's Cinderella, and we are excited to see her unique spin on this classic. Read on as Booth discusses past Cinderellas, 90s designer fashion, how much input actors have on their costumes and more, and take a look at some of the collages she has created of her inspirations and sketches.
Arvada Center: What did your process look like when beginning to create the looks we will see in Cinderella? Were you inspired by previous versions of the story? How did you decide to make it your own?
Booth: When Kenny (Moten, the director of the production) and I first sat down to talk about the show, he was very passionate that this show would not be your mother's Cinderella, and not your grandmother's Cinderella either.
He and Brian Mallgrave (Scenic Designer) had conceptualized a modern world with fairy tale elements, using several touch points like art nouveau and the Netflix series Wednesday. Kenny also wanted to make sure the clothes felt like stuff that kids today would want to wear, so I took to TikTok and Pinterest, looking for aesthetic trends from the last few years.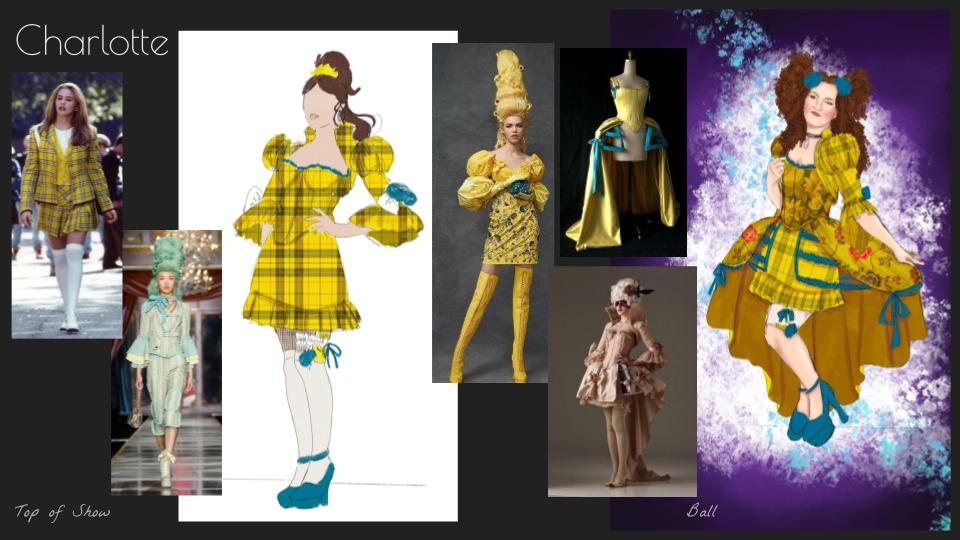 For the townspeople, I took a lot of inspiration from "Dark Academia" and added whimsical pops of color throughout to keep it feeling light and fairytale-esque. Kenny and I had also talked about "our Cinderella" - the version we grew up watching - which was the 1997 version with Brandy and Whitney Houston. I wove some nuggets from that movie into the costume as well as bits from the 2015 version with Cate Blanchett (Sandy Powell's use of color in that one is stunning!) and the 2005 spinoff A Cinderella Story with Hilary Duff.
With the stepsisters, I really wanted to redefine what is traditionally considered "ugly" by making them try-hard fashionistas, or wannabe influencers. I referenced Mona May's iconic plaid Cher Horowitz costume from Clueless and created these bright, garish looks with lots of prints and patterns.
AC: What have been some of your fashion inspirations for the costumes, particularly the ball?
Booth: Kenny came to me with the idea that the ball would be a Met Gala-style event with people bringing their best looks to show off for the prince. I still wanted a traditional ball gown silhouette to play with, so I decided to reference the Rococo period. I also loved the idea of mixing high and low-end style to build these looks.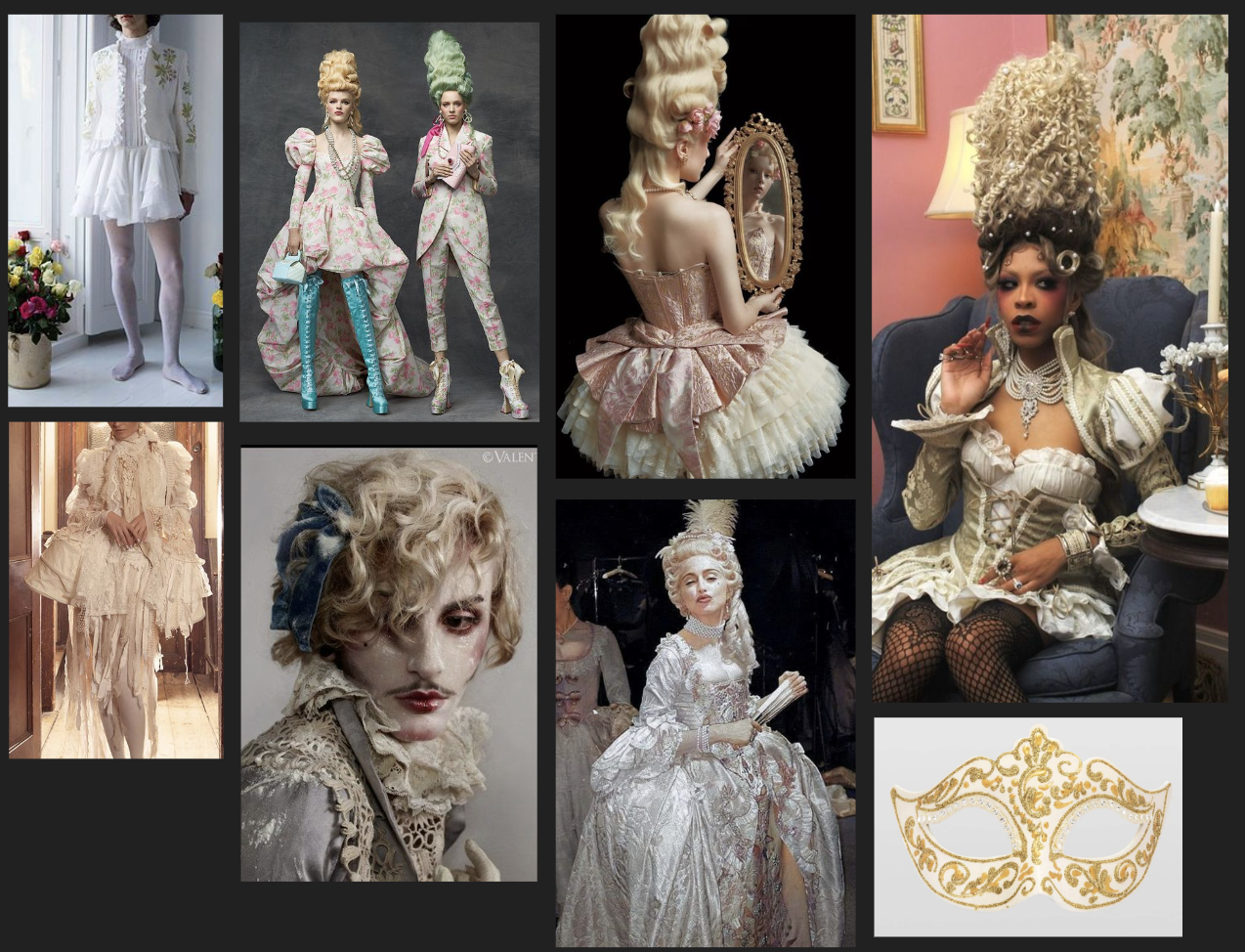 Some people are in head-to-toe ensembles as if they had rented a nice costume from a shop, and some people are in a DIY-mashup of modern and costume pieces that remind me of vintage photos of drag ball competitions. I'm also a huge fan of vintage designer fashion from the 90s, like Christian Lacroix, Christian Dior, and Alexander McQueen. I look to their work from that time period because the storytelling feels so close to what I do as a costume designer. For contemporary inspiration, I love the work of Dilara Findikoglu, a Turkish-British fashion designer whose aesthetic is very "dark romance." A few years ago, she designed a collection with gothic rococo elements that was the main inspiration for Ella's ball dress. I came across an image of one of her silhouettes from the collection, and it was like "That's it. That's our Ella."
AC: We hear there are interesting modern aspects in our version of Cinderella. Can you talk to us about how you are blending a fairy tale classic with modern sensibilities?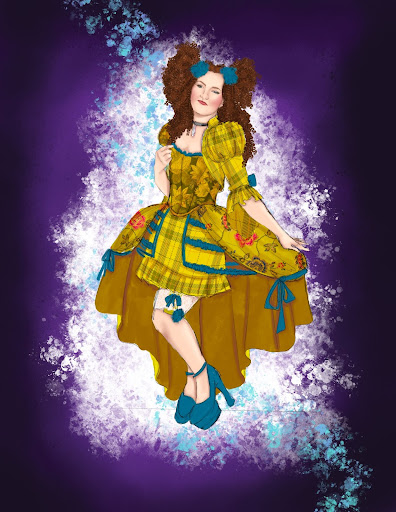 Booth: Whenever I've had to make a decision in the fitting room about an ensemble character, I go back to the show Wednesday. I want to look at a townsperson and believe that they could be running from a monster or typing on a laptop in a coffee shop. Looking at a lot of the internet aesthetic trends and people who like to dress in specific styles with modern clothing was very helpful in combining the modern and fantasy worlds.
Mashup styles are always about balance. For example, we can go really different with the design of the Ella dress for the ball, but it still needs to have the general shape of a ballgown and we decided to keep the classic blue color.
AC: How much input do the actors have when creating their costumes?
Booth: I love to start with a little research and development on my performers before I design, especially with mashup shows like this. (Lightly) stalking their Instagram profiles helps me figure out how expressive people are with their clothing: do they accessorize, do they not, what sort of footwear do they prefer, etc. Then I'll select pieces that I'm happy with, and provide the performers with some curated options to choose from.
There's so much amazing choreography in this show, and I want the priority to be comfort - which can mean multiple things. Both feeling right and safe on the body, and feeling right in the character.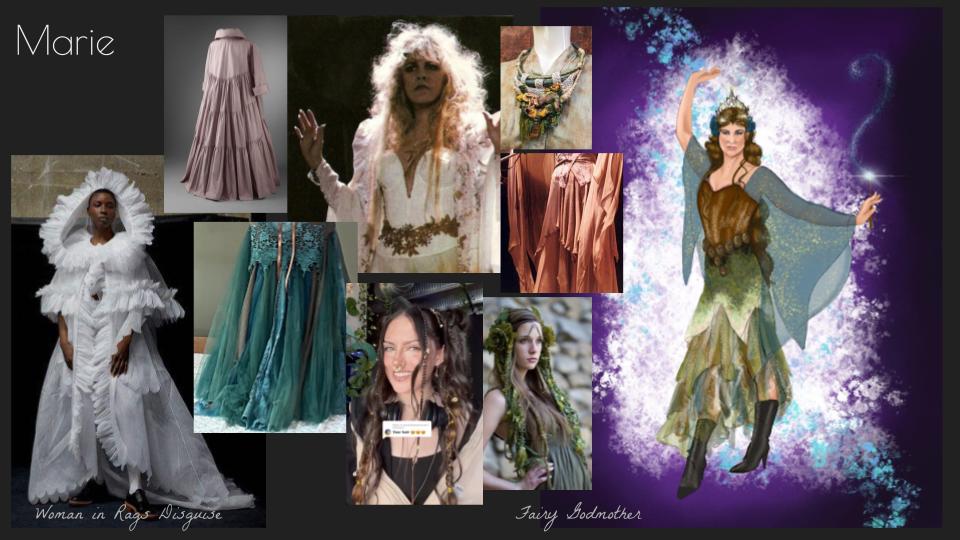 Q: If you had a fairy godmother, what would you like for her to create for you?
I wouldn't mind if she could find me a woodland creature to be a full-time assistant. Maybe she could hire out a raccoon or two.
To see Madison Booth's cool costumes in action, come see Rodgers and Hammerstein's Cinderella at the Arvada Center, running November 24 - December 31, 2023.