2020 DENVER FILM FEST WILL BE LONGER, SMALLER AND ALL DIGITAL
Denver Film Festival Director Britta Erickson with 2019 John Cassavetes Award winner Rian Johnson, director of 'Knives Out.'
'We're making it as easy as possible for you to sit on your couch and stream as many films as you want to see.'
By John Moore, Senior Arts Journalist
On the one hand, the 43rd Denver Film Festival won't take place in-person. On the other hand, the 43rd Denver Film Festival will take place. And, look, Ma: No standby lines. No parking hassles. Most films available on demand.
Hey, in the otherwise toilet bowl of a year that has been 2020, you have to accentuate the positive.
"As much as we wish we could all gather like in a regular year and sit in our theatres and feel that sense of community we all long for, there certainly is an upside to all of this," Denver Film Festival Director Britta Erickson said today. "At the top of that list is we're assuring the safety of our patrons and staff. And we're giving you more time to take advantage of our programming."
The all-digital 2020 Denver Film Festival runs October 22 through November 8, a full week longer than usual. But because the film industry largely shut down six months ago and is largely in chaos when it comes to finishing and releasing upcoming movies, the Denver Film Fest will offer only about 100 films (including shorts) this year through its new popular new Virtual Cinema platform. That's down from a norm of about 275 films. Spotlighted films that normally involve a red carpet will broadcast at specific, high-profile times, but most films will be available for patrons to watch at their convenience. While film distributors will require Denver Film to cap access to some of its highest-profile films, 2020 fest-goers will have the overall opportunity to see far more movies from home over 18 days than they ever could attend in person at a normal festival.
"We're making it as easy as possible for you to sit on your couch and stream as many films as you want to see," said Erickson. "You are getting the best of local, national and international cinema, and we have the right tool to deliver that programming."
(Pictured above and right: The 2019 Denver Film Festival offered expanded programming including 'Escape from Godot,' a live theatrical performance within an escape-room setting. Photo by John Moore.)
The 2020 lineup, to be announced October 1, again will include panel discussions, conversations with filmmakers, tributes and achievement awards. This year's fest will showcase Italian, U.K./Ireland, Women+Film, CinemaQ, CineLatinx, Colorado Spotlight and Social Justice. New this year will be a virtual High School Day for students and educators across the state. Erickson sees the switch to digital as a huge opportunity to attract a younger demographic of film lovers who already are very comfortable with streaming.
"In terrific times, and in challenging ones, the Denver Film Festival has stood strong for 42 years — and this year will be no exception," said Erickson.

In this historically cash-strapped year for arts organizations around the world, the success of the digital Denver Film Festival will be critical to the long-term financial health of Denver Film. "But we are very optimistic," Erickson said.
Since the pandemic essentially shut down the local cultural landscape in March, few area arts organizations have pivoted quite as nimbly as Denver Film. Almost immediately, curated films were made available for online screening. A "Dinner and a Movie" partnership was quickly formed with DoorDash that allowed anyone who ordered an online movie from Denver Film's selection of streaming titles to order meals from hundreds of local restaurants at no delivery charge. Stay-at-home moviegoers also could pick up snack packages from the Sie FilmCenter to complement their home movie nights.
On August 2, while every other indoor movie theatre remained closed, Denver Film began renting out its three cinemas for private parties of 10 or fewer to screen movies of their choice for $350. "Under the leadership of our Operations Director, Gina Cuomo, we have done 52 rentals to date," Erickson said. "Clearly people are wanting to get out of their houses and feel somewhat normal by going to the movies." The program will continue until the Sie FilmCenter reopens for regular screenings. Denver Film will evaluate a timeline for that in early 2021.
But the biggest pivot of all took place when Denver Film made lemonade out of the canceled 21st season of its massively popular Film on the Rocks summer concert series at Red Rocks. The always sold-out program, which combines a local band with a popular movie and 8,000 moviegoers, nets about $125,000 in essential revenue for Denver Film each summer.
When Red Rocks itself was shut down to concerts gathering more than 125 people, the Denver Film and Denver Arts and Venues teams began exploring a drive-in movie format. That led to the Film on the Rocks Drive-In series, which began on August 13 and will continue for two newly extended weeks through October 4. Four nights a week, Denver Film screens cult classics and guilty pleasures such as "Grease," "Goonies" and "Robocop" for up to 300 cars parked in the Lower South Lot 2 parking area, with sound piped into individual cars via FM radio frequency. With most screenings selling out at $59.60 per car, the series is expected to gross about $400,000 in all.
Upcoming titles (all offering open captions):
Friday, September 11: "Selena"
Saturday, September 12: "Remember the Titans" (sold out)
Sunday, September 13: "Star Wars: The Empire Strikes Back"
Thursday, September 17: "Bridesmaids" (sold out)
Friday, September 18: "Friday"
Saturday, September 19: "Rocketman"
Sunday, September 20: "Star Wars: Return of the Jedi"
Other titles TBA
And in the midst of all that, Denver Film also finally named its new CEO, James Mejia, just in time for festival season. Mejia, a film neophyte who served under Denver Mayors John Hickenlooper and Wellington Webb, most recently ran his own political consulting firm and was managing partner of Pan American Business, where he helped diverse organizations access new markets across Colorado.
"Denver Film has, and will always be, at the forefront of delivering programming, diversity and accessibility for our audiences," Mejia said today. "Despite the health and safety challenges presented by COVID and the disappointment of not being able to offer our regular in-person screenings, our team is incredibly proud of the work we've achieved to expand, reinvent and curate diverse offerings for our audiences over the past several months."
Passes to the 2020 Denver Film Festival are now available at early bird prices through September 24 in packages of four tickets ($45), 10 ($95) and all-access ($225). Individual tickets will go on sale to the general public October 5. Screenings will be geolocked, meaning they will be available to be viewed only on computers within the state of Colorado.
John Moore was named one of the 12 most influential theater critics in the U.S. by American Theatre Magazine during his time at The Denver Post. He also is the founder of The Denver Actors Fund, and is now contributing reports on the arts community for ArvadaCenter.Org. Reach him at culturewestjohn@gmail.com.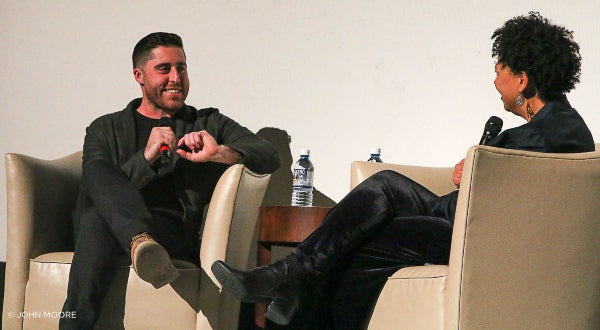 The 2020 Denver Film Festival will include taped artist conversations following spotlighted movies. Above, Denver arts journalist Lisa Kennedy interviews 'Waves' Director Trey Edwards Schultz last year following a screening at the Ellie Caulkins Opera House.