INDOOR THEATRE RETURNS TO THE AURORA FOX: DID IT FEEL SAFE?
The audience was kept far apart on Opening Night of 'Tomfoolery.' Photo by John Moore.
Like the virus itself, safety is not something you can see or touch. It's something you feel.
NOTE: The following is not a review of the Aurora Fox's "Tomfoolery." It is a first-person essay about attending the opening performance.
By John Moore, Senior Arts Journalist
As if it could get any more surreal: Driving to my first indoor play in six months in a haze of wildfire smoke so thick and colorless, it wiped out any evidence of the existence of the Rocky Mountains. Or pretty much life itself. Then came word over the radio that Supreme Court Justice Ruth Bader Ginsburg had died. The emotional pall now matched the overhanging atmosphere. It just felt weird. Like End Times.
In the B.C. times (Before Coronavirus), parking would be hard to come by at dusk on a bustling Friday night where the Aurora Fox, Vintage Theatre and the People's Building converge as the Aurora Cultural Arts District. But on this night, when the Aurora Fox would become the first metro company to re-open for live theatre in a major way, I turned off Colfax onto tiny Elmira Street and scored one of a dozen never-vacant spots just a few feet from the front door.
When I told friends I would be attending the opening performance of the Fox's precedent-setting indoor production of "Tomfoolery," a revue of satirical songs by the Harvard-bred political commentator Tom Lehrer, the response was divided between those who thanked me for having the courage to venture out (or in this case, "in") and support the return of live theatre; and those who acted like well, then, this just might be our final goodbye. "Why risk your life?" One person asked, straight out. (Well, because it's theatre.)
Afterward, my text messages were all wanting to know one thing: Did I feel safe?
It's a tricky question. Safe from what? How does one ever feel safe from an invisible, elusive enemy that now has taken 200,000 American lives in the past six months – more than our past four wars combined? The equivalent of those who died on 9/11 – multiplied by 67?
Like the virus itself, safety is not something you can see or touch. It's something you feel. And that is personal and subjective.
I can say that many of the now expected public safety measures were in place at The Fox. Everyone on the premises is required to wear a mask (other than performers while performing). The front lobby, a natural gathering spot to meet up with friends or grab a drink before the show, is off limits from stopping or standing. No concessions to reduce contact. Access to bathrooms is restricted to regulate traffic. Signs asking you to maintain 6 feet of physical distancing are everywhere. Hand sanitizer and anti-bacterial soap are placed in areas with high points of contact. Checking in at the box office means leaving your name and phone number in case "contact tracing" ever becomes necessary to track a positive case.
I can also honestly say that I would have felt safer if all patrons were having their temperature taken at the door – even if experts disagree over that practice as a valid COVID indicator. I would have felt safer if the Fox had some measure in place to move the indoor air around, as enhanced ventilation has been shown to reduce the risk of catching the virus.
But when I walked into the mainstage theatre, I certainly did not feel unsafe. If anything, I felt a bit like the Omega Man as I took my lonely seat high in the upper level far from the stage (per my preference). Capacity at the Fox is 242, but on Opening Night, there were only about 40 theatergoers present, and they were so thoroughly spread out it felt a bit like a private performance.
But one masked face that stood out from the rest was beleaguered Aurora Mayor Mike Coffman, who showed his support for the return of live indoor performances with his presence. Coffman might be a political lightening rod, but he has a history of supporting the performing arts from the Denver Center to Aurora. But given his conservative bent, I can't tell you how badly I wanted to know what he thought after taking in Lehrer's catalogue of subversive songs spanning from anti-war to cannibalism to smut to poisoning pigeons to "National Brotherhood Week," a bouncy, blistering little tune where Lehrer calls racism "as American as apple pie."
Lehrer, you may know, is perhaps most famous for coining the caustic phrase, "Apart from that, Mrs. Lincoln, how did you enjoy the play?" ... ("Apart from that, Mayor Coffman ...")
(Pictured above and right: Aurora Mayor Mike Coffman and Aurora Fox Producing Artistic Director Helen R. Murray. Photo courtesy Aurora Fox.)
(Story continues below the video.)
The Fox is limiting attendance to a maximum of 90 in the mainstage theatre for "Tomfoolery," which runs through October 11 – although it remains to be seen how many among the audience base will feel comfortable coming back inside for live theatre so soon.
I can tell you the greatest joy of the evening was simply being back in a theatre seat watching a live performance, enjoying the fleeting return of a sense memory that makes you think that, at least for the next hour, everything seems sort of normal.
Yes, hour. "Tomfoolery" Director Kenny Moten made an ingenious call by repurposing the musical from 90 minutes to a tight 60, which was just about exactly my comfort level sitting in static indoor air.
Onstage, a line of tape is laid down across the width of the stage, past which the four actors (and keyboardist Trent Hines) never cross. That's so no one in the cast ever comes closer than 26 feet to any audience member. That's prudent, but I admit I watched the show in some distracted fear that one couple chose to sit as close as the second row. Some experts (whatever that even means anymore) have posited that singers are capable of exhaling their breath aerosols as far as 60 feet.
Then again, that's one reason the Aurora Fox is vigilantly full-on COVID testing all performers (and any crew members they come into contact with backstage) at least once a week. The thinking being: No matter how far these singers' breath aerosols travel, these performers are the least likely people in the building to be carrying the COVID virus.
But these are confusing times, and who can blame anyone for feeling directionless on the subject? On the very same day "Tomfoolery" opened, the Centers for Disease Control (CDC) issued new guidelines suggesting the virus can transmit over a distance larger than 6 feet "and that indoor ventilation is key to protection against its spread." That's in line with what many independent experts also have been advancing from the start. But the CDC walked it all back on Monday, saying its new, stricter warnings had been posted to its website "in error." So, who knows?
In the end, did I feel safe? No more or less than I have every day in this uncertain, unsafe new world of ours, where I treat my nightly COVID walk as a game of human pinball. (Seriously, if you're walking on my side of the street, I'm crossing over to the other. It greatly increases my step count.)
But no, I didn't feel like I had even possibly exposed myself to the coronavirus by attending "Tomfoolery." More than anything, I felt grateful for this short little escape from the world burning out of control outside.
Or, as Lehrer himself put it in 1959: "I'd like to take you now, on wings of song as it were, and try and help you forget your drab, wretched lives for a while."
Mission accomplished.
John Moore was named one of the 12 most influential theater critics in the U.S. by American Theatre Magazine during his time at The Denver Post. He also is the founder of The Denver Actors Fund, and is now contributing reports on the arts community for the Arvada Center. Reach him at culturewestjohn@gmail.com.

NOTE: While the Aurora Fox is affiliated with Actors Equity, the union that covers 51,000 actors and stage managers across the country, it is not a full member. "Tomfoolery" is being presented as a non-Equity production, so it falls outside the bounds of its rules. To date, the union has not approved any plans for its membership to go back to work indoors at full Equity theatres, including the Denver Center for the Performing Arts.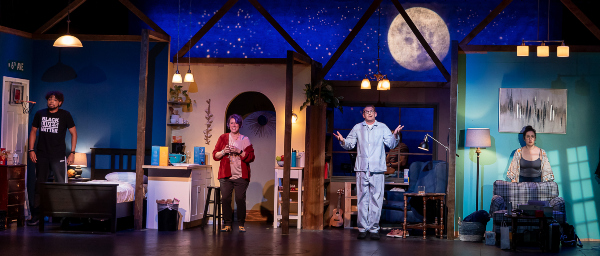 The cast of 'Tomfoolery,' from left: Mosés Brown, Corey Exline, Tim Howard and Valerie Igoe. Photo by Gail Marie Bransteitter
'Tomfoolery'
• Presented by the Aurora Fox in its mainstage theatre
• When: 7:30 p.m. Thursdays through Saturdays, 2 p.m. Sundays, through October 11
• Where: 9900 E. Colfax Ave., Aurora
• Tickets: $20-$40

• Call 303-739-1970 or go to aurorafox.org
Cast and creatives
• Music and lyrics by Tom Lehrer; Adapted by Cameron Mackintosh and Robin Ray; Musical arrangements by Chris Walker and Robert Fisher
• Director: Kenny Moten
• Featuring: Mosés Brown, Tim Howard, Valerie Igoe and Corey Exline. Voiceover by Beau Bisson.

• Music Director: Trent Hines
• Choreographer: Jessica Hindsley

• Production Manager: Jen Orf
• Production Stage Manager: Lauren Hergenreter

• Scenic Design and Technical Director: Brandon Philip Case
• Lighting Designer: Brett Maughan

• Sound Designer: Curt Behm

• Costume Designer: Emily Valley

Properties Designer: Elicia James

Compiled by Senior Arts Journalist John Moore
More photos from Opening Night:
'Tomfoolery' Director Kenny Moten and Aurora Fox Producing Artistic Director Helen R. Murray.
The parking lot outside the Aurora Fox before the opening performance.
Patrons leave their information in the event contact tracing becomes necessary.
The concession stand is closed to cut down on contact and money transferring.
'Tomfoolery' runs through October 11. Photos by John Moore.
Video bonus: Safety protocols at the Aurora Fox