Meet Argentinian Artist Ana María Hernando
By Leslie Simon
National Hispanic Heritage Month is being celebrated Sep. 15 - Oct. 15, and we are highlighting local Hispanic-Americans who have had a positive influence on the Denver metro region and beyond. This past March as part of our Amplify series, Latin American art museum Museo de las Americas turned our front lobby into a kaleidoscope of bright color. We spoke with one of the artists they present, Ana María Hernando, about the role Latin American culture has on her art and life as a whole.
Read on to learn more about Hernando, and then come experience Latin American art in action with the Brazilian fairy tale The River Bride playing in the Arvada Center Black Box Theatre through November 6.
Ana María Hernando, from Argentina and based in Colorado, is a multidisciplinary artist. She is interested in making the invisible visible, and devotedly explores the sacred feminine through women's rich histories, their daily lives and relationship to hand-worked textiles and wares. In her installations, Ana María uses textiles in abundance, and includes the work of women from around Latin America and beyond, from embroideries of cloistered nuns in Buenos Aires, to mountains of tulle, to the weavings and wares of Peruvian women from the mountains.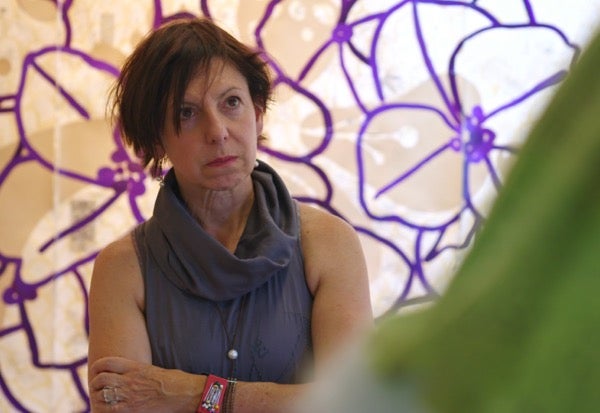 Photo Chad Herschberger, from the filming of Undomesticated, Ana María Hernando, a documentary by Amie Knox
Arvada Center: When in your life did you realize that art was important to you?
Ana María Hernando: When I was three or four, my parents had teachers come in to teach me and my two older sisters English. The teacher would give me a word that I had to copy, and after I did that I could draw that word. I loved the drawing - I just loved it. I felt like my world was opening and around the age of five I said "I think that this is what I want to do!"
AC: Were there obstacles that you had to overcome to pursue your dream of art?
AMH: Yes! Well, society everywhere tells you "that's not a viable way to be in the world." At least at that time growing up, that was the message I was receiving. And the political situation was difficult in Argentina, and many of the artists and writers were going into exile, and were being disappeared. I think the whole political situation was making my parents very worried. So when I decided to go to college, my parents were not supportive of me studying the arts. I thought "I'll study something that will support myself, and then I can go to art school afterward." And I did that! I went to school and studied Education and began to work as a teacher, and enrolled in art classes at night at the National School of Fine Arts in Buenos Aires. So I would work during the day and then go to school from 7pm-12am. In the middle of that, I moved to the United States, had to get my English up to speed to prepare to be accredited to teach here, and continued my studies here.
There is always the pressure of society - "Is this really an option? Are you going to succeed?" So many questions artists must ask themselves, even today. However, I think there has never been a better time to be an artist because there are more and more avenues now. But it is a career for your whole life, and it presents many challenges with how to make all the parts work.
AC: How does Argentinian culture inspire you?
AMH: I have never not been an Argentinian. I lived there for 26 years, so as a child you absorb it. It's in everything - the food, the colors, the ethics, the aesthetics, and the way your body relates to others. And I see that in my work. In the colors, in my need for light. Latin American cultures tend to be very aware of the groups, the community, and I see that in my work as well. When I go back to Argentina (I still have a lot of my family there) I get nourished in deep ways - it's not through words, it's not in the head, it's something very vital. And new things keep happening because cultures are changing and I love how to relate to the new parts. Everything has an origin. I can feel my Argentinian roots in everything I do.
AC: What are your favorite aspects of Latin American art and folklore?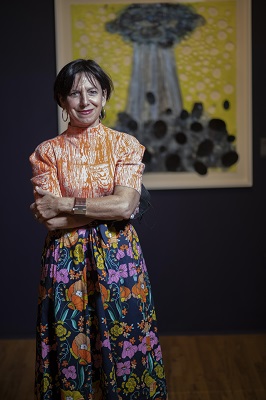 AMH: The community, the sense of family. The way we mix ages, and we don't separate age groups as much as in the United States, we just come together and there are more options to absorb and give to each other no matter where you are in age. We love to share. All throughout Latin America if you go to a party - THAT'S a party. You don't finish til breakfast. Even though Latin America has a history of deep suffering, and right now there's a lot of selfishness in the structure of government throughout Latin America. But we don't miss opportunities to celebrate. In that way, we are explosive.
As for the arts, there is way more abstraction in Latin American art, from not only the native cultures, but from the early 1900s as well. There's a lot of inspiration from the colors, but the winters can be gray and we don't have snow. Then there's the sand. All of that creates a mixture - it's a different and very definite way of being in the world. At the same time, when you move a lot like I have, it mixes even more.
I've lived in Peru, and there you have Quechua words in the language, and the notions of the culture. And I see how my work is very influenced by the Andean cosmology and the research of ancient knowledge. In all of these cultures, they are connected to the Earth.
AC: How did exposure to Spain from your grandparents inform your work?
AMH: Argentina has had a lot of immigration from many parts of the world. My grandparents immigrated at the beginning of the 20th Century. For Spaniards, it was an easy option. Argentina was offering a lot of opportunities, and the language made it easier because Argentina, like most of Latin America, is colonized by the Spanish. At the same time, there are a lot of people from Italy, from England, from many countries, and that mixture of cultures is very present. It made Buenos Aires very metropolitan and varied. When I go to Europe, there are many countries that feel like home.
AC: How can Americans appreciate Latin American folklore and art here in Denver?
AMH: You have institutions like Museo de las Americas who keep expanding what Hispanic artists and histories are shown, and also we have the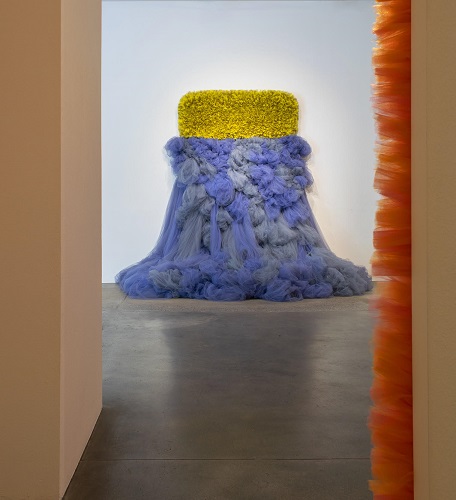 Biennial of the Americas annual event that makes an effort to keep the threads of all the Americas together. The Museum of Contemporary Art has a strong connection historically with Mexico, but also other Latin American countries. The Denver Art Museum does Hispanic installations and more. I am right now doing a residency at RedLine Contemporary Art Center for two years. All of these places are really paying attention to what is happening on the other side of the border. When enjoying Latin American art, I recommend that you leave all preconceptions outside and absorb the work as it is today.
AC: Is there anything in Hispanic culture that you think we could use more of in American culture?
AMH: Definitely. I think one of the biggest influences on my work is the women in my family, the grandmothers and women coming together. I see in all these Latin American cultures how the work of women - these circles where we work together - make things stronger. Sometimes it's not about one person, the ego is not involved. Latin America has a strong culture of loving women. On the other hand, there is oppression in the patriarchal structures. I think the United States can look at Latin American culture and study the things you want to do and the things you don't want to do when it comes to women.
AC: What hopes do you have for the future?
AMH: Women are strong. I love how our voices are being heard more and more. I have much faith in that, and I think it's our hope for society. I also love seeing how young people from diverse places are not sleeping. They are awake, they are aware, they are committed to a change we all need. And that gives me much hope.
Work pictured:
We Cannot Weep Without Vibrating the Waters
Tulle, wire, wood and felt, dimensions variable.
Photo Robischon Gallery