HOW COVID IS IMPACTING INDIVIDUAL ARTISTS
Note: John Moore wrote the cover story for this month's Colorado Politics newspaper on "The State of the Arts in Colorado." Because it was a complex issue with a finite inch count, this portion of the story – addressing the impact of the shutdown on individual artists – was left out. We are presenting here as "more to the story."
Among the many consequences of the shutdown could be a massive talent drain from the creative industry
By John Moore, Senior Arts Journalist
The impact of COVID-19 has been both financially and emotionally severe on performers, whose employment depends almost entirely on indoor gathering. In the best of times, artists cobble together their livings working from job to job without salaries, health care or other benefits.
"Artists and arts organizations are all nimble entrepreneurs and innovators by nature," said Deborah Jordy, Executive Director of the Scientific and Cultural Facilities District.
So what do artists do when a pandemic wipes out their living? They pivot like Pavlova.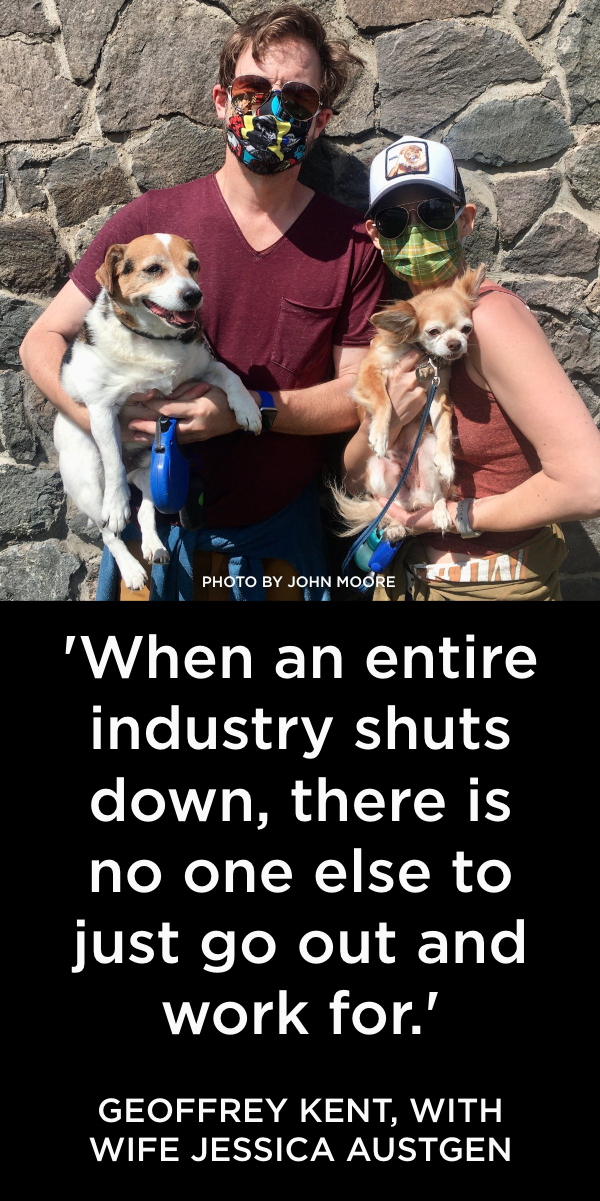 Jessica Austgen and Geoffrey Kent, a married couple who have managed to carve out a comfortable living working from gig to gig as actors, teachers, directors, writers and more, entered 2020 with $100,000 in combined household income lined up from a patchwork of 20 different employers. Kent said the couple now expects to make only $15,000 of that total for all of 2020 – almost all of it before the shutdown on March 13.
"COVID exploits the weakness of being a freelance artist," Kent said. "When an entire industry shuts down, there is no one else to just go out and work for. Freelance artists are out at sea right now, and professional theatre is the shore. But we can't get to that shore because COVID is the water between us – and no one is throwing us a line."
Performers took a double income hit because for many who embrace the nomadic life, the fallback plan is serving tables and teaching classes – options that were also largely wiped out.
"So what do you do when you can't fall back on your fallback plan?" said multiple award-winning local actor Megan Van De Hey. After a decade of managing to work full-time as an actor in Denver and Colorado Springs, she's now working as a temporary legal assistant – "a job I have absolutely no experience at," she said with a laugh. Thankfully she has a patient boss – an attorney, longtime Colorado performer and co-founder of The Denver Actors Fund, Christopher Boeckx. On October 10, Van De Hey will return to the stage – for one night at least – performing a concert with husband Robert Michael Sanders that will be simulcast from the Miners Alley Playhouse stage in Golden.
"People aren't going to stomach this mass level of uncertainty forever."
Meghan Anderson Doyle, who has designed award-winning costumes for nearly 30 Colorado theatre companies since 2010 including 35 DCPA productions, has been on the Denver Center's "full-time seasonal staff" (meaning about nine months per year) since 2006. She was furloughed along with 150 others in back in April, with no guarantee of a return. Because it now appears the DCPA Theatre Company's hiatus will run a minimum of 18 months, Doyle aggressively pursued an opportunity to work remotely as a one-on-one Special Education Paraprofessional for Eagleton Elementary School. And she got it. If it works out, it might just mark a permanent change in her life's direction.

"I get to work with one student and set them up for success throughout the day and guide them through the online education setting we are currently in," Doyle said. "I'm incredibly grateful that Denver Public Schools and the administration at Eagleton took a chance on me and saw that my skill set from theater could transition into the classroom. While the position is still very new to me, it's quite rewarding and provides a source of income and invaluable health insurance that will keep my family afloat for the next nine months. What happens after that, I'm not really sure."
The hundreds of furloughed Denver Center workers now face an excruciating dilemma. They have been told that when the DCPA resumes programming, "each person who is currently on furlough will be given the first opportunity to return to the DCPA." But the Colorado Department of Labor has now resumed requiring anyone receiving unemployment benefits to actively seek immediate employment. Many have taken jobs that may or may not turn out to be temporary, depending on when the theatre work stoppage actually ends.
The potential for a massive talent drain from the creative sector by the time COVID-19 runs its course is very real.
From left: Steve Bessette, Meghan Anderson Doyle and Megan Van De Hey
Steve Bessette, a wunderkind who was hired as the Creative Director for Denver's Alamo Drafthouse movie theatres at age 22 before being promoted to the corporate office in Austin, Texas, is now working at a U.S. Postal Service sorting facility while he plots his next career move.
"I am afraid many, many of my talented friends are going to move on to new jobs in new industries and make a lot more money than they ever made in the arts," Jordy said. "Will they come back? We'll have to wait and see."
Stephen Weitz, Producing Artistic Director of the Boulder Ensemble Theatre Company, also expects to see "mass defections" of people leaving the creative industry altogether. "The prospect of living as a working artist is already dicey at best," said Weitz, "People aren't going to stomach this mass level of uncertainty forever."
Garrett Ammon, artistic director of the innovative contemporary dance company Wonderbound, says that for some, leaving might not be a choice. Particularly for professional dancers.
"I worry about the industry at large because being a professional dancer is not something you can just stop doing for a long time," he said. "If you stop for a while, you could take literally years in steps backward. I worry that we are going to lose a lot of professional dancers around the world by the end of this, because it will just be too hard to sustain what they need to feel good about what it is that they do."
John Moore was named one of the 12 most influential theater critics in the U.S. by American Theatre Magazine during his time at The Denver Post. He also is the founder of The Denver Actors Fund, and is now contributing reports for the local theatre community for ArvadaCenter.Org. Reach him at culturewestjohn@gmail.com.