MEET GALLERIES EXHIBITION MANAGER EMILY GRACE KING
Video by Jacinta Lobato
How drawing as a substitute for words led to a life at the Arvada Center

NOTE: As we look to reopen our doors and reignite the arts, one thing becomes clear: The key to our creativity is our people. Songs are not sung, sets are not built, choreography is not taught, and canvases are not painted on their own. In our ongoing "Humans of the Arvada Center" series, we are highlighting the heartbeat of the Center: The people who make up the Arvada Center family.
By John Moore, Senior Arts Journalist
When Emily Grace King was growing up in conservative upstate New York, Colorado might as well have been a million miles away. "I was a home-schooled kid, and my childhood was very sheltered and quite lonely," she said.
Ten-year-old Emily could not have known that she would grow up to become the Galleries Exhibition Manager at the Arvada Center. When her father was hired as a professor of architectural engineering at the University of Colorado Boulder, she was in for a whopper of a culture shock.
"I entered public school in 6th grade with zero social skills," she said. "I didn't understand the complicated politics of cafeteria cliques, and I lost friends as quickly as I made them. I was always saying or doing something deeply uncool, always violating unspoken sociological rules that I hadn't learned. Cast off from most groups, I wasn't sure where I belonged – not just in school, but seemingly for the rest of my life."
Then along came "Hair." Let the sunshine in.
During her freshman year at Fairview High School in 2001, the legendary theatre teacher Roz Boatman directed the quintessentially American 1968 tribal love-rock musical, which is almost unheard-of at American high schools. Emily and her older sister had to be a part of it. So, too, Peter Jennings. The iconic ABC news anchor chronicled the making of the musical and featured it as part of his six-part miniseries and accompanying book, "America."
Welcome to high school, Emily.
"I am still obsessed with 'Hair' to this day," said King. "The whole thing was such a phenomenal experience. I'm glad I was part of it. As a home-schooled kid living in a bubble, I just assumed the whole outside world must be producing amazing productions of 'Hair' that get national attention."
Drawing as communication
And yet by then the arts already had played a central role in Emily's early sheltered development. Growing up home-schooled by her mother, King came to think of drawing as something of a second language. "My mom integrated creation into every subject," she said. "She taught me drawing as a method of accurate communication rather than an artistic expression." If ever Emily struggled to find the right word, she often would stop talking mid-sentence to grab a scrap of paper and sketch out her thought as a picture instead of speaking it out loud in conversation.
"That's another reason I seemed to be so unpopular with the other 11-year-olds," she now says with a laugh. "But this focus on drawing fundamentals in my childhood proved essential to finding my place in humanity."
Emily Grace King in front of Scotty Burgess' 'Ties Forward,' currently on display in the Arvada Center's Sculpture Field.
When art class finally became part of her 6th grade curriculum in Boulder, everything changed. "With my well-rendered depictions of houseplants and perfectly cross-hatched shaded spheres, I was immediately the star of the art room," she said. "The other kids wanted to sit by me and talk to me while we worked. That is where I made my friends. That is where I found my people."
Emily was always hungry for more arts. "That led me to take up choir, technical theatre and writing as I grew older," she said. "The arts always seem to create incredible communities, and many of my closest relationships started in those grade-school humanities classes."
It can never be overstated how much an unfiltered affirmation can have on an impressionable young person. For Emily it happened at age 15 an afterschool art program run by graduate students at nearby Naropa University. "Up to that point, I didn't know what I was going to do with my life, and didn't really care," she said.
Emily was one of 10 artists, and the only student from Fairview, to take part in an experimental art exercise. "We were told we could make whatever we wanted for two hours, and they would critique it," she said. When one of the Naropa grad students asked Emily, "Have you ever thought about going to art school?" her first response was: Do people do that? "I thought I'd be a doctor or a scientist or an engineer like my dad," "she said.
"But this stranger allowed us to make whatever we wanted. And saying, 'You are good at this,' and, 'I see so much value in what you make' was a huge, life-changing moment in my life. When I told my mom I wanted to go to art school, she laughed ­– and after that, of course, I wanted to go desperately."
And she did, graduating from the University of Northern Colorado in Greeley with a major in Visual Arts and an emphasis on painting. Shortly after graduation in 2009, she married Dave King, who is the Director of Worship Arts at a church in Lakewood and studies Recording Arts at the University of Colorado Denver.
The couple soon adopted biological sisters, then ages 12 and 14, through the local foster-care system. The long, winding and eventually bountiful experience led Emily to become a volunteer Court Appointed Special Advocate (CASA) as an agent of the court who provides a voice to young people in need.
Artist in her own right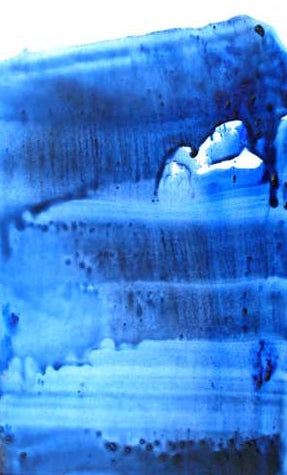 While Emily works in a variety of mediums, her current focus is on Encaustic monotypes, which is essentially art made with beeswax mixed with pigment and resin. She learned how to keep bees and raises her own hive, harvesting the wax to make her pieces. "As this medium comes straight from flowers and bees, the art itself must reflect the majesty and peaceful complexity of nature," she said.
And it was a city leadership program, of all things, that led Emily to her life at the Arvada Center two years ago.
"I was on a group tour of the Arvada Center with the Chamber of Commerce's Leadership Arvada program," she said. The gallery exhibit at the time featured studio chairs of artists placed across from the artists' work, and patrons were invited to sit in the chair to view the pieces. King found the concept to be brilliant.
"It struck me in that moment that I didn't know what went into putting up an exhibition," she said. "But I wanted to be there, in the room where these sorts of ideas were happening in such an elevated way."
King hung back after the tour and nervously explained to Galleries Director Collin Parson that she was a freelance designer with an odd mix of valuable skills, a flexible schedule "and a desperation to learn more about how the Arvada Center created these amazing exhibitions," she said.
Parson hired Emily as a part-time gallery assistant, which meant working for intermittent, three-week spurts hanging and packaging artwork, prepping galleries and, in her words, "learning, learning, learning.
"But between installs, I would not be at the Arvada Center for months, and I found myself missing the energetic, passionate environment overflowing with creative people," she said. "I wanted to be there all the time."
Soon, she was. Emily was promoted to her full-time position in January. She now oversees three art galleries totaling more than 10,000 square feet and the Arvada History Museum, and organizes the Arvada Center's annual Holiday Fine Art Market. But just when she got what she wanted – to be at the Arvada Center all the time – came the COVID shutdown. For month, she couldn't be there much at all.
She takes heart in knowing that both art-lovers and social-justice warriors can visit the Arvada Center during the pandemic to take in "Pink Progression: Collaborations," a sprawling, free exhibit that celebrates the 100th anniversary of the passage of the 19th Amendment, and the ongoing struggle for suffrage of all kinds.
"'Pink Progression' is a really important exhibit for this time," Emily said. "Because of COVID, we had to extend and delay it, so it opened right before Independence Day and closes right after Election Day (November 8). I don't think this could be happening at a more important time in the nation's history. I hope it helps people to explore what they really believe in before making this enormous vote."
Emily was recently allowed to dip her toe back at the Arvada Center, taking down and putting up an exhibition, and spending time with each piece in "Pink Progressions: Collaborations."
"During the stay-at-home order, I could not wait to be back in our beautiful gallery spaces," she said. "I wanted to stand in front of a spectacular piece of art and just take it in for a while. Colorado is home to so many dedicated, challenging, and thoughtful artists, and I deeply missed being around their works in the Arvada Center galleries. I was ecstatic to be back in our exhibition spaces, working with artists to bring their pieces into the space, and inspiring our patrons through visual art. The Arvada Center is a place of unmatched creativity and quality."
Oh, and about that leadership tour that first brought Emily to the Arvada Center three years ago? At the time, the city was in the process of forming its first Arts and Culture Commission. Emily was initially rejected for a spot on that commission.
Today, she is its Chair.
John Moore was named one of the 12 most influential theater critics in the U.S. by American Theatre Magazine during his time at The Denver Post. He also is the founder of The Denver Actors Fund, and is now contributing reports for the local theatre community for ArvadaCenter.Org. Reach him at culturewestjohn@gmail.com.
To follow the Arvada Center's #HumansOfArvadaCenter campaign, go to instagram.com
MEET MORE HUMANS OF THE ARVADA CENTER:
DIRECTOR OF GALLERIES COLLIN PARSON
DIRECTOR OF DANCE CHRISTINA NOEL ADCOCK
WARDROBE SUPERVISOR JESSIE PAGE
CHILDREN'S THEATRE HOUSE MANAGER CAL MEAKINS
PRODUCTION MANAGER ADAM STOLTE
EDUCATION DIRECTOR LISA LEAFGREEN
PATRON SERVICES REP ABYGAIL ROSALES