MEET GABRIEL MORALES
Gabriel Morales, far right, with his family. Olga Lopez Photography.
How 'Mean Girls' uplifted a Mexican immigrant on his way to a life in the arts – and at the Arvada Center

NOTE: As we look to reopen our doors and reignite the arts, one thing becomes clear: The key to our creativity is our people. Songs are not sung, sets are not built, choreography is not taught, and canvases are not painted on their own. In our ongoing "Humans of the Arvada Center" series, we are highlighting the heartbeat of the Center: The people who make up the Arvada Center family.
By John Moore, Senior Arts Journalist
All you really need to know to really know Gabriel Morales is to know this: He compares his difficult introduction to middle school in America to the character of Cady Heron at the beginning of the film "Mean Girls." You know, Lindsay Lohan as the new kid in school who eats lunch alone in the bathroom stall because she doesn't have any friends?
Gabe was that kid, too. Only he wasn't the daughter of a rich African zoologist. He was an immigrant moving with his nomadic family from Mexico to America – for the second time. But when Gabe first saw that iconic Tiny Fey movie in 2004, he found a kindred spirit in the leader of The Plastics.
"I often tell people I can totally relate to Cady because we both have very similar stories," Morales says now. "Adjusting to a new school, a new city, a new country and a new language was challenging, to say the least. We both experienced a huge culture shock adjusting to very different school systems – not to mention how all the pop-culture references of the time were totally lost on us."
Not anymore, apparently. But just for the record, Gabe did not go on to form a cool clique in high school, or set out to ruin anyone's life. When it comes to life-ruining, he is so un-Cady.
"No, he's a total sweetheart," says Linda Suttle, who has the distinction of having been the first director to cast Morales in a Denver stage musical back in 2005. She cast him in the youth dancing ensemble in the 1957 heartland musical "The Music Man" at Littleton's Town Hall Arts Center.
"I remember that when Gabe walked in, he had a smile that lit up the room," said Suttle. "What was funny is that he was a little worried about the dancing part of the audition, and he's clearly gone on to become a pretty great dancer."
Morales has now performed in nearly 50 Colorado theatre productions, most meaningfully in the ensemble of the Arvada Center's 2009 production of "Miss Saigon," and his breakout performance starring as Molina in Vintage Theatre's 2012 staging of "Kiss of the Spider-Woman." "Morales revels in Molina's flamboyant excesses and shameless fantasies," Bob Bows wrote for ColoradoDrama.Com.
'I do not want directors to cast me because they feel they have to. I want them to cast me because I am the best person for the role.'

" 'Miss Saigon' was my first Equity (union) contract," Morales said. "The show was incredible, but what I loved most was that the cast came from all over the country, and I enjoyed getting to know each of them as individual human beings."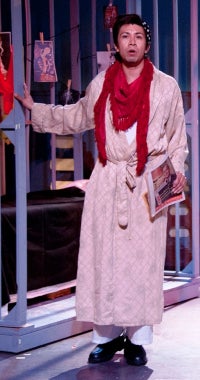 Shortly after, Morales was rallied to operate a spotlight for the Arvada Center's production of "Joseph and the Amazing Technicolor Dreamcoat," an underrated skill that he picked up quickly and continued doing for the next two Arvada Center seasons. In addition to his primary day job as an Administrative Assistant for the radio stations Jammin' 101.5 and Hot 107.1, Morales was hired a year ago into the Arvada Center's box office as a Patron Services Representative. "It was strange at first entering the building through the front door instead of the stage door, but I have really enjoyed learning a different side of the business," he said.
And he's particularly grateful to be getting box-office hours now, when the Arvada Center is presenting only very limited programming through the COVID shutdown. "It is both touching and humbling at the same time," he said of working at the Arvada Center. "You keep hearing about companies that have completely shut down, but my boss Amber (Gale) really fought to keep us working, and that means so much to all of us."
(Pictured at right: Gabe Morales in 'Kiss of the Spider-Woman' at Vintage Theatre.)
Humble beginnings
Morales was born in Valle de Santiago, a city in the Mexican state of Guanajuato, about 200 miles west of Mexico City. The family migrated to the San Gabriel Valley in California when Gabe and his sister were infants. Four years later the family moved to Lamar, Colorado, where another sister was born – and where Gabe's performing career officially began. "I was cast as The Big Bad Wolf in a production of 'The Three Little Pigs' for my kindergarten class," said Morales, who, if he's being honest, more remembers the milk and cookies that came after the performance than the show itself.
But he'll never forget a few months later when that same elementary school burned to the ground. The Morales family lived just a block away. Gabe was only 6 years old, "but I can still visualize the way the flames lit up the night, the smell of smoke in the air and my parents coming into our room in the middle of the night to take us to safety," he said.
Not long after, "we wandered back to Mexico," said Morales, where his younger brother completed the family. "Our parents wanted us to really get to know our culture and our family better – especially my only living grandmother. Her love of music and performing inspired us all."
That grandmother gave Gabe his first gig – singing alongside her at local funerals. "Isn't that the craziest thing?" he said. "Funerals in Mexico are nine days of celebrating a person and guiding them to the next life." The tradition culminates in a "rosario," which is a special ceremony that involves flowers, candles, prayers and music. And Gabe loved it. "Somehow that cultivated that love for performing that I still have to this day," he said.
Although he loved living in Mexico, Gabe always knew the family would one day return to the United States. His father was constantly traveling between countries, working for a production company that raised alfalfa. The move came when Gabe was 12, and it was not without danger. "My mom had to take many trips to Mexico City to get our visa paperwork approved, and she was just outside the U.S. embassy right when an earthquake hit Mexico City," he said. That devastating 1985 quake killed 10,000 and damaged the embassy, but Gabe's mother was safe.
The Hill Middle School years were rough for Gabe. He had forgotten what little English he knew. He didn't have the clothes or the hairstyle or the pop-culture lingo the other kids had. (That would all come with adulthood.) Gabe's parents worried that he was too shy of a kid, so he was thrown into a variety of sports.
"I was so bad at soccer that sometimes I was not even told when the matches were going to happen," he said with a laugh. "My parents finally decided the best way to help me to come out of my shell was to enroll me in two extremely different disciplines: Karate, so I could learn self-defense; and Mexican folkloric dance, so I would be involved in something artistic. I was terrible at karate, but I really loved dance. For the first time in my life, I was with kids who also enjoyed performing. We all had so much joy and pride in what we were doing that it hardly felt like work."
(Story continues below the photo)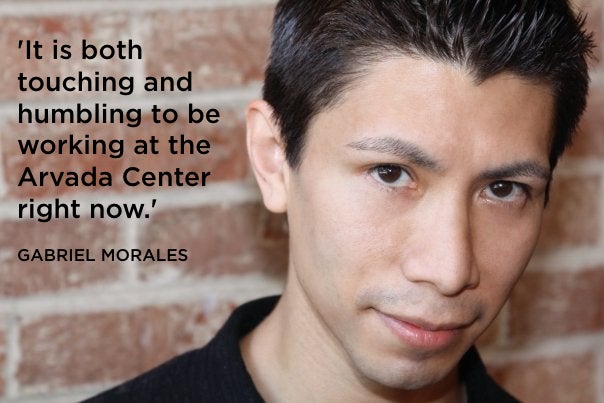 Shakespeare to the rescue
Gabe's life took another turn in middle school when an English as a Second Language teacher signed Gabe up for the gifted and talented class, which led to his first performance in the Denver Public Schools' Shakespeare Festival, the largest student Shakespeare Festival in the world. Being surrounded by other creative children, Gabe said, made him feel more at home and less afraid. "Thanks to that class, I started easing out of bilingual classes," he said.
Morales went on to attend Kennedy High School in Denver, where a counselor asked him, "If you could take any class, what would it be?"
"I immediately said, 'Acting class," Gabe said. "And once again, the arts came to my rescue."
Morales became a U.S. citizen right after graduation – and he was more than ready for the test. "My mom made preparing for the citizenship exam into a game that we all played," he said. "At the time I didn't give it that much importance, until I started applying for colleges and scholarships. That's when I realized how important it was."
Morales graduated from Colorado Christian University in 1998 with a degree in theatre and later from the Los Angeles Film Studies Center. Since returning to Colorado, he has mostly performed at the Town Hall Arts Center, Vintage Theatre, Aurora Fox, Evergreen Players and Miners Alley Playhouse. Other favorite roles have included:
Paul in Union Colony Dinner Theatre's "A Chorus Line"
Hysterium in the Northglenn Players' "A Funny Thing Happened on the Way to the Forum"
Mitch Mahoney in the Turner Foundation's "The 25th Annual Putnam County Spelling Bee"
Dick Wilkins in the DCPA Theatre Company's "A Christmas Carol"
The issue of color in America, and on stage
Morales has a conflicted and complicated relationship with both his country and his theatre community at the moment, given all that has transpired in 2020 – and for decades leading up to it. "When the talk started about building the border wall, I could see in my parents' eyes how saddened they were," he said. The recent Supreme Court decision protecting DACA residents was a huge relief to Morales, he said, "but there is still great fear and terror in not knowing what is going to happen next."
The national theatre industry is undergoing a reckoning that will no doubt lead to more authentic ethnic casting in future stage productions. As a person of color, that stands to benefit Morales – although he is deeply grateful for having been on the flip side of that spectrum for much of his career to date. He's had dozens of opportunities to play characters on Colorado stages that he himself has not been ethnically appropriate for, from the ex-con comfort counselor in "The 25th Annual Putnam County Spelling Bee" to a Vietnamese soldier in "Miss Saigon."
"I am very thankful to all of the directors who have cast me," said Morales. "At the same time, I do not want them to cast me in my next role just because they feel they have to. I want them to cast me because I am the best person for the role. Not because I'm brown.
"At the same time, I am grateful for the dialogue that is now underway. I appreciate that they have put it all on the table, and that we are talking about it."
Most of all, he's grateful for the life in the arts he is enjoying that the scared, 12-year-old version of himself never would have thought possible.
"I truly believe the arts helped me not only survive school, but they gave me the tools to overcome my shyness, helped tame my super-strong Spanish accent and forced me to confront my fears in a way that seemed manageable – thus making it feel like a great victory in the end," he said.

John Moore was named one of the 12 most influential theater critics in the U.S. by American Theatre Magazine during his time at The Denver Post. He also is the founder of The Denver Actors Fund, and is now contributing reports for the local theatre community for ArvadaCenter.Org. Reach him at culturewestjohn@gmail.com.

Photo credits: 'A Funny Thing Happened on the Way to the Forum' by Olga Lopez; Headshots by Poshtography by Simone; 'Kiss of the Spider-Woman' by Ellen Nelson.
To follow the Arvada Center's #HumansOfArvadaCenter campaign, go to instagram.com
MEET MORE HUMANS OF THE ARVADA CENTER:
DIRECTOR OF GALLERIES COLLIN PARSON
DIRECTOR OF DANCE CHRISTINA NOEL ADCOCK
WARDROBE SUPERVISOR JESSIE PAGE
CHILDREN'S THEATRE HOUSE MANAGER CAL MEAKINS
PRODUCTION MANAGER ADAM STOLTE
EDUCATION DIRECTOR LISA LEAFGREEN
PATRON SERVICES REPRESENTATIVE ABYGAIL ROSALES
Video bonus: Gabriel Morales in 'The Blackest Kids in Town'
Randy Chalmers, Faith Goins-Simmons, Anna Maria High, Joseph Lamar, Sonsharae Tull and Gabe Morales performed 'The Blackest Kids in Town,' a parody of a popular song from 'Hairspray,' at 'Miscast 2019,' which raised a record $8,600 for the Denver Actors Fund in September 2019 at the Aurora Fox.