MEET JON OLSON
Learn more about Lighting Director Jon Olson in the video above.
Arvada Center helps Lighting Director find his way out of the dark

NOTE: As we look to reopen our doors and reignite the arts, one thing becomes clear: The key to our creativity is our people. Songs are not sung, sets are not built, choreography is not taught, and canvases are not painted on their own. In our ongoing "Humans of the Arvada Center" series, we are highlighting the heartbeat of the Center: The people who make up the Arvada Center family.
By John Moore, Senior Arts Journalist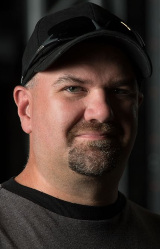 Lighting Director Jon Olson always has had a clear vision of what he wanted from life. And, for the most part, he's made it happen.
From the time he was in high school, Olson always wanted to make a living working in theatre. And he has now done so for 26 years – the past 17 at the Arvada Center.
He always wanted to be a husband and a father. He and wife Cat now have been married for 15 years, and they have two boys – Hayden, 13, and Liam, 11.
He always wanted to be a coach, and he's currently helping coach Hayden's little-league baseball team.
But through some very hard life experience, Olson also has learned what Joan Didion famously said: "Life changes in the instant. The ordinary instant."
The ordinary instant came for Olson on an otherwise ordinary morning 11 years ago. He had just dropped his 2-year-old at day care and was on his way to work at the Arvada Center when he stopped at a red light. Next, he did what he'd done at a thousand stop lights before. He inched forward and took a right turn, only this time not seeing an elderly couple that had stepped into the crosswalk. The contact knocked the pair, 69 and 70, to the ground, and both hit their heads hard on the concrete. The woman died a few days later. The man a year later, having never fully recovered from his injuries.
In that ordinary instant, when Olson had everything going for him, he learned just how fragile life can be.
"Our lives collided in that one second," said Olson.
And after that second, nothing was ever the same for any of them.
Had Olson been distracted, or intoxicated, or reckless, he could have faced three years in prison. But he wasn't. Instead, he was given 150 hours of community service, which he served in the intensive care unit at St. Anthony's Hospital.
His friends and family, both of the blood and Arvada Center variety, fully supported Olson through the harrowing journey to come: The battle with depression, guilt and post-traumatic stress.
"I don't think you ever fully overcome the guilt of being involved in an accident that took someone's life," said Olson. "It took a long time and a lot of counseling for me to understand what the definition of the word 'accident' really is.
ac·ci·dent. An unfortunate incident that happens unexpectedly and unintentionally, typically resulting in damage or injury.
A shove in the direction of theatre
Olson grew up in Aurora and graduated from Aurora Hinkley High School in 1995. "I found theatre by mistake in my sophomore year when my guidance counselor mistakenly placed me in an advanced performing-arts class for juniors and seniors," he said. But it was his encounter there with "an amazing teacher and lifelong friend" named Annell Weissenbuehler that turned his newfound passion for theatre into a calling.
"While I was certainly not the best actor, what I found in theatre were friendships that have lasted a lifetime," he said. "I found creativity. And I found a way to both examine myself and express myself."
During his high-school years, Olson put in a few years working at the Aurora Fox under the mentorship of Dan Whitcomb before going on to study theatre at the University of Northern Colorado in Greeley and at Castleton University in Vermont, where he graduated in 2000.
Whitcomb helped Olson to be hired by the venerable Heritage Square Music Hall in Golden, where he worked for five years. It was there he met Cat Clark, his co-worker and soon-to-be wife. He says they have raised their boys to be as well-rounded as possible. Olson coached Liam in T-Ball before his youngest discovered he was more at home in Ninja Warrior fitness training and playing the trombone. Hayden plays baseball and recently decided to learn theatre lighting design at his middle school.
"That was something he chose," Olson said. "Our philosophy as parents is to make sure our kids have as many open doors as possible, and then we let them decide which ones to go through.
"I think some parents get obsessed with the results of things. You see that a lot in youth sports. We all want our kids to succeed, but we get too wrapped up in the outcome and not the journey. To me, the important question is: 'Are they better human beings at the end than they were when they started?' "
Finding a home at the Arvada Center
Olson came to the Arvada Center in 2003 as a light-board operator for children's theatre. He was promoted to Master Electrician before being named Lighting Director in 2013. Part of his job is overseeing all lighting designers and their crews.
Olson compares lighting design to painting: "Where a painter would have a canvas and brushes and palate of colors, the Lighting Designer uses the stage and whatever is on it as their canvas – and their angles and distribution of light and intensity of light as his brushes."
Olson has been twice-nominated for Colorado Theatre Guild Henry Awards, for his designs of "Educating Rita" and "Drowning Girls" He was especially proud of the nod for "Educating Rita" because the play is set entirely in the office of a British university tutor. "I didn't expect that, because I don't think realistic lightening designs get that kind of credit very often," he said.
His most recent undertaking was the Arvada Center's COVID-interrupted production of "A Midsummer Night's Dream," directed by Emily Van Fleet (who also starred as an actor in "Educating Rita") for the Black Box Repertory Company. Van Fleet presented the story in a dystopian near-future on a deserted, weed-grown schoolyard by a small troupe of actors, each playing multiple roles. Van Fleet calls Olson "a killer designer and artist, and a kind, gentle soul."
Olson's variety in style and tone could not have been more evident than in what Van Fleet called "his beautifully realistic enhancement of 'Educating Rita,' and in his fantastical design of 'A Midsummer Night's Dream.'
"With 'Rita,' Jon took us directly to Frank's stuffy, cluttered office. From every practical instrument, every glimpse of the ever-changing weather outside, and the specific tone of each transition, actors and audience alike felt transported to this small and dynamic space.
"And with 'Midsummer,' he really provided such a journey for audiences as we transitioned from a sad, polluted, forgotten playground to a magical fantasy forest filled with love and passion."
Finding a way forward
Olson never expected his itinerant professional life to land at a permanent home at a place like the Arvada Center. "I had never worked anywhere for more than five years, so I always thought that's about how long you worked anywhere," he said. But at the Arvada Center, he found both the financial and emotional stability the young father needed. But he also found a level of creativity that keeps his passion for live theatre constantly stoked.
'At the Arvada Center, there is never going to be a lack of a want to always get better.'
"In the time that I have been at the Arvada Center, there have been highs and lows – but only because of budget swings, not talent," he said. "We always want to go above and beyond." He cited touring Arvada Center shows to the Lone Tree Arts Center. Launching the Black Box Repertory Company. A constant commitment to Broadway-caliber musicals.
"I don't feel like I have personally plateaued, and even in the midst of this current COVID crisis, I don't feel like Arvada Center will ever accept decline in terms of quality," he said. "There is never going to be a lack of a want to always get better."
Getting better is exactly what the past 11 years at the Arvada Center have allowed Olson to do, day by day.
"When I was at my absolute lowest point, the Arvada Center was there for me," he said. "(Former Executive Director) Gene Sobczak and (Artistic Director of Musicals) Rod Lansberry were both there for me, unconditionally."
Sobczak, now President and CEO of the nonprofit consulting firm PROTEA, vividly remembers when Olson came into his office to talk about the accident.
"He was absolutely gutted," Sobczak said. "The only response that I could possibly provide to him was one of compassion and comfort. What he needed more than anything in that moment was to know that this one part of his life was going to be stable – and I pledged to him, both from a personal and a professional standpoint, that it would be."
Olson is still processing what, if any, greater meaning there is to take from such a terrible tragedy. And he is acutely aware, he emphasized, that "nothing I have gone through even slightly compares to the pain that couple's family continues to go through every day.
"What I think I learned most from all of that was a recognition of how fragile life is," he added. "I mean, we bumped into each other, and two lives ended. I don't think I will ever stop saying to myself, 'Had I just looked right just one more time …'
"Now, whenever I catch myself in a rush, I say to myself, 'Slow down. Take a deep breath.' This world is so tightly wound, and we are constantly being told that we always have to be productive. Now I say to myself, 'There is no reason to rush.'
"What is most precious to me as a man is what it always was – my family. And what is most precious to me about doing theatre is the people I work with at the Arvada Center, and the family we create."
John Moore was named one of the 12 most influential theater critics in the U.S. by American Theatre Magazine during his time at The Denver Post. He also is the founder of The Denver Actors Fund, and is now contributing reports for the local theatre community for ArvadaCenter.Org. Reach him at culturewestjohn@gmail.com.
Jon Olson: A few of his favorite lighting designs
"Trav'lin: The Harlem Musical"
"Educating Rita"
"Drowning Girls"
"I'll Be Home for Christmas" (an original musical)
"Blithe Spirit" (Olson's first fully staged lighting design at the Arvada Center)
Critics' Corner
"Drowning Girls": "Jon Olson's lighting, in tandem with Brian Mallgrave's set, is a stunner: A floor of water and those three bathtubs. Yes, the actors perform soaking wet, and it's exhilarating, particularly when one of them flings back her head and a glistening stream of water arcs from her hair." Juliet Wittman, Westword. … "Jon Olson's lighting design shimmered off the pool of water and immersed the audience." – Avery Anderson, MyMet Media
"Educating Rita": "An astute audience may have noticed the slight changes in lighting, done by Jon Olson, depicting the time of day and perhaps even the time of year, as well as the snow falling outside the office window during winter term." – Edwin Lobach, Denver Theatre Perspectives
To learn more about Arvada Center theatre programming, go to arvadacenter.org/theatre
To follow the Arvada Center's #HumansOfArvadaCenter campaign, go to instagram.com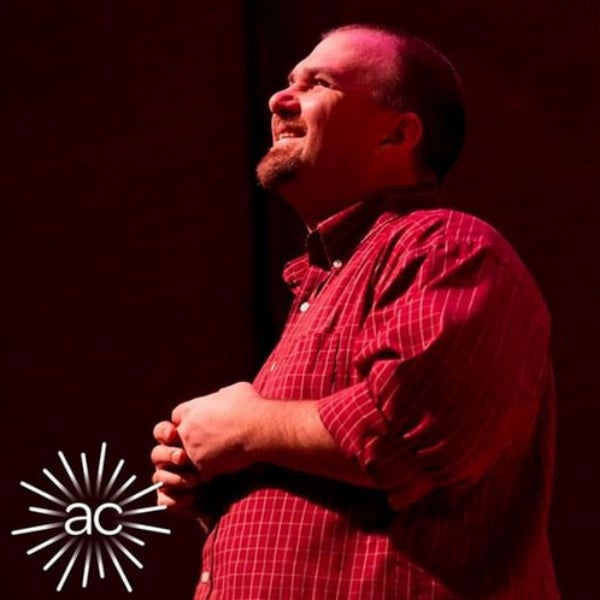 MEET MORE HUMANS OF THE ARVADA CENTER:
DIRECTOR OF GALLERIES COLLIN PARSON
DIRECTOR OF DANCE CHRISTINA NOEL ADCOCK
WARDROBE SUPERVISOR JESSIE PAGE
CHILDREN'S THEATRE HOUSE MANAGER CAL MEAKINS
PRODUCTION MANAGER ADAM STOLTE
EDUCATION DIRECTOR LISA LEAFGREEN
PATRON SERVICES REP ABYGAIL ROSALES