SUPREME COURT WORKPLACE RULING HITS HOME FOR LISA LEAFGREEN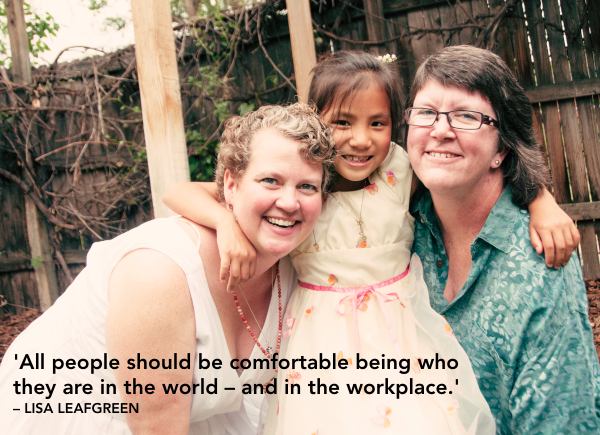 Lisa Leafgreen, left, daughter Ella and wife Resa Baker at their civil union ceremony in 2013.
Arvada Center Director of Education knows first-hand what it's like to be fired for being gay
By John Moore, Senior Arts Journalist
The June 15 U.S. Supreme Court ruling protecting employees from being fired for being LGBTQ meant a little more to Lisa Leafgreen. The Arvada Center's Director of Education knows first-hand what it's like to be fired for being gay. She believes it has happened to her.
"They didn't just come out and say that's why I was fired," said Leafgreen, who has found a much happier work home at the Arvada Center over the past 28 years. This year she celebrated what she calls "my half-life here."
But three decades ago was another time in America, and in the American workplace. Shortly after a co-worker discovered Leafgreen is a lesbian – and did not take kindly to the revelation – Leafgreen was fired by her boss. The woman's son.
"He said my job was being eliminated," Leafgreen said. "And yet a week later, a job with a very similar description to mine was posted in Westword."
That's when the realization fully set in: "I was not fired for the work that I was doing. I was fired because of who I was."
'I think maybe I'll walk a little taller at work and let go some of the fear and old baggage that I have been carrying.'
The landmark decision seemed to come out of nowhere, with the nation's attention fixed on the coronavirus, a decimated economy and national calls for greater police accountability. In a surprise 6-3 decision authored by conservative Colorado justice Neil Gorsuch, the Supreme Court delivered what The New Yorker has called "the single biggest victory in the history of the LGBTQ movement." And one that came just days after a demoralizing loss, when the Trump Administration reversed previous nondiscrimination protections for LGBTQ people when it comes to their health care and health insurance. (LGBTQ is an acronym meaning lesbian, gay, bisexual, transgender, and queer or questioning.)
That's one reason Leafgreen considers the unexpected ruling from a tempered historical perspective.
"I was stunned, frankly," she said. "I think with all things that you work for and strive for over a long period of time, it's what happens while getting there that really matters. So each time we hit these milestones, I don't even know how to take it all in because I never thought it would be possible."
Thirty years ago, Leafgreen could not imagine a time when when part of the LGBTQ community would come to have their own widely accepted gender-neutral pronoun. And she certainly never thought the day would come when she could legally marry a person of the same sex.
Because it was also nearly 30 years ago, in 1992 – the same year Leafgreen started at the Arvada Center – that Colorado voters approved Amendment 2, which outlawed the granting of so-called "special rights" for gays. Although the Supreme Court struck down that measure before it ever could be enforced, the damage had been done by voters at the ballot box, and Colorado was branded "The Hate State."
After she was fired from her previous job, Leafgreen decided she would never be closeted in the workplace again. And yet the day after Amendment 2 passed, she sat in the Arvada Center lunch room with a now former co-worker who told her he voted for the legislation. "I said to him, 'How could you vote for legalized discrimination against me?' " she said. The man said to her face: "You don't deserve special rights."
Who could have imagined then what was to come over the next three decades: Federal hate-crime legislation, civil unions, legally recognized marriage and, now, federal workplace protections.
"The shift for the better has been profound," said Leafgreen. "But it didn't happen overnight. Change happens when we stand up and say, 'No more.' "
And yet, along that same way: Matthew Shepard was tied to a fence and brutally beaten to death near Laramie, Wyoming. Californians voted to make same-sex marriage illegal. Transgendered people were banned from openly serving in the military. And just last year, the FBI reported that hate-crime violence has hit a 16-year high in America.


Lisa Leafgreen preferred to manage her band The Dead Sinatras rather than be among its performers. She thinks that experience set the stage for her future life supporting artists at the Arvada Center. 'I'm not the person out front, but I am that person helping people to be out front,' she said.
Just a small-town Home Ec Girl
Leafgreen, 55, grew up in the small town of Lander, Wyoming, with a population of just 7,000 and located 150 miles west of Casper. She attended the University of Wyoming in Laramie, where she earned what she calls the strangest degree ever: A Bachelor of Science from the College of Agriculture in the Department of Home Economics with a major in Fashion and Interiors Merchandizing. "In high school, I was the Wyoming state president of the Future Homemakers of America," Leafgreen said with a laugh. "Yes … I was a high-school Home Ec girl."
She was also a passionate activist ­for gay equality – with a fashionable sense of humor. In 1988, Leafgreen began managing a band called "The Dead Sinatras," five lesbians described by the Colorado Independent as "an act of goofy music and gay liberation." For two decades, Leafgreen's Fab Five friends in glitter, go-go boots and mini-skirts brought a sense of freedom and smiles to their audiences. "They sang gender-bending versions of hit songs from the '60s," Leafgreen said. "To Sir with Love," for example, became, "To Her with Love." It was raucous fun – for a purpose. "We formed the band to raise money to stop Amendment 2," she said. And when that failed, they turned their attention to raising money for the amendment's overthrow, which was accomplished in 1996. "We raised a lot of money, and we did that by bringing people joy," she said.
Leafgreen had graduated and moved on from the University of Wyoming when the world learned of the Shepard murder in 1999. But you didn't have to be in Laramie for the image to be forever seared into your memory like a brand on cattle: A near-dead college student left to die on a fence on the outskirts of town, his flesh so beaten, bloodied and intertwined with cord that the first passers-by mistook him for a scarecrow.
"Having grown up as a closeted lesbian in Wyoming, I know how that feels, to be all alone," Leafgreen said. "And knowing that other people there were in pain after I left – it was just devastating to me."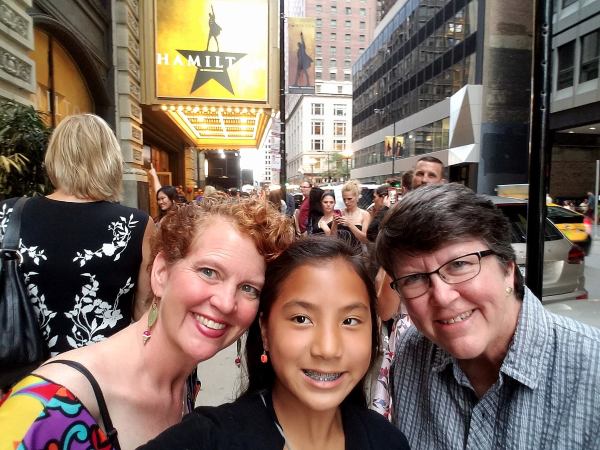 Lisa Leafgreen, with daughter Ella and wife Resa Baker, attend a performance of 'Hamilton' in Chicago.
Making a life at the Arvada Center
Leafgreen was initially hired as the Arvada Center's Education Coordinator and gradually rose through the ranks to become Director of Education in 2016. Her division offers almost 800 classes, workshops and camps for students of all ages including programs in dance, drama, ceramics, visual arts, music and digital learning. It also includes the Front Range Youth Symphony, which consists of four orchestras. And the Arvada Center's school programs, which serve 60,000 students each year through field trips and outreach programs.
Leafgreen and Resa Baker, her partner of 11 years (and now legal wife), make their home in Denver with their 14-year-old daughter, Ella, whom Leafgreen adopted from Nepal 13 years ago. Ella is a burgeoning visual artist and vocalist who has been taking part in her mom's Arvada Center education programs since she was 2.
The June 15 ruling on workplace rights was celebrated by the LGBTQ locally and across the country. To some, it seemed appropriate coming in that month – internationally recognized as Pride Month.
Longtime Colorado Public Radio journalist Ryan Warner, host of "Colorado Matters" and, on that same night, moderator of a debate between Democratic U.S. Senate candidates John Hickenlooper and Andrew Romanoff, took a moment away from his prep to share on Twitter: "Finally have a moment to soak in the reality that an employer can't fire me because I'm gay. (Grateful to work at CPR, which wouldn't have.) Also ... it's Pride Month, and I've never said on air or online that I'm gay. I'm gay."
But for Leafgreen, it's difficult to fully celebrate anything at this particular American moment because of the pain many people are in over what she calls "the pandemic and the epidemic of racism."
"I don't want to take away from any of the discrimination that is going on in the Black Lives Matter movement right now," she said. "Discrimination in all its forms is unacceptable."
It's also a bit strange for Leafgreen that the Supreme Court ruling on workplace rights came out at a time when most people are being forced to work from home.
While coming out in the workplace is a gradual process, Leafgreen said, "I feel like it has been very accepted and a positive overall experience for me at the Arvada Center." And yet, because of her previous experience, she said, "I have always lived in a little bit of fear of losing my job if I tell people who I really am."
She doesn't hide who she is at work but she also doesn't "come out" to co-workers, volunteers, patrons and parents any less organically than anyone else does as straight. But she thinks that with this new ruling, when the time does come to return to the office, "I think maybe I'll walk a little taller at work and let go some of the fear and old baggage that I have been carrying," she said. "It feels like I can be even more myself now.
"I just want all people to feel confident and comfortable that they won't be fired from a job or ostracized or pushed away based on who they are. All people should be comfortable being who they are in the world – and in the workplace."
And speaking of progress, Leafgreen experienced a more personal milestone about 15 years ago regarding. the man who fired her in 1992.
"Without being specific," Leafgreen said, "he came to me and said, 'I'm really sorry about everything that happened.' "
John Moore was named one of the 12 most influential theater critics in the U.S. by American Theatre Magazine during his time at The Denver Post. He also is the founder of The Denver Actors Fund, and is now contributing reports for the local theatre community for ArvadaCenter.Org. Reach him at culturewestjohn@gmail.com.