By Leslie Simon

When the spread of COVID-19 forced the Arvada Center to temporarily close our doors and cancel all theatrical programming last year, things at first seemed dire. How would we survive without all of the earned revenue from those ticketed events? We experimented with virtual theatre that did a great job of keeping our quarantined audiences engaged while also employing local artists at a time when gigs were drying up. The money it brought in, however, didn't come close to what full houses of audiences watching musical theatre typically brings in.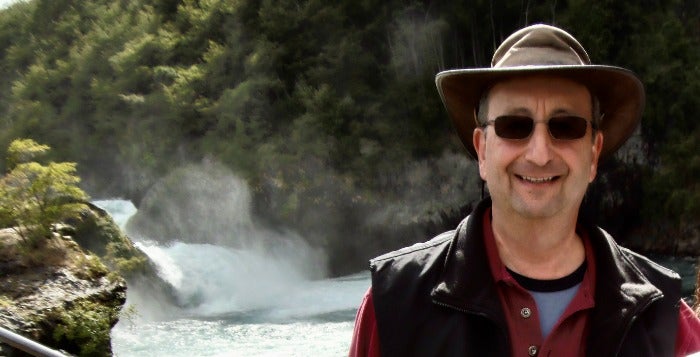 Arvada Center Board Chair Ken Fellman
A beacon of light shone through the darkness as the Arvada Center Board of Directors looked at how they could ensure the future of our organization – a daunting task when things were changing so rapidly. "The top priority at the end of the day was to survive," said Board Chair Ken Fellman. "How do we look at all the things the pandemic was throwing at us, and try to figure out what we need to do with these issues that are ever-evolving? Every week or two it seemed like something would change. That required us to make some short-term decisions like closing the facility down, and dealing with the immediate impacts of that while also looking at the long-term. No matter what we were dealing with, it all tied back to 'what do we need to do to put us in the best position so that when the pandemic is over, we still have a thriving and vibrant Arvada Center?'"
As we watched other theatres in the region shut their doors and furlough staff, we felt fortunate for not only the support of our board, but the large size of our building and our multidisciplinary nature. While live theatre may have been on hold, our Education department was working in overdrive transitioning to virtual classes and Galleries found safe ways to continue producing planned exhibitions.
"We really wanted to focus on our mission. It's important to restate what the mission is - The Arvada Center celebrates and elevates the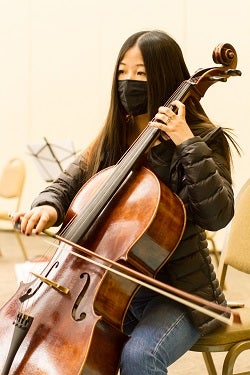 human condition with engaging arts, humanities, education and entertainment that expand the cultural landscape for everyone who visits us," said Fellman. "There were a number of meetings with the board working with staff where we would say 'we don't have all the data we need to make these really difficult decisions, but in three more weeks we might have the information we need.' We would revisit things, and then when we would have more information, it would change in a different way! How do we focus on our mission in this incredibly changing landscape where a decision you make today may not be the decision that you would make two weeks from now?"
A lot of words quickly became part of the new vernacular during the pandemic- unprecedented, pivot, and most of all, nimble. The ability to stay nimble and not get stuck in the mindset of "this is how we have always done it" allowed us to not only come up with innovative ways of presenting our typical programming, but also to produce brand new programs that would not bring in as much ticket sales as our usual in-person events. As they worked out different financial models, the board knew that they could not just make decisions based on money.
"We looked at several models and had some people recommend to us that we may want to think about just shutting down for some period of time. In fact, we could have increased the likelihood that we would guarantee some level of protection for a sound financial future by shutting down. But that would have ignored the mission!" said Fellman. "If we are not celebrating and elevating the human condition through arts and humanities, then why are we here? So the challenge became how to find some balance. How do we identify an acceptable level of risk if we plan to do a certain kind of program? What if it falls short? Do we hire these people to come back and start work before the actors' union gives their final approval? If we wait any longer, we won't have enough time to build sets and have rehearsals. We were constantly trying to find that balance and acceptable level of risk, because we insisted that we have to keep producing arts, humanities, education and entertainment to pursue our mission. But we didn't want to do it in an irresponsible way that put the Center at greater risk, so that was why we continued to look at ways to make things work because it's who we are. It's our institutional DNA."
With their careful planning and decisions made, the Arvada Center became the first theatre in the region to get permission from the Actors' Equity Association to produce indoor, in-person theatre, and we opened Small Mouth Sounds on April 30. Our first musical since the pandemic hit, Million Dollar Quartet, will be opening May 28 in our Outdoor Amphitheatre instead of our Main Stage Theatre like it was originally planned, so that we can have larger audiences while still practicing safe social distancing. Despite local restrictions loosening, the Actors' Equity Association has tight rules to keep actors safe, so masks and distancing are still required for this production under their rules.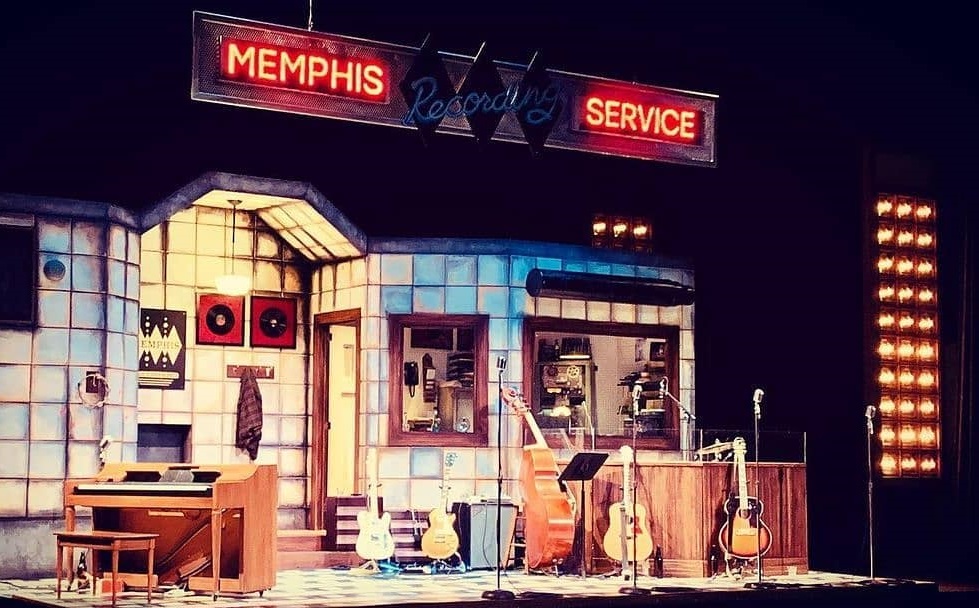 The set for Million Dollar Quartet, scenic design by Brian Mallgrave. Photo by Andrew Frace.
This rock 'n' roll musical comes at a perfect time when people are yearning to get out of the house for engagement and connection. If it comes with music from Elvis and Johnny Cash, then all the better! "It's all about the joy of experiencing the arts and humanities, and getting to share those experiences with others," said Fellman. "At our core, we are social beings. I have no doubt as time goes on that our patrons are going to come back to the Center in the same or greater numbers than we had before because what we offer is so important for the human condition, and people are itching to get back to sharing these wonderful experiences together again."
With the recent announcement of the Arvada Center's next theatre season that anticipates a full season with full audience capacities, it's beginning to feel like the light at the end of the tunnel is closer than ever. "One of the many things we learned during the pandemic is how critically important these arts experiences are to all of us. There's a whole lot of things we have lost out on because of the pandemic, and the arts and humanities are right at the top of my personal list of things we have missed," Fellman concluded. "The pandemic has really shown us how important the arts are by the way that we have missed them, and by how excited we all are that they are finally starting back up again."
To feel the feeling you forgot, come experience live theatre at the Arvada Center by purchasing a ticket to Small Mouth Sounds or Million Dollar Quartet.